Zibi is a sustainable 34-acre community by Dream Unlimited and Theia Partners on the former Domtar industrial site along the Ottawa River. On the Gatineau side, the first phase consists of 70 mid-rise condos; on the Ottawa side, the first phase comprises 71 mid-rise condos and stacked townhomes. Zibi is expected to ultimately be home to about 5,000 people with a robust commercial and retail component.
Current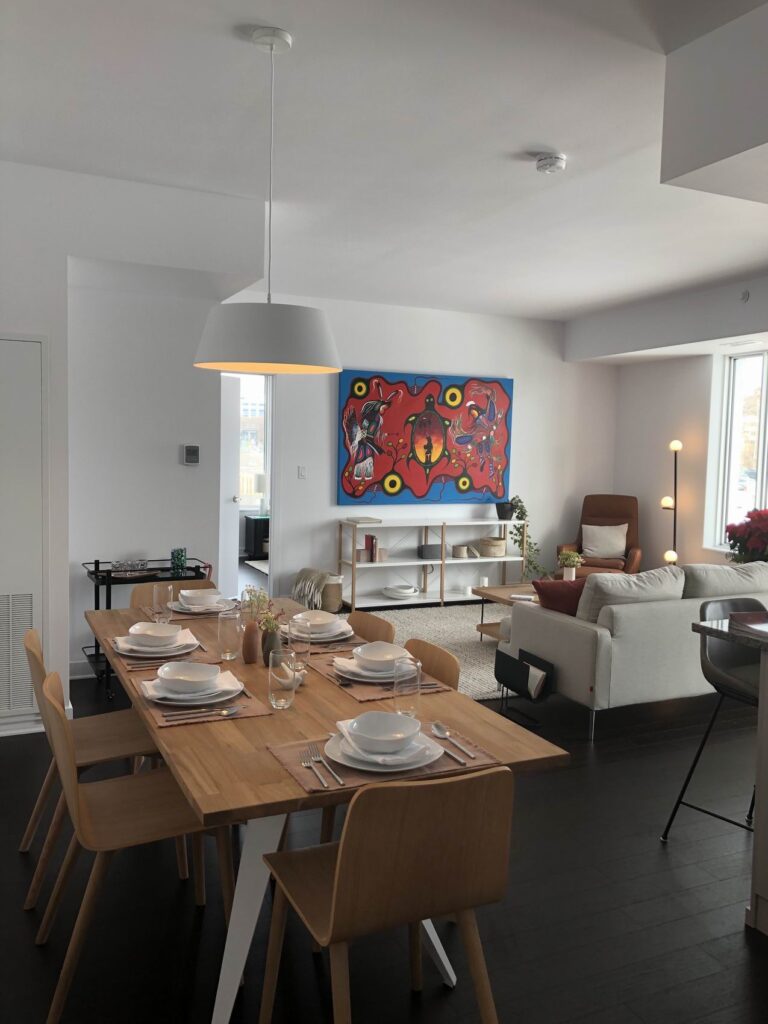 This is a two-bedroom, two-bathroom condo apartment in the first building to be finished, O, on the Gatineau side. The corner suite overlooks Parliament Hill and is furnished by EQ3. Featuring an open-concept layout with the bedrooms at either end, the unit is called the Current and offers 1,131 sq. ft.
Buchanan.1
The Buchana.1 is a two-bedroom unit at Kanaal. As a corner unit, it allows the two bedrooms to be in opposite corners with one overlooking the balcony and the other closer to the entrance. The unit has 1,289 sq. ft. and two bathrooms, with a walk-in closet in the master.
Buchanan.2
The Buchanan.2 is also a two-bedroom, two-bathroom unit at Kanaal. It has 1,041 sq. ft. and a very generous 380-sq.-ft. balcony stretching the width of the unit and overlooking the Buchanan Canal. Views include Parliament Hill and the Ottawa River. The open-concept living room, dining room and kitchen take up the middle of the suite with the two bedrooms along either side.
Touring the Zibi model homes
The sales centre is open by appointment only. Check our
Zibi development profile
for more information.
There are currently three Zibi model homes to see. Here's what you'll find when you visit.