The 2018 Minto dream home is designed every year to offer inspiration and to get you, well, dreaming.
Who couldn't fantasize about living in a gorgeous, designer-decorated and fully-loaded home, complete with a Jeep, a bucket of cash, house cleaning, groceries and more?
The home makes up the bulk of the $2.3-million grand prize in CHEO's Dream of a Lifetime Lottery. And all of it is done to benefit the children who need to use the hospital each year.
There are several things new about this year's home, from its location to who has been involved in putting together its look. But what hasn't changed is its ability to give you ideas for your own home, and maybe tempt you to buy a ticket.
Here are 20 reasons why you want to win the Minto dream home this year.
No. 1: It's designed by industry veterans.
Acclaimed Ottawa architect Christopher Simmonds had a hand in the design of the home and its layout, sending his suggestions back to Minto, which came up with the final drawings.
"I felt that it was representative of how a family might use the home," Simmonds says of the concept he passed along. He used how his own family lives as inspiration.
Then interior designer Tanya Collins stepped in to give the interior a unified, contemporary look using a palette of black, white and gold, with a bit of blush pink to soften things and selected hits of bold colour to make things pop.
No. 2: It's got a contemporary vibe.
Both Simmonds and Collins are known for a contemporary influence, which makes the collaboration on this home apropos. It features clean lines, simple proportions and understated elegance. The black/white/gold colour palette emphasizes the glamour while bringing a timeless look.
"I wanted something kind of glamorous, but livable at the same time," says Collins. "The luxury of the finishes, lounge-y seating so it invites you to come in and sit down, something stylish and not typical."
No. 3: It's in the west end this year.
After many years in Manotick, this year's home has moved to the Stittsville community of Potter's Key, right near Canadian Tire Centre. Minto, which has built the dream home every year for the past 18 years, identifies each year an appropriate lot in one of its developments under construction.
For a long time, the appropriate lots were in the south end. But the company wanted to shift locations to reach a different market. "I'm expecting traffic to be very high this year given its close proximity to the Queensway and a whole new location," says Brent Strachan, president of Minto Communities Ottawa.
No. 4: It backs onto a conservation area.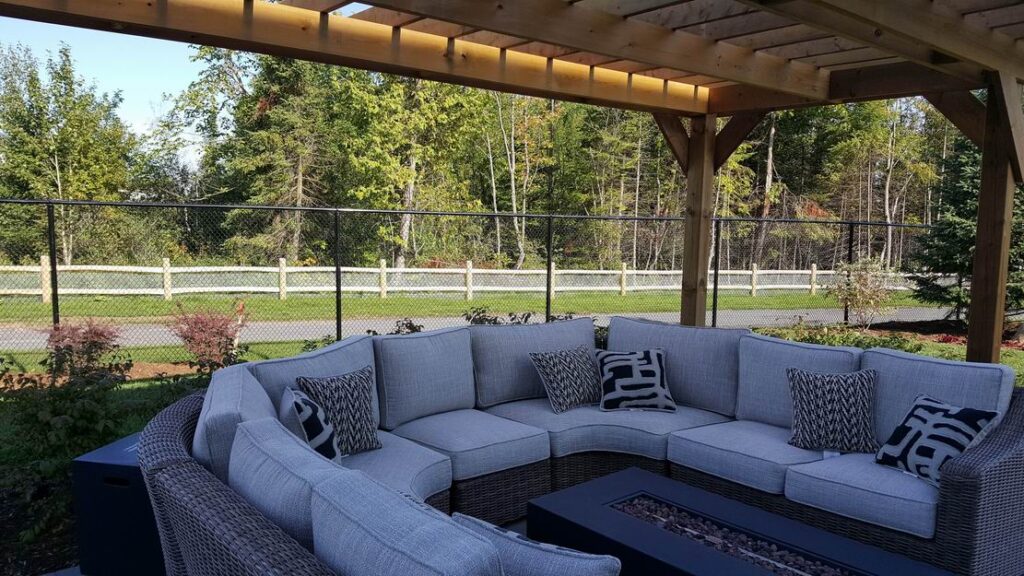 One of the appeals of the location is that the backyard faces Feedmill Creek, a strip of conservation area that snakes through the community. Along with the creek, there are mature trees and protected species, creating a forest-like effect that offers privacy and a connection to nature.
No. 5: It's got a main-floor in-law suite.
At 473 square feet, this main-floor suite off the kitchen is huge. It could be a main-floor master, a mini apartment for an adult child still at home, or perfect private space for a family member with accessibility issues.
In this case, it's decorated as a mini condo, with kitchenette, dining and seating area, a daybed that converts to a double bed and separate access to the back deck.
It comes complete with walk-in closet and a fully accessible ensuite with a "Palm Beach vibe" in Kelly green, says Collins.
No. 6: It's big, at over 5,000 square feet, but livable.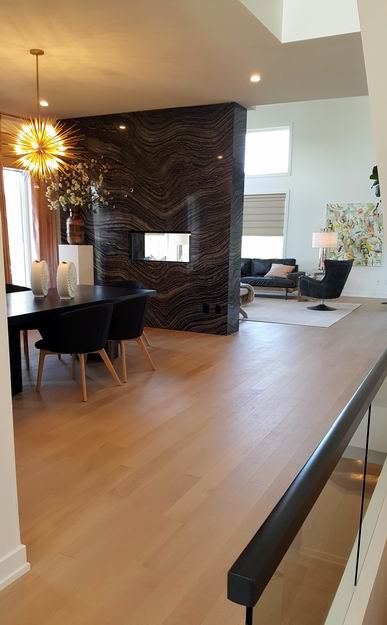 Because it was inspired by a bungalow plan for which a second storey was added, the footprint of the home is large. But Simmonds specifically scaled things so that day-to-day living wouldn't feel like you're lost in the space.
It's a theme that's also important to Collins, who wanted connected spaces that flow well, with lots of natural light. So while the rooms have generous proportions, they don't feel too big and each space has a usable function for daily living.
No. 7: The main floor is both elegant and casual for easy living.
"I just love how that space feels and could picture having Christmas or Thanksgiving, a lot of people in that space," says Strachan. Yet, he adds, "it still feels cosy when there aren't 20 people in it."
Part of that is a reflection of the furniture choices — mostly modern pieces (from La-Z-Boy) that are comfortable and stylish — and part of that is the design choices: the colour palette, the clean lines and the simplicity of the spaces.
No. 8: There's a roller rink in the basement.
"We're having a bit of fun with the basement," says Strachan. And why not? There's plenty of room. Only about half of the basement is finished (there's also a media room and a powder room) — leaving lots of room for storage or for personalizing however the home's winner sees fit. The rink is a nod to the 1970s, complete with disco ball, but the space is easily convertible to living space if a roller rink is not your thing.
And because the basement is partially above ground at the back of the home, windows are big and bright. "It doesn't feel like a basement," says Collins.
No. 9: The girls' bedroom has a cool link to a playroom.
One of the brightest pops of colour in the home is in the two rooms set aside for "the girls". Rather than decorate two kids' rooms individually, Collins was asked to create something unexpected. The result is one room for sleeping and another for playing, with giant wall cutouts edged in a mottled-metal-look laminate.
Tying it all together are accessories in orange and hot pink. How could a couple of little girls resist?
No. 10: The master suite is luxurious without being over the top.
It's roomy without being too much. And a four-poster bed, white shiplap ceiling and dusty blue walls give the room a beachy feel that Collins likens to being in the Bahamas.
No. 11: The master walk-in is a dream.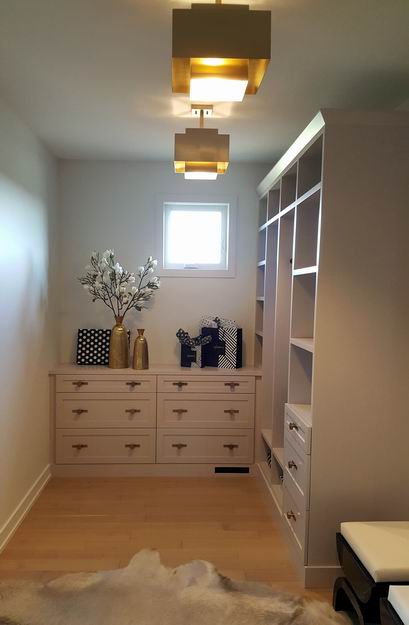 "This walk-in closet is spectacular," gushes Collins. The space is one of her favourites in the home. Saying shes "fussy about the little details," the closet features built-ins with thicker millwork to make them feel like furniture.
No. 12: There's storage space galore.
From the extra basement storage mentioned above to pantry space in the mudroom and handy built-ins in the library, you won't run out of storage space in this home.
No. 13: The light fixtures are gorgeous.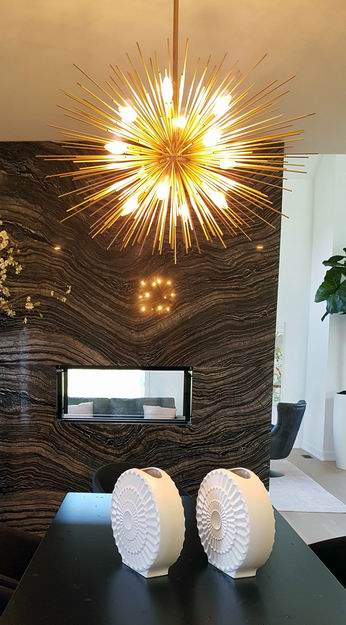 "I'm big on lights," says Collins, who likes them for the way they set the mood. "It's something you always see." Many of the lights in the home were sourced through her trade suppliers, who donated them for far less than she might have been able to get otherwise (believe it or not, she does have a budget for the home she must stick to).
For instance, the dining room chandelier from Arteriors would retail for about $5,000, she notes.
No. 14: The two-sided fireplace makes a striking focal point.
The fireplace is the focal point of the main floor and the black marble surround — called Jurassic from Mountain Granite — caught Collins' eye when she first saw it. She loved that it incorporates all of the home's colour palette and against the white walls it's elegant and sophisticated.
No. 15: The great room is great.
"I like to think of the family room as being the main living room of the house," Simmonds says. And while it features a cathedral ceiling that reaches 20 feet at its highest point, he feels the room is in scale with the rest of the home and is open and accessible.
The generous windows make it bright and visually connect the space with the conservation area behind it, and Collins has kept the feeling casual through the furnishings so that it's a comfortable family gathering space.
No. 16: The foyer sets the tone in dramatic fashion.
Nothing sells the black-and-white palette like the "carpet" of tile at the front entrance. Combining simple, inexpensive tile in a striking pattern creates an elevated and practical front-door solution for a space where there was no natural cut point for inserting a tile floor.
It's one of several examples throughout the home where Collins gets creative with patterns to keep tile costs in check. In fact, the high-low approach to outfitting the home is used repeatedly as well. Another example is the interior doors.
"A slab door is the most inexpensive you could purchase," Collins notes, although some expense was added in opting for eight-foot doors on the 10-foot main floor. But in painting the doors black, it looks more expensive, she says.
No. 17: The lot is huge.
Yes, it's a suburban lot, but it's a big one. The oversized, pie-shaped lot is more than 13,000 square feet. Even with a deck and interlock seating area, there's still plenty of room in the backyard for playing.
No. 18: The outdoor living space takes advantage of the view.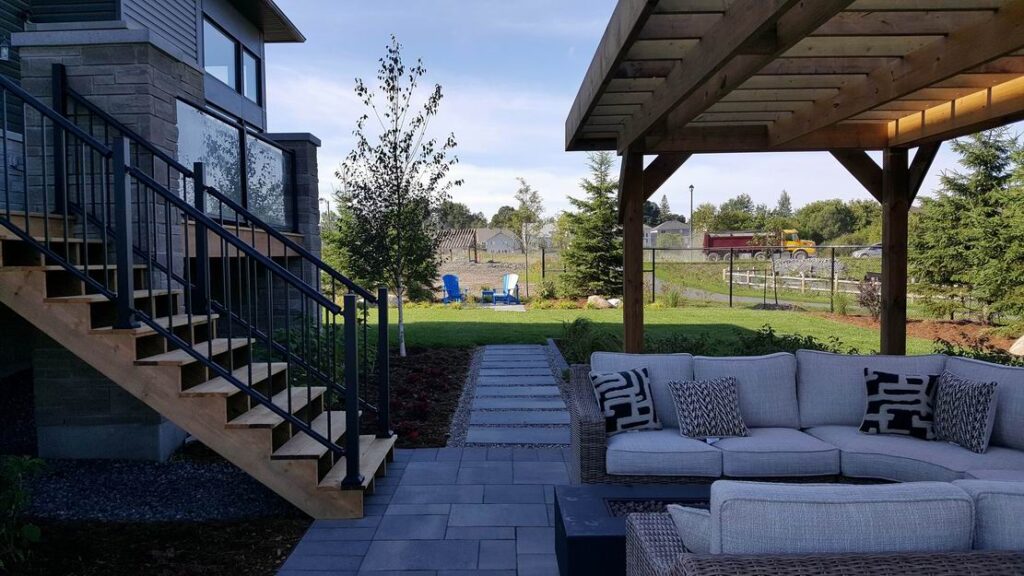 A generous deck and that seating area, framed with a pergola, looks out onto the conservation area that the home backs onto.
No. 19: The home comes with so many extras.
Sure, the fully furnished home is the big prize, but winning the grand prize also includes:
$100,000 in cash
2018 Jeep Wrangler
House cleaning for a year
$5,000 St. Laurent gift card
$5,000 Farm Boy gift card
Legal & moving services
Redlacks 2019 season tickets
2019 Bluesfest passes … whew!
No. 20: With 5 bedrooms & 4.5 baths, there's room for everyone.
This home is perfect for families, multi-generational living, those with mobility issues, you name it. "It could appeal to lots of different demographics," says Collins.
Bedrooms are all generous sizes, there are plenty of places to find a bit of "away" time, from the den/library to the upstairs TV room, the media room and more and the home encourages family gathering.
It's also a great space for entertaining.
"It's really spectacular," says Dan Champagne, the CHEO Foundation's vice-president of development and corporate relations. "I'm thrilled that we're in Stittsville."
When & where to visit
The home is open every day for you to tour until Dec. 7. From Monday to Friday, it's open noon to 8 p.m. On weekends and holidays, it's open 10 a.m. to 6 p.m.
It's located at 314 Eaglehead Cres., in Stittsville, just off the Queensway near Carp and Hazeldean roads. (You may not be able to find it on Google Maps yet. From the Queensway, turn south on Carp Road, then left at the lights at Echowoods Avenue. Eaglehead Crescent will be on the left. It's in a development under construction, but there are signs to guide you and a parking lot across the street.
How to get tickets
You can order them in person at the home, at CHEO's gift shop or at the CHEO Foundation. You can also order them online at dreamofalifetime.ca or you can call 613-722-5437 or 1-877-562-5437. Tickets are $100 each or three for $250.
UPDATE Nov. 17: The lottery is now sold out, but it's still worth a visit to the home.
Related
Anita's story on this home in the Ottawa Citizen
Sign up for our newsletter to stay up to date