Partnering with the talented young design firm West of Main, Glenview Homes opted for a bit of the bold in its award-winning single-family model home the Blakely.
"It's a beautiful house," says Mirjana Opat, sales and marketing manager for Glenview. "We don't have anyone coming in who says they don't like it."
The largest of Glenview's singles, the Blakely is aimed at a move-up buyer with a young family and possibly parents in tow or who visit frequently.
The home was originally built for Glenview's Heirloom enclave in Barrhaven. Heirloom sold quickly and about half of the 41 homes chosen were Blakely floor plans. Now the model serves as the sales centre for Glenview's larger Flagstaff community further south in Barrhaven.
Note: As of March 16 and until further notice, Glenview is restricting access to the model due to COVID-19. It is open by appointment only.
Fast facts
Type: Two-storey single
Size: 3,099 sq. ft., including about 540 sq. ft. of finished basement space
Bedrooms: 4
Bathrooms: 4.5, includes optional bathrooms in the basement and in a secondary bedroom
Price: from $675,990 (but check with the builder for any changes)
The design
The design is purposefully transitional, "geared towards modern but rooted in classic and traditional to suit all ages and all audiences," says West of Main lead designer Josée Sigouin. "We wanted it to feel really approachable, timeless, light and airy."
Part of that involved creating a look that shows how family heirloom pieces can be easily integrated into new spaces with new furniture.
"It's nice for people to have stories from their family that they bring into their present," adds West of Main owner Sascha Lafleur.
The spaces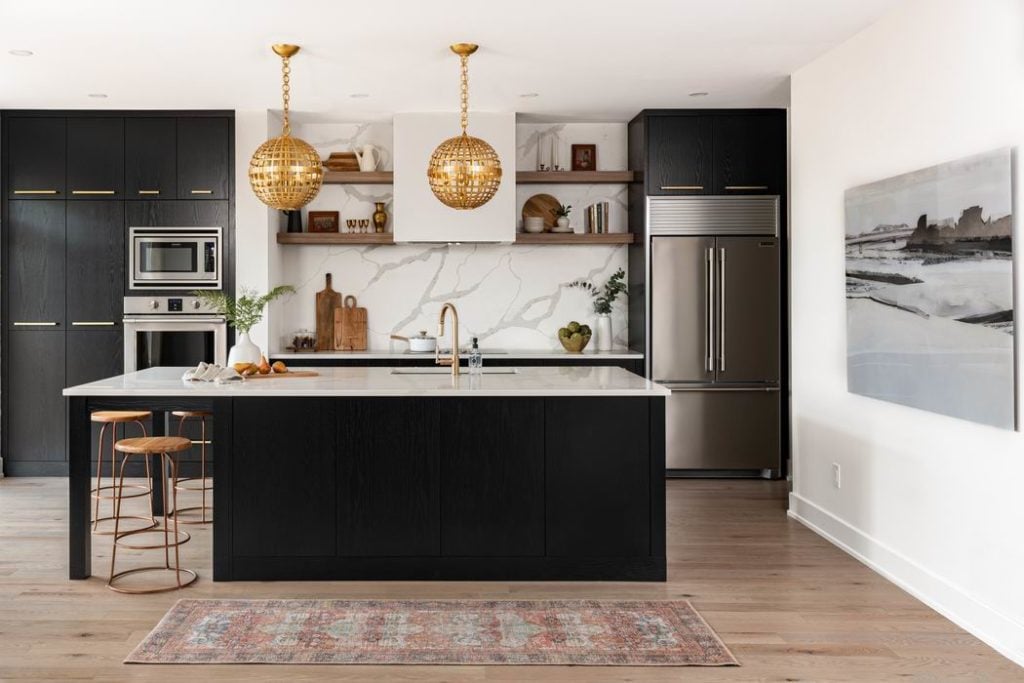 The showstopper by far is the gourmet kitchen, with its black flat-panelled wood cabinets, quartz backsplash and gold accents.
"Sometimes it's nice to show something a little bit different just so that people who want to go a little bolder can see an example of it," says Lafleur.
That, and it makes for a good "memory hook" for buyers who may have seen lots of models, adds Sigouin.
The nine-foot island includes an optional extension that integrates dining.
Adding to the custom look are the built-in appliances, a cladded hood fan and the floating shelves, which are possible thanks to the floor-to-ceiling pantry storage.
"When you're standing in front of that stove it's such an airy, expansive feeling," says Lafleur.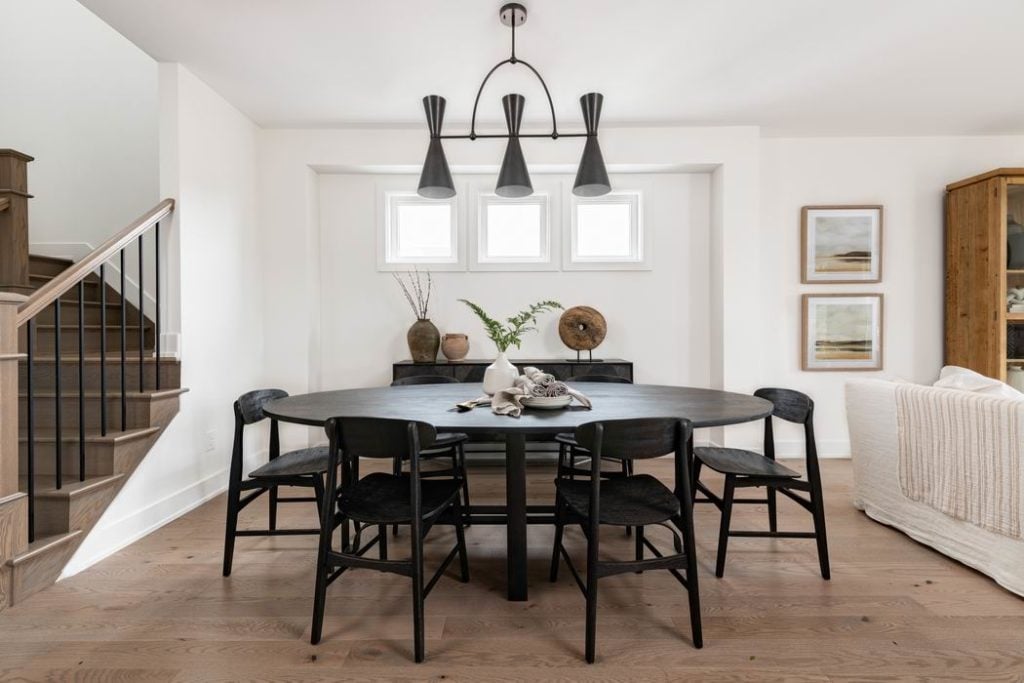 The dining area is kept informal to encourage everyday use. The dark table complements the dark kitchen cabinets to tie the spaces together, while the red oak flooring provides a balancing lighter tone that is still full of warmth.
The trio of peek-a-boo windows in the dining room are one of several examples of thoughtful touches that add a quiet sophistication to the home.
A sunken foyer (left) hints at the fresh and light decor that's to come while the generous mudroom with built-in storage and seating is oh-so practical.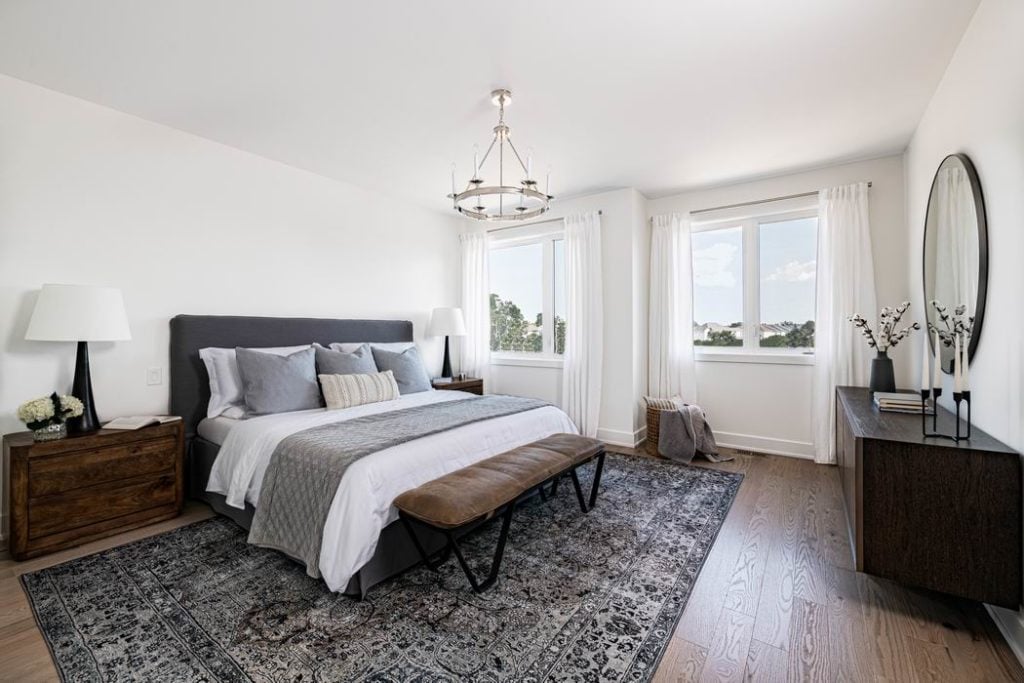 Upstairs, the master suite is separated from the other bedrooms by the main bathroom and the laundry room, adding to the sense of privacy.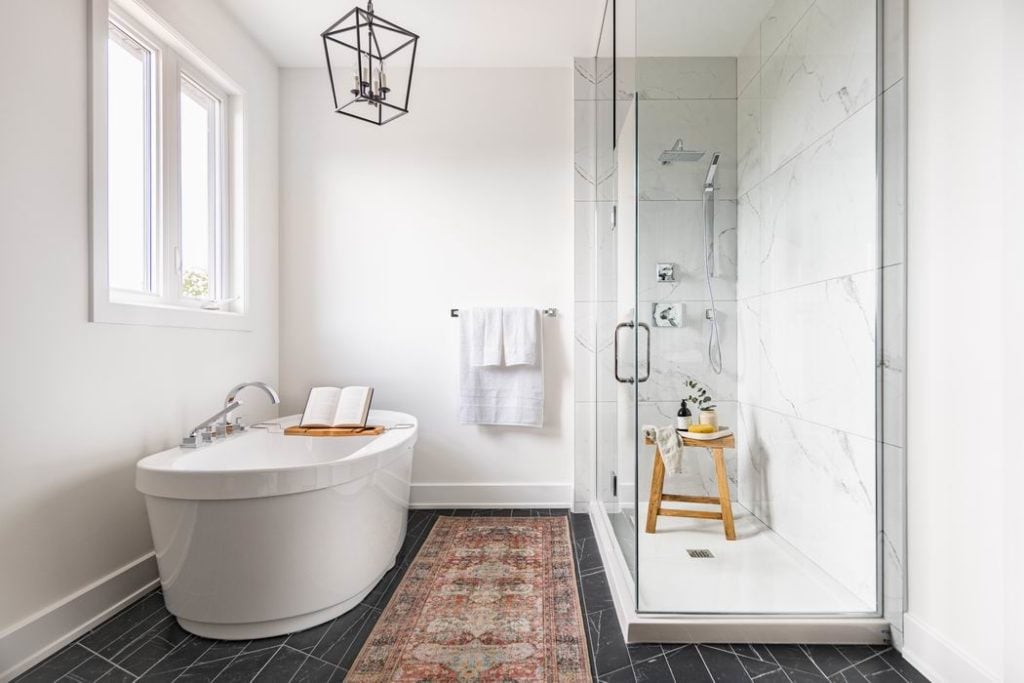 The master ensuite, a finalist in last fall's Housing Design Awards, is hotel-inspired with soaker tub and walk-in glass shower. Other touches include a fun zigzag pattern to the floor tile and double vanity with full-length mirror and open shelving (not shown).
The three secondary bedrooms include one that can be turned into a second master with the addition of an ensuite, as is done in the model (left), and compact but efficient and bright girl's room (right) and boy's room (not shown).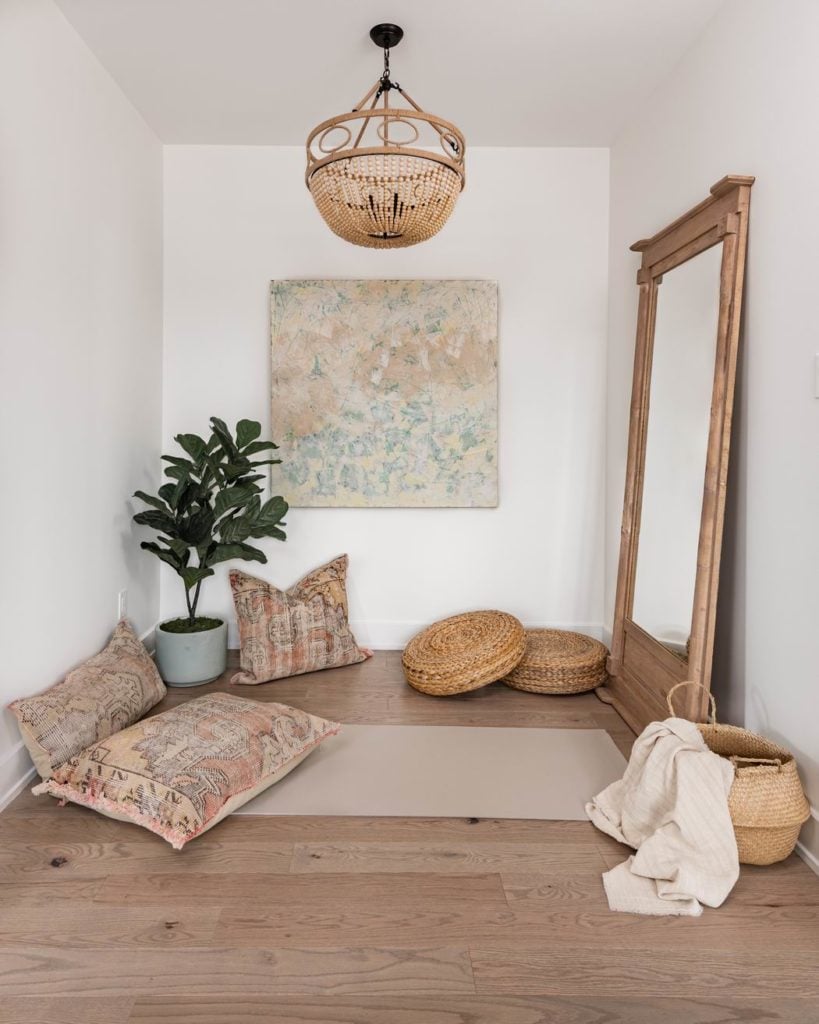 The second-floor loft gets an unexpected treatment, giving the small space (it would be larger if the optional ensuite in the bedroom next door were not chosen) a perfectly usable function.
"We wanted to introduce something fun and comfortable," says Sigouin. "It doesn't necessarily need to be a yoga nook; it could be a little reading nook with floor pillows for the kids."
The four bedrooms in the home radiate from the loft and landing to create an open feel to the second floor.
In the basement, the roomy finished space (a finished basement is standard) includes separate areas to relax and to play. The metallic backsplash behind the bar adds some fun. "It was just a little element of glam that could appeal to a wide audience," says Lafleur.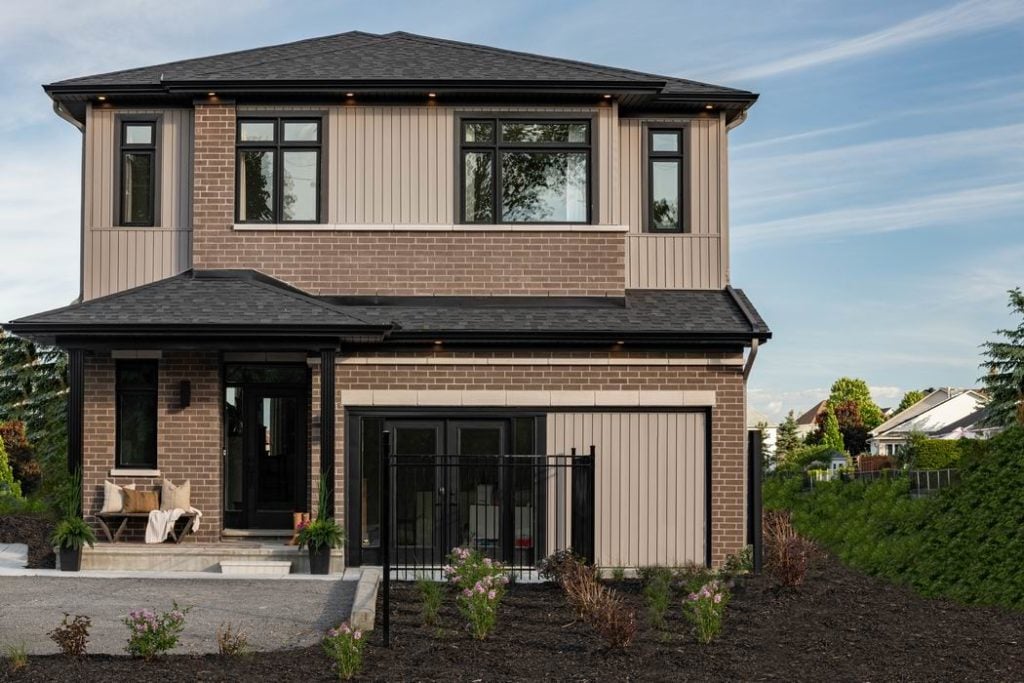 The contemporary elevation of the Blakely is new for Glenview. Opat says the company's modern elevations are doing well.
"It's just a very comfortable house," she says. "It's upscale but not too pretentious."
The floor plan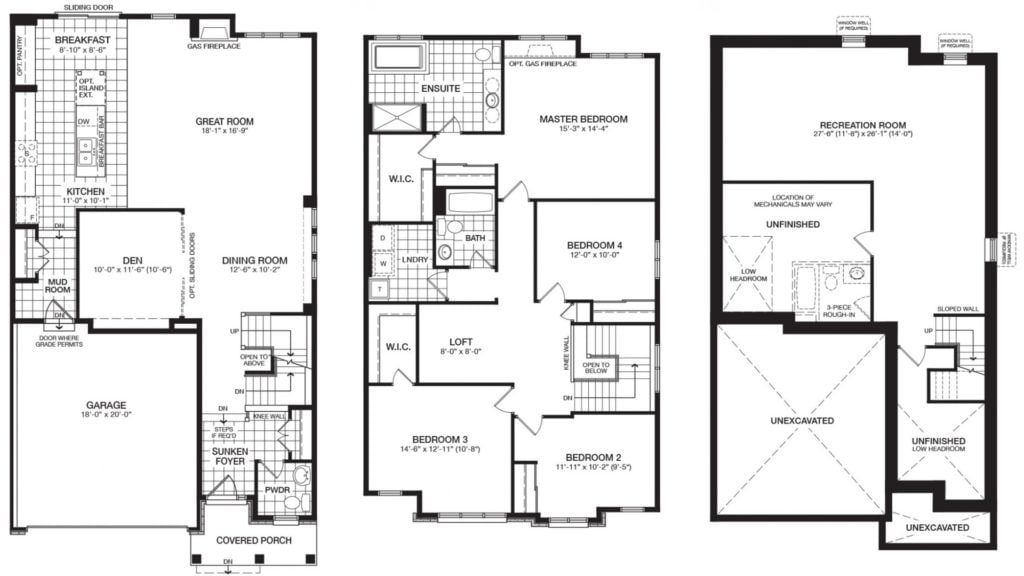 The Blakely comes with four bedrooms, a main-floor den that can be closed off with doors (in the model there are glass pocket doors) and 2.5 bathrooms. Two other optional bathrooms — one in the basement and one as an ensuite for one of the bedrooms — have been finished in the model.
"It's our first totally open-concept plan," says Opat.
To visit
The Blakely is open Monday to Wednesday 1 p.m. to 8 p.m., Saturday and Sunday 11 a.m. to 6 p.m. and Thursday and Friday by appointment. The home is at 41 Deerfox Dr. in Barrhaven.
Related
Glenview Homes company profile
Get regular updates on our latest articles