A hot summer and pandemic restrictions that are keeping us all a lot closer to home this year make this the perfect opportunity to give more thought to our outdoor spaces, staycationing and making the most of our properties so we can get maximum enjoyment.
"Having outdoor spaces is important, and they don't always need to be huge areas," says Steve Ardington of Ardington + Associates Design. "If properly designed, sometimes all it takes is a small patio or screened room to feel like you have a refuge from the everyday chaos, especially in the last few months."
He's not the only one who's seeing growing interest in our outdoor spaces.
"People are looking at this space differently now and I think that people really love the outdoors and the feeling of being surrounded and closer to nature," says Cosimo Zacconi of Canterra Design + Build.
"Because of this COVID pandemic, we're in uncertain times right now. More than ever, people are re-thinking this space and the experience they want to have, so more emphasis is going into the whole home and exterior design, integrating it with their lifestyles and how they can maximize the use of their property."
Custom home builder Gord Weima agrees COVID has changed things. "People are spending more time in their backyard and creating more living spaces inside their backyard," he says. "There's literally a shortage of cedar and pressure treated (wood) in the city right now… So many people are doing home projects and decks and all that kind of stuff because they're spending more time at home than they ever did before."
Besides, a sunroom or other enclosed indoor/outdoor space helps extend Ottawa's short summer, says Kim Pijselman of Cedarstone Homes, who often adds a sunroom to the homes he builds. "A sunroom extends the usable season by a month in the spring and a month in the fall."
And a screened-in area lets us enjoy the outdoors minus the bugs, notes Herb Lagois of Lagois Design-Build-Renovate. "We encourage our clients to think about not only their interior living but their exterior living as well."
He also finds homeowners are optimizing their home as a cottage. "I'm a good example. We entertained (the idea of) getting a cottage (but) we love our home, love our outdoor space, and I'm too busy as it is. I can't imagine taking care of another property."
Whether you're thinking of a sunroom, a lanai, an outdoor kitchen or even just a dedicated lounging area, you can expect to recoup at least half of the cost of updating an outdoor space. For instance, adding a deck will return about 72 per cent of the cost and adding a patio returns 55 per cent, according to the Cost vs. Value report prepared annually by Remodelling Magazine.
"Imagine a wonderful outdoor space that we can gravitate to and enjoy without just being trapped indoors," says Lagois. "For me to simply watch the birds in our backyard allows me to let go of all the stresses for a while."
Thinking of updating your outdoor spaces? Here are seven others to inspire you:
This two-storey pool house by Brenmar Construction oozes luxury. It includes motorized retractable screens on three sides for the experience of an open-air living space and decorative details such as large ceramic tile floors, dressed ceiling beams, custom wood paneling, mosaic and ceramic backsplashes and a myriad of lighting options.
A common feature of eQ Homes' bungalow designs is to offer the option of a four-season sunroom, like the one in its award-winning Firestone model at Pathways at Findlay Creek.
This suburban home by Canterra Design + Build was built for entertaining inside and out for a busy family with four children. One of two outdoor spaces, the covered lanai provides a relaxing shelter and contributes to the desire for a backyard oasis perfect for staycationing.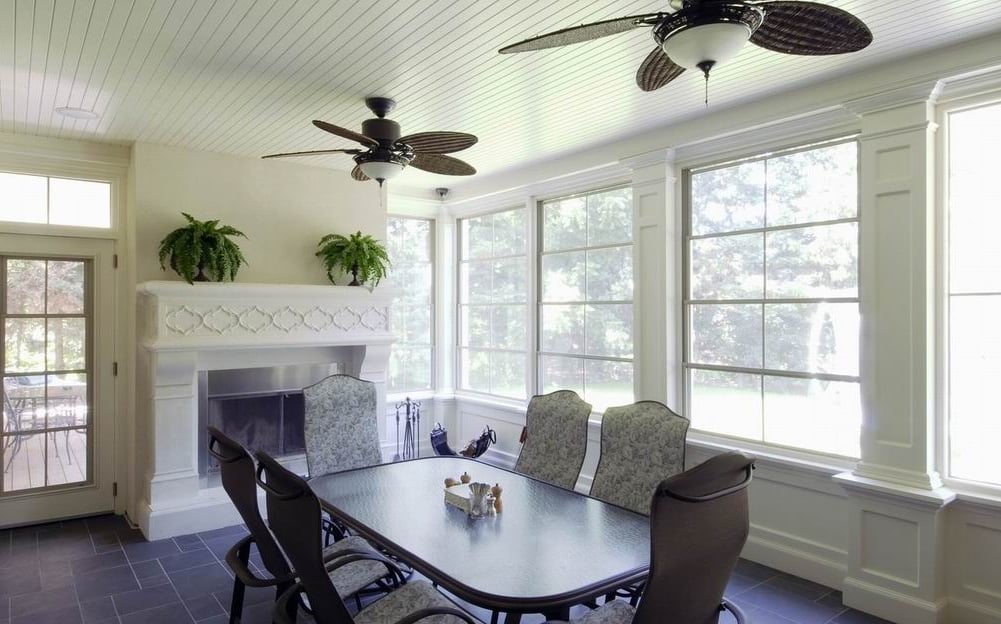 Custom builder Gord Weima gives a more permanent feel to this Weatherwall screened-in porch by adding a fireplace and trimming the metal frames in painted wood.
A river-side deck was renovated by Lagois Design-Build-Renovate to add a cedar roof supported by fir beams for shade and to maximize the view. A ceiling fan helps with air flow and the deck was designed so that roll-screens could be added later.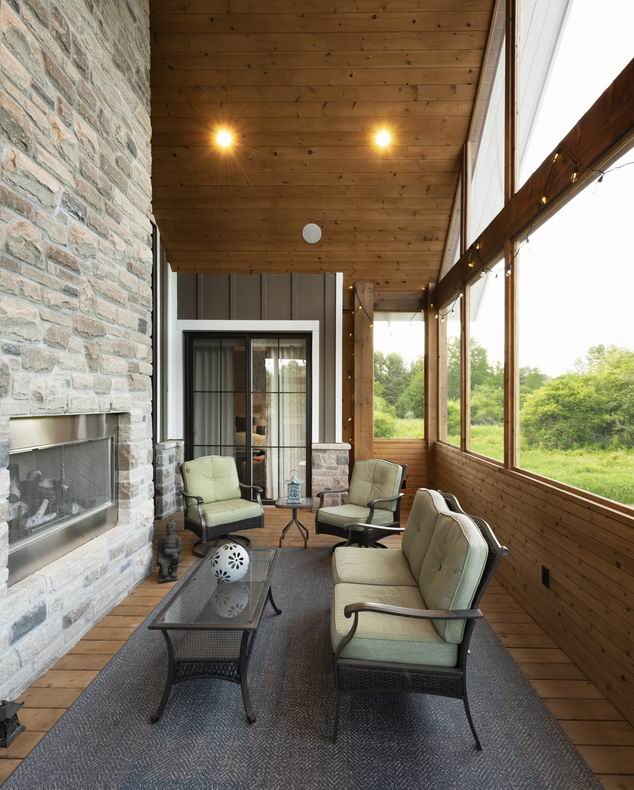 A fusion of Craftsman and rural farm esthetic carries through this home by Ardington + Associates and Maple Leaf Custom Homes, which includes an interior to exterior fireplace.
A main-floor master means there's a separate access to this covered lanai, "making it feel like you are in a resort-like setting with your own private retreat area," says custom home designer Cosimo Zacconi of Canterra Design + Build.
Related
Get regular updates on our latest articles