Tips from renovation pros are always popular, and main stage speakers at the recent Ottawa Home & Remodelling Show offered some timely ones. From Mike Holmes Jr. and his sister Sherry to Ottawa-based renovators, the speakers walked audiences through the home improvement process from A to Z, including must-dos, pitfalls and even return on investment. We've gathered some of the most helpful highlights, adding a couple of our own.
Sherry & Mike Holmes Jr., celebrity contractors and stars of Holmes & Holmes and Holmes: Next Generation
Mike and Sherry are the children of wildly popular celebrity contractor Mike Holmes and have learned well at his side, carrying on his "make it right" mantra.
When it comes to renovating it right, they offer the following advice:
Start with a plan: Even with their pedigree, this is something they had to learn the hard way. Their first home was one they bought together with the intention of renovating and selling in a year. Instead it took them seven, "because we didn't actually come up with a plan," says Sherry. "Planning is the only time during a renovation that you can actually save money."
Aside from the time miscalculation, much of the renovating they did was with the thought of how they were going to use the space at the time, rather than how to make it more salable in the future. Another no-no since selling was their primary goal.
Do your research: When it comes to hiring a contractor, "knowledge is power," says Sherry. "Check up on the contractor you're looking into." That means getting quotes, looking at past jobs, checking references and making sure the contractor is licensed.
Get it in writing: "Do not do cash jobs; cash isn't traceable," warns Mike. Make sure there's a proper contract in place; it will protect you. Along with that, make sure there's a payment schedule spelled out and that the contractor insists on permits.
Where do you start? "Start from the outside in, prioritize your renovation," says Mike. "Unfortunately, most people don't want to spend the money on where they're not going to see it. But the truth is, that's where you're actually going to save money." It won't do you much good to have a fancy new kitchen if you have to rip it out because your roof leaks and creates problems inside.
That prioritizing includes making sure your home is healthy. "You can become very sick in your own home," Mike says. "If your indoor air quality is poor, if you have mould, if you have VOCs (volatile organic compounds), if you have radon." Checking for radon, regularly cleaning and replacing your furnace filters, installing a heat recovery ventilator to help your home breathe: all can go towards having a healthier home.
Document your reno: When you're going through the renovation process, document everything, Mike says. When you later go to sell, if you can prove your home is built better by being able to show what's behind the walls and under the floor, your home will likely fetch more than your neighbour's house.
Chris Palmer, DIY expert and professional designer, carpenter and celebrity contractor
A buff fellow with a boy-next-door smile, Chris Palmer offered advice in generous quantities as he took his audience through the ABCs of renovations. His suggestions included:
Get inspired by the stunning photos on Pinterest, Instagram and the like but "don't go into dreamland," cautions Palmer. You imagine an elegant vaulted ceiling in your living room but you live in a bungalow? Maybe you should just buy a new home.
When planning your reno, set your budget at less than you can actually afford. If you have $30,000 to spend, commit to $25,000; that way you'll have a contingency fund in case things wind up being more expensive than anticipated, which they probably will.
Get at least three quotes, making sure every quote is for exactly the same thing so you can compare apples to apples.
Count on foul-ups. "The unexpected is 99 per cent of the time what a reno will give you," says Palmer. Trades people get backed up, materials don't arrive when they're supposed to, your renovator discovers rot where there was supposed to be solid wood: the ways in which a reno can go off the rails is endless. Take a deep breath, be kind, and go with the flow.
For more home improvement ideas, read Chris Palmer's columns on All Things Home.
Greg Simpson, architectural designer, Amsted Design-Build
His native Australian accent still intact, Greg Simpson of Ottawa's Amsted Design-Build covered a range of reno topics, from ROI (return on investment) to selecting a new bathtub by giving it a dry run. Here's some of what he talked about.
Know what it is you want and why before launching into a home improvement project. Unless you're single, that means a conversation with your partner about what each of you would like in the reno, including preferred style — traditional? contemporary? farmhouse? — and problems you're trying to solve: more storage? less clutter?
When choosing a contractor, word of mouth is your best reference, said Simpson. He also suggested visiting a project in progress. A clean and orderly workplace speaks to the professionalism of the renovator.
Use trends to your advantage. For instance, in the kitchen, use on-trend whites, beiges and greys in cabinetry and elsewhere to create a timeless feel, then add a pop of colour in the backsplash. When it's time to freshen up, save money and effort by just changing the backsplash.
Looking for a new bathtub? The only way you'll know if it's comfortable is to sit in it in the showroom, Simpson said. Asking for water is optional.
As to what part of your reno costs you'll recoup when you sell your home, he said that if you sell within a couple of years you can expect a return of anywhere from 70 to 90 per cent on a kitchen makeover and 80-85 per cent on a bathroom. However, Simpson cautioned that highly customized upgrades will not yield as high an ROI because they will have less general appeal when you sell.
Lagois Design-Build-Renovate panel
Herb Lagois, owner of Lagois Design-Build-Renovate, and key members of his team explained the valuable design-build option for renovating, but whether you're considering going this route, hiring a straight renovation company or going with a single contractor, there are key questions you should ask. Here are Lagois' top 10 questions:
Do they have a process that takes you from the design through completion of the project? What is it?
How do they manage schedules?
What do I need to do as a homeowner? Am I expected to get building permits and designs? It's important to understand what your obligations are, Lagois says.
How do they keep their sites clean, safe & healthy?
How do they deal with your family and pets during construction, especially if you are staying in your home through the renovation?
Do they have insurance? What kind? Ask for proof of insurance, Lagois says. "Ultimately, it is a trickle-down effect. So, if somebody gets hurt walking onto a job site and the contractor doesn't have insurance then guess who it trickles down to — the homeowner." Also find out what your obligations as a homeowner are regarding insurance. It's important to insure for the value you're investing in your home.
Is their design in-house?
How do they handle selections?
What's their warranty? Is there a fee for their warranty?
When checking references, ask about: the quality of the work; was the contractor clean and on time; how was the communication?
"Then you can start to get an understanding of how they operate and hopefully that will help you make a decision in hiring (someone who is) the right fit for you," Lagois says. "There's a lot of different ways to achieve your dream; it's just figuring out what the right fit is that makes sense for you and, in my opinion, it's all about asking questions."
Sue Pitchforth, designer and property stylist, Decor Therapy Plus
Sue Pitchforth sought to create fresh design inspiration for her audience, with an emphasis on showing how thinking fresh doesn't have to be big or expensive.
"Simple sometimes is really much better," she says. "And when you do things simply, and in a light manner, the room and spaces appear much bigger."
That can include using something you already have in a fresh new way, she says, and having someone come in with a fresh perspective can make all the difference.
She offered several examples of ways to make a big impact with little or no budget.
Paint can transform anything
If you love everything else about your kitchen except the cupboards, why not paint them? "Paint technology's come a long way in the last three years," meaning the paints today are so strong that they adhere well, wear well and are very durable.
Painting cupboards is an inexpensive way to freshen your kitchen versus replacing the cabinets, she says. But don't limit yourself to your cabinets, she adds. Stairs, fireplace brick and furniture are all up for grabs in the painting game.
Dress it up
Got a simple builder mirror in the bathroom? Sometimes replacing it is not a simple option. Instead, why not leave it where it is and add some glam with either glass or ceramic tiles held on with contractor's adhesive or create a custom look by trimming it out with moulding.
Accessories
"Accessories can really make a room pop," Pitchforth says.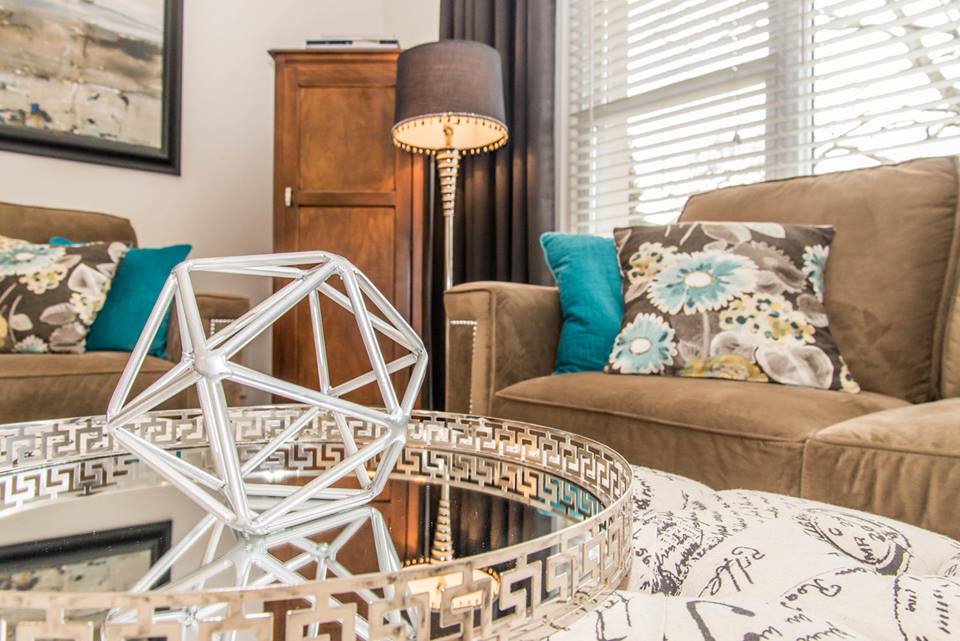 In this living room, the inspiration for the accessory that adds pop came from the pillow. "I thought it would be really nice to have the turquoise colour really come out and be shown. It really does give that room a little bit of extra life."
Got a room that's very neutral? For well under $100 you can add a new rug, whether patterned or solid "and really give that room a pop."
Rethinking your space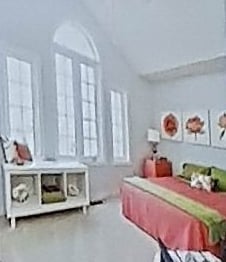 This bedroom was transformed from an unusable catch-all room without spending a dime. In an hour, Pitchforth and her client removed everything from the room, searched through the home and created an inviting guest room.
The three pieces of art were found in a linen closet and the white unit under the window had been in the basement. "We just looked at it in a very different way and we pulled it together."
Sometimes it's about editing and repurposing. In this room, the space was cluttered by the two huge area rugs, lots of furniture and the window valance, which serves to make the ceiling appear lower. Pitchforth removed the valance, split the sectional (sending the chaise section to an unused landing), angled the furniture and removed the area rugs.
"The before and after is huge," she says, all without spending any money.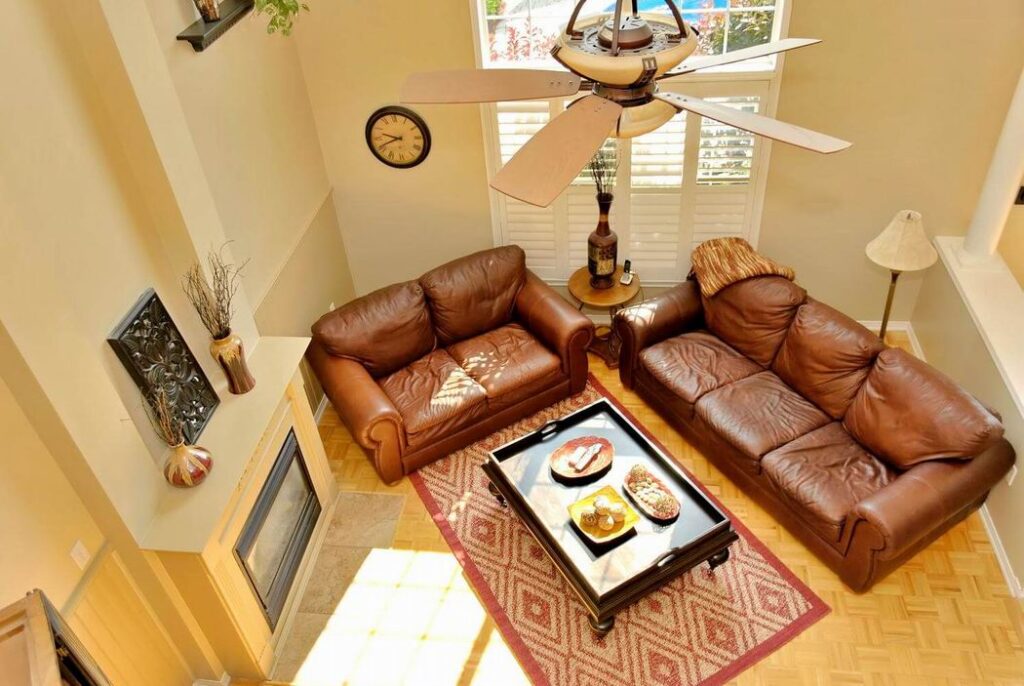 Sometimes all it takes is angling your furniture. In this room, nothing was removed or added, but a whole new look was created simply by turning the furniture. "It really gives movement to the room," Pitchforth says.
Just for spring
This idea was adorable. Instead of a typical wreath for spring, take an umbrella, use is as your "vase" and fill it with faux flowers. (Dollarama flowers look good and are inexpensive, she suggests.)
Pitchforth did this on her front door and the neighbours loved it. "It's very simple to do, it's great for apartments, for condos, doesn't take up a lot of space and it doesn't cost a lot."
Related
More from Mike & Sherry Holmes
What to know before renovating