The holiday season is upon us, which means it's time to share my favourite Christmas ideas! It's a busy time — shopping for the perfect gifts, decorating and baking lots of sweets for family and friends.
It's easy to get stressed with everything going on at this time of year. That's why I'm providing these simple, unique and quick festive ideas you can do at home, using things you may already have, to get your decorating done — while re-imagining ways to showcase your Christmas decor.
Winter wonderland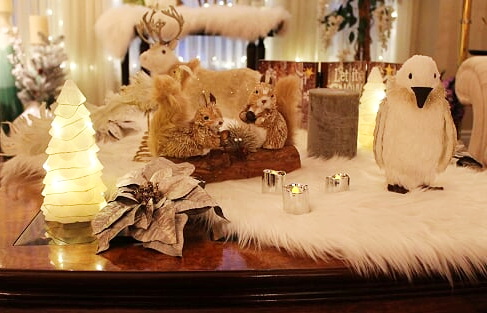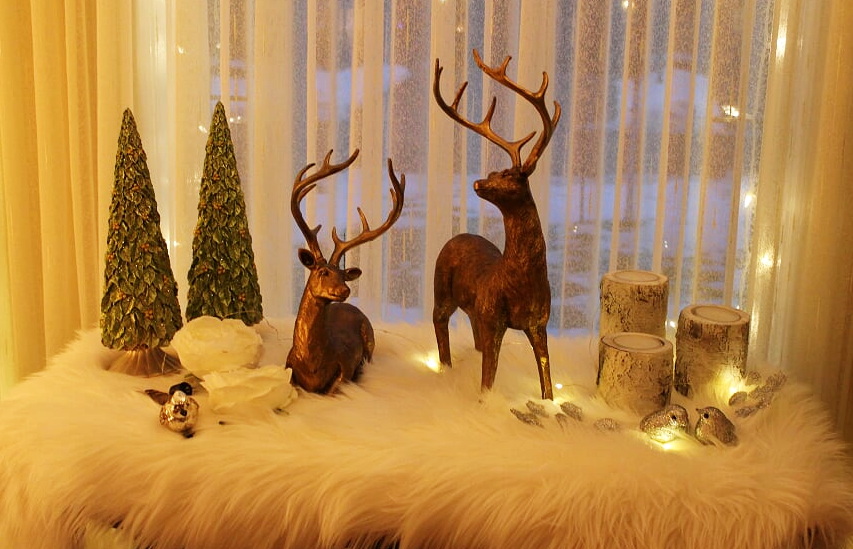 I love this theme. It's great for the holidays, but you can also leave it up for most of the winter to enjoy. Notice all the woodland creatures, faux fur and the natural-look pieces that are pulled together. Including battery-operated mini lights adds a calming, serene touch.
When creating your own vignette, be sure to group items together. Step back and if it doesn't look right, move things around until you like the arrangement. Having some texture and height also adds interest.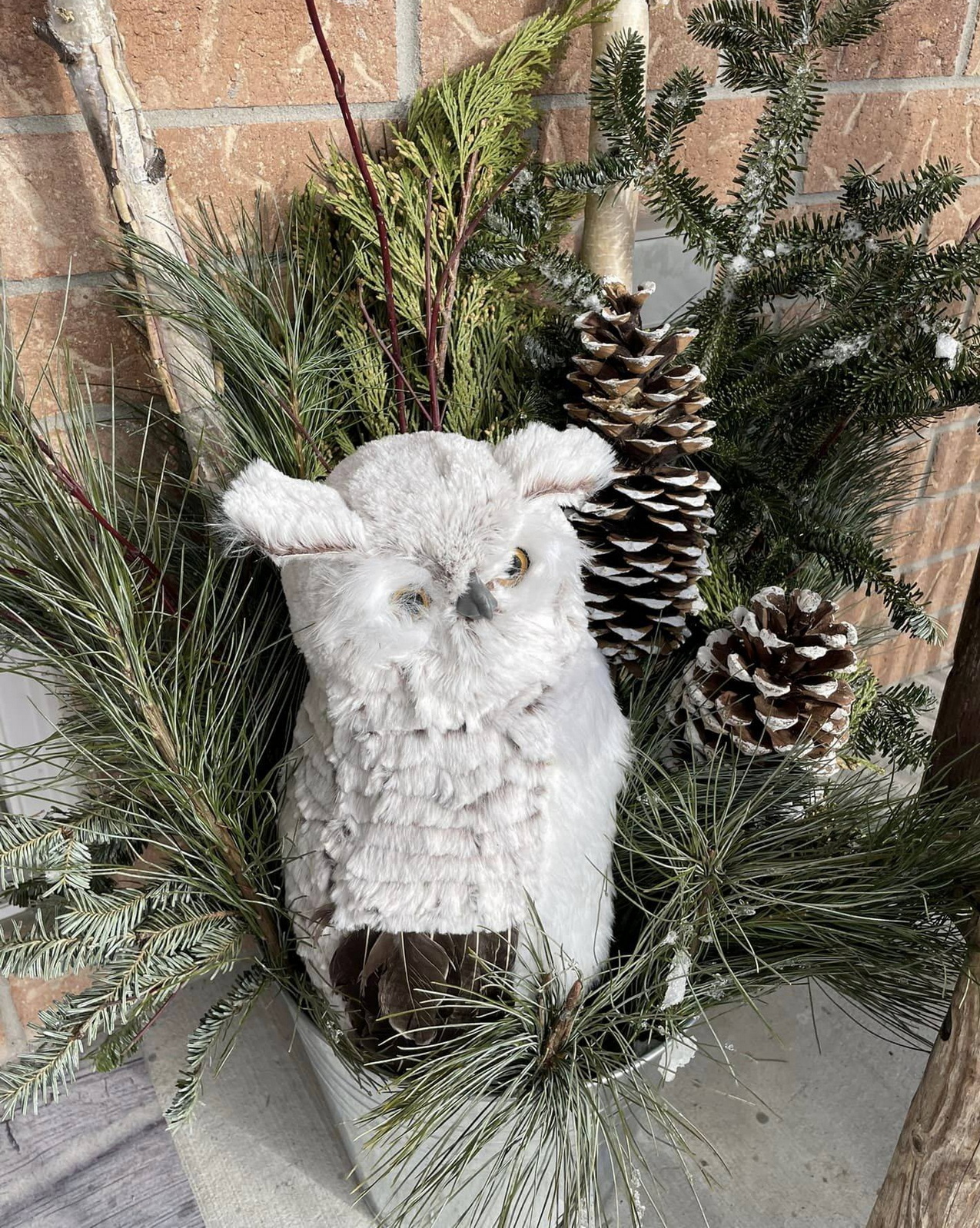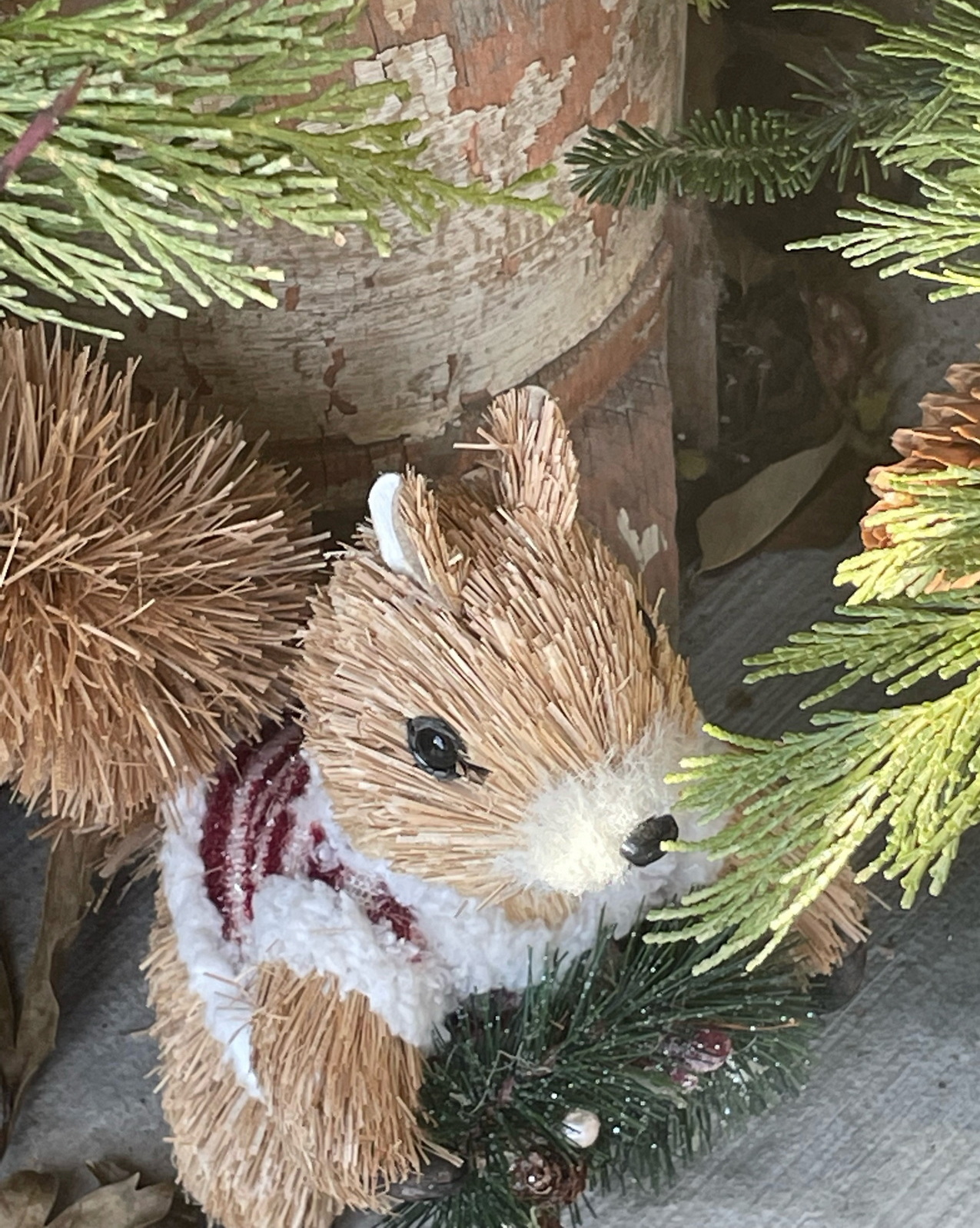 I carried the winter wonderland theme to my porch. I found the squirrel and owl while I was thrifting in the summer and I knew they would be the perfect additions to my porch. Everyone who comes to my home loves being greeted by these little guys.
Tip: Adding floral foam to the base helps when creating this type of planter. If you need to keep an added piece sturdy, like the owl, use wire to help anchor it.
White houses
I love this trend; it's so simple yet festive. White houses of all sizes are a nice addition to your Christmas decor. You can group them together, add them to existing decor or even place them on your tree. And bring in live greenery to add a fresh and fragrant touch.
Festive vintage silver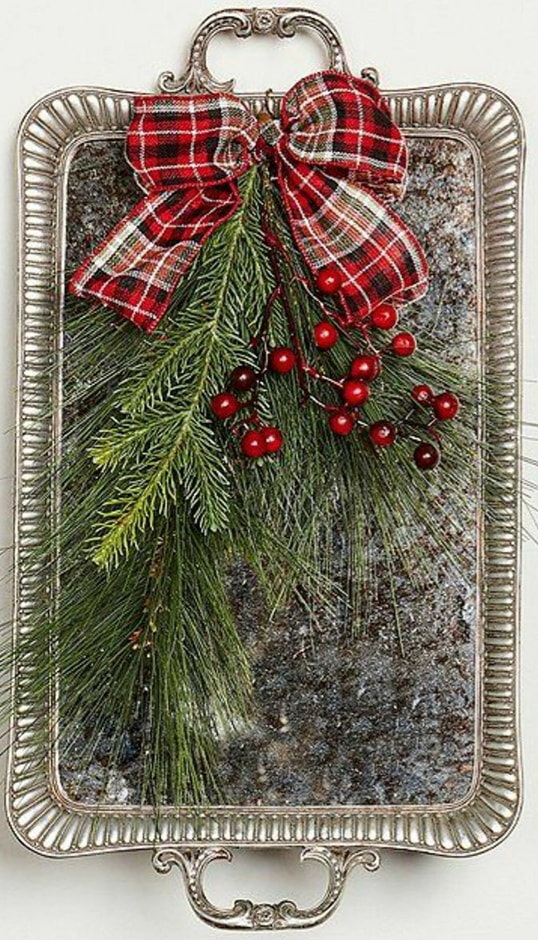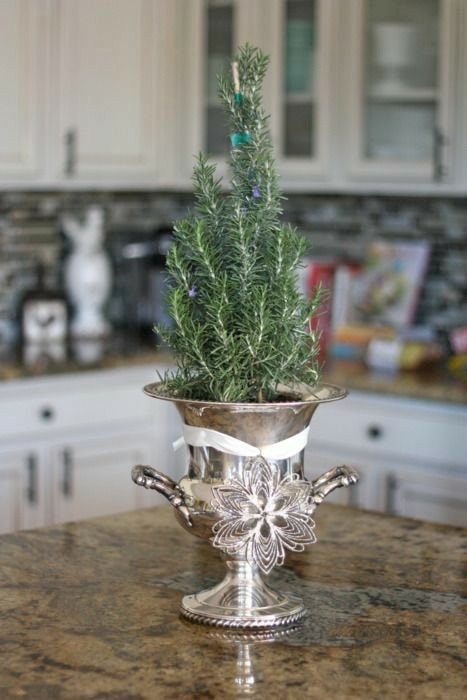 Bring out your vintage silver and show it off for the season. Adding festive flowers, greenery, pinecones and Christmas baubles makes your special pieces shine. Why not get creative and see what you can come up with?
Christmas village under glass
For many of us, the idea of a Christmas village is appealing, but it's too time consuming and takes up so much space. It doesn't have to be that way.
An easy alternative is a fabulous Christmas village under glass. You might even have glass containers at home you can use.
Tip: If you are just starting your own Christmas village, the dollar store has all the pieces you need.
15-minute mantel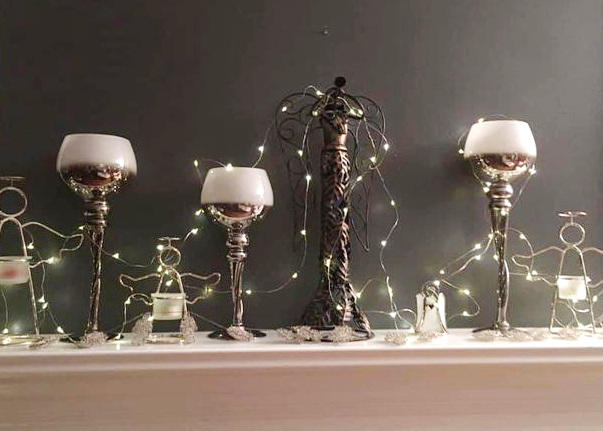 It's easy to create a fabulous mantel in under 15 minutes.
A client wanted a fresh look for her fireplace mantel, but she had so many Christmas decorations that she didn't want to buy anything new. We looked through her stash and found these angels and candle holders. We then added battery-operated mini lights to create this simple, yet beautiful mantel arrangement.
It was the perfect touch for her living room.
Festive centrepieces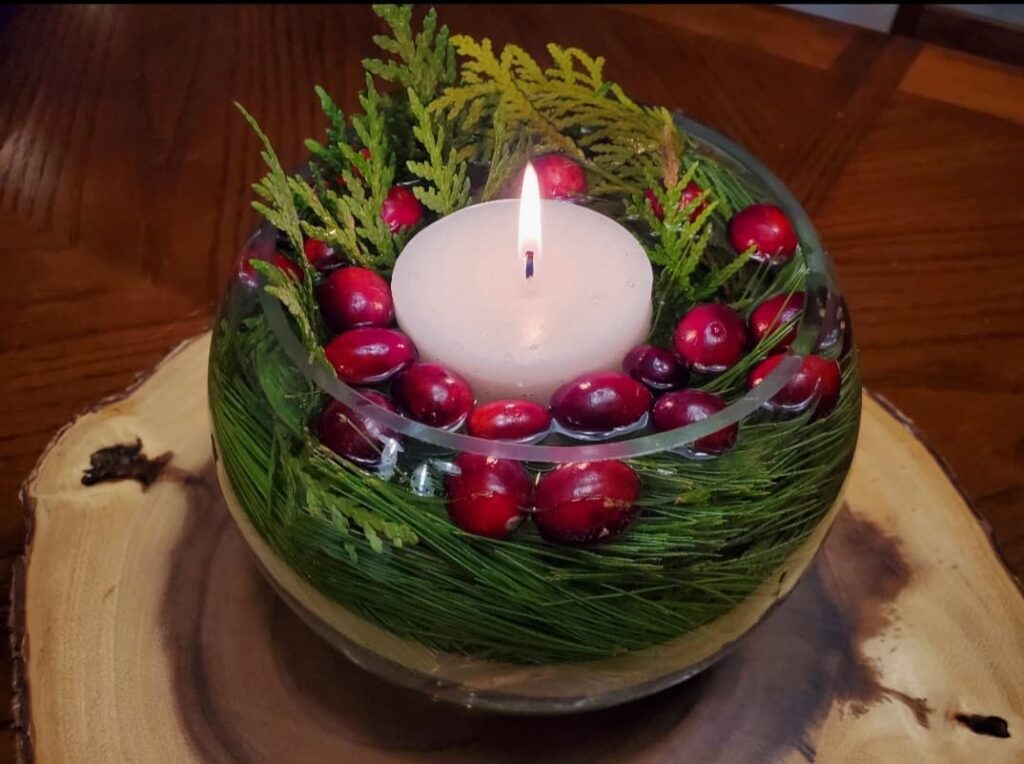 Cranberries and greenery are a great combination to create your own easy-to-do centrepiece. You can use any glass bowl or container to add a festive feel to your table.
Another great idea is to use inexpensive candy canes to create a unique holder for your floral arrangement.
4 front door ideas
Why not take a break from the traditional wreath and try something new on your front door for the holidays? Here are some excellent examples to inspire you and to welcome your guests:
#1 – A new way to use a basket … and add a rustic touch
#2 – Getting natural … and fruity
#3 – You can't go wrong with giant pinecones
#4 – Paper snowflakes are festive without going over the top
Eco gift wrapping ideas with style & purpose
Looking for creative, unique and eco-friendly ways to wrap your Christmas presents? Here are a few ideas that would look great under the tree.
#1 – Unoriginalmom.com shares 15 brown paper wrapping ideas, including personalizing your gift tags with vintage-look black-and-white photos: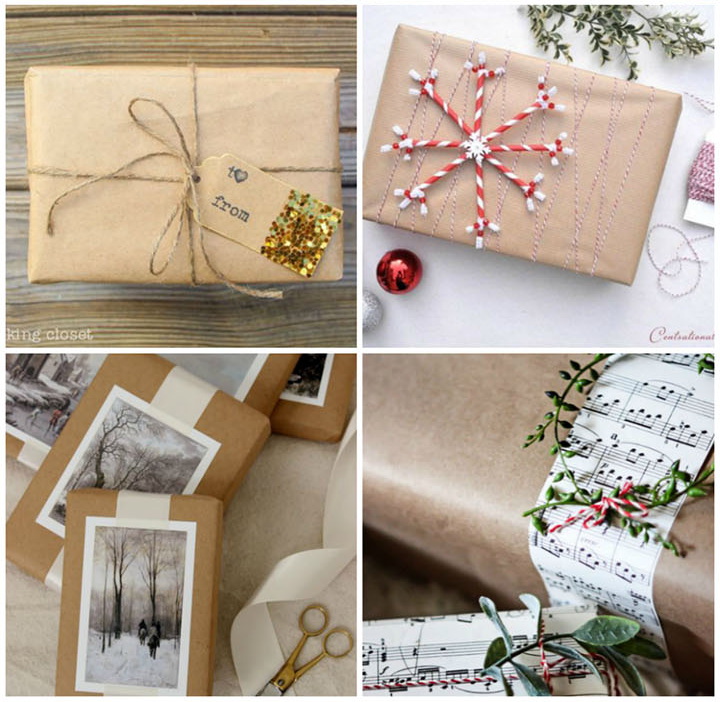 #2 – Add a bit of nature to your gift and use what you have around the house. Halfbakedharvest.com shares some ideas:
#3 – Fabric gift bags add a personal touch. Pillowcases (and other fabric) make great wrapping:
Before we know it, the holidays will be here and we will be enjoying time with family and friends. I hope some of these ideas have inspired you to share the festive spirit in a new way.
Wishing you and your family a happy holiday season from my home to yours.