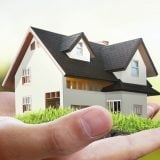 Do you know if your ceiling fan turns the right way in summer and winter? If it doesn't, you're defeating its purpose and missing an opportunity to save money on heating and cooling.
In most cases, you change the direction of a fan by simply flipping a switch on the fan itself or by using the remote control if you have one.
The trick is knowing which way it's supposed to turn.
Ensuring your ceiling fan turns the right way: Winter
Heat rises, so in the winter you want the angled blades of your fan to gently pull the cooler air from the centre of the floor and move it toward the ceiling so it can push the warm out and down to where you are. That helps keeps the temperature in your room balanced.
According to the energy-efficiency organization Energy Star, the temperature differences between the floor and ceiling can be as much as three or four degrees. Balancing that difference means increased comfort but it also often means you can set your thermostat lower, saving money in the process.
To get the air moving correctly during the cold months, your fan needs to run clockwise.
Ensuring your ceiling fan turns the right way: Summer
In the summer, you want your fan to waft air down on you. That's because the moving air helps transfer heat from your body just as a breeze does on a steamy July afternoon. You'll not only feel more comfortable, you might even be able to save a bit in air conditioning costs.
To get that cooling effect, make sure your fan runs in a counterclockwise direction.
Even if a ceiling fan turns the right way, it doesn't actually warm or cool the air. But they can make an immense difference in how you get through those really cold and hot spells.
Buying & installing a fan
If you don't have a ceiling fan in your home, they are available in a range of styles and sizes at big box stores, lighting stores and specialty shops. The square footage of your room will help you determine what size fan you need. Prices run from under $100 to $1,000 or more.
Installing a fan is a DIY project if you know what you are doing. Remember, you are working with electricity, which can be dangerous. As well, you need to use an electrical box approved for use with a ceiling fan, and that box has to be properly secured to support the weight of the fan.
This video will give you a sense of what's involved in installing a fan. If the task is beyond you, speak to your retailer about having a professional do the job.

Originally published Nov. 3, 2018.
Got a maintenance task you're not sure how to do?
Drop us a line at info@allthingshome.ca or message us through Facebook.