COVID-19 means many people are suddenly having to work from home, and that requires an effective and efficient home office, often one you have to set up in a hurry.
Because we are being encouraged to stay home during the pandemic, you won't be able to load up on all the bells and whistles that those who routinely work at home like to have. However, here are some home office essentials you might be able to round up easily.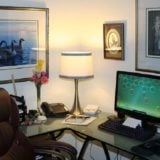 Light, space and inspirational colour can make working from home more productive. And don't forget about dealing with distractions, from children who have been cooped up too long to your dog begging for more exercise. Here are some ways to make the most of your home office space.
Don't have a lot of extra space for all the fancy extras? That doesn't mean you can't have a cheerful, functional workplace tucked away in a spare nook or cranny. Heck, even a hall closet can do in a pinch, as this article on stylish small home offices attests.
Remember, you don't want to spend a lot of money on this home office. You may decide to keep it even when you are back at your regular workplace, but in many cases the space will revert to whatever it was originally being used for. With that in mind, here are some inexpensive ways to create your interim workspace:
Almost any flat surface will serve as a desk, from that old chunk of plywood in the basement to a sturdy spare door sawn in half. Mount the desk surface directly on the wall, stick it on top of crates, or build a couple of simple side panels. More ideas here.
A purpose-built desk lamp is great, but a small table lamp or even a bedside lamp will do almost as well.
Floating shelves are attractive and functional, but you'll likely need to buy brackets unless you make them yourself from wood.
Old wicker or wire baskets hung on the wall make great paper storage and help keep you home office clutter-free, which is especially important in a small space.
For personalized decor, dig out a couple of those old family photos or paintings that have been buried in the closet for ages.
A mason jar for pens, paper clips and other office supplies not only adds a rustic touch, it lets you see exactly what's inside it.
Planning on video calls? Try to have the light source behind your screen so your face is well lit. The wall behind you should be blank or have simple artwork to avoid distracting your call partners.
Related
Keep your home safe from COVID-19
Get regular updates on our latest articles