Spring has finally settled in (with summer not far behind!), which makes this the perfect time for some fresh design inspiration.
Many of us don't like change, so it can be challenging to know where and how to start, whether you're moving into a new home or want to breathe new life into your existing spaces.
My passion is showing homeowners that, in most cases, you already have what you need to create a fabulous space to enjoy. You just may not realize it. And that means using your pieces in a new way, editing some out or even angling them.
Have you heard the saying "less is more"?
It's so true! For years, we've been told that every space and wall in our home has to be filled; that the more we have the cosier it is. That's just not true.
Organizing sensation Marie Kondo is showing us how we can edit and purge our belongings to keep only those things that give us joy. I totally agree with this premise because surrounding yourself with things you love has two main benefits:
It showcases your family's personality and style
It really does give you joy and has an impact on your emotional health.
Where and how do you begin?
A great place to start is with what's in the room and how it's set up. Does it make sense? Is there too much furniture? Does your space feel overwhelming and cluttered?
Take a mental note of everything and, if you are brave, start moving pieces out that you know don't belong or are never used.
Where and how do I place my furniture? This is a question I hear all the time from homeowners who are frustrated that their home does not function for them or look how they want it to.
Often when people move into their home they try to recreate the set-up of their old home, when they really should be looking at the new space itself to see how and where their furniture would work best.
Just because you had a table in your old living room doesn't mean it has to go in the new living room. Try something different. And if you don't like it, change it up again; you aren't making a lifetime commitment.
Living room re-do
Here are a series of photos from a client's home to represent the concept.
Pieces of furniture were placed by the fireplace, along with art on either side, while the sectional where the family would gather and relax was at the other end of the room with the rug. There was a huge empty space in between.
Many rooms are too long to really have one purpose in mind and, as you can see in the above photos, someone on the sofa couldn't have a conversation with someone else sitting beside the fireplace at the other end of the room.
The homeowner wished me luck in fixing her room.
Our plan of action was executed in just one hour.
We removed the excess pieces — chairs, odd tables, art work — moved the rug in front of the fireplace and split the sectional in half, closer to the fireplace.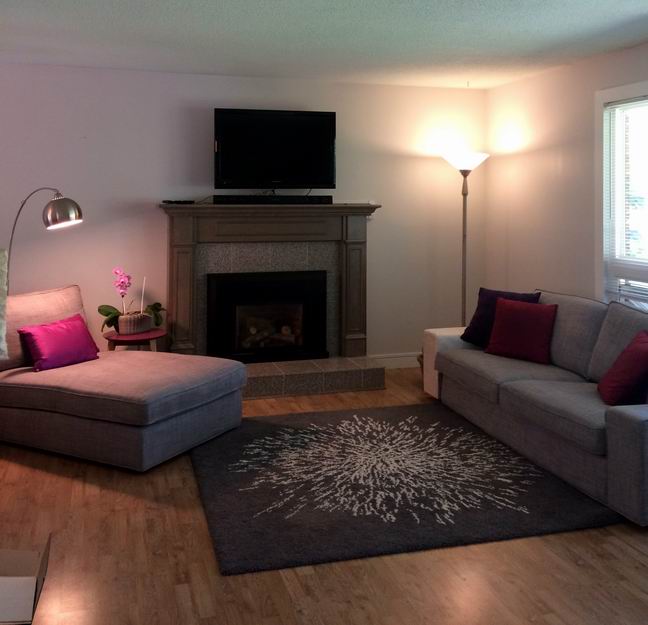 Now our conversation area was brought closer together and made much more sense. The homeowner was sporting quite a big grin at this point and sat in the chaise lounge.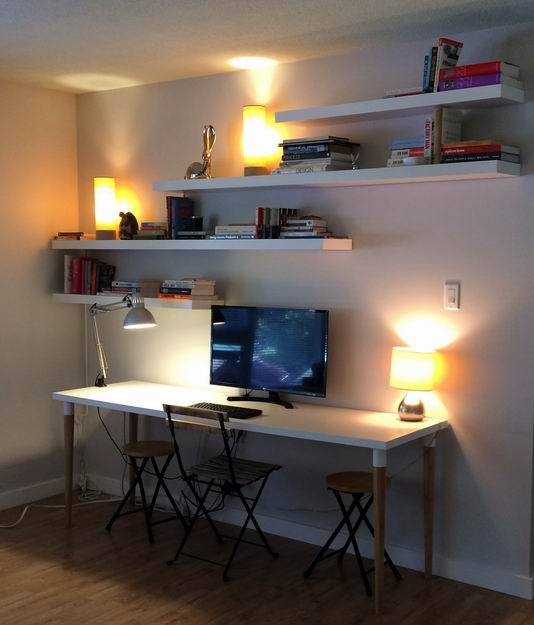 The last, fun part of the living room update is something that you may not have even considered doing yourself — adding an office/homework space in the room.
The space is large enough to do this, plus the shelves are a perfect backdrop. It's a creative way to use space, create more function, and make it look its best.
The homeowner's grin was huge now.
To angle or not to angle
That is the question, and I say the answer is YES. Angle your furniture when you can.
Moving your furniture, even a little bit, can really change the feel and energy in your room. I've angled couches and chairs so many times; it's quick, free and has a big impact on your space.
I love the reaction I get from homeowners when we begin to angle their furniture. First, they are nervous, then in shock at how great it looks and how quickly it was done.
Here are a few examples to inspire you:
Here is an example of a client's family room/kitchen combination that looks welcoming, cosy and flows nicely from room to room.

You'll notice it's not overdone, the clutter was removed and the space looks fresh. It's amazing what new curtains, cushions and accessories can do. It's like a breath of fresh air has entered the room.
Hopefully I have inspired you to look at your rooms in a new way. Have fun. You can do it!
Related