A charmingly remodelled 19th-century country kitchen is the 2021 All Things Home People's Choice winner. The project by BEX Interiors with Urban Quarry has transformed the heart of the home, an 1856 stone house in Bennies Corners just outside Almonte.
The coveted award, previously sponsored by the Ottawa Citizen, is part of the annual Housing Design Awards organized by the Greater Ottawa Home Builders' Association. Again this year, the pandemic meant the awards were virtual.
Winning the award is "really exciting," says Becky Powell, founder of BEX, which specializes in kitchen and bathroom renovations. "I think people can envision themselves in that (kitchen). It's really cosy and homey… It doesn't feel like a renovation; it feels like it's always been part of that space."
The project was the work of BEX senior designer Erika Matheson, who owns the home with her partner. "Her heart and soul went into it," says Powell, who also took home trophies at both the 2018 and 2019 National Kitchen and Bath Association awards.
For Serge Bellavance, sales and marketing director and co-owner of Urban Quarry, which manufacturers custom quartz and natural stone surfaces, including countertops, the award came as a "big surprise — we were very happy with the results… It speaks to how people recognize some of the small details that go into putting together an award-winning project."
The All Things Home People's Choice Award "is the public's chance to vote on their favourite projects of the year," says Jason Burggraaf, executive director of the home builders' association. "It's one of our most coveted awards by members specifically because it crosses design categories and it shows that the winner has captured the public's imagination in their project."
An oasis combining the new and the old
"Shock" is how Matheson describes her reaction to winning the 2021 All Things Home People's Choice Award. "There's so many beautiful homes and kitchens. We're just sitting there looking at all the finalists and thinking 'There's no way,' so when it came up, it was 'Whaaat?'"
Like last year's winner — a getaway ensuite by Greenmark Builders — Matheson's kitchen is an oasis.
It boasts original red pine floors and 10-foot ceilings. The contrasting blues, whites and natural wood tones along with mixed metals and greenery modernize the space while keeping it in character with the original home, which has double stone walls almost two feet thick.
The island, with its maple gunmetal base, features a wood countertop made from a reclaimed bowling alley floor, while the other countertops are Artisan Grey Hanstone quartz from Urban Quarry. The modified Shaker cabinetry, including a handy vertical spice pullout, is white MDF with contemporary gold hardware.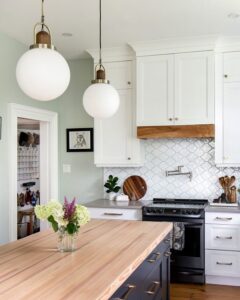 Matheson also restored the original large windows, which look out over the well-treed property, as well as the trim in both the kitchen and dining room. The deep crown moulding around the cabinetry is an add-on to the original home.
Along with restoring and modernizing finishes, Matheson created an open-concept floor plan and improved the flow by removing an original wall separating the kitchen and dining room. A birch-clad support beam was added between the kitchen and dining area.
When they bought the home two years ago, they planned on just renovating the original tiny kitchen, Matheson says. They've since moved on to renovate the rest of the house.
Matheson took her time designing the new kitchen, knowing that putting thought in beforehand would yield long-term satisfaction. She got exactly what she wanted: "A big inviting space that when you walk in feels like home. You can just sit down and have a glass of wine or an amazing family dinner."
More wins for BEX and Urban Quarry
In addition to being the 2021 All Things Home People's Choice winner, the Bennies Corners kitchen won its kitchen category: custom kitchen, 251 sq. ft. or more, traditional, $75,000 and under.
BEX also designed a powder room renovation in the Bennies Corners home, which was a finalist in this year's powder room category, and teamed up with RND Construction and Urban Quarry on another finalist entry in the custom kitchen, 176 to 250 sq. ft., traditional, category.
Urban Quarry was a winner in two other categories: production kitchen, 125 sq. ft. or less (with Deslaurier Custom Cabinets); and production kitchen, 201-250 sq. ft. (with Deslaurier and Metric Homes).