The kitchen may be the heart of the home and the living room our natural gathering place when company's over, but the holiday season dining room is tops at this time of year.
That's why it's important to include your dining room when decorating for the holidays. Your efforts can be small and subtle or big and splashy – it depends on your taste and what you've got to work with.
Here are some tips from the pros – the Ottawa floral designers who decked out the homes at last month's Homes for the Holidays tour.
And if your dining room has seen better days and you're looking for inspiration on how to upgrade it for your next gathering, we've got some great examples from this fall's Housing Design Awards held by the Greater Ottawa Home Builders' Association.
Rising up
There's nothing that says your centrepiece has to be on the table. For this Manotick home, Jessica Barrett of Mill Street Florist made use of the linear chandelier to lift the arrangement off the table. Doing so meant she could go big with it, without it getting in the way of a dinner. And that left room for a simple table runner of greenery and pine cones down the table.
"Putting the branch material in your light fixtures is really quite easy," she says.
Her favourite way of creating a welcoming dining room for holiday guests is with candles. "I love candles," she says, "the warmth, the nice warm light that they create and the movement they have."
Maximum minimalism
If your home has a minimalist look, work with that when it comes to your dining room decorating, says Karen LeRoy of Alta Vista Flowers.
In this contemporary Glebe condo, LeRoy used the beautiful blue Italian chandelier and the artwork as inspiration, anchoring the colour with blue thistle, but still giving a sense of Christmas with white roses.
Paired with the crystal, glass-topped table and white place settings, the look is clean and simple.
White wonder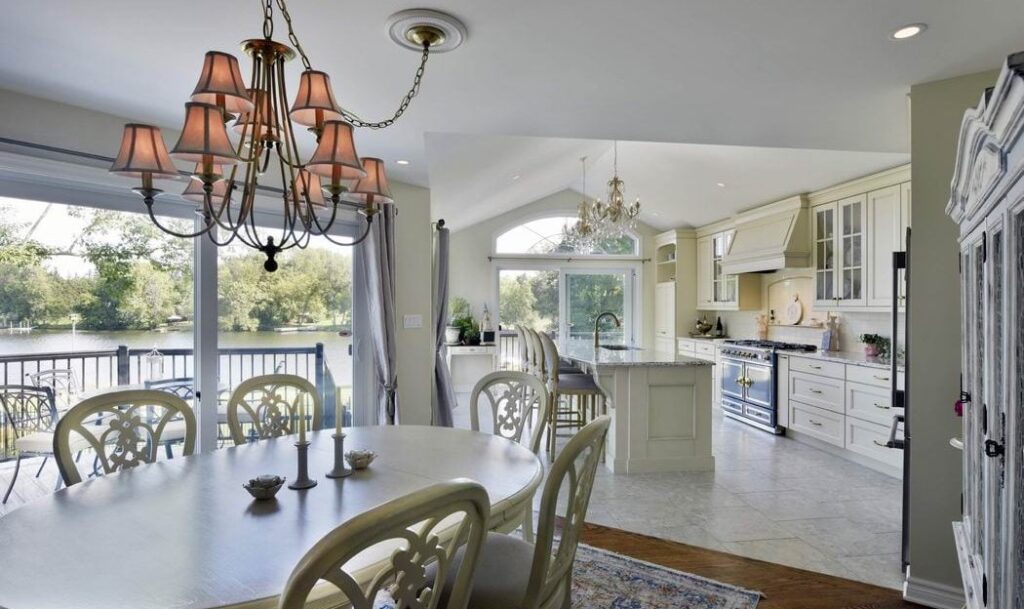 An award-winning renovation by Lagois Design-Build-Renovate has resulted in an inviting dining room where the view is the focal point.
The traditional space in a Georgian-style home begs for traditional decor, without detracting from the room's features. In this case, a table runner of winter greens, perhaps set with candles or a few small vases of flowers, would be ideal.
"I really like a centrepiece that has a trail of greenery," says LeRoy.
Complementing the collection
If you have eclectic tastes, like this home's owner, designer Henrietta Southam, your holiday decor can be equally eclectic.
Along with antiques and found items from her extensive travels, Southam has collected several non-traditional Christmas pieces that floral designer Caity Paine thinks of as Christmas with a twist.
Paine and Krista Sharpe, both of Mood Moss Flowers, decorated the home for the tour. The challenge of a home that was already "full of so many incredible pieces," says Paine, is also what made it so interesting.
They designed the table centrepiece based on the room's wood chandelier, but then stepped back from adding much more in order to complement the pieces rather than compete with them.
Paine believes there's nothing you can't do when it comes to decorating your home.
"Whatever comes from your heart and whatever you feel looks good, do it. If there's one thing Henrietta's house shows us, it's that there's nothing that can't be done … She has things in a room together that you wouldn't necessarily think would work together and she makes them look absolutely jaw-dropping."
A piece of Paris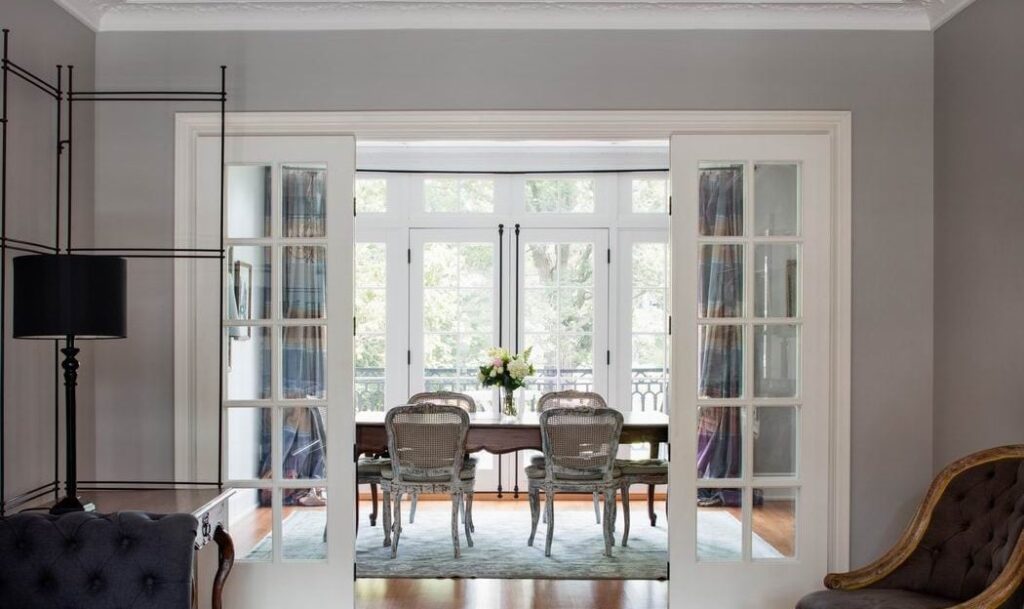 This renovation of a century home by Christopher Simmonds Architect sought a timeless and sophisticated look that reminded the homeowners of a city they love – Paris.
The views in the home are carefully composed, including into the dining room, which opens to the back terrace through a wall of French doors and windows.
The home exudes a calm elegance where subtle paint colours and white oak flooring create a tranquil atmosphere.
Staying in line
In this contemporary space in Old Ottawa South, Lynette Deir of Stoneblossom Floral Gallery wanted a way to make an impact without losing the features of the live-edge table or the clean lines of the fireplace (not shown).
To gain height in the holiday season dining room, she went with the natural straight line of modern Christmas tree arrangements, with a hint of red and evergreens.
Back to nature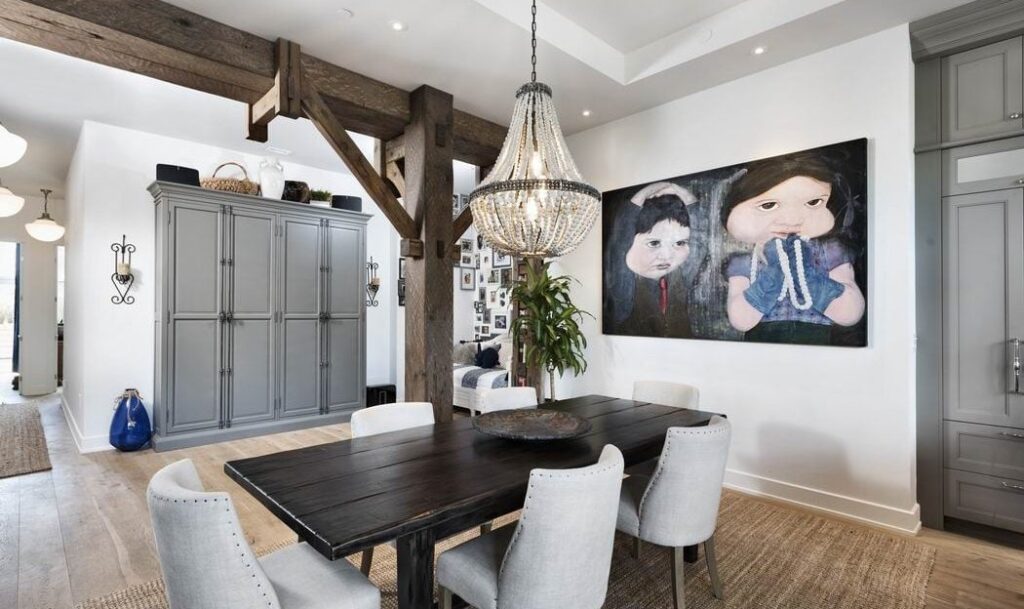 One of nine "customized" units in an award-winning loft project by Hobin Architecture and Morley-Hoppner, the owner of this unit opted for a historic feel, with exposed timber beams and columns and wide plank floorboards. These rustic elements are balanced by more contemporary finishes in the rest of the home.
In cases where you have a long table, a traditional low arrangement works well, says Deir, but if you're looking for more space, a trio of smaller arrangements will give you more room while still adding colour.
"People really need to keep in mind what they're putting on the table and how many people are at the table," she says. Her personal favourite: little chocolates at each place setting.
Going vertical in a holiday season dining room
"People always go with a table centrepiece that is either way too big, that takes over the table or is really intrusive to height," says Elizabeth Young of Flowers Talk Tivoli. That's why this arrangement in Tunney's Pasture is lifted up.
By setting it atop a tall candlestick-like vase, the arrangement still has lots of pop, without taking up valuable table space or blocking the sight lines for diners.
Another unexpected treat on a holiday season dining room: adding mini arrangements to each place setting consisting of a plum, berries and tiny gold pine cones.
Timeless tradition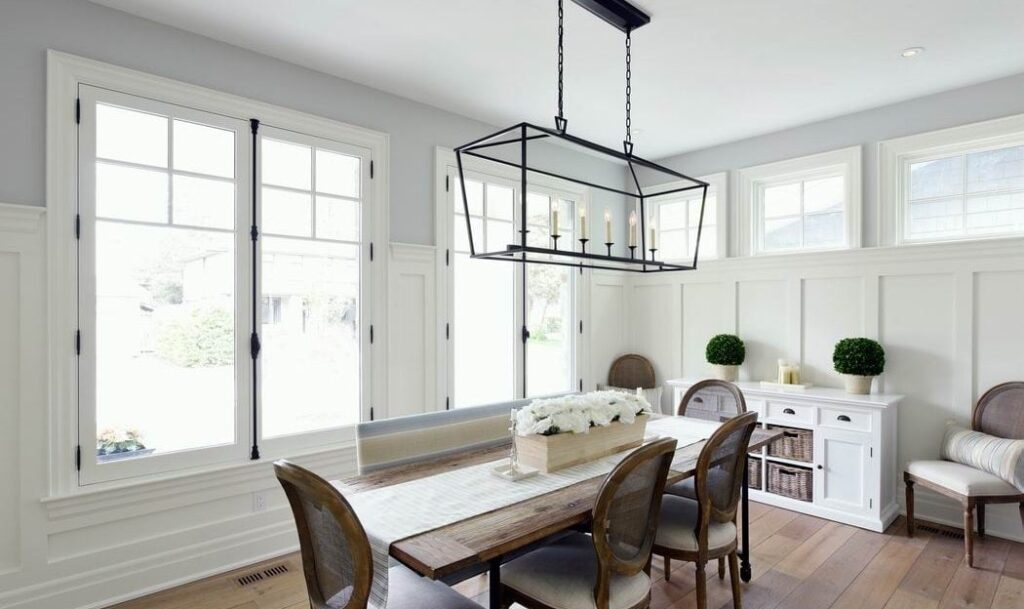 An award-winning infill project by Gordon Weima Design Build with Ardington + Associates Design created a traditional modern farmhouse look and feel that provides comfortable and elegant spaces to hold up well over time.
Laid out in an H, there's a graceful transition between the formal spaces, such as the dining room, and the private spaces of the home. Wainscoting and a mix of neutral and warm tones creates an inviting atmosphere.
To make it even more inviting, Deir suggests flowers. "I would do lots of flowers; I love flowers."
Other tips for creating a welcoming dining room for your guests
Watch the fragrance, says Young. Strong-scented flowers and winter greens can take away from the enjoyment of a meal for those sensitive to the smells.
Candlelight is huge, she adds. "Everybody looks nice with a gold glow to them."
Add interesting things like a sprig of cedar on the napkin or an ornament as their nametag. "They're really nice little touches that make people feel like you've gone above and beyond for them."
Related
Finding & caring for the perfect Christmas tree
Lighting up your outdoor spaces
Videos: DIY Christmas decor ideas