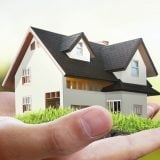 Cleaning grout is one of those chores most of us would rather not do. But taking the time to do it can save you grief in the long run since grout that is heavily stained or discoloured will likely need replacing.
There's also the issue of mould in grout. Mould thrives in warm, moist areas, which are exactly where you tend to find tile and grout. And since grout is porous, it is particularly susceptible to mould growth.
Giving your grout a regular cleaning and keeping your tile dry will go a long way toward minimizing staining and mould.
An easy way to clean grout
Here is a simple, natural way to clean your grout.
Wipe down your tiles with a wet cloth.
Mix two parts baking soda to one part water.
Apply to your grout lines with an old toothbrush and let sit for a few minutes.
Scrub all of the grout lines. For more scrubbing power, use an old electric toothbrush. Then rinse clean with water.
Let the grout dry for 24 hours, then apply a grout sealer to help protect the grout.
If your grout is stained or discoloured, substitute vinegar or hydrogen peroxide for the water. But test the solution on an inconspicuous spot first to make sure the vinegar won't stain your tile.
If you'd rather use commercial cleaners, The Spruce recommends their top seven grout cleaners.
You can also check out this video on cleaning your grout from Better Homes & Gardens.
Keeping your tile dry
Of course, you can't keep tiles from getting wet, particularly in the shower. But there's a difference between getting wet and being constantly wet.
Here are 6 simple but effective ways to reduce the dampness or humidity in your wet areas:
Keep your bathroom window open for 15 minutes (or your exhaust vent running for 20 minutes) after a shower so moisture can leave the room. Similarly, open a kitchen window or run your range hood vent when cooking so steam can escape.
Leave your shower door open or curtain partially open when not in use. Keep interior doors open and always run your furnace fan to help circulate the air in your home and allow moisture to dissipate.
Regularly ventilate your laundry room, basement and attic.
Your furnace and air conditioner do a good job of reducing humidity in your home. At times when there's no need to heat or cool your home, open your windows to encourage air exchange.
Wipe down your shower walls and floor after use with a squeegee, towel or hand cloth.
Seal your grout to reduce the speed at which moisture can penetrate the grout. This way it will get less wet and dry faster.
Got a maintenance task you're not sure how to do?
Drop us a line at info@allthingshome.ca or message us through Facebook.
Originally published May 24, 2019