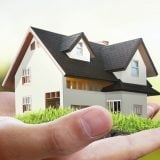 Green cleaning products long ago went mainstream, but why spend money on them when you can whip up a batch of your own with minimal effort and at a fraction of the cost?
While homemade green cleaning products don't work in every case — only a commercial cleaner can deal with on a really gunked-up oven, for instance — for the most part, they get the job done just fine.
Here are some to get you started.
Gleaming wood furniture 
The David Suzuki Foundation lists several green alternatives for household cleaning. Among them is an inexpensive furniture polish. Mix two cups of warm water, two tbsp. of olive oil and two tbsp. of white vinegar or lemon juice. Store in a spray bottle. To use, shake the bottle well, spray, rub and polish with a soft rag. Remember to do a test patch with any cleaner or polisher.
Disinfectant & green cleaning products
Combine two tbsp. of borax (in your grocery store's detergent aisle) with a quarter-cup of vinegar and two cups of hot water. Store it in a spray bottle. Dead simple.
Tip: Are you spending hard-earned dollars on over-the-counter antibacterial soaps? The U.S. Food and Drug Administration says there's not enough science to show they are any better at preventing illness than plain old soap and water. Long-term use may also adversely affect your health and contribute to bacterial resistance to antibiotics.
Tile and vinyl floors
Combine one cup of white vinegar (a great grease cutter) to four litres of hot water. Add a few drops of essential oil like lemon because these oils can help cut dirt and grease (essential oils and pets don't always mix, so read this first if you have a dog, cat or other non-human companion in the house).
Glistening windows
Skip the pricey commercial stuff when it's time to clean your windows. Instead, add 1/4 cup of vinegar to 2 or 3 cups of warm water. A few drops of dish detergent helps cut through grease and other window gunk. Check our Homeowner Helper from earlier this year for more tips on cleaning windows like a pro.
Mighty baking soda
Baking soda is one of the best all-round, non-toxic cleaners you'll find. It has enough scouring power to tackle tough bathtub rings but is also an effective odour eater (leaving an open box inside your fridge is an old trick for eliminating food odours). To clean and polish sinks, bathtubs and more, just pour a tablespoon on a cloth dipped in hot water and go to it. It may require some elbow grease, but that gives your muscles a workout. Rinse well when finished. To clean everything from kitchen counters to the inside of your fridge, add four tbsp. of baking soda to four litres of warm water, and clean with a sponge or clean cloth.
More ways to use baking soda:
Tip: You'll love baking soda's cleaning power, so make sure you shop for the large, economy size box.
A final note on green cleaning products
Avoid or exercise caution when using deodorizers, air fresheners or scented household cleaners, urges the Government of Canada. The chemicals in these contain irritants, which can cause allergic reactions and aggravate asthma and other breathing problems in people who are susceptible.
Originally published Jul 13, 2019.
Got a maintenance task you're not sure how to do?
Drop us a line at info@allthingshome.ca or message us through Facebook.