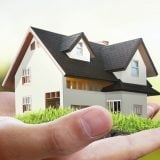 A semi-annual roof inspection can save you money by letting you spot small problems before they grow into big ones. Now, after winter has finally left, is a perfect time to check the health of your roof.
In most cases, you can do the job from the ground with a set of binoculars. That means no dangerous clambering about on the roof, which is better left to professionals.
As you work your way around your house, keep your eyes open for the following problems, any of which could lead to water infiltration:
Buckling, curling or blistering shingles.
Missing or broken shingles.
Cracked caulking around the flashing on chimneys and elsewhere.
Rusted or loose flashing.
Moss or lichen on the shingles. They trap moisture underneath, causing shingles to deteriorate. Early detection usually means a roofing contractor can remove it before significant damage occurs.
Other things to check during your semi-annual roof inspection:
Are you seeing a lot of shingle grit when you clean your eavestroughs or at the bottom of the downspouts? It means your shingles are deteriorating and need closer inspection by a roofer.
While you're eyeballing the roof, check the chimney cap. A broken or missing one means water is getting into your chimney and likely damaging it.
Head into the attic with a good flashlight. If you see water stains on the underside of the roof or water on the insulation, it's time to call in a roofer.
If you must use an extension ladder, know how to do it safely. For example, do you know how far from the wall the base should be? Remember, a fall could forever change your and your family's life. Get ladder safety tips.
If you're uncomfortable doing the inspection yourself or need repairs, call a reputable roofer. Make sure you first check them out via the Better Business Bureau and other sources. Read more on hiring a contractor and check the Products & services section in our directory for local roofing and other professionals.
Got a maintenance task you're not sure how to do?
Drop us a line at info@allthingshome.ca or message us through Facebook.