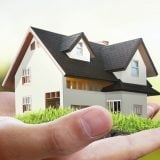 These seven essential home maintenance tasks may sound like a lot of work for a weekend, but if you spread these ones out, they'll be done before you know it.
Some of them will help get you and your home ready for winter's onslaught, while others are simply part of routine home maintenance.
But they all need to be done. So, let's get started.
Icy stairs and walkways are hazardous. Keep your family and visitors safe by stocking up now on bags of sand, gravel or kitty litter, all of which provide good traction. Avoid salt to melt ice because it works its way into our water systems, where it's toxic to aquatic life. Salt also can also harm pets, your driveway and vegetation. If you must use salt, do some minimally: One cup of salt is all you need for a 6-metre driveway.
If you have a snowblower, make sure it's ready before the first big dump of snow. That means greasing it, changing the oil, gas filter and probably the spark plug, and draining the old gasoline that you forgot to use up at the end of last winter (unless you use a stabilizer, gas breaks down quickly, creating gunk inside your carburetor that interferes with engine operation). Don't forget to check all bolts and cables and to make sure the machine actually starts. More on snowblower maintenance.
Check exterior stairs, railings and paths for safety. If there's rot, loose boards or uneven surfaces, get them fixed now, before the really cold weather sets in.
Look for roof leaks by visiting your attic with a powerful flashlight. If you spot wet areas on the underside of the roof or on insulation, call a roofer now instead of waiting until the middle of January. While you're inspecting the attic (do it carefully to avoid plunging through the ceiling), look for evidence of mice and other critters, which are making a beeline for warmer spots at this time of the year. Find out how to prevent and eradicate mice in your home.
You already have your home emergency kit prepared, right? If not, find out more here. Just as important is a car emergency kit in case you wind up stranded in the dead of winter.
Its contents should include, at a minimum: booster cables (read the instructions carefully to avoid injury), a folding shovel, blankets and extra mitts and hats, a candle in a deep can (an empty dog food can works well) and matches to keep you warm, a first aid kit, dry sand or kitty litter to put under that spinning tire, and emergency road flares. More information on emergency car kits.
Cracked or missing caulk around your bathtub and sink allows water seepage, which can cause mould and structural damage. Repairing it is an easy DIY project.
Once you've finished fixing the bathroom caulk, grab a ladder and clean the bathroom exhaust fan. A surprising amount of dust collects in a short time, impeding the fan's efficiency. Here's how to clean the fan properly. Learn how to make your exhaust fan work more effectively here and watch this video on how to clean it:
Got a maintenance task you're not sure how to do?
Drop us a line at info@allthingshome.ca or message us through Facebook.