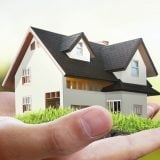 Before summer arrives, take some time to bring your home up to speed with these top spring maintenance tasks for May.
They'll take a bit of work but are well within the reach of most homeowners. Better yet, you'll be glad you got them done now so you can spend the steamy summer days unwinding with a cool, refreshing drink and admiring your springtime handiwork.
Paint and rot inspection
Check and touch up exterior paint as required. Remember, paint won't cure properly if the temperature is too low: apply paint when the daytime thermometer is at least 10 C and doesn't drop below 0 C for several nights in a row.
If you see rot in your window or door frames, it's probably time to replace the whole unit. Rot spreads surprisingly fast, it can harbour carpenter ants, and it can lead to structural damage to your home if you allow it to continue for too long. Window and door installers are busy in the summer, so checking for rot now and immediately making an appointment for replacement if necessary is a good idea.
While you are inspecting the exterior wood on your home, check siding and masonry for damage as well. Some siding and masonry repairs are DIY projects, but serious damage to foundations requires a professional touch.
Air conditioner
Your central air conditioner works hard during the summer, and the long stretches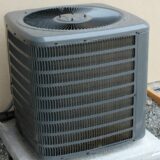 of very hot weather we can expect with climate change means you'll be even more dependent on the system to keep your home comfortable. Preparing your air conditioner for the summer now minimizes the chance of a failure on a steamy July afternoon.
If you are not adept at DIY tasks, hire a professional to inspect and maintain your air conditioner annually. That way, you know the job has been done properly. An online search will give you the names of reputable contractors who have been in the business for a number of years. Expect to pay around $125 or more for the service.
If you want to do the job yourself, first cut the power to the unit. The outside condenser needs unrestricted airflow, so clear long grass, weeds and debris within two feet of the unit. You should also vacuum the exterior fins of the unit, which is where the airflow occurs, with a soft brush. Airflow depends on the fins, so if you notice any are bent, gently straighten them. As well, change the filter (your owner's manual will tell you when and how).
The evaporator and condenser coils also need to be cleaned and the condensation drain checked to ensure efficient operation. Your owner's manual may tell you how to do this, or you could follow these instructions.
Remember, if the power to your air conditioner has been off for more than four hours, turn the thermostat to "off," switch the power back on and wait 24 hours before restarting the unit. This gives the internal heating element a chance to warm the compressor's  lubricating oil to operating temperature.
Again, if you don't feel comfortable with any of these steps, hire a pro.
Barbecue time
Top maintenance tasks for May include pulling the barbecue out of winter hibernation, but that involves a lot more than just turning on the gas. On the plus side, your efforts will mean tastier, better-cooked food, less wasted fuel, and a barbecue that lasts a lot longer. You should also give the barbexue a thorough cleaning a couple of times during barbecue season.
One of the best, step-by-step guides is this one from Cuisinart. It covers everything from cleaning the grill housing to getting long service from the cooking grates by cleaning and seasoning them properly. Follow the guide in conjunction with the owners' manual that came with your own barbecue, and you'll be ready to enjoy great food all summer.
Kitchen upkeep
A surprising amount of dust and dirt can accumulate on your refrigerator coils, especially if you have pets. That accumulation prevents the unit from working at top capacity, so your energy consumption increases and you run the risk of early appliance failure.
Cleaning the coils is usually a simple job, requiring just a vacuum cleaner, a flashlight, and a specialty brush available at stores like Home Depot. This video shows you how to do the job as one of your maintenance tasks for May.
Now is also a good time to clean your range exhaust hood and filter. It not only leaves your kitchen smelling better, it can reduce the risk of a fire. Like refrigerator coils, it's an easy DIY job. Find out how to maintain the hood and filter here.
Indoor caulking
Caulking around sinks and in the seams of showers keeps water where it belongs, so it's important to check the condition of your indoor caulking periodically. If it's brittle or pulling away from the surfaces, it's time to replace it.
All caulk also gets mouldy sooner or later. You can try battling the mould with Concrobium Mold Control, available at building material stores (it works far better than the bleach recommendations you find online), but eventually mouldy caulking also has to be replaced.
Fortunately, recaulking indoors is an easily mastered DIY skill, as you'll learn here. What's critical is removing all the old caulk so you get a firm, mould-free grip with the new application and using caulk that's made for kitchen and bathroom use (it has additives to prevent mould and mildew).
Originally published May 6, 2019
Got a maintenance task you're not sure how to do?
Drop us a line at info@allthingshome.ca or message us through Facebook.