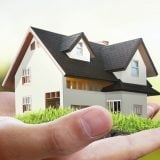 Is your home ready for all the melting snow that's just around the corner?
Spring flooding isn't unusual in the Ottawa area, especially when winter lingers, the snow stays and then rain starts falling. Spring can also start abruptly, not giving the water a chance to run off gradually.
When all these factors converge, all that snow turning to water could damage your home.
Here's how to prevent damage when the warmer weather arrives.
If you've let the snow pile up on your roof, hire a professional to remove it (start by checking our directory of maintenance professionals) or try to get some of it off with a roof rake. If you do it yourself, stand well back from the roof and watch out for falling ice.
Move snow away from your house so water doesn't pool around your foundation. As the snow melts, keep an eye open for cracks in the foundation and water leaking into your basement. You may need to call in a foundation expert if the cracks are serious.
Once the snow has gone, remember to check that the grading around your home slopes away from the foundation. If it doesn't, regrade with topsoil.
If you have a sump pump, check it now. Slowly pour several litres of water into the pit to ensure the pump turns on. The lifespan of a sump pump is about 10 years, according to most sources. If yours is nearing retirement age, it may be a good idea to replace it before it has to start working overtime.
As soon as it's safe to do so, check your gutters and downspouts. If they're plugged with debris or badly cracked, they won't run freely and water may accumulate around your house. As well, water build-up in your eavestroughing can cause rot in the fascia boards – an open invitation for critters looking to nest inside your home. Just remember: ladders are especially dangerous in ice and snow. It may be wise to hire an insured professional to check the gutters: start by checking our directory of maintenance pros.
Tip: The City of Ottawa has over 100,000 catch basins to drain water from roadways and green spaces. You can help control flooding, especially in the spring and fall, by keeping any catch basins near your home free of debris. Check the city's catch basin map.
Got a maintenance task you're not sure how to do?
Drop us a line at info@allthingshome.ca or message us through Facebook.
Related
Get regular updates on our latest articles