Kitchens, bathrooms, additions — the variety of projects on Reno Tour 2019 offers a great way to check out the work of potential renovators for your home.
If there's a renovation in your future, it's important to research companies and contractors to find a good fit for you. Reno Tour 2019 is the perfect chance to see some of Ottawa's top renovators at the site of one of their projects, where you can assess their work and ask them questions at the same time.
"It allows people the experience of going to model homes in the renovation industry, which doesn't exist," says Steve Barkhouse of Amsted Design-Build, which is one of the participants. "You can go any weekend to model homes; this is the only weekend that you can see a number of renovations."
All participating renovators are members of RenoMark, a program overseen by the Greater Ottawa Home Builders' Association (GOHBA). Members are pre-screened and must meet strict guidelines for things such as insurance, workers' compensation coverage and credibility.
"This is a chance for us to show off the high quality of work that our RenoMark renovator members do, and for the public to get inspiration on a variety of ways to enhance their home," says GOHBA executive director Jason Burggraaf. "This is the only time of year that you can go and see a neighbour's renovation up close and personal and ask questions of the professionals right there in the home."
This year's Reno Tour will be held from 10 a.m. to 4 p.m. on Sunday, Oct. 6, and features eight companies offering nine homes to visit. Presented by GOHBA's Renovators' Council, the tour is a fundraiser for Habitat for Humanity Greater Ottawa, a non-profit organization dedicated to helping families realize the goal of affordable home ownership.
Tickets are $10 and are available at:
All 3 Habitat ReStore locations — 768 Belfast Rd.; 7 Enterprise Ave.; 3 Iber Rd.
Any of the tour stops (on Oct. 6 only)
The booths of Habitat or the Greater Ottawa Home Builders' Association at the Ottawa Fall Home Show Sept. 26-29
Online at renotour.ca
Stops on the tour
Here's a summary of the projects you can see on this year's tour.
Model home & income suite — Amsted Design-Build
Amsted's entry on the tour this year is unusual for two reasons: not only does it show how you can effectively incorporate an income suite into an older home, it's also, in effect, a model showhome for the company.
Amsted operates satellite offices throughout the city — dubbed Living Rooms — both to showcase the work the company can do and to make meeting locations more convenient for clients who may not want to trek out to the company's head office in rural Stittsvile.
The newest office is in the Glebe and opened this spring. The restored home is designed to resemble a home in both layout and function and respects the charm of the neighbourhood while showcasing its dual purpose.
Outside, the home-like Powell Avenue façade fits seamlessly with the streetscape and serves as the entrance for the fully renovated rental suite upstairs, while the Bronson-facing façade transitions to a contemporary look suggesting its commercial function.
Inside, the look is both timely and timeless — in dramatic fashion. Wall paneling was restored, tray ceilings and a window bench were added, and modern touches like herringbone-patterned tile, white barn doors, a waterfall black granite counter and a bold powder room were incorporated.
Upstairs, the rental suite is fully updated and boasts a roomy third-floor loft and outdoor terrace.
Amsted president Steve Barkhouse says the home shows how it's possible for Glebe homeowners to make the most of their homes as their needs change.
"As people age in place and they have these great Glebe homes but their kids all leave, they can do what we did and they can stay there comfortably but get a passive income from a tenant."
While the main floor, much like a new-build model, can be seen every day, the income suite, which has been rented out, will only be open for the tour.
Whole home renovation — ARTium Design Build
Faced with a space that had potential architecturally but hadn't quite hit the mark, ARTium sought to turn this bungalow into a home that really reflected the personality of the owners.
Vaulted ceilings throughout created amazing shapes and shadows, says ARTium owner Norm Lecuyer, but strong colonial detailing was competing with the style. Plus, the owners wanted a much more minimalistic feel. The solution was to strip away the excess — oak colonial railings, pillars, archways, and some walls — and let the soaring ceilings become the focal point.
"It really transformed the home into what the customers were looking for," Lecuyer says. "They did not know how to get there and the designers were able to feed off their comments and create a space that they really love now."
The kitchen renovation was inspired by clean-lined European designs and a desire for the home to be a serene oasis. Cabinet hardware and door profiles were eliminated, emphasizing the linear quality of the cabinetry. The light wood cabinetry adds interest and warmth, while the white cabinetry mixed with light countertops creates an airiness.
Yet there are still plenty of details, such as the unique wood niche in the island that connects with the upper cabinets and reinforces the room's horizontal lines, or the creation of a human scale by limiting the height of the pantry wall and adding the island pendants to "lower" the ceiling height and create a sense of intimacy even in a large space.
"It's striking in its change from what it was," says Lecuyer, who adds that there will be before images on hand for comparison.
Main-floor/kitchen renovation — Carleton Kitchen & Bath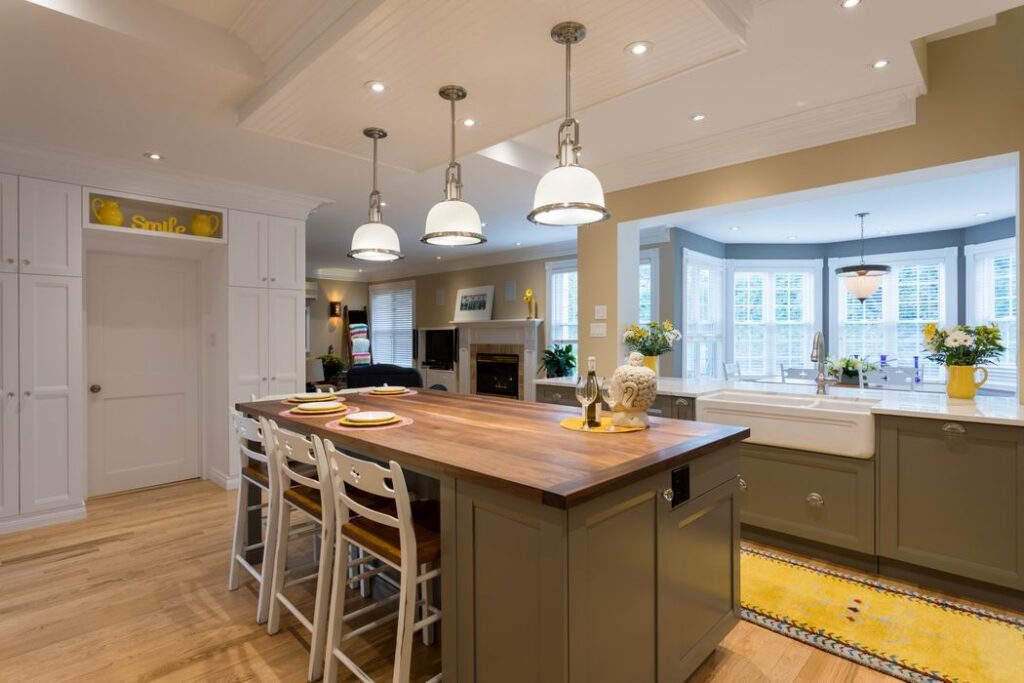 An original farmhouse in Westboro with plenty of history was in need of an update but it had to be one that respected the past.
The home had seen several renovations over the years, but because none of those renos had looked at the home as a whole, the owners had issues with flow and congestion in the kitchen. For a family that entertains a lot, the situation was not ideal.
The challenge — and reward — for Carleton was is in finding balance. In this case, it meant helping the clients see why a secondary staircase that their children had run up and down when young and that had been the backdrop for Christmas pictures needed to be removed in order to meet their desire for a larger kitchen work space, improved traffic flow between rooms and a better connection to their breakfast room.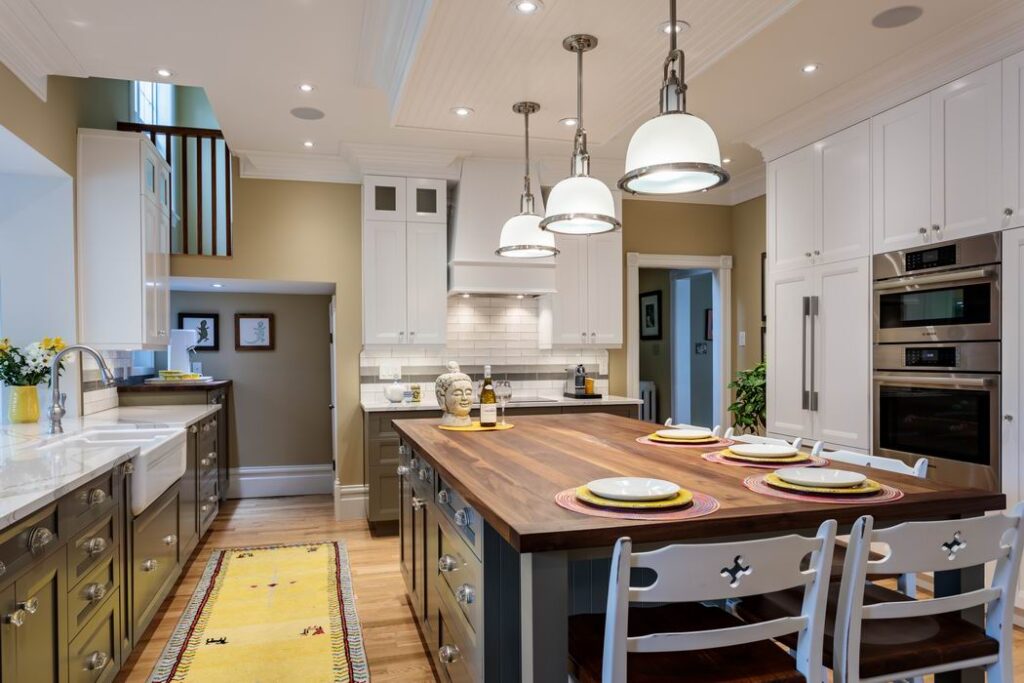 "We probably had five or six renditions of options," says Carleton president Brent Young.
The promise of a Juliet balcony in the second-floor stair opening helped convince the owners that this was the way to their vision, while keeping a memento of years past.
The kitchen was opened up, letting natural light flood the space and providing a link to the breakfast room. The hallway to the mudroom is disguised, a visual cohesiveness has been created with existing spaces and the warm, wood-topped island is now the focal point of the kitchen, says Young.
"In the end it turned out really well."
Ensuite renovation — Gladwin Building Services
This ensuite makeover took a dated, inefficient space and transformed it into a modern, welcoming, and functional retreat. The ensuite was a generous size, but poorly laid out, with a tiny cave of a shower, an outdated platform tub, and an awkward makeup vanity.
"The original bathroom was dark and closed in and there was a dropped ceiling and walls in the toilet area. It was like a cubicle," says Gladwin owner David Gladwin.
While the location of the fixtures was not changed, everything else was overhauled:
The dated tub enclosure was removed and replaced with an oval freestanding tub and floor-mounted tub filler.
A linen closet was removed and a small part of the walk-in closet was claimed to create the roomy glassed-in shower. (A bench beside the tub now provides towel storage.)
The vanity is now on-trend floating cabinetry with under-cabinet night lighting for an added touch.
Details such as the heated floors and rain shower head pamper the owners.
The project, which took six weeks to complete, shows how you can transform a space while keeping fixtures in their original locations.
Two-storey addition — Lagois Design-Build-Renovate
This project took a dilapidated 1½-storey addition with no access from the second floor and a deck that was falling apart and replaced it with a larger two-storey addition that meets the needs of the homeowners.
"It speaks to the possibilities of what we can do to an older home," says Lagois owner Herb Lagois.
The owners wanted to maintain the character of the existing home in a neighbourhood where many of the homes are torn down and replaced by an oversized infill, he says. "We got a lot of compliments from neighbours thanking us for not doing that."
The main floor of the addition includes a mudroom entrance, a bathroom with shower, living room and a flex room that could later be converted to a bedroom if main-floor living became a necessity.
The second floor adds a large master suite with double-access walk-in closet and large ensuite. The ensuite, which has become a favourite space for the owners, Lagois says, features a wet zone with freestanding tub and door-less shower, plus a double vanity and toilet room.
Access from the second floor was created by turning a small bedroom into a laundry room and creating a hallway to the new master suite. Converting a window opening into a door meant minimal structural changes.
Outside, exterior colours were chosen to complement the existing brick and the roofline was designed to stay below the peak of the existing mansard roof. Large windows with grilles overlook the backyard for a garden room feel.
The five-month project finished on time thanks to a significant amount of planning ahead of time. "That's key," Lagois says. "To me, a successful project is all about planning."
Coach home — Ottawa General Contractors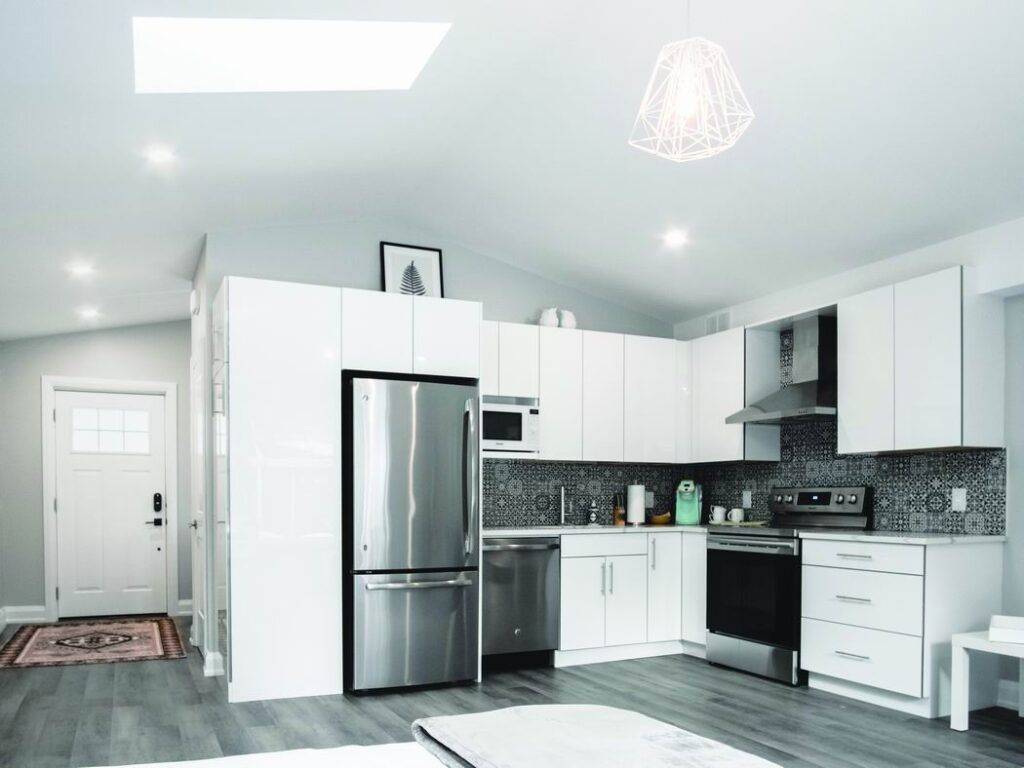 This project represents an opportunity to explore a growing trend in Ottawa: the addition of a coach home to an existing property.
A coach home is a separate, secondary unit on a property that ties into the existing home's services and that can serve many purposes, from guest house to rental unit to in-law suite.
"It's unique and it's really a project that is in reach of more people in Ottawa than a $1.5-million custom home," says OGC project consultant Ken Beaubien. And it shows what can be done when you have limited space.
The property in question was quite narrow, requiring a unit that is just 18 feet wide. Yet the 500-square-foot coach house includes a full kitchen, sitting/sleeping area, three-piece bath and a closet/laundry.
"It's like a little home away from home… like a little executive suite," says Beaubien.
OGC used bright trim, floor and wall colours, large windows (including skylights) to maximize natural light exposure, and an open-concept design. Various storage rooms and a hidden utility room keep the unit clutter-free and organized.
Kitchen/main-floor renovation — RND Construction
Although ostensibly a kitchen renovation, this project is really about a whole home reno and addition. The kitchen revamp done this year is the second phase of renovations that RND has done on this home.
Phase 1 was an addition in 2009 that included adding a garage and a new private wing of the home with three bedrooms, two bathrooms and laundry room. It was also an example of sustainable renovations, with a complete home energy retrofit that resulted in a 43-per-cent reduction in energy consumption. The only area not updated was the kitchen, which was relatively new at the time.
This year it was time to do the kitchen, says RND owner Roy Nandram, who is also president of GOHBA. The homeowner wanted an open-concept kitchen and dining room with a layout that utilizes the space in a cohesive manner.
That meant removing the walls separating the existing kitchen from the rest of the space, requiring an engineer to be brought in so that any needed structural elements would not require a beam across the ceiling. Instead, the added structural support was added in the attic.
The kitchen was also moved, opening the space up and giving it a "wow" factor when guests enter from the vestibule.
"I wanted to show this project because it's not only about the kitchen, it's about a transformation of a tiny bungalow into a larger energy-efficient home," says Nandram.
Main-floor renovation — SkilBilt Construction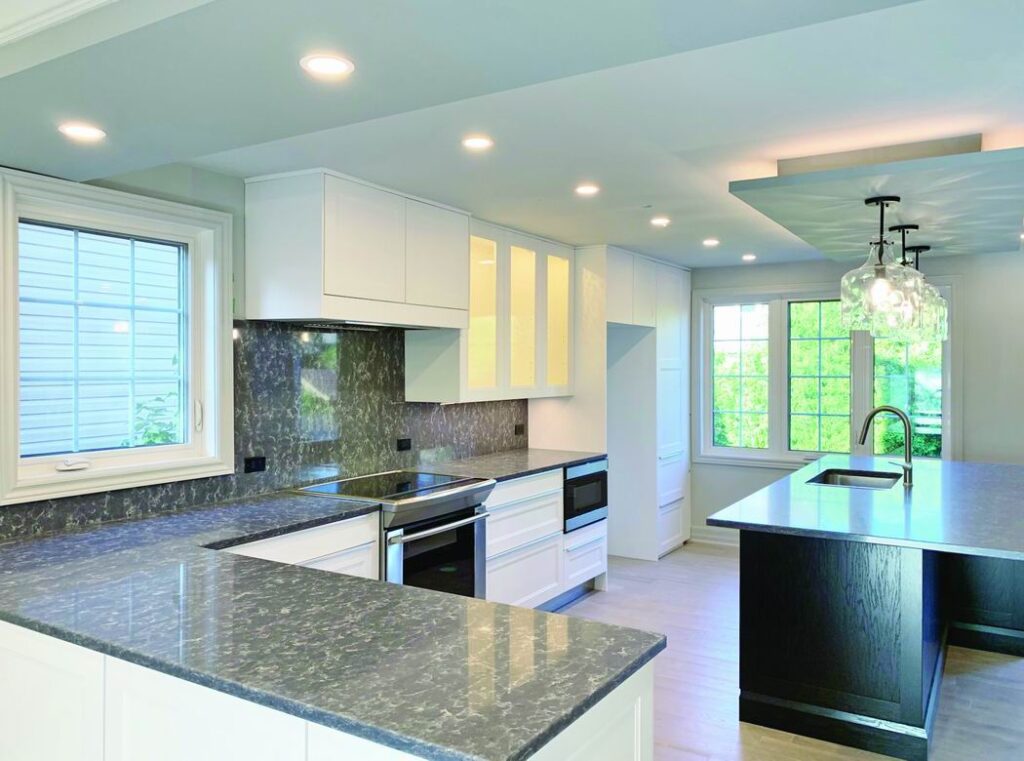 This project was precipitated by the desire for a dream kitchen, but involved much of the main floor of the 1980s two-storey home.
The clients wanted a kitchen that was a focal point, central and more open concept. To achieve this, the dining room and kitchen spaces were swapped and integrated into the once closed-off hall and living room.
Several walls were removed, engineered flush beams and new basement posts were added for support and virtually everything was upgraded, from walls, ceilings and floor finishes to electrical and HVAC systems.
The project also required some creative design solutions to reroute and conceal ductwork, including full-width toe kick air returns.
Features include a new built-in gas fireplace and hidden hood fan cabinetry, a stone window sill bench, custom closet storage, programmed lighting and a central island that was tops on the owners' list.
Whole home renovation — SkilBilt Construction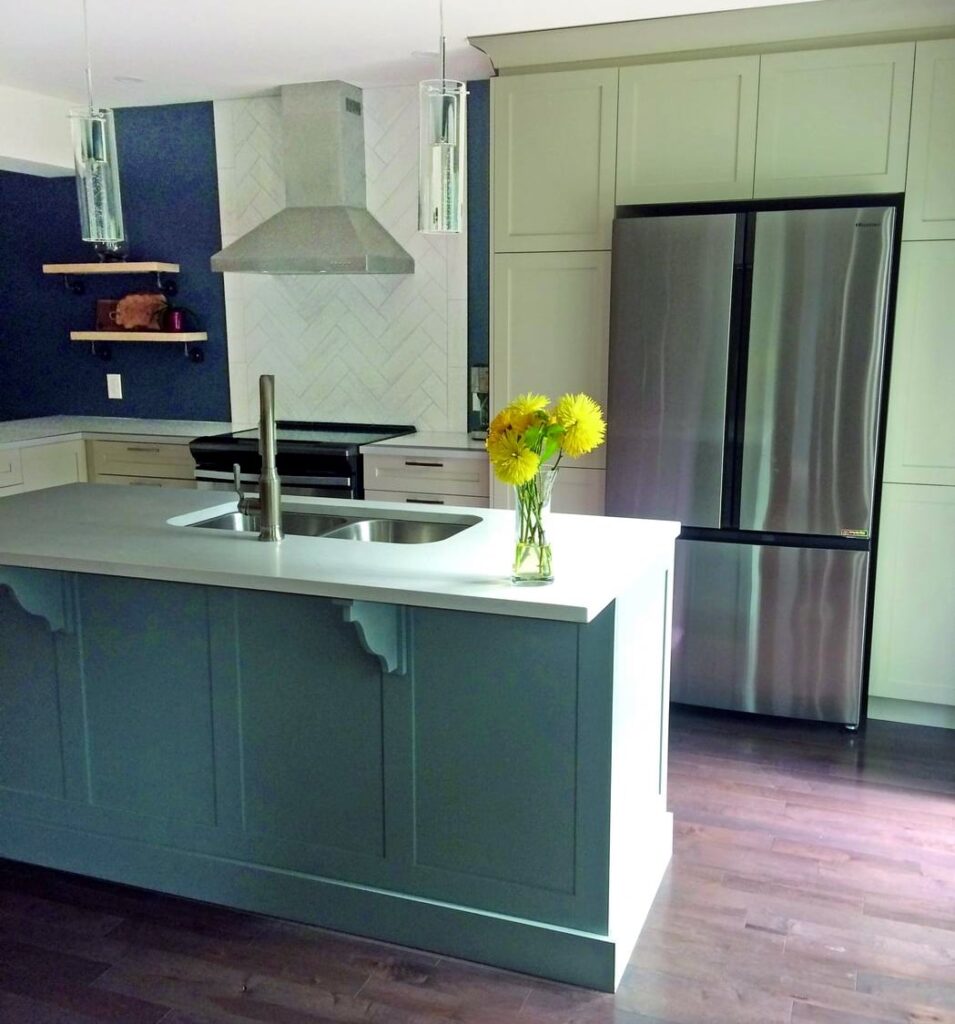 SkilBilt has a second project on the tour that showcases the transformation of an older home into the modern desire for an open-concept space.
This project involved the renovation of both the first and second floors with the removal of load-bearing walls on the main level and an updating of the second floor, including adding a main bathroom.
Because the owners stayed in the home during such an extensive remodel, great care was needed in the scheduling of work to ensure the home remained livable during construction, the company says.
To order tickets online, visit renotour.ca.
Related
Get regular updates on our latest articles