Amid a strong field of contenders in which 17 Ottawa projects were finalists, three were able to claim victory as the Canadian Home Builders' Association held its 2020 national housing awards June 12.
Unlike other years, when the CHBA announced the National Awards for Housing Excellence winners at a gala event during its annual conference, this year the presentation had to be done virtually, with hundreds tuning in to YouTube for the pre-recorded video event.
"While we were unable to gather in person this year, doing the awards virtually gave us an opportunity to try something new," said Natasha Rombough, CHBA's director of marketing and communications. "We were able to involve home builders' associations at the local/provincial levels from across the country, and create a memorable experience for all involved who were at home celebrating with their teams."
The big winners locally were:
Minto Communities for its 2019 Dream Home in the CHEO Dream of a Lifetime lottery, which won the Net Zero Home award (with partners Building Energy Inc. and Switch Energy);
Ardington & Associates Design for a whole home renovation between $301,000 and $500,000; and
Brenmar Construction for custom detached home over 5,000 square feet.
In all, there were 191 finalists from more than 700 entries across the country who were vying for 42 trophies.
Winners were presented their "trophies" earlier in the week so that they "could experience some of the excitement of receiving the award at a big gala," said CHBA president John Meinen.
The drop-offs, which were videotaped and became part of the awards presentation, provided some levity as the CHBA's traditional sculpted goose trophies were unavailable, having been delayed by the manufacturer, so they were substituted with inflatable pink flamingos.
"We had to improvise a little bit," CEO Kevin Lee said with a smile.
Ottawa's 2020 national housing awards winners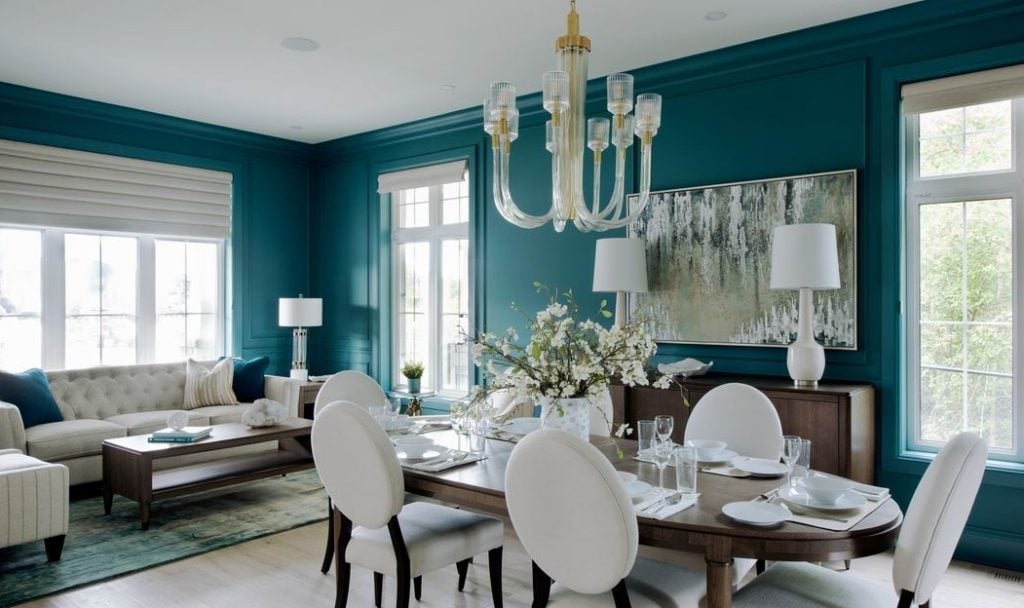 Minto Communities: The Dream Home Minto builds every year in conjunction with the CHEO Foundation and a host of area suppliers and service providers often features unique and unusual elements. But the most recent iteration was something new: a home built to Net Zero standards, which means it produces as much energy as it uses.
Energy efficiency is something Minto has championed for years, including building Ottawa's first Net Zero model home at Arcadia in Kanata in 2017.
"We are continually striving to improve the overall efficiency of our homes and this will be our fifth Net Zero home in Ottawa over the past four years as proof that we are always trying new ideas and pushing the envelope to help get Net Zero to mainstream," said Ottawa division president Brent Strachan.
Minto's winning Net Zero entry is the 5,500-square-foot-plus Hampton, which combines sophisticated design by Tanya Collins Design with a host of energy-efficient features, including solar panels, triple-paned windows, upgraded insulation and an electric car charger in the garage to make it 80-per-cent more energy efficient than a regular home.
"The concept for the Hampton is based on a juxtaposition of timeless design with state-of-the-art technology to offer Net Zero energy," Minto said in its submission. "Every part of the house works together to provide greater indoor comfort and air quality with highly efficient insulation, mechanical systems and solar panels to produce the energy it needs."
While its Net Zero features were important in judging, so too was its design, which was inspired by its name, "but with a twist," the company said in its submission. "Its soft, neutral colour palette, combined with sturdy, exposed architectural features and a touch of classicism evoke a sense of sophisticated coastal living like the grand beach houses of the Hamptons."
It boasts a seaside esthetic in shades of blue with chunky mouldings, wainscoting, coffered ceilings, shiplap accents and grass-cloth wallpaper.
"It really was a dream home, from the community, to the design and decor through to the added benefit of being a Net Zero home, our team is proud to be recognized for our design and our commitment to sustainability," said Strachan.
Minto last won a CHBA award in 2018.
Ardington & Associates Design: This extensive renovation and addition sought to update a tired, boxy 1970s home into one that reflected modern tastes and met the needs of a busy family while respecting the character of the street.
"Helping (our clients) turn a home they had already formed so many memories in into a home that will last them for many years to come is what made the project special to us," said Ardington founder Stephen Ardington after the event
The main floor was reorganized, including turning the dining room into a mudroom, a master suite was added above the garage and an expanded family room expands seamlessly into the landscaping of the backyard.
"We weren't expecting to win," said Ardington. "There were so many other great finalists."
The home was also a winner at the 2019 Housing Design Awards put on by the Greater Ottawa Home Builders' Association.
Like Minto, Ardington + Associates last won a CHBA award in 2018.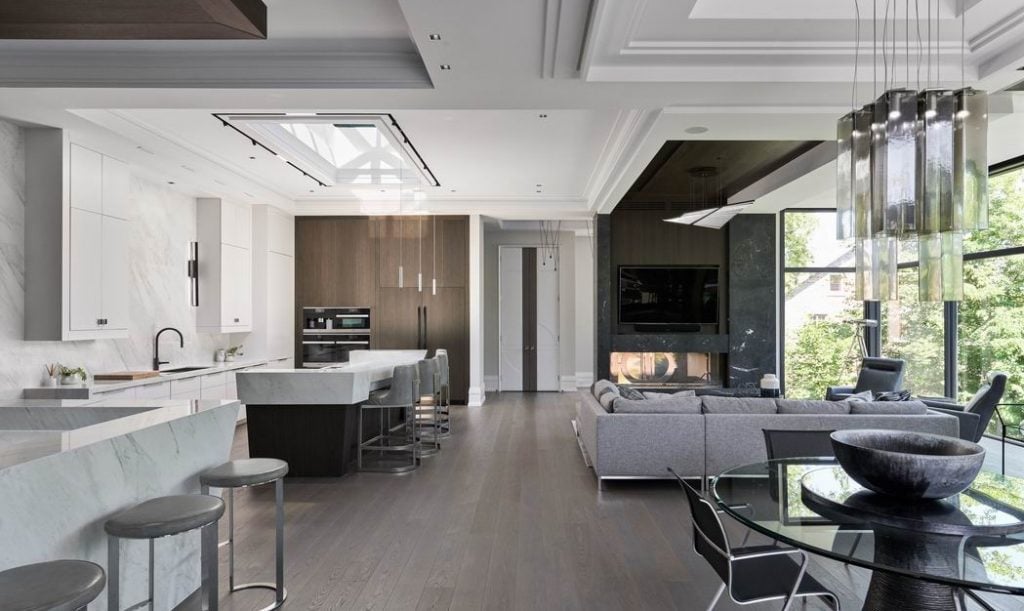 Brenmar Construction: This generous riverfront home is definitely contemporary, yet it balances an extensive use of glass with more traditional limestone to reflect the historic buildings that are its neighbours.
Designed by André Godin Design, a sunken foyer affords views of the river, while wall-to-wall glazing across the back of the home puts the focus squarely on those views.
Other features include a sumptuous lanai (or porch), a sculptural kitchen island, full marble wall accents and plenty of design details, like the multiple ceiling treatments.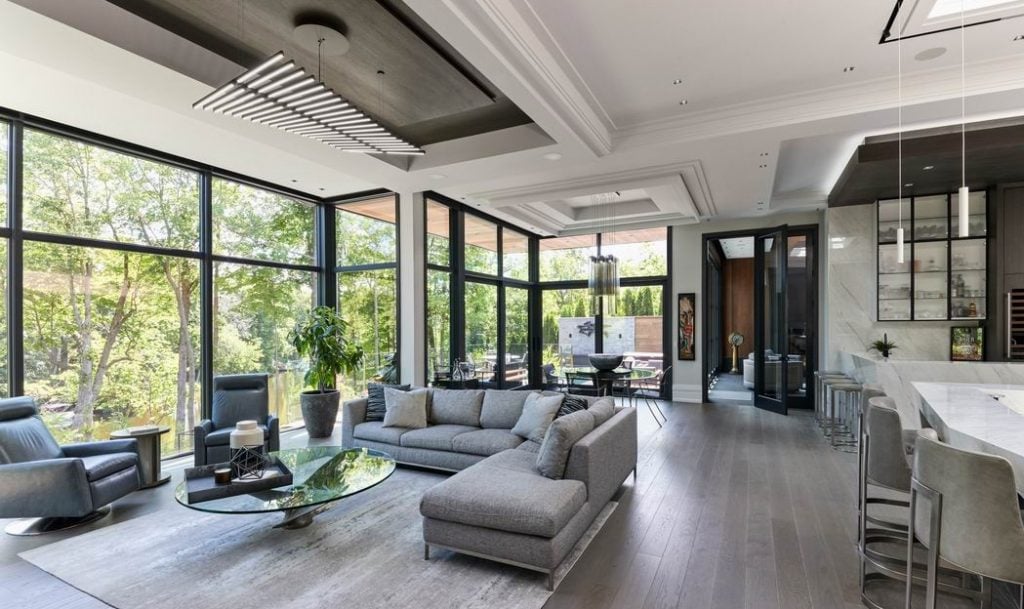 "Look at the goosebumps," said Brenmar project manager Marc Trottier as he accepted the company's pink flamingo "trophy."
"This is everything we hoped for."
Following the awards presentation he added: "That is an extraordinary accomplishment for all who made the finals. To win is a tremendous statement of the dedication and commitment of the homeowner, designers, consultants, contractors and craftspeople who worked on this home."
It's the first time Brenmar has entered in the CHBA awards.
Like Ardington + Associates, this home by Brenmar was also a winner at the 2019 Housing Design Awards. (Minto's home was not entered last year.)
Ottawa runners up
For the first time, the CHBA announced the runners up in each category. Categories had a maximum of five finalists.
Tapped as a runner up was OakWood for whole home renovation under $150,000 and Guildcrest Homes for modular innovation for its Citana model.