One way to understand Urbandale's newly launched R-2000 homes is to think of cars, according to general manager Peter Weiss.
Urbandale is now building its two-storey singles and detached bungalows to the strict, federally certified standards of R-2000. That means those homes are, on average, 50 per cent more energy efficient than a home built just to the building code.
"(It's like) four cylinder cars versus a big V-8," says Weiss. "You don't see many big V-8s right now. You've increased the output of a four-cylinder car so it has similar properties to a V-8 but it consumes less energy, less fuel."
An R-2000 home requires less energy because, like a good car, it's designed as a system in which all the parts — including high insulation levels, Arctic-rated windows and air quality features — work together as a whole. Energy is maximized throughout the home rather than being squandered or being an afterthought.
A bold move
In some ways, building to R-2000 standards is a bold move in a traditionally conservative industry. Not only is there no government requirement to build homes this way, it also adds 10 per cent or more to building costs in an era when homes are, in some cities, becoming unaffordable for many.
On the other hand, these homes, which are built by licensed R-2000 builders and individually certified by the federal government, save their owners money over time in substantially lower energy costs and reduce the carbon footprint of housing.
And if you think those two factors aren't important, just remember the surging price at the gas pumps or the recent report from Environment and Climate Change Canada warning that Canada is warming twice as fast as the rest of the world.
The homes should also have a good resale value because their energy efficiency has been certified.
With energy savings and strong resale potential, Weiss says, "we're future proofing these homes, and that gives buyers a sense of security — you're already thinking of the future."
Sweetening the pot is Canada Mortgage and Housing Corporation's Green Home program. It makes the purchase of an R-2000 home easier by offering a 25-per-cent premium refund on homes built to that standard.
Air quality, comfort & good looks
Natural Resources Canada (NRCan), which certifies R-2000 homes, says on its website that the homes with that designation have "set the standard for indoor air quality" for 35 years.
With R-2000, says the site, "you get clean-air features that go beyond those required by building codes. This includes a balanced, whole-house mechanical ventilation system that is professionally installed in every R-2000 home. The system removes stale air from your home and delivers fresh air to every room of the house."
Urbandale's homes are also built using carpets, adhesives, paints and wood products with low VOC (volatile organic compounds), another plus for air quality.
Along with the health benefits of good indoor air, NRCan says that R-2000 homes include water-saving fixtures and are all tested for air-tightness by a certified technician.
For more on R-2000 homes, check out this NRCan video: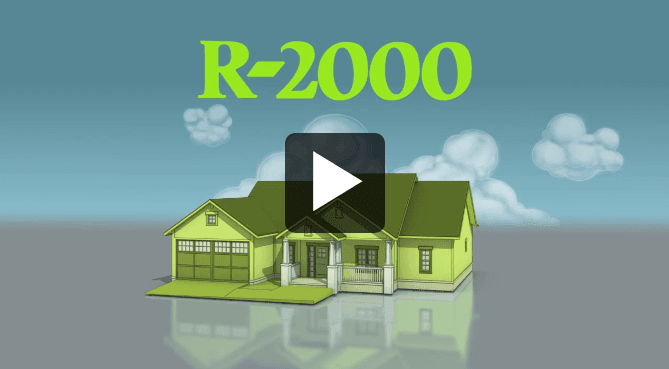 Weiss also stresses the comfort of an R-2000 home, which has been engineered to eliminate cold zones and drafts. Urbandale couples that with its Proud Foundation, which uses exterior insulation and a waterproof coating to reduce the possibility of moisture, mould and to increase comfort in the basement.
He adds that building to R-2000 standards does not mean sacrificing style, contemporary finishes or other buyer expectations.
"Our homes esthetically haven't changed. If you've done it right, there should be no difference in the esthetics… you get design features and energy efficiency."
Back to the future
Urbandale began building R-2000 homes in 2007. It continued to do so until 2012, when the building code was revamped to push energy efficiency requirements even higher. That meant that certifications like R-2000 that exceeded the building code also had to up their game, but Urbandale felt that some existing technology wasn't able to meet those requirements.
At that point, explains Weiss, Urbandale switched to Energy Star certification, which achieves 25 per cent greater energy efficiency than homes built to code. While R-2000 homes continued to be an option at Urbandale, the company effectively stopped building them until it was able to count on improved air source heat pumps to provide heating and cooling in its homes.
"We had already improved our insulation levels in the last few years, which met those targets, and we improved our air-tightness," says Weiss. "Then the mechanical systems became more economical, so the jump (to R-2000) wasn't as substantial… because of our history of already being so much higher than code."
While buyers still look for the design bells and whistles, Weiss believes the issue of climate change is on everyone's mind. But "humans can't make these big decisions on climate change and the way we live overnight; it's such a big problem that you either deal with it or simply ignore it."
With an R-2000 home, "you're taking something that promotes a solution for the environment and people in general."
Urbandale is now selling its R-2000 singles and bungalows in Riverside South and Cowan's Grove. It will also feature R-2000 homes starting in the next phase of Bradley Commons and when it opens The Creek in Kemptville.
Related
Our homes contribute to climate change: solving the problem
Get regular updates on our latest articles