As the chief operating officer of the Cardel Group of Companies, I have responsibility for overseeing our operations in Tampa, Denver, Calgary and Ottawa and I am often asked how the markets differ.
Homeownership is still one of the most coveted assets in North America. People want to find the right community, the right lot and the right house for their family to live in. This is true both in the United States and in Canada.
It's been a decade since the U.S. housing market imploded, when the world witnessed the collapse of investment bank Lehman Brothers and the start of a global financial crisis that would last for years. In the U.S., the mortgage lending market, along with speculators, were key factors in putting the housing market into its worst slump in history.
However, in Canada, that slump never happened.
Canada did see a slowdown through 2008, but shortly thereafter Canadian house prices started to increase. On top of that, our banks remained stable and our lending rules remained solid.
Now a decade after the U.S. collapse, have Canadians been the benefactors in the housing market?
A quick comparison
Point2Homes completed a recent assessment of the two markets to see how they have compared over the past 10 years. Over that period, the average house price in Canada jumped 56 per cent, while incomes rose 15 per cent in the same time period. That has created some affordability issues.
In the U.S., prices are now an average of 24 per cent higher than 10 years ago, while incomes have grown 18 per cent, which means affordability has not really worsened in the U.S.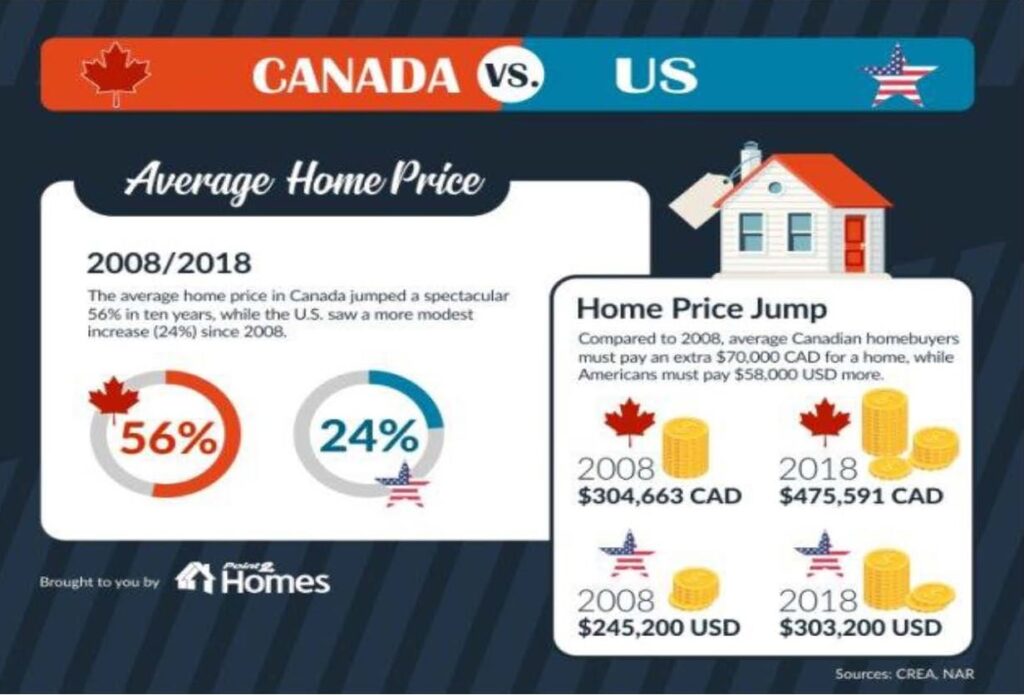 Affordability is a huge concern in Canada and it will be a key federal election platform this fall. In Canada, affordability continues to worsen with the overall Canadian market now considered extremely unaffordable. The U.S. market remains severely unaffordable — similar to where it was 10 years ago.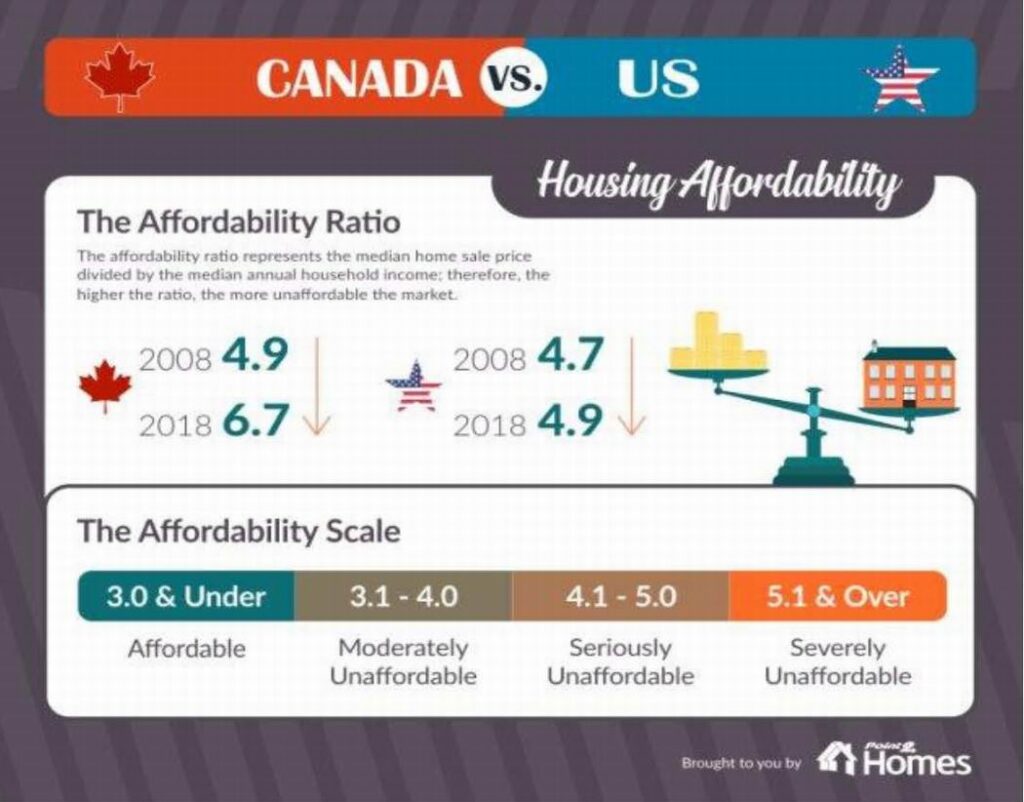 In Canada, we have two markets that continue to distort affordability — Toronto and Vancouver. In Vancouver, a detached home more than doubled in the past decade, to around $1.5 million, up from around $725,000. In Toronto, the average price of all home types also more than doubled in that 10-year period.
Other Canadian cities have remained relatively stable. Take Calgary, where house prices peaked and fell in 2007. Today, the price index for Calgary is just four per cent higher than it was back in 2007.
Of course, the impact on affordability has reduced consumers' ability to enter the housing market in both the U.S. and Canada.
In Canada, worsening affordability has delayed first-time home buying. In the U.S., many were forced out of their homes through foreclosures during the crisis, then high unemployment kept many younger Americans from buying homes.
What about renting?
The alternative is renting. But for renting, things look very similar in Canada and the U.S. Rental rates rose 23 per cent in the U.S. over the past decade, and 25 per cent in Canada (with very large regional differences).
As expensive as rents are in Toronto and Vancouver, they are still far behind the U.S.'s most expensive rental markets in Manhattan, San Francisco, Boston and Brooklyn. As I write this article, rents continue to increase, so quoting a rate would be an exercise in futility.
Finally, there is the impact of government regulations, rising interest rates, and mortgage qualifications and lending rules. Here in Canada, we have the new stress test rules, the elimination of 30-year amortization and too much bureaucratic red tape, which drives up costs to consumers and makes a home even more unaffordable.
The U.S. has been reducing corporate taxes, eliminating red tape and encouraging investment, which has helped the housing industry and the consumer. So, after the U.S. housing crisis 10 years ago, things really don't look that different between the two markets.
Related