Even though we may complain about the weather, as Canadians it's exhilarating to have four seasons. But as each requires appropriate outerwear, it makes designing a good mudroom of great importance.
Multi-purpose flexibility to transition from cool to warm, wet to dry, dirty to clean: no other space in the house has such varied needs. Bug sprays, lotions, towels, hats, mitts and gloves — the mudroom is a widely used space that can act as extensions of our pantry or garage, meeting pet needs, and housing tools, cleaning agents and some sports equipment — but no hockey equipment please, that's another story.
For those of us who do not have a basement or extra storage areas or even a front foyer or garage, we can be trained to learn how to "shift and circulate" in our mudroom — and, may I say, live with less and store what we need.
As an often smaller space, good design in the mudroom requires vertical storage (to the ceiling, if needed); is well-planned to the inch, including depth, height and width for specific items; places everyday items within easy reach, tucking things used infrequently at higher levels; and incorporates a discreet folding ladder nearby, if needed.
Planning your space
Recessed niches: If you can, place your brooms behind a full-length mirror. These fit nicely into a 13-inch-wide wall stud cavity. Or use niches for smaller items or bags.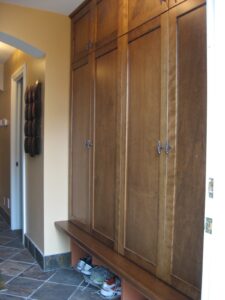 Zones: How do we move about within such a busy space? Always think how we use a space and design it accordingly. For example, each family member could have a spot of their own for their outerwear, bags and footwear, with a general spot for communal items such as de-icer, bug sprays and lotions. Place off-season things like flip-flops up high or out of the room all together.
Keeping us stationary in zones avoids conflict with one another. There's no need to walk around each other if everything we need is in one or two locations. Keep in mind a certain clarity as to where things are found, in order of how we use them, storing things where you can see them. Using clear bins or open shelves and hooks go a long way. Always knowing where things are reduces daily stress levels and promotes efficiency.
Universal design: I have learned the hard way that you never know when you might injure a knee or a shoulder. But whether through injury or ability, bending down or reaching with both hands can be difficult. That's why universal design is for all ages; it's logical for ease of use for anyone's abilities.
Seasonal shifting: Divide your belongings into spring/summer and fall/winter and place those bins in an out-of-the-way storage area. Then simply swap them out when the seasons change, using the same bins for the items that had been in storage.
Decluttering
I am thrilled to the moon and back that decluttering is finally trending.
Decluttering is essential before starting any project. An easy approach is to keep it simple. For 10 minutes every day pick a small spot — a drawer, a bin, or a shelf — and get rid of whatever is not used. Re-purpose, recycle, give away, donate to charity. There are so many means of minimizing what you do not use in your home. There are some great community websites available through social media, such as Buy Nothing groups, to help.
Within a few weeks, you will have achieved the goal of knowing what you actually use. Now that you know this, you can design your space effectively for your needs and maximum function.
Simplify your life one room at a time to reduce your stress and create an inviting environment that is easier to move in and commands respect, which will encourage keeping it tidy.
Mudroom design tips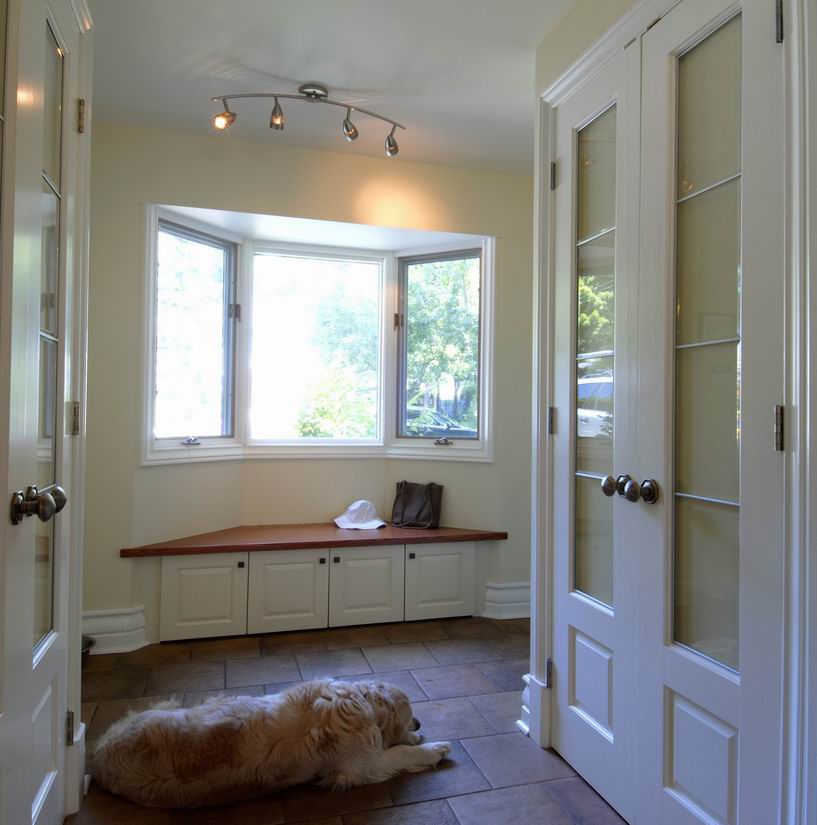 Benches: These are great to have, especially for those needing to sit while putting on shoes. A word of caution though: if there are no other drop zones, the bench will eat everything up that comes in the door. Keep the space under the bench open to the floor and plan in winter to have drip mats.
Hooks: For children, place hooks where they can reach them. For adults, having designated "locker style" areas provides defined areas of ownership. Ensure there are places for backpacks unless there's another spot in the home for them. Ensure these are spaced realistically: winter coats require five to six inches apart, while snow pants and spring jackets can be placed three to four inches apart.
Tip: place hooks every two inches for versatility.
Lighting: Lighting is always imperative. Consider multi-lamp movable fixtures that are flexible to be aimed where needed. For single mounts, choose a broad diameter flush mount that illuminates the entire room. Don't be afraid to amplify your lighting to be bright enough to see those black hats and mittens.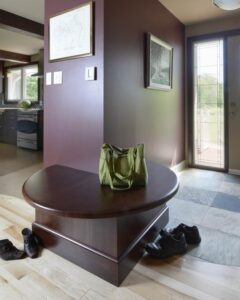 Surfaces: Flooring should certainly be non-slip and water resistant, if at all possible. Textured materials will hide dirt best. Mind you, keep texture down to a minimum for ease of cleaning. Walls and shelving, particularly behind or under coats and shoes, should be hard-surfaced and non-moisture absorbent for easy cleaning.
Moisture: Ventilation is crucial. Many damp items are stored in the mudroom and to reduce mould and for drying quickly, think windows, an exhaust fan and slots in cabinetry panels to let air pass through.
Accessories: These may include a chalk board, a "positive phrases-of-the-day" sign, or helpful reminders.
Not sure how to proceed? A professional designer can help you achieve your goals in a timely manner. Within a few hours, they will not only help select appropriate finishes to resist moisture and for easy maintenance, they know most suitable products available to meet your budget. Essentially and efficiently, they will help change your lifestyle for the better no matter what space is being designed.