If this year's Homes for the Holidays tour is anything to go by, minimalism is in when it comes to holiday decorating in Ottawa.
"In general, there is a less-is-more style coming through," says Diane Boyd of Trillium Floral Designs. "By having a more simplistic design, you are able to focus on each detail easier and not be overpowered by trying to focus on too much."
Trillium was one of seven florists and decorators to dress up eight Ottawa homes for the popular event in November. More than 1,600 visitors toured the homes Nov. 16-18, checking out the unique arrangements and gathering decorating ideas while raising much-needed funds for Hospice Care Ottawa.
Now in its 16th year, more than $142,000 was raised with this year's tour, which saw a mix of housing styles and sizes stretching from Westboro and Centrepointe to Rockcliffe Park, Centretown and the banks of the Rideau River.
"I think everyone's trying to be a little bit more minimal," says Jessica Barrett of Mill Street Florist, which decorated two homes on the tour. "It was over the top before, too elaborate before… and I don't think there's a need for it. One beautiful piece can have more impact."
Neutral and natural
Flowers Talk Tivoli also decorated two homes on the tour. "Designers are toning down on the bright colours and the flashy and moving towards more of a neutral and natural palette for their florals," adds owner Elizabeth Young. "It's similar to the neutrals we are seeing in the paint colours compared to the strong contrast of colours that we have seen in the past. The decor is now flowing beautifully from room to room, instead of creating colour themes per room."
But, says Boyd, personal preference still rules. "Christmas is our favorite time of year (at Trillium) and we think there can never be too much!" The key, she adds, is making it all look tasteful and elegant.
While the theme this year was more minimal, there were certainly splashes of Christmas fare, either in homes where the decor leant itself to more traditional styling or where the homeowners asked for it.
In the home Trillium decorated, for instance, a sparkly, gold bannister with ornaments greets visitors as soon as they walk in the door, while a Rockcliffe Park home done up by Scrim's Florist offered a family room that felt very traditional, with its plump Christmas tree and heavily dressed mantel.
Yet, the overriding thread was a more modern styling, with a few trends thrown in.
So, what was there to see?
House 1: Trillium Floral Designs
Drawing from the owner's Scandinavian background as inspiration, Trillium combined earthy elements with elegant orchids in the outdoor room, a mix of traditional and modern in the eclectic living room and a New Year's Eve theme downstairs.
House 2: Flowers Talk Tivoli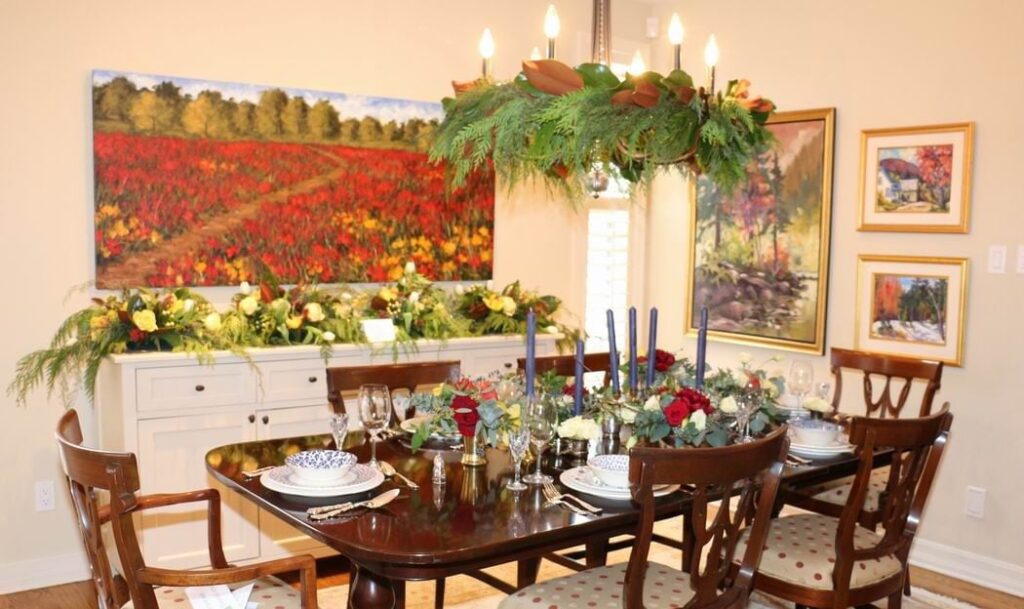 Building off the artwork, Young used bold colours in this more traditionally styled home. Her favourite room was the dining room. "The gorgeous art, the eclectic mix of dishes and the flowers we designed worked perfectly in that space," she says.
House 3: Scrim's Florist
Taking their cue from the homeowner, Scrim's stayed within the traditional Christmas colour palette, focusing on red and green with touches of gold, while incorporating trends such as succulents.
House 4: Mill Street Florist
In keeping with the minimalist feel of the home, Mill Street opted for subtle touches over splashy displays in this home. One of the more heavily decorated areas was the outdoor room, where Barrett wanted to create a winter theme rather than a holiday one.
House 5: Alta Vista Flowers
Taking the minimalistic approach to the extreme, Alta Vista Flowers picked their spots to decorate judiciously in this contemporary infill home, careful to maintain the home's clean, uncluttered look while still gently adding some pops of festive colour and texture.
House 6: Stoneblossom Floral Gallery
Celebrating this home's connection to nature, Stoneblossom worked to incorporate the owner's extensive decorations — including a definite preference for reindeer — into the overall design for this stunning home.
House 7: Mill Street Florist
Respecting the style of the home while still having a sense of humour, Mill Street chose understated elegant arrangements for the kitchen and eating area but went for the unexpected with giant elves sharing cocktails in the games room.
House 8: Flowers Talk Tivoli
For this contemporary infill home, which boasts a mostly white and definitely minimalistic palette, Young wanted an organic, modern, slightly rustic feel with a bit of whimsy.
Trending this year
"People are going really heavy on greenery, really heavy on organic texture, berries," says Barrett, who noticed this trend in summer weddings as well. "We did some wedding bouquets that were just greenery, no flowers in them."
Unique greenery like Australian pine, which has lots of texture and different colouring than we're used to, is something being emphasized, she says.
Plants are popular gifts this year, adds Young. Think Norfolk pine, cypress, mini myrtle, winter berry. "All of these have been flying out of our shop." Many also showed up in tour homes.
Young also noticed on the tour a trend toward low and full centrepieces "instead of big, eye-blocking arrangements," as well as many designers creating their own take on a holiday tree.
"I am blown away with the amount of time, art, dedication and talent that the floral designers donate to this amazing event," she says.
For Scrim's, red and green fresh florals remain on trend, says owner Susan Murray. "Christmas season is loaded with memories of our childhood and I think for many of us that means poinsettia, live table centrepieces and red and green decoration."
And Trillium is seeing an emphasis on traditional, but with a modern spin. "The plaid patterns and red/white colour schemes are coming back, compared to previous years where an all-white, elegant palette or pops of unusual colours were coming though," says Boyd. "I think with the constant hustle and bustle of our busy lives, we are focusing on coming together with friends and family and returning to those nostalgic elements from our childhood. We're even seeing ornament shapes coming back to what was popular in the '80s. Hopefully the tinsel doesn't follow suit!"
Advice from the pros
Most of us can't afford the big and plentiful arrangements found on the tour. So, if you want to go fresh and you have a limited budget, where and how will you get the most bang for your buck? Here's what the florists recommend:
Flowers Talk Tivoli: Bunches of fresh beautiful winter greens, outside in your planters and inside to give you the fragrance.
Scrim's Florist: Christmas greens, holly, cedar and evergreen as the base in a container with water and then perhaps red alstroemeria or holly berries. The flowers may need to be refreshed but the green can last throughout the season.
Mill Street Florist: A centrepiece for your table, where everyone's sitting.
Trillium Floral Designs: Holiday boughs are inexpensive at $8-12 per bunch and you can fill quite a few containers with one bunch. They are great for filling outside pots and to put a few sprigs throughout the home. For a more modern look, pair them with other greens such as eucalyptus or aspidistra leaves to provide a more structured look. There are also some large-headed blooms such as hydrangeas, china mums and amaryllis, which are long lasting and can fill a vase easily. Different coloured berries are also inexpensive and will last you weeks.
Why use florals?
Not surprisingly, florists are big on the idea of florals being a part of your Christmas plan. But they do have a role to play, they say.
"It doesn't have to be using grandiose arrangements or having flowers everywhere, but having flowers here and there throughout the home is very uplifting," says Boyd. "Also, the scent of fresh evergreens brings back a nostalgic feeling and comforts you right away. It's something your guests will notice, too, the second they walk in.
"Even a simple idea of having a few martini glasses on a credenza with a few floating blooms is low in cost but makes an elegant impact."
Young says it depends on the person, but winter greens are a definite must. "There is nothing in a bottle or spray that can ever replace the authentic fragrance of cedar, pine, juniper and sapphire.
"The addition of florals is a personal preference based on likes and budget. Whatever someone decides, the florals should always be created with the room in mind and add to the beauty of the space, unless you are working with a blank canvas, where the flowers are expected to create the space and steal the show."
Related
Videos: DIY Christmas decor ideas
Making your dining room a welcoming space for the holidays
What to know if you're thinking of a real tree
Get regular updates on our latest articles