If a lack of backyard shade and privacy are plaguing your property, an ideal solution is to optimize your backyard and create your own private oasis with a pergola.
If you've bought a home in the last 10 to 20 years, you've definitely noticed that yard size isn't what it used to be. New communities are getting denser.
With growing demand in — and around — urban centres, builders are dividing up traditional single-family lots to accommodate multiple homes. And what's the result? Small lots with maximum house coverage and limited outdoor space, sitting within earshot of neighbours.
The biggest concern I come across with homeowners in these new homes is the lack of backyard privacy. Functionality of the space is another, as these backyard lots often have odd dimensions — long and narrow, short and wide or pie shaped.
Where's the shade?
Another common problem I often have to address is shade. While summer sunshine is lovely, and there are some great plants that can handle full sun, most of us will start to wilt within the first hour or two. It's hard to enjoy extended periods outdoors when the sun is beating down. New builds and newer communities often face a painful lack of overhead tree canopy. For one, large trees need to be strategically placed to avoid doing damage to the home or its underground infrastructure, so long roots are a concern.
Even with new trees, it takes 10+ years for that natural shade structure to grow in. That means full sun exposure from dawn to dusk.
So, how can homeowners make the most of their limited backyard space? A well-placed pergola is a great solution.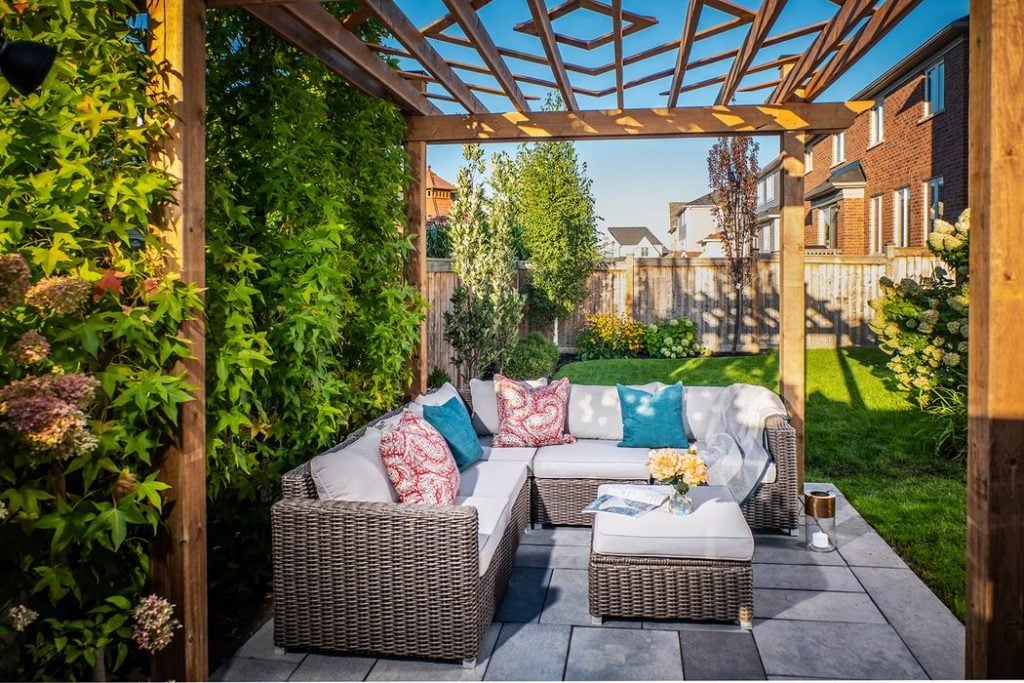 Contest creations
I've worked on several projects with these challenges and have been able to overcome this through design, and the backyard concepts I created for MicroPro Sienna Treated Wood last summer are perfect examples.
MicroPro Sienna ran a contest to find homeowners whose backyard needed a boost with professional landscape design. There were two grand prize winners, one in Calgary and another in Whitby, Ont., each representing common backyard challenges.
The Calgary winner was in a dense urban neighbourhood, and the Whitby winner was in a more suburban location. Despite their different locations, both backyards lacked shade and privacy.
I worked on concepts for both backyard solutions, which were then built by local contractors. Both solutions involved adding custom pergolas built with MicroPro Sienna Treated Wood. I am a spokesman for MicroPro Sienna because I fully believe in this product. It's a treated wood that is unique, offering the colour and look of cedar, but at a much lower price point. It has a beautiful brown colour that enhances the look of natural wood, it's durable and it's environmentally friendly, carrying green certifications that make it perfect for the backyard — kids and all.
Defining spaces in Whitby
In the Whitby project, a family of five bought a new home to accommodate their growing family. The detached 3,000-sq.-ft. home met all of their needs — except for the yard, which was a bit smaller than they'd hoped for. But factoring in the large park across the street, they felt it was a great compromise.
The yard was shallow but very wide. It had an existing L-shaped flagstone patio where they put their outdoor furniture, but they found the lack of shade made it difficult to enjoy, which was a shame because they like to entertain. On top of that, the small yard meant they were way too close to their back neighbours for comfort.
My solution was to create a tandem pergola, one that would weave across both the seating and dining areas. Not only did it define these two areas, providing privacy and shade, but it also defined other areas of the yard for the kids to use and play.
A little bit more, a little bit less
Working with the style of their home, I designed a complementary pattern into the overhead of the pergola. Controlling the amount of sun that filters through, on one side the pattern is woven more tightly than the other so that one offers more shade, the other a bit less, providing the best of both worlds.
The positioning of the pergola structure also adds a buffer between the family and their neighbours, keeping the noise transfer down and the comfort level up.
The family now gets so much more enjoyment out of their yard that for their next project they are looking to install an outdoor heat source, such as a fire pit or outdoor fireplace, so they can enjoy their outdoor living spaces well into fall.
The Calgary solution
With a new three-storey cliffside home in the neighbourhood of Bridgeland, the homeowners created an outdoor oasis including a swim spa for a much-used, low-impact fitness amenity.
They focused on proper permits and installation but needed some help with privacy. The problem was that their south-facing yard put the spa in a fishbowl. All of the neighbours could see every lap and dip.
The exposure was not only to houses flanking theirs, but because of the slope in the neighbourhood, most of the neighbours above had a clear view, too.
There was little shade most of the day, limiting the amount of time they could use their yard — and with a toddler and a baby on the way, they needed the space.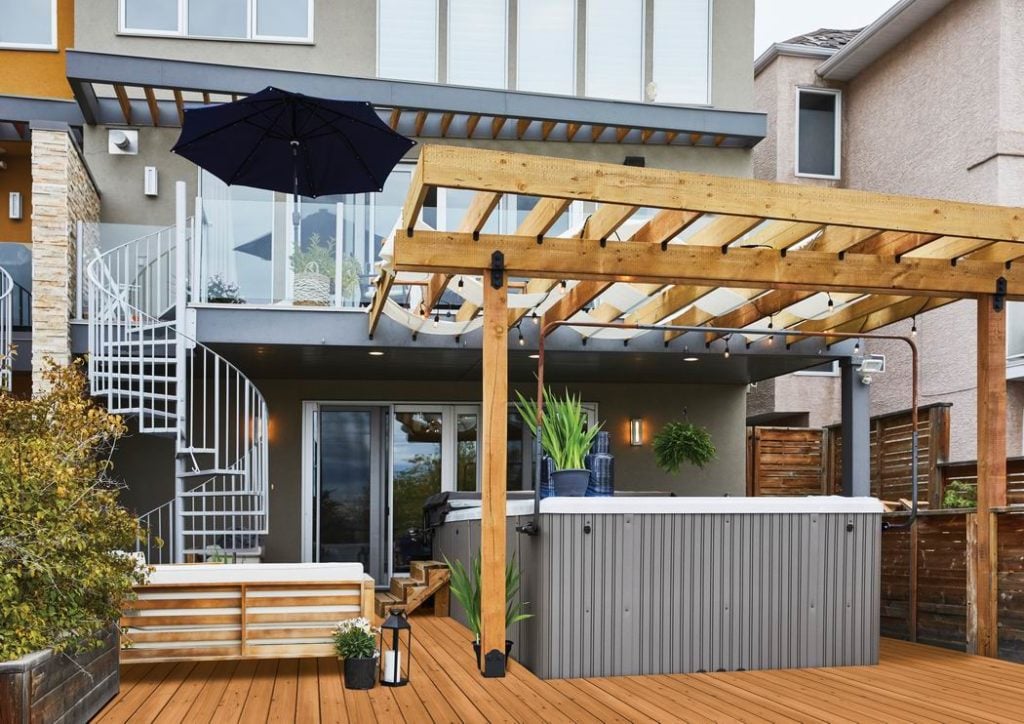 My solution worked beautifully — a perfectly positioned pergola. A good fence will stop interaction to the back and sides, but when you need privacy from above, too, a pergola isn't just a barrier, it also plays with the eye, distracting sight lines and creating visual interest.
I designed the placement of the pergola so that it also buffered visual access into the home. The house was not square and had rooflines on angles, so I followed the same angles with the pergola's design.
The pergola's style added interest to the yard, plus it defined the space, allowing the swim spa to have its own area, while identifying space in the rest of the yard for seating and room for kids to play.
Weaving a good outdoor fabric through the top of the pergola created more shade, without completely blocking out the sky, since nights out under the stars are a particular favourite of these homeowners.
Design tip: If you want to weave fabric through the pergola, add gromets so that rain and snow can drain. A good quality outdoor fabric will stand up to the elements and can be changed out each season with different patterns or colours if you want to switch out the decor and views.
Related