Whether you're planning a kitchen renovation or simply want to make the heart of your home more functional for the year ahead, kitchen storage accessories should be a top consideration for your 2020 kitchen goals.
Storage is more than just organizing the clutter in your kitchen. It's about affordable, modern solutions that can reduce health risks, improve food prep and make cooking and cleaning more efficient.
Organization is always trendy
Fads and trends will come and go as we step into this next decade, but useful and organized spaces will remain timeless. Offering customized storage accessories, like we do at Deslaurier, helps make everyday life easier and helps make the most out of every square foot in your kitchen.
If you're ready to tackle your kitchen's organization needs in 2020, then these five must-have kitchen storage accessories are for you.
Roll-out cabinet shelves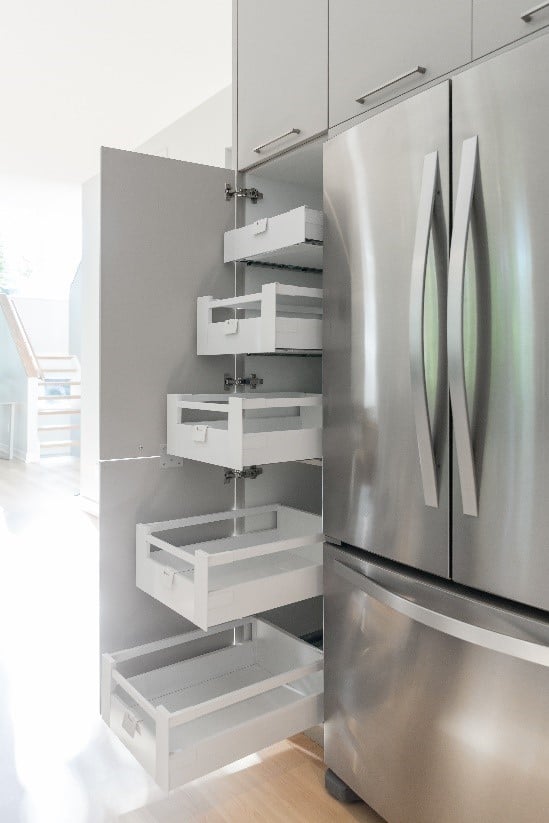 First on the list to achieving kitchen organization greatness is roll-out cabinet shelves. Bending down or kneeling on a hard floor to reach into the back of a lower cabinet, only to pull out the wrong item, is anything but functional.
These roll-out cabinet shelves are the perfect solution for displaying your cabinet contents with ease. No more digging in a dark and packed cabinet space for the baking powder. Everything you need is at your fingertips, with one roll.
Tray dividers
Tray dividers are both esthetically pleasing and extremely functional, ensuring your cabinet design makes an efficient use of space and is protected from the scratches or dents that come with a chaotic mess of utensils.
Making sure everything has a place in your cabinets is an important and thoughtful element in kitchen design. Aside from utensil trays, you can also opt to insert a spice tray divider, which will conveniently display your spices when the drawer is pulled out.
LeMans corner cabinet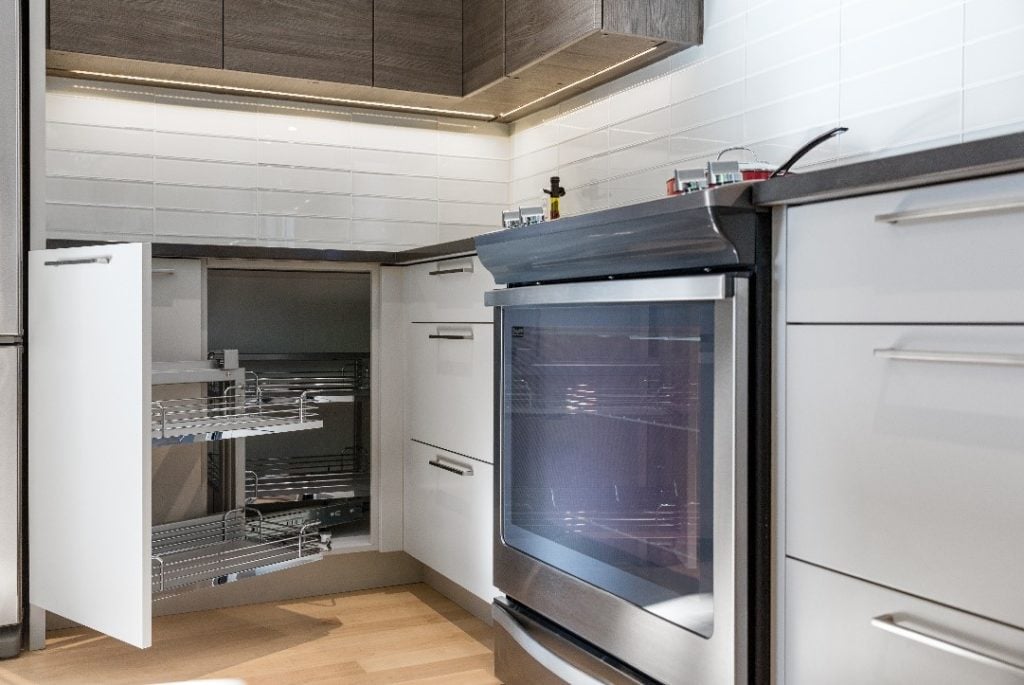 Third on our list of must-have kitchen storage accessories is the LeMans corner unit. It's made up of two to four trays that pull out of the corner cabinet, giving you extendable storage. They are useful for larger items like pots and pans and have limited moving parts, which prevents them from breaking.
Although slightly more expensive than a lazy Susan, which is another accessory for a corner cabinet, they are a better use of the limited space, providing more mobility and functionality.
Orga-line plate holders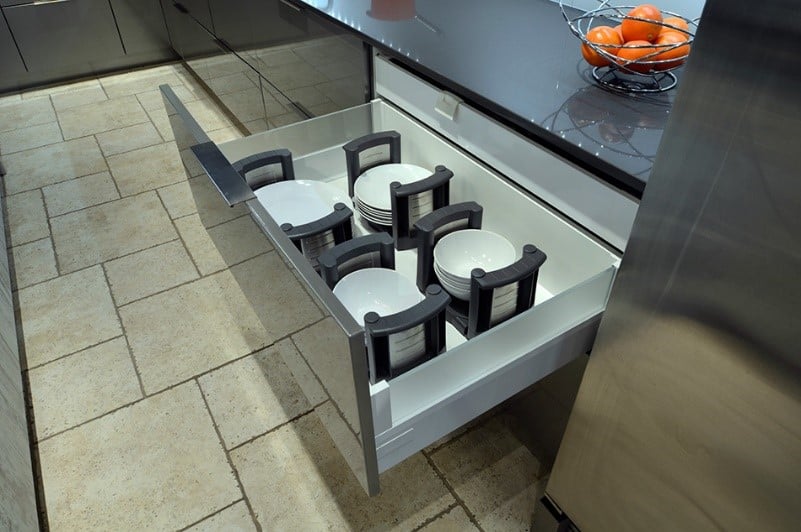 This must-have kitchen storage accessory is a fan favorite among clients who value accessibility in the kitchen. The Orga-line plate holder is an ergonomic alternative for storing dishes in lower cabinets, adding comfort and efficiency to your storage space.
Dishes are securely contained to provide protection and can be easily and safely transported from cabinet to table as the holders lift right out of the drawer.
Wire spice pull-outs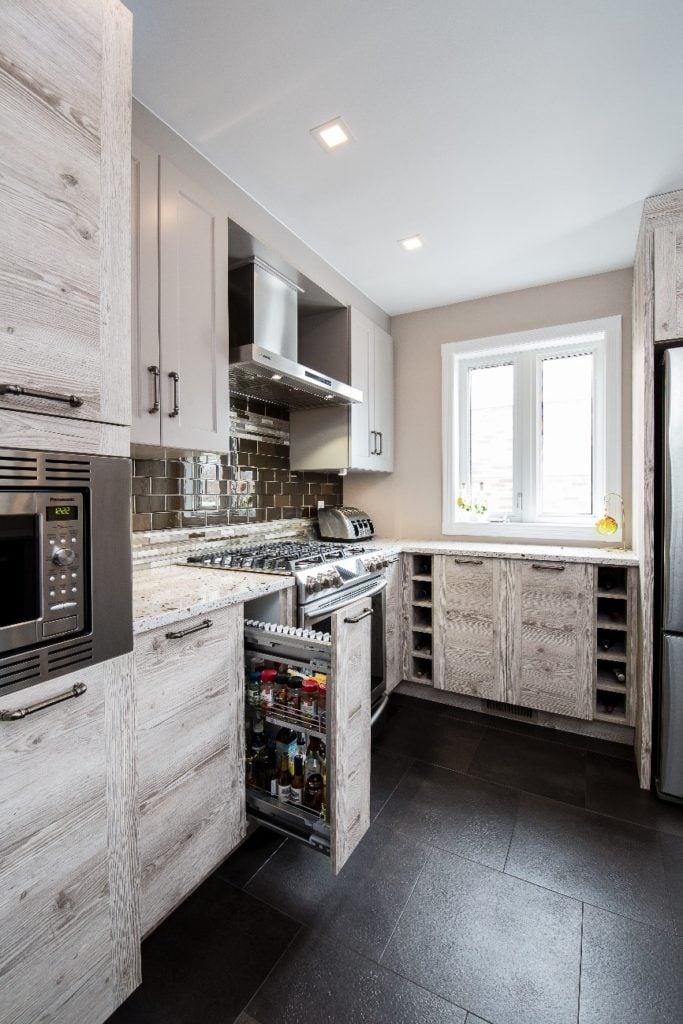 The wire spice pull-out is an efficient use of space for a narrow cabinet that you might want to add. The front of the cabinet can be custom made to match the rest of your kitchen cabinets, and the inside will have chrome-plated rails to add a modern polish.
This pull-out features full extension sides to provide complete stability and prevent spices from moving when pulling the system out of the cabinet.
These must-have kitchen storage accessories will help you create a space that is just as efficient as it is beautiful, ensuring a high-functioning, clutter-free kitchen that allows you to focus on enjoying the heart of your home.