I've always thought the front exterior of your home is an extension of your family's personality. Many homeowners spend so much time inside decorating that they forget about the outside.
I love to go for walks and check out my neighbours' homes — what colour their front door is, how they decorated their porch, the selection of plants they have chosen.
Many want their home to look different from everyone else's but may not know where to start. My goal with this column is to help you bring out some personality in decorating your front porch by sharing my process behind what I choose for my own home and why.
Spring is finally here and now is the perfect time to decorate your front porch, entrance or patio!
In the beginning
Over the winter, I like to gather ideas that have caught my eye. It makes winter more bearable and it gets me excited for the next season.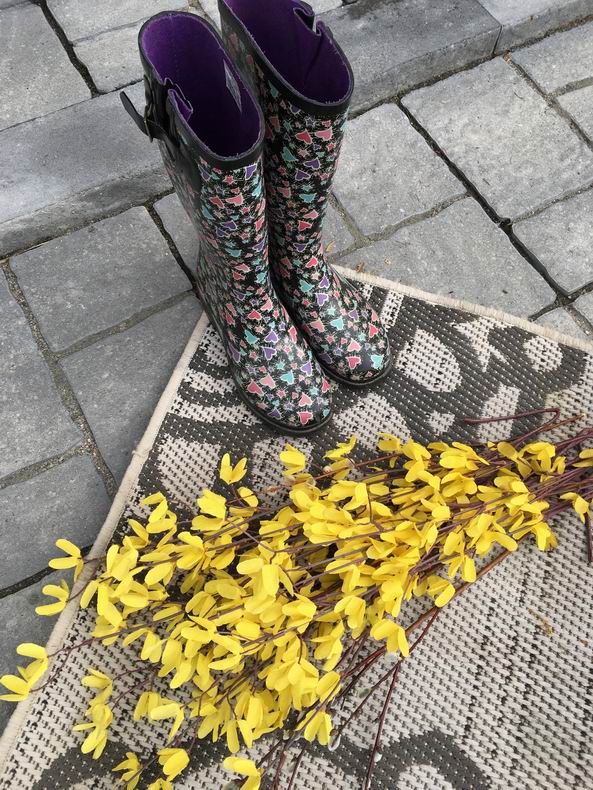 Here is an example of one of my favourite inspirational finds that I saw on Pinterest this past winter — rubber boots with yellow forsythia. What a simple, unique and fun idea.
Now, let's begin the transformation.
Decorating your porch — step one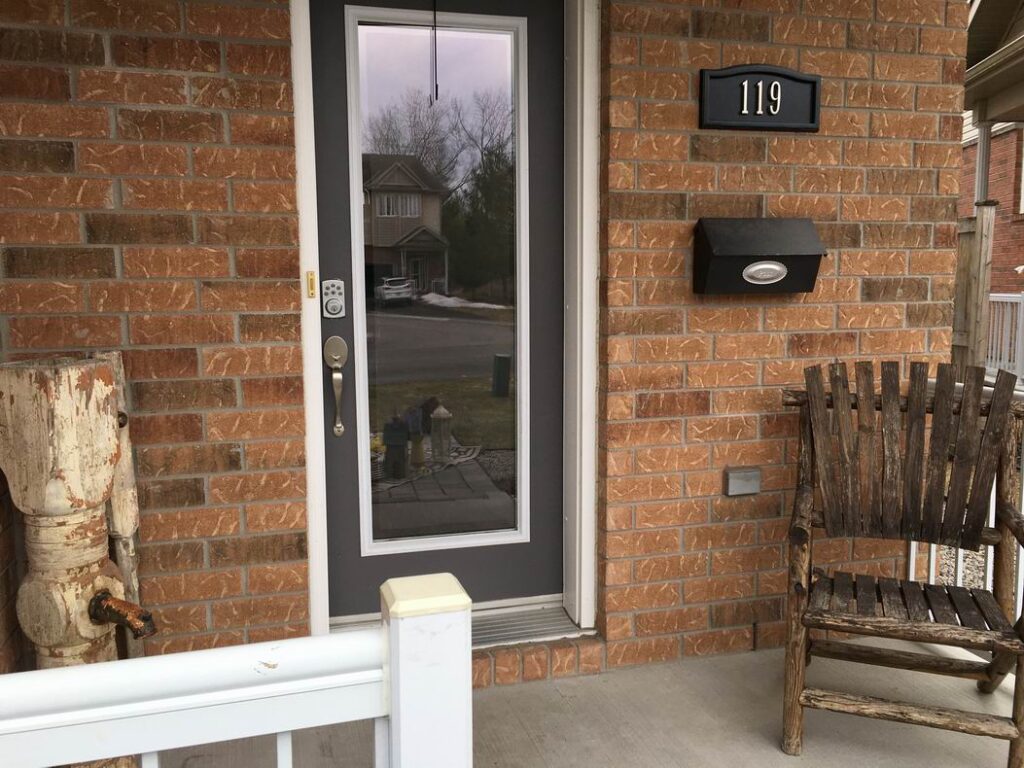 The first thing I like to do is remove everything from the porch so I can see the space I am working with. I also give it a good sweep.
In my case, I have two staple pieces that I use all year — my antique pump and wooden vintage garden chair. These pieces are very special to me and they take centre stage. Using a chair or bench really grounds the space and seeing a chair on a porch is very welcoming.
Decorating your porch — step two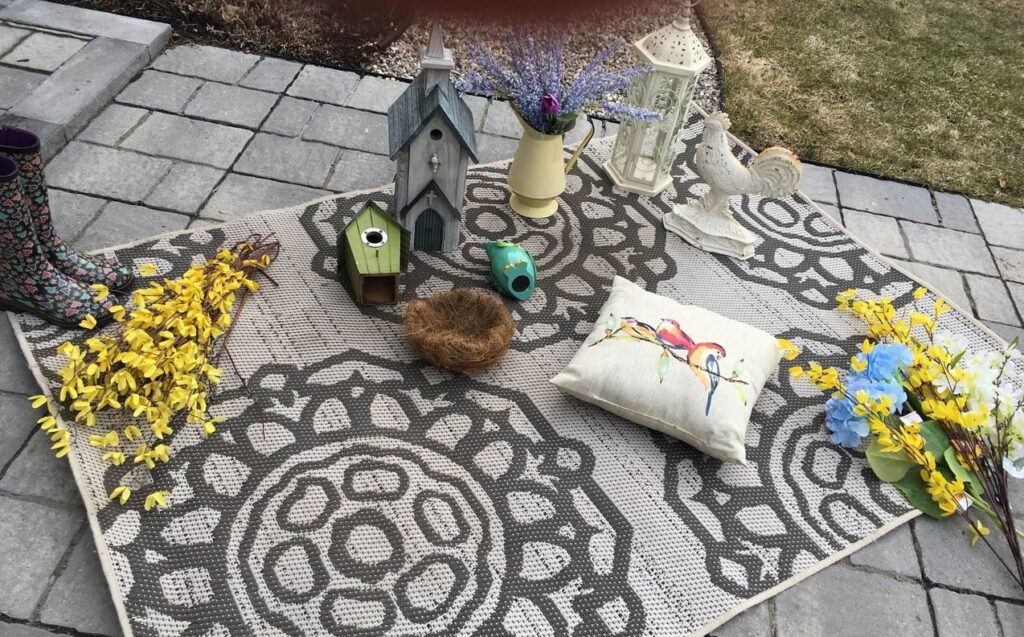 Gather items you would like to use on your porch makeover. These could include:
A chair or bench
Cushion(s) for the chair or bench
Small table
Rug, welcome mat
Birdhouses
Small birds
Lanterns
Containers
Something for the front door
Faux flowers, birch logs, sticks
Bring everything together in one spot so you can begin to see how things will look.
Here's a video with some more tips on my selections:
Decorating your porch — step three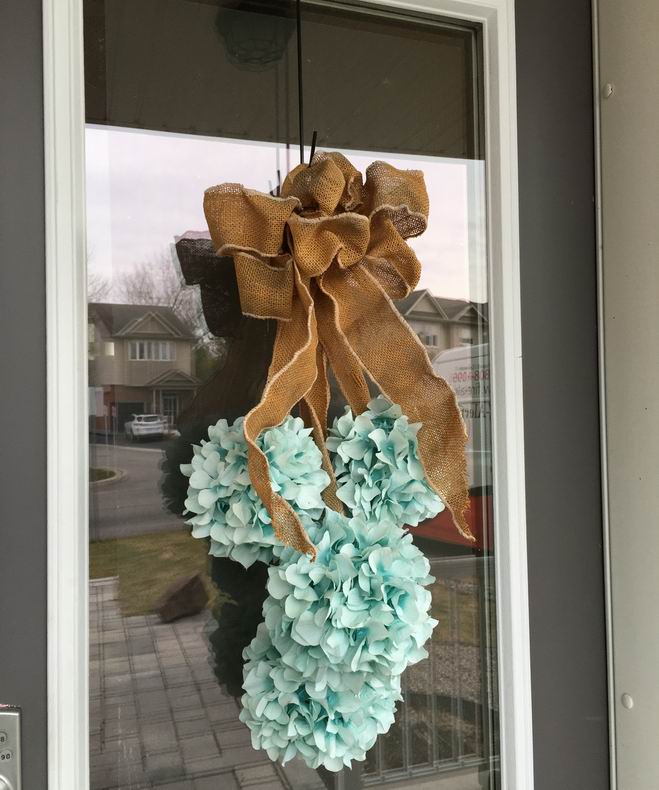 Once I have everything in one spot, I can begin pulling the porch together.
I start with the front door. I love hydrangeas and was lucky to find this while I was thrifting at the Mission Thrift Store. I added my own larger burlap bow to give it a bit more pizazz.
What type of spring arrangement will you choose for your front door?
Lay the foundation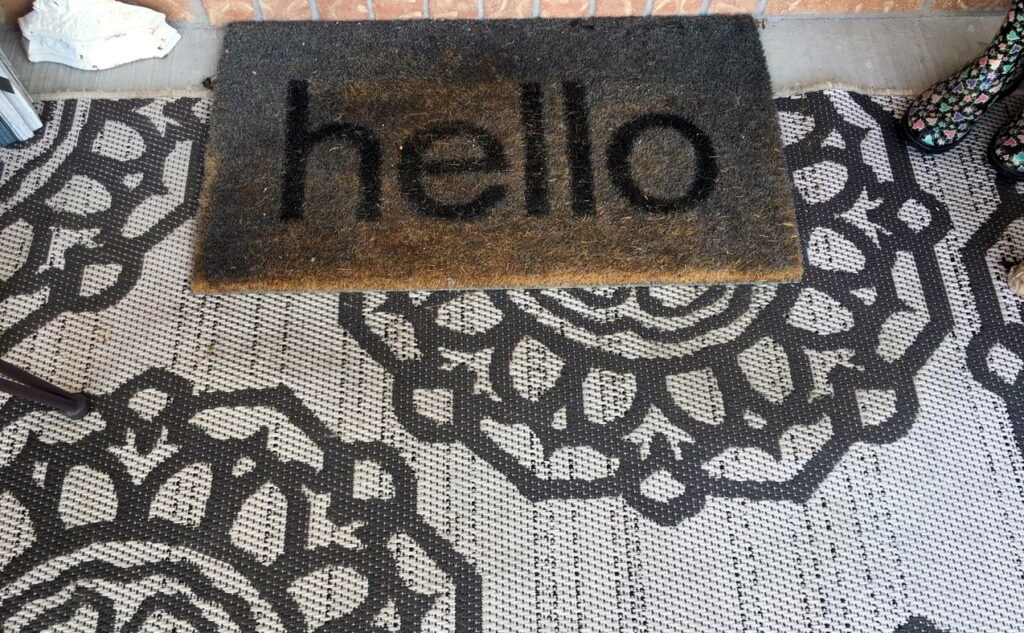 Don't forget to add a rug to your porch makeover. In my case, I added both a rug and my "Hello" welcome mat. I layered them, showcasing one of the trends we are seeing this spring.
Add your cushion(s)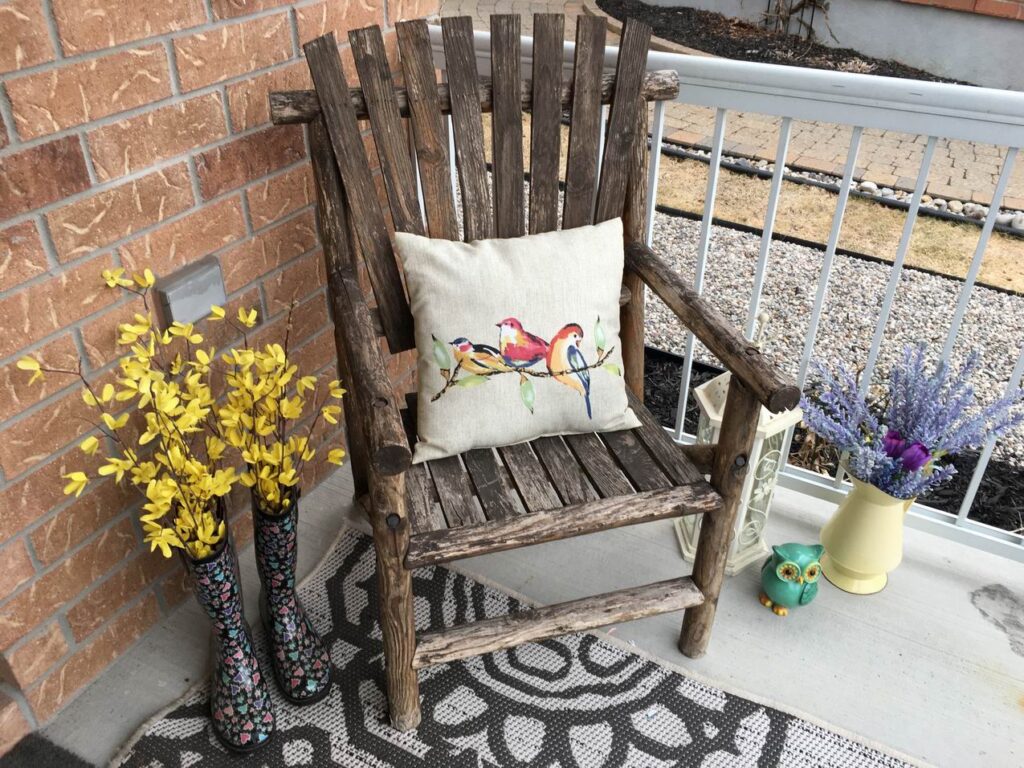 I love birds and when I found this cushion I knew it would be perfect for my porch! Every time I see it, it makes me smile. Adding a cushion that you love has a big effect on your porch decor, and on you!
Fill in with well-chosen accessories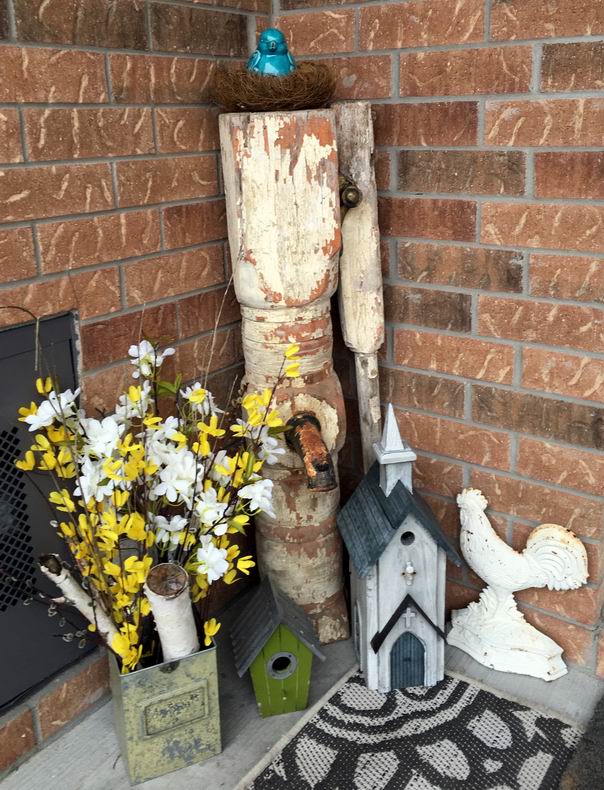 I love incorporating birdhouses of varying heights and styles to add interest to the space. Containers that hold birch logs, pussy willows, sticks and faux flowers are also a must.
Tip: I use faux flowers for my arrangements; they look good and last all season long.
I was very excited to add the rubber boots filled with forsythia beside the chair, to the right of my door. This spot is perfect because it anchors the space and is very noticeable. What a simple, yet unique add-on to this year's decorating.
At this point I usually step back and see how things are progressing. If I find something just isn't right, I adjust and move things around until I like what I see. Sometimes it is nice to have a friend or family member help you with this.
I always like to add a touch of whimsy to my decorating. This spring, I've added a bird and her nest on top of my antique pump. It's amazing how she puts a smile on my face every time I see her.
What touch of fun and whimsy will you add to your porch decor?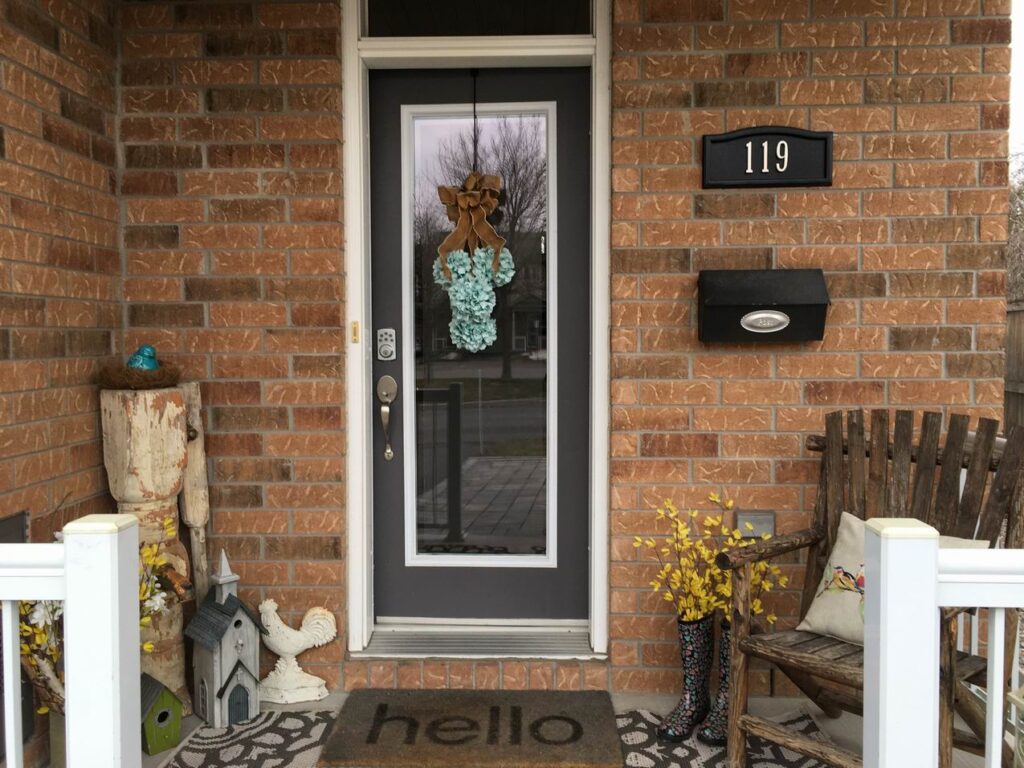 The transformation is complete! I've used everything I gathered together to change my porch to springtime decor. I'm very happy with the end result and I hope I've given you some inspiration to bring some spring to your porch.
For more details on pulling things together, check out this video: