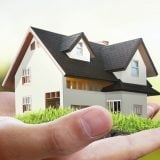 Have you cleaned your gutters yet this season? It's a boring but essential part of home maintenance, best done in both spring and fall and even more frequently if you have a lot of trees around your home.
Gutters clogged with leaves and other debris don't flow properly. That excess water can damage the fascia behind your eavestroughs and, if the water freezes, it can turn into roof-damaging ice.
Overflowing gutters may also cause waterlogged gardens below. Worse, that overflow can work its way down the outside of your foundation, potentially freezing and causing serious damage.
As well, debris-laden gutters are prime nesting spots for small critters, including birds. We all love nature but preferably not when it takes up residence in parts of our homes.
If you haven't cleaned your gutters yet
In most cases, gutter cleaning is a DIY job.
Don't do it by standing on the roof. It's too easy to fall. Instead, use an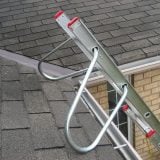 extension ladder with stand-off arms that prevent the ladder from leaning on the gutters and possibly damaging them. Before using a ladder, learn how to do so safely.
Starting at the downspout, scoop out debris with your hand or a garden trowel. As you progress down the gutter, don't overreach. Get off the ladder and move it over instead.
Once you've removed all the debris, use a garden hose to sluice out the gutter and ensure it's flowing properly. Don't forget to also check drainpipe connections and condition.
Finally, make sure the water from the gutters is running away from your home.
If all this ladder work sounds like too much work, big box home improvement stores sell gutter cleaning equipment consisting of a pole and brush that let you clean from the ground.
Still don't want to do it? Try one of the home maintenance services listed in our directory.
Originally published Oct. 5, 2018.
Got a maintenance task you're not sure how to do?
Drop us a line at info@allthingshome.ca or message us through Facebook.