Now that the warmer weather is here and COVID-19 restrictions have eased somewhat, we're definitely into remodeling season. Maybe you plan to list your home in the coming months and are looking to increase its value with a new kitchen. Or maybe you plan to stay in your home and you've decided it's time to break up with your 1980s oak cabinets and beige counter tops.
Whatever your reasoning, investing in your kitchen has many benefits:
It enhances functionality in your home;
It can encourage you to save money by cooking at home instead of dining out;
It can lessen energy costs;
It can enhance the comfort and safety for your family; and
It can significantly increase the overall value of your home.
Expectation vs. reality
While it's safe to say that no renovation will add as much equity to your home or will be enjoyed as much as a kitchen remake, it's also one of the most costly renovations. Many will plan and prepare for the costs associated with the bigger ticket items that fill our Pinterest boards — cabinets, countertops, appliances — but there are other important financial considerations that might come as a surprise.
"Many people underestimate the cost of contracting, which can cost an equal amount to the kitchen itself," says Deslaurier Custom Cabinets designer Barb Purdy. She also notes that a lot of the cost fluctuation is determined by the finishes and accessories people choose.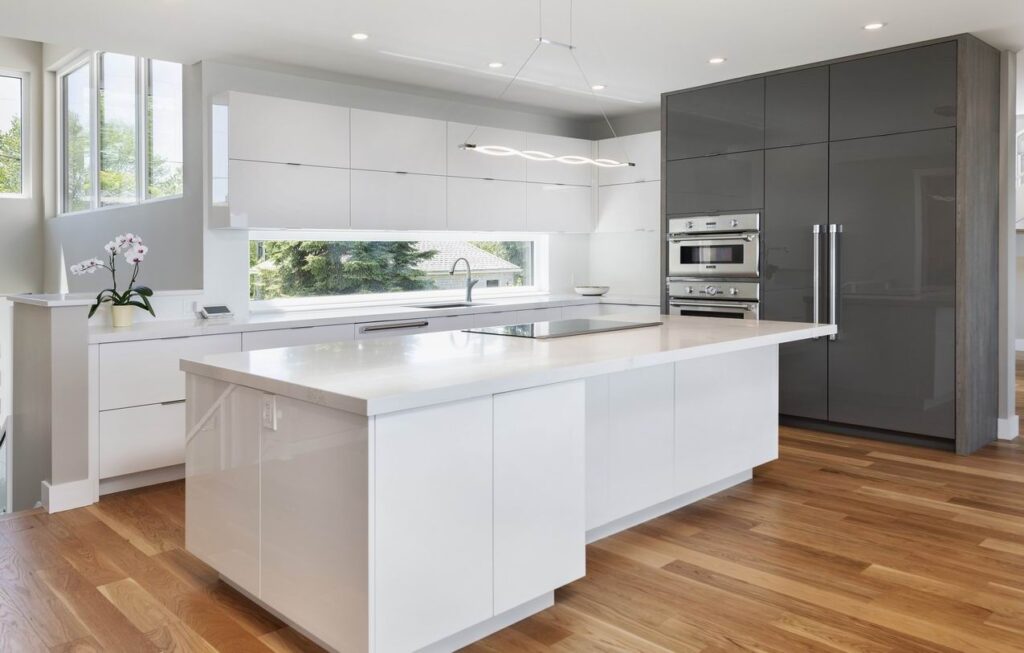 "You can easily add $10,000 onto your bill depending on which details are important to you."
If you've watched TV renovation shows, you might be expecting a glamorous and seamless process where a full team of contractors and interior designers makes your kitchen dreams come true overnight. Although appealing, the budgets and timelines we see on our favourite HGTV shows are often unrealistic.
In reality, nearly one-third of homeowners have significant trouble staying on budget when getting work done on their homes — and they tend to allocate most of that budget to the kitchen.
So, where is your money going and how much should a kitchen renovation cost?
Five to 15 per cent rule
According to Deslaurier sales manager Sam Marrello, your kitchen should equate to between 10 and 15 per cent of your home's overall value.
HomeAdvisor.com shares a similar opinion, saying you should follow the five to 15 per cent rule, which means your kitchen remodel should cost no less than five per cent of your home's value, and no more than 15.
Here's what that looks like. If you own a $500,000 home, for example, the lowest amount you likely want to spend on your kitchen remodel will be $25,000 to $50,000 (five to 10 per cent). But you probably wouldn't want to exceed a budget of $75,000 (15 per cent).
Spending less than five per cent might not be enough to see your home's value increase, while investing more than 15 per cent could put you at risk of losing money if you decide to sell your home.
It's also a good idea to add 15 to 20 per cent to your budget as a safety net to handle surprises or unexpected costs that come up. You never know what could be lurking behind those old walls.
Pick your must-have items ahead of time 
You don't have to splurge on everything. Determining how you and your family will use your kitchen is an important discussion to have ahead of time.
You might want a showstopping kitchen island with a built-in beverage centre because that's where your family gathers for nightly dinners and parties. If you've already decided that is a must-have for your kitchen, you'll be more willing to re-evaluate other items if you're coming in over budget. Maybe you don't need that high-end stove, or maybe ceramic flooring isn't such a bad idea after all.
Obviously, there are exceptions to this kitchen cost rule, but when you're trying to estimate a budget for your kitchen renovation, the five to 15 per cent rule is a good guideline.
Once you've decided on an amount you're comfortable spending, it's on to the fun part of the remodel: choosing countertops, shiny new hardware, and toying with the idea of multi-coloured cabinets. Let the Pinterest boards roll. (For kitchen inspiration projects in the Ottawa area, check out our Houzz account.)