The kitchen may be the heart of the home, but for many centuries, the fireplace has always been the "hub" — the gathering spot, the place we like to be with friends and family.
Over the years, fireplaces have evolved and are no longer just brick and wood-burning — they can be gas or electric, free standing or wall-mounted. It's nice to have the flexibility of choice, depending on your budget and the type of fireplace you are looking for.
Fireplaces are usually the focal point of the room. Couches, chairs and tables are placed around the fireplace to create easy conversation areas.
Just like paint colours and furniture styles, fireplaces can "date" themselves over the years. Perhaps the colour of your brick or type of brick is not pleasing and you want to make a change but don't know where to begin. I've helped hundreds of homeowners re-imagine and re-style their fireplaces, much to their joy! So, if you're thinking of a fireplace makeover, here are some ideas to inspire you.
30-minute update
A brass fireplace surround is a sure way to date a fireplace. An easy, inexpensive fix is to spray paint the brass black.
You'll need black heat-resistant spray paint, painter's tape and some newspaper, then you're ready to begin.
Tape off the brass surround and ensure the newspaper is covering any areas that you do not want to paint. Now you can begin spraying. It's that easy.
Keep your coverage consistent and light. Step back and look at your work: Do you need to do any touch-ups? If not, wait until the spray is dry before removing the tape and newspaper. Then enjoy your new look!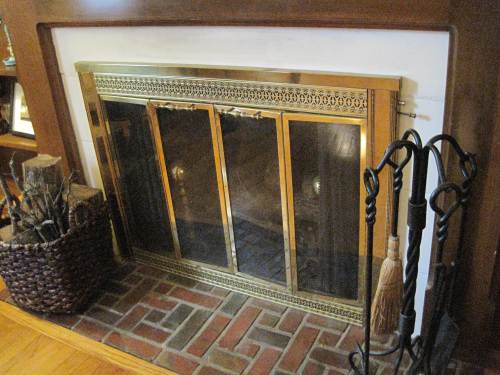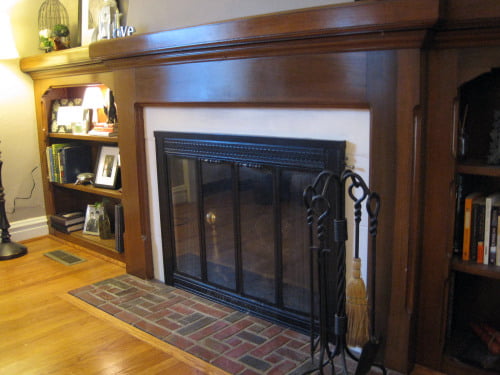 Wallpaper
Many people cringe when they hear the word wallpaper. But keep an open mind. Using wallpaper is a cost-effective way to highlight your fireplace and create a unique focal wall area. You can select any pattern that speaks to you — muted or bold. Why not give it a try?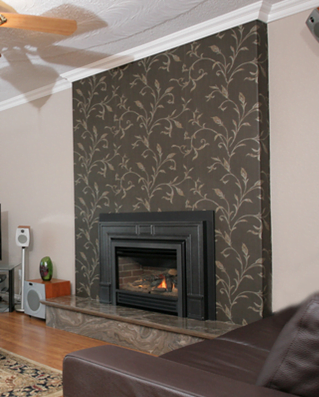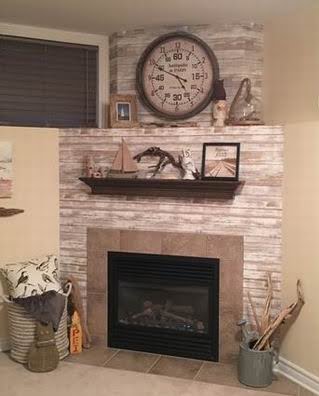 Paint
As you can see from the photos below, my clients had an amazing large fireplace wall in their family room that needed some "oomph." After some discussion, we decided to paint the entire wall portion of the fireplace a darker shade than the wall to continue the focal wall idea.
As you can see by the last photo, we added some of their artwork and accessories to style the fireplace and help pull the room together. They were thrilled with the end result.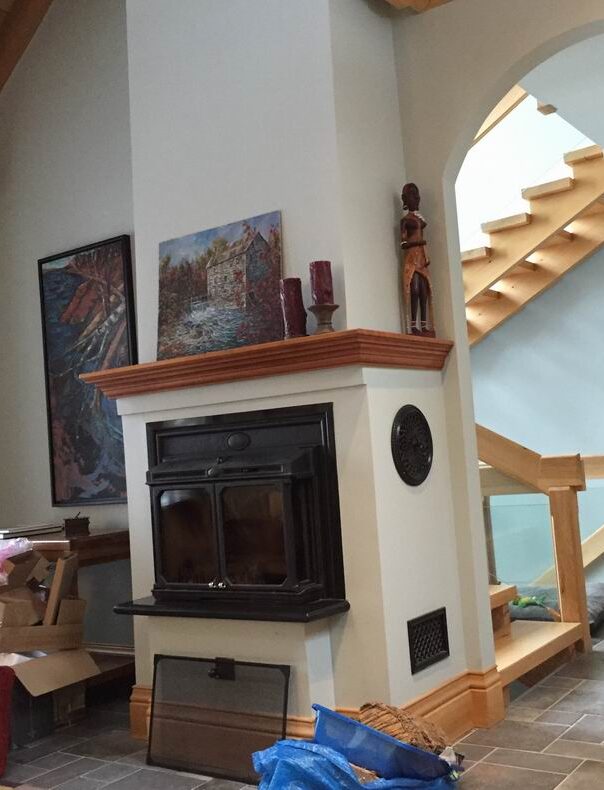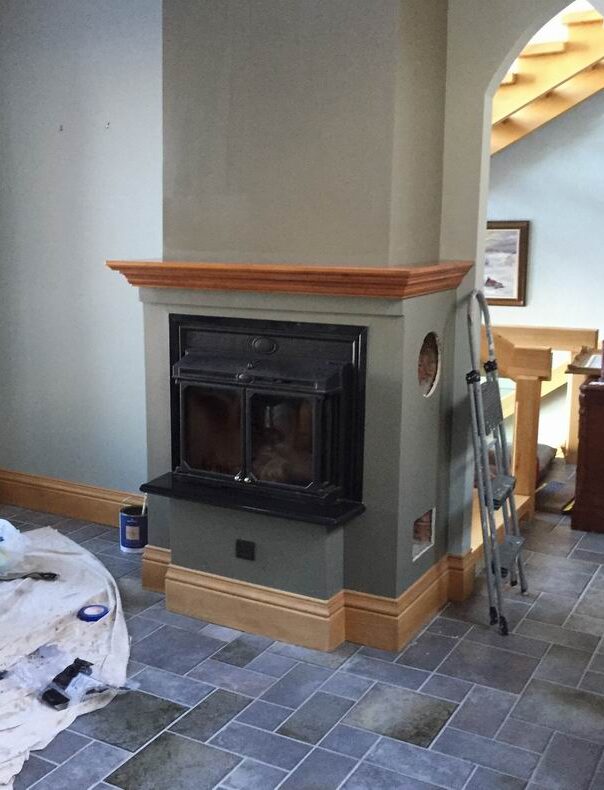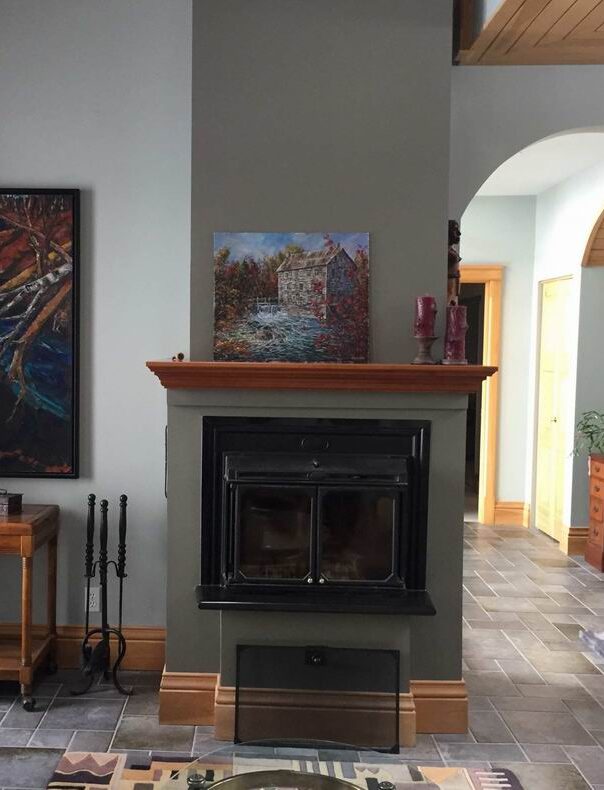 Painting the fireplace surround
As a designer, when I go into a client's home and see a wooden or white surround, I feel like it's calling to me to help give it some character, and the easiest way to do that is with paint.
Usually, at the mention of painting the wooden surround, clients have a bit of a panic attack.  But after we select a colour and I show them how painting the surround instantly makes the fireplace current and changes the entire room, they open up to the idea of painting.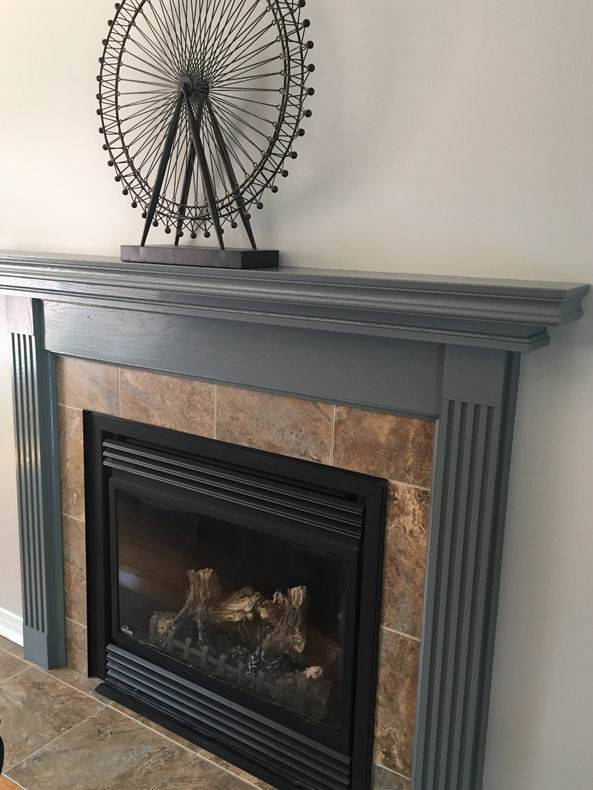 After you paint your fireplace surround, be sure to update your styling as well!  Sometimes simple things and arrangements look the best. Here are a couple for inspiration.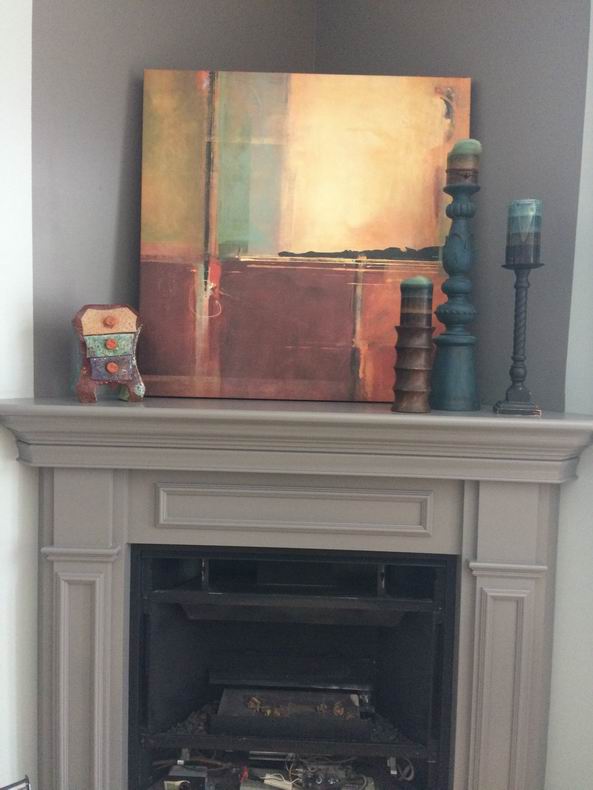 Once we decided the artwork was going to be placed over the fireplace, we did a quick tour of the client's home to see what other items we could gather to include in our new vignette.
We found these amazing candlesticks/candles and an interesting box that was special to her.  We pulled it all together and it looks amazing. You just never know what you have around your home.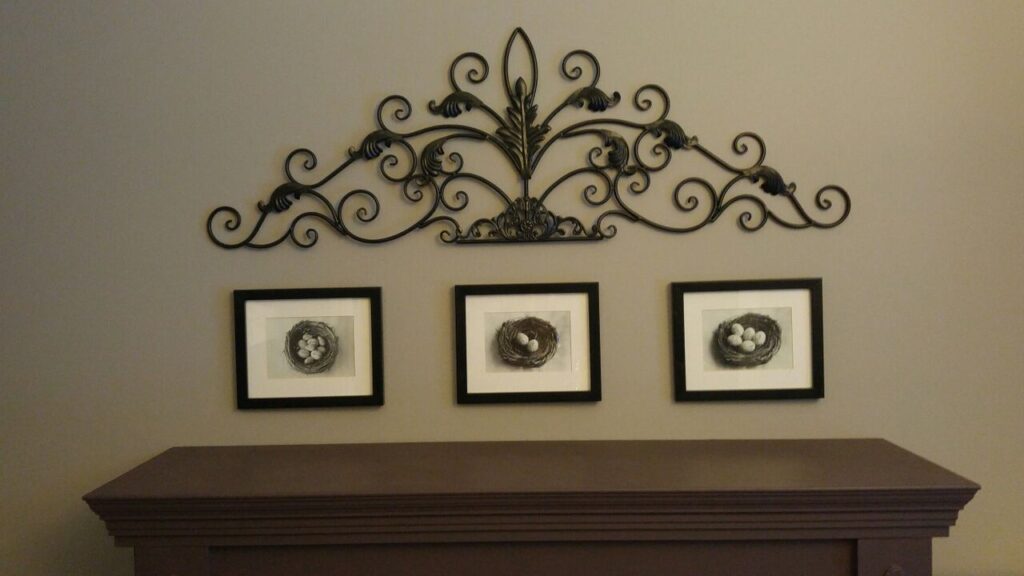 This electric fireplace became the focal point of the dining room. For months, my client had nothing over the fireplace because she didn't know what to put there.
She wanted something special to her that was warm and welcoming. I asked her if she had any artwork or pieces that fit that thought and she chose these three small pieces of art that her sons gave her.
The dilemma we now had was to find something else to accompany the frames. A quick trip to Homesense solved our problem. We found this amazing wrought iron piece and, as you can see, the finished look is exactly what she was hoping for.
Painting a brick fireplace
When you have a brick fireplace and the colour of the brick is very dated, one solution is to paint it. It may sound overwhelming, but for many it's the right choice.
If your brick is stained, make sure you use TSP prior to painting to clean the brick. Then use an oil-based primer on the brick before painting with a latex paint. (Make sure the latex is rated for high temperatures and use on brick surfaces.) A roller and brush combination will provide quicker, easier coverage.
Here are two examples of homeowners who have done a wonderful job transforming their brick fireplaces with paint: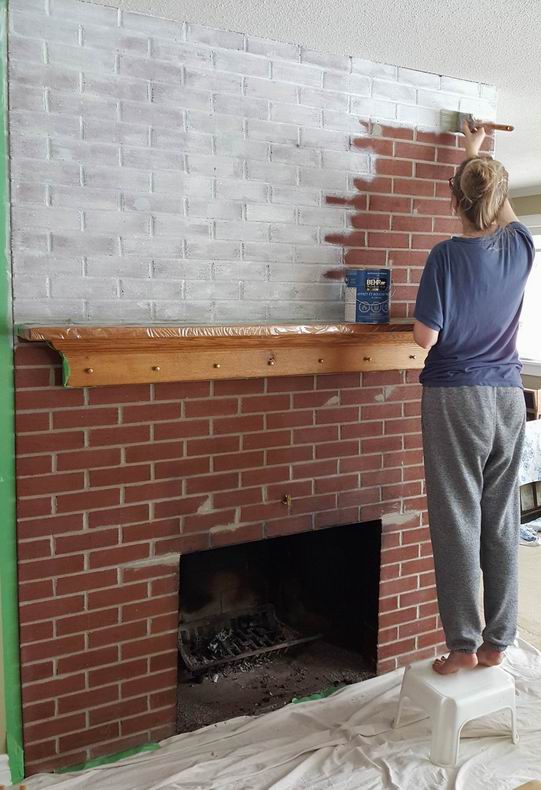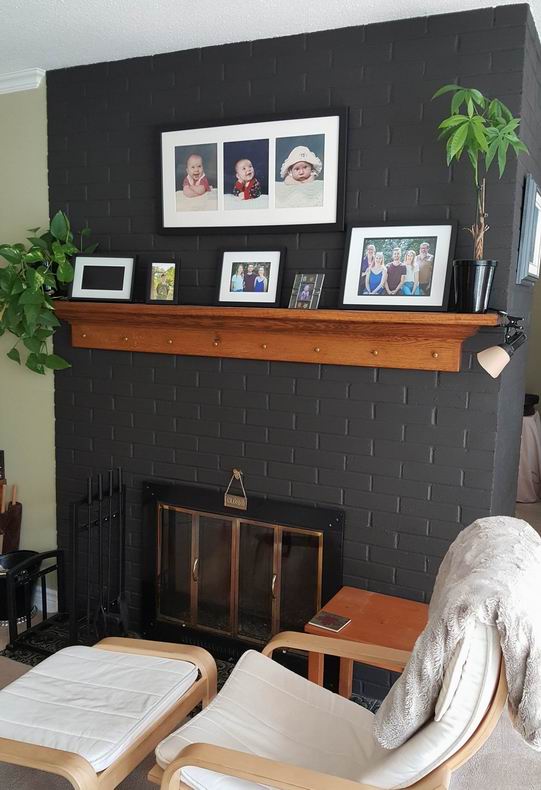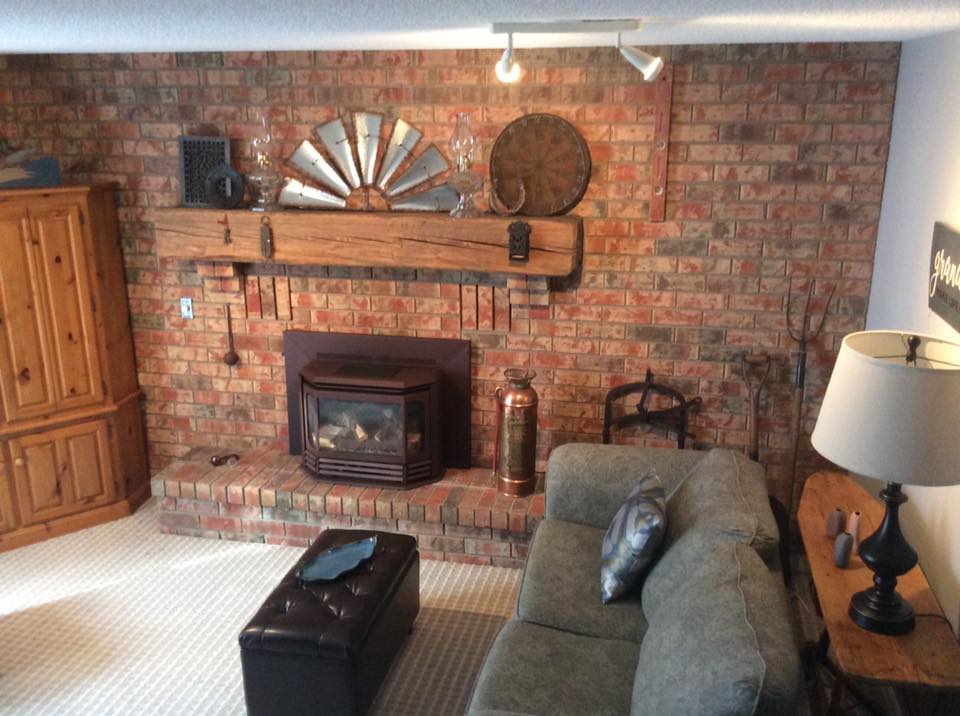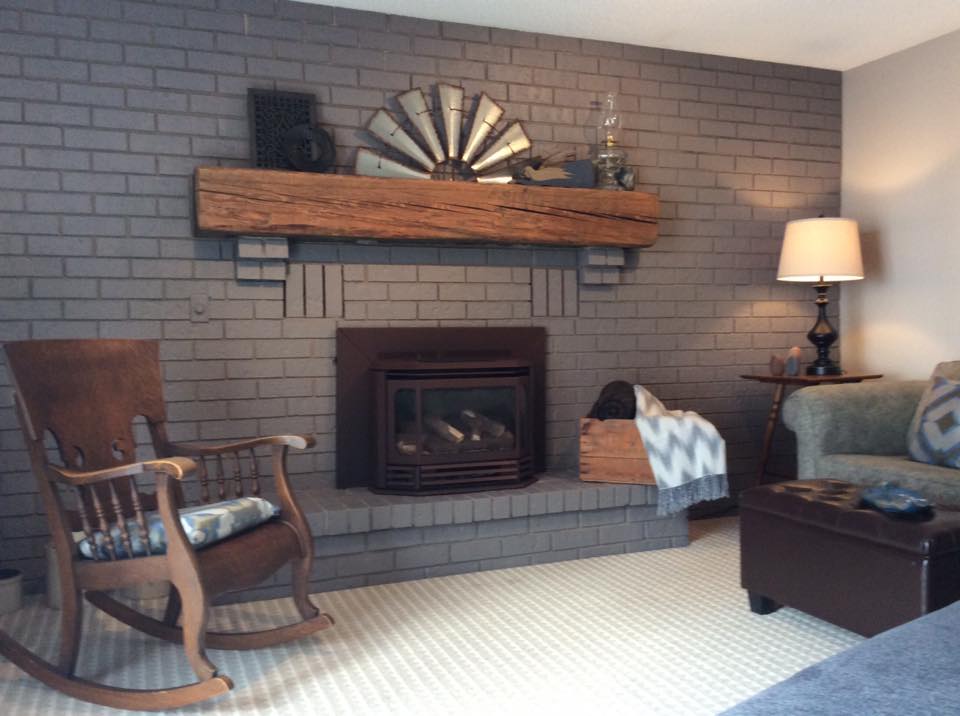 Fireplace renovation
Sometimes paint just won't do. A new look for the fireplace is exactly what you may be searching for.
In that case, removing the brickwork and selecting a newer "face" to the fireplace is needed. In the photos below, you can see how selecting a stacked stone facade, along with an aged, wooden mantel, gives this fireplace a new, updated and fabulous look.
After your fireplace renovation is complete, don't forget to style your new mantel and hearth areas. Here, we selected treasured family pieces to create a special look to the new fireplace.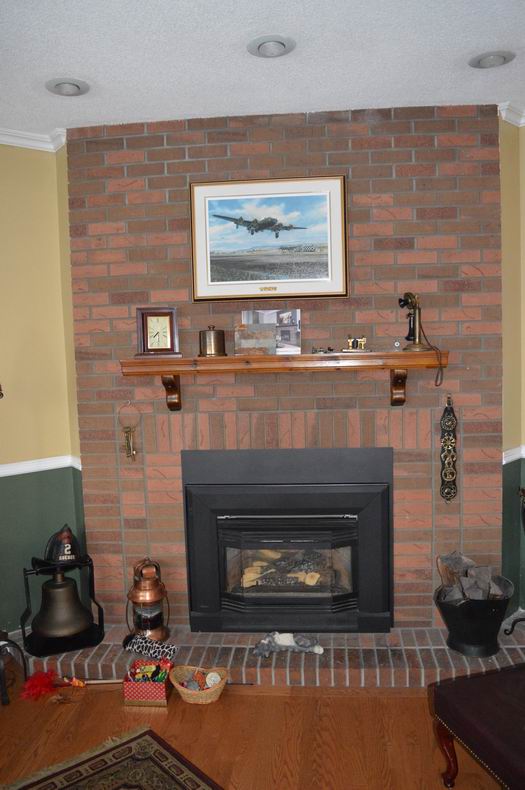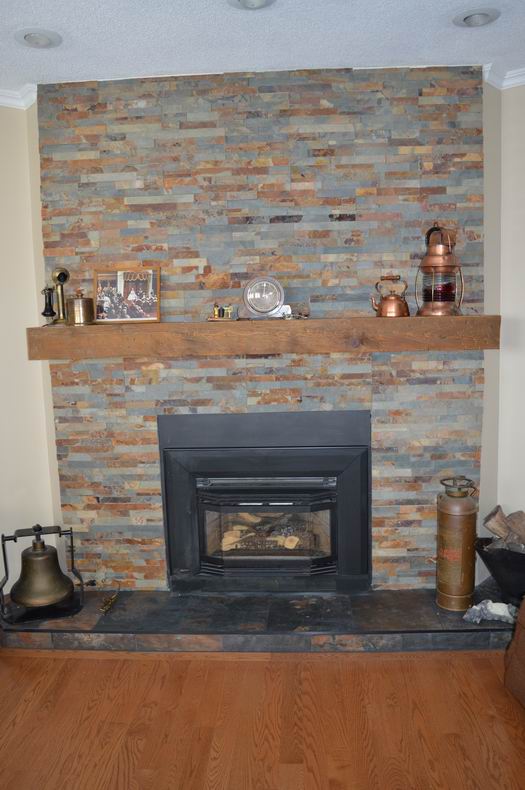 As we move into the fall season, our fireplaces become even more important to us. I hope I have inspired you to think differently about the options you have to make over and enjoy your fireplace even more.