Thinking about buying a condo as an investment? Many did during Ottawa's multi-year condominium boom that started in roughly the mid-2000s.
Small investors — young professionals looking to diversify their financial portfolios, boomers with a little extra cash and others — lined up early at condo launches to snap up units they planned to rent out, using the monthly rent cheques to pay down their mortgages as the value of their units appreciated.
With condo buildings springing up around Ottawa like spring crocuses, it was a busy time for those investors. But then the condo market shifted around 2013. Builders were putting up more towers than the market could absorb, and sales plateaued even as new units were being added.
It got serious enough that, in 2015, Canada Mortgage and Housing Corporation warned the growing number of condos had pushed Ottawa's housing market into the "moderate risk" category and the agency was raising red flags to builders considering more condo construction here.
Builders took heed, the excess inventory was finally sold off, and by 2019 builders were ready to respond to the pent-up demand for condos in Ottawa.
Flash forward to 2021. Is a condo still a wise investment?
Omar Hashem, a local Realtor with Lotful Realty, believes it is. He owns several: a mix of condo apartments downtown and townhomes outside the core.
"People underestimate the condo market," he says. It's not that those monthly rent cheques will give you a lot of extra cash — he agrees once you've paid the mortgage, insurance, condo fees and other expenses you're likely left with just beer money — but the growing value of a real estate asset makes it a good investment.
"Your money maker in an urban city like Ottawa, Toronto, Vancouver or Montreal is the price appreciation. Second to that is paying down the mortgage… Price appreciation is key," he says.
Hashem says real estate values in Ottawa have increased about five per cent annually over the past half-century. But with rental properties, the return is actually higher because the investor pays the down payment but rent cheques cover the mortgage, condos fee and other expenses. So, if you put down $20,000 on a $400,000 condo and subsequently sell the condo for, say, $500,000, your gross profit is $80,000 minus capital gains tax and any money you've put into the condo since purchase.
Tony Miller, an Ottawa Realtor with Exit Realty Matrix, is less enthusiastic about condo investing for the average person.
"It's not something I point my clients to unless it's something they have their hearts set on," Miller says. He views counting on value appreciation as "speculation" and risky. "It's not too long ago that condos were in the dumpster," he says.
Miller, who owns non-condo rental properties, also cautions about condo fees. "With smaller or new investors, when we run the numbers, everything looks good until we go, 'Oh yeah, the condo fees; $300 a month or $350 or whatever it is.' It just puts it into a negative situation."
Rising insurance fees for multi-unit family and commercial buildings also concern Miller. Condo owners' insurance rose eight per cent in the last quarter of 2020 compared to the same period the previous year, according to a recent report. Everything from claims based on climate change damage to fewer companies insuring the condo market is pushing up premiums for both individual owners and for condominium corporation boards.
"We're definitely keeping an eye out" on insurance costs, says Miller.
With no simple answer to whether buying a condo as an investment is a good idea, the more you know the better informed your decision will be.
Who invests in condos and who rents them?
Investors vary, from first-time property investors who find newly built condos affordable and relatively maintenance-free to veteran investors like Hashem and parents of university students looking for a spot close to where their child is studying and who later rent, sell or even move into the unit themselves.
Investors typically look at units in the 500- to 600-square-foot range," says Sandra Morello, a spokesperson at Claridge Homes, Ottawa's biggest condo builder. "This price point is in line for investors. But with the ability to work from home, we've seen some investors shift their focus towards a two-bedroom unit, giving renters the option of an office space or second bedroom."
Condo tenants run the gamut, according to Morello, from students and young professionals to downsizers and retirees. "It depends on where the building's located."
Renting condos to students — at least during non-pandemic times when students want to be close to their college or university — can be lucrative, according to some small landlords, although off-campus housing may be more upscale than an older generation remembers, with granite countertops and rooftop patios now sometimes part of the deal.
"I've been working with a lot of new landlords, and they need a lot of handholding and education," cautions Miller, who launched the Ottawa Small Landlord Association last year to serve as a hub for advocacy, collaboration and education.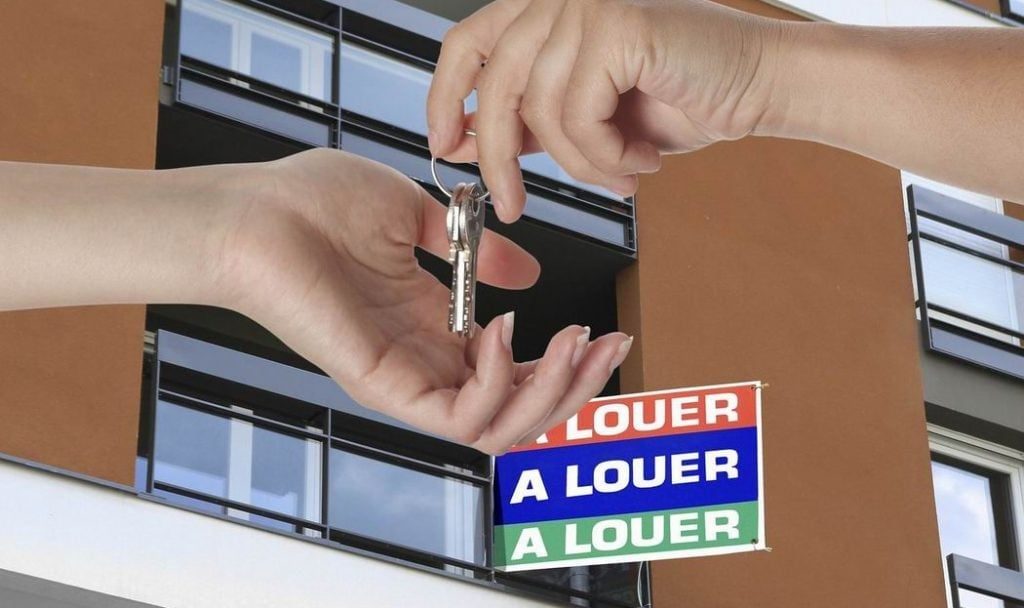 "It's not a good time to be a landlord," Miller says. Why? The province of Ontario enacted a rent freeze early in the pandemic, although there are loopholes, and Miler describes Ontario's Landlord and Tenant Board, which is responsible for resolving landlord-tenant disputes, as a "complete disaster for both tenants and landlords." The City of Ottawa has also created several new bylaws on rental housing, which will come into effect this August.
None of this encourages small rental holdings, according to Miller. "I'm seeing small landlords saying, 'I'm done. It's not worth the risk anymore and the stress and the effort.'"
Some landlords complain about bad tenants, but Hashem says he's been "blessed" with good ones. For him, having even a lousy tenant has an upside because the property is appreciating in value even if delinquent rent payments create temporary cash flow problems.
He recognizes landlord-tenant relations can get dicey, especially during a pandemic when many renters have seen their income reduced or vanish. But he believes following the rules and extending compassion to tenants when it's warranted can resolve many issues.
Notably, the latest Rental Market Report from Canada Mortgage and Housing Corporation (CMHC) says rent arrears in Ottawa — at 3.5 per cent – are among the lowest for Canadian census metropolitan areas. Landlords can thank our traditionally stable employment market for that, according to CMHC.
Ottawa's condo and condo rental scene
There are currently a little over 36,000 rental units in Ottawa, of which 10,000-plus are condos, according to CMHC.
While condo construction outstripped new purpose-built apartments in the first decade of the current millennium, Ottawa began seeing a rise in new purpose-built apartments about a decade ago, says CMHC. The agency reports new apartment starts exceeded condos from 2016 to 2019, and while 545 condo units were completed last year, 1,966 purpose-built units were finished.
Chronic low vacancy rates have been one of the factors encouraging builders to invest in purpose-built apartment construction in the past decade. A number of condo projects in Ottawa have also been converted to rental apartments, in part because they offer long-term cash flow for the building owner.
There are currently several proposed or potential high-rise condo projects slated for the city, but some of these are or could turn out to be purpose-built apartment projects.
Ottawa's rental market
According to CMHC, last year saw Ottawa's vacancy rate for purpose-built apartments more than double, jumping to 3.9 per cent from 1.8 per cent in 2019. The likely reasons: The pandemic meant students studied from home instead of renting apartments; immigration plummeted as the border closed; and, despite our relatively stable employment market, many jobs were lost.
The biggest increase in vacancy rates occurred in Sandy Hill/Lowertown, an area traditionally occupied by a lot of student tenants. Interestingly, a PEW survey in 2020 found that, for the first time since the Great Depression, a majority of young adults in the U.S. were living with their parents.
Immigration has long been an important driver of Canada's housing market, and the federal government has ramped up its target for the next three years in an attempt to make up for plunging immigration numbers during the pandemic. However, economists say it could be some time before global migration returns to pre-pandemic levels.
Unlike purpose-built apartments, CMHC reports the vacancy rate for Ottawa condos declined in 2020 to 0.3 per cent, down from 0.9 per cent the previous year. The agency speculates that, because the average monthly rent for condos is 32.1 per cent higher than purpose-built apartments, they may be geared to higher-income tenants who were not as affected by job loss as some other renters.
CMHC reports the average rent for a one-bedroom purpose-built apartment in 2020 was $1,244. The average rent for a one-bedroom condo was $1,500.
"The condo universe offers on average (slightly) younger buildings," says CMHC's Anne-Marie Shaker, senior economic analyst for the Ottawa area. "The majority of purpose-built apartments were built in the 1970s, but condos only started (to any great extent) in the 1990s, so they could be getting higher than average rent."
CMHC reports the share of condominium apartments offered for rent last year declined slightly to 29.2 per cent from 29.9 per cent in 2019.
In its 2021 economic outlook, real estate investing and consulting firm Morguard expects Canadian multi-unit residential real estate to "tread water" for some time this year before returning to pre-pandemic health. Among other reasons for its optimism: COVID vaccines should gradually ease our concern about close interaction with others, boosting rental demand.
In Ottawa this year, says Morguard, "Largely stable and healthy rental market characteristics will continue to support attractive investment support patterns. Investors will continue to look to the region as an attractive yield source."
Despite the low vacancy rate for rental condos, Hashem says the pandemic's negative effect on the number of people living and working downtown means condo investors "may have to wait a couple of months (longer) before renting when people start coming back into downtown after the pandemic ends."
Condo prices in Ottawa
The cost of a new-build condo in Ottawa has been nudging steadily higher, according to real estate industry analyst PMA Brethour Realty Group. The average price of a one-bedroom condo in 2018 was $365,512. In 2019, it jumped 8.5 per cent, to $396,509. Last year, it grew another 10 per cent, reaching $435,614.
The agency isn't making any predictions about where prices will land this year. "We do know that the new-home market is going to be very strong in 2021, but it's too early to say what the impact of sales of family-oriented product in the (suburbs) is going to have on the condo market," says PMA Ottawa president Cheryl Rice.
Resale condos have been on an even steeper trajectory. The Ottawa Real Estate Board reports the average resale condo in Ottawa cost $278,316 in 2018, $304,203 in 2019 (up 9.3 per cent from the previous year) and $361,337 in 2020, a leap of 19 percent over the previous year.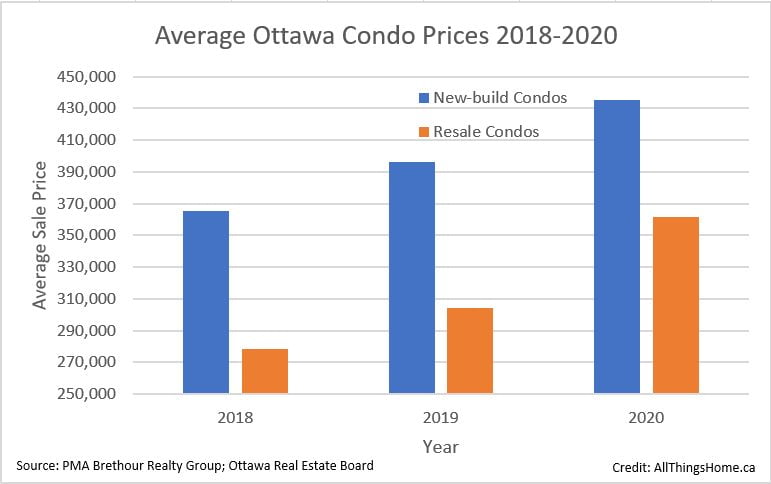 How the resale condo market will perform this year and beyond is anybody's guess.
For example, late last year, analysts were gloomy about the massive condo market in Toronto. Listings increased, prices slipped and condos for rent soared 132 per cent as the pandemic bulldozed the city and people fled the core for outlying and more-distant areas.
"Have we reached peak condo?" asked a Financial Post story on Dec. 31, 2020.
By the end of February, condos in Toronto were again becoming a hot commodity, leading the city's rebounding housing market. Sales, prices and rental rates were all growing, and investors were opening their chequebooks again.
Forecasts for Ottawa's resale market have been published, but the numbers could be blown sky high.
For example, in mid-December, Royal LePage released its national housing forecast for 2021. It predicted the median price of a resale condo in Ottawa would grow 7.5 per cent this year, increasing from $388,700 in the last quarter of 2020 to $417,900 by the final quarter of this year (the median price is the number where half the condos are above and half are below; the average price is the total selling price divided by the number of condos sold).
But, according to the local real estate board, condo sales for the first two months of this year were already 24 per cent ahead of last year and prices were up almost 15 per cent, to an average of $395,496 compared to $344,439 in the same two months last year.
Prices, sales numbers, forecasts: It's all a bit mind-boggling and no one has the corner on crystal balls, but investors need to know as much as they can before plunking down large chunks of cash on real estate.
Other considerations for condo investors
If you are considering a condo for investment purposes, where should you buy?
"Downtown," says Claridge's Morello. "People prefer a mix of working from the office and home. The expense that many will drop is their vehicle. Downtown condos provide you with all the amenities you need, and you're close to all of the necessities like grocery stores, drug stores and entertainment."
Claridge has built most of its condos downtown, but the core is also where smaller units — which small investors tend to buy — are often located.
A recent meeting of the World Economic Forum may support the downtown argument. Senior bankers, interviewed during this year's virtual forum, said working from home, at least in the financial sector, is wearing thin because employees and organizations need the kind of collaboration only face-to-face time can provide.
Returning to offices should mean a push for more downtown and near-downtown living options for at least some of the workforce.
The City of Ottawa's continuing push for densification could also have a positive effect on both supply and demand for investment condos.
Hashem says federal government employees drive the downtown condo market, and the government was quick to tell large numbers of staff to stop going to the office when the pandemic struck. That's contributed to the general drop-off in rental demand downtown, although condo townhomes and other buildings outside the core haven't experienced any radical change.
Potential condo investors need to exercise patience when attracting tenants, according to Hashem.
"The (federal) government was one of the first to shut down and will be one of the last to come back because they have a duty to protect (their employees)… so the condo market has seen a drastic shift downtown as a result of that. But developers have invested a lot of money in research, they don't just go building five or 10 towers if there wasn't a demand for it and a foreseeable future.
"With things opening up, I think it's going to bring people downtown. I think condos are poised for success."