As the COVID-19 pandemic continues to keep us close to home, it's perhaps not surprising that home has become a strong focus in our lives. That connection is expected to carry on as we look at the 2021 trends in Ottawa housing and design.
A strong housing market, a demand for renovations, design features that emphasize reassurance, earthy warmth and versatility — here's what we can expect to see this year.
Housing market
"All things considered, I think the housing industry has been one of the fortunate industries in this whole COVID scenario," says Brent Strachan, who is president of Minto Communities Ottawa. "Who would've thought we'd end up where we are?"
Despite the industry upheaval in the early days of the pandemic, Minto finished 2020 with more sales than 2019, which itself was a record year for new-home sales. While not all builders could say the same, 2020 new-home sales in general kept pace with the year before.
And both the new-home and resale markets are expected to remain strong this year.
"Ottawa has had a very robust new homes market for a number of years now, and the factors behind that — high employment, population growth, pent-up demand — aren't going away, so I expect 2021 to be just as strong a year as the past few," notes Jason Burggraaf, who is executive director of the Greater Ottawa Home Builders' Association.
A better balance
But Cheryl Rice, Ottawa president of industry analyst PMA Brethour Realty, does see new-home demand slowing somewhat, along with an easing of the surging price increases we saw in 2020, so that "supply and demand are expected to achieve a healthier balance."
Strachan agrees, predicting price increases in particular won't be as steep. But he also notes that we're still seeing a lot of demand for housing, limited inventory and record low mortgage rates. "Those three factors combined together to me indicate that it should be another strong year for housing."
Supply will continue to be an issue on the resale front, keeping Ottawa a seller's market, predicts real estate firm Re/Max in its Ottawa Housing Market Outlook for 2021. But inventory levels are expected to improve. As a result, Re/Max is forecasting average price increases of seven per cent (to about $561,702 across all property types), versus the 19.2-per-cent increase Ottawa saw in the first 10 months of 2020.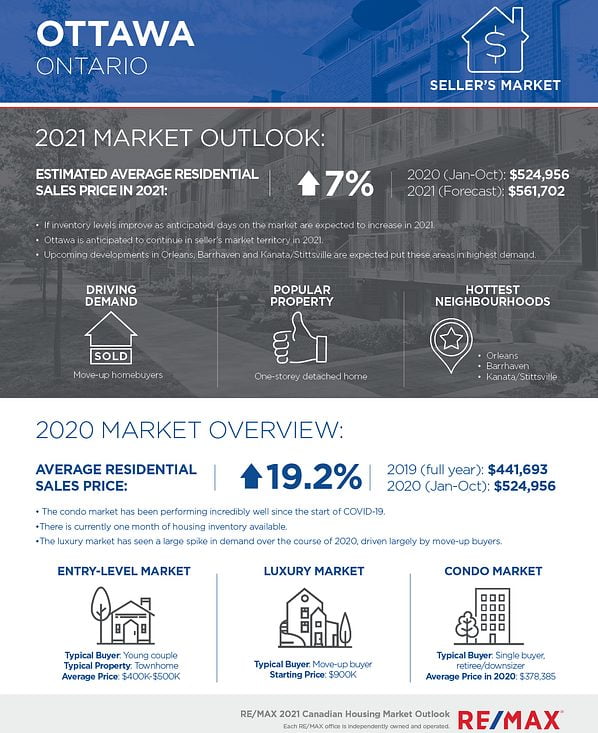 Re/Max sees relocating and move-up buyers as the main drivers of the 2021 resale market. Strachan adds first-timers to that for new homes.
"It's going to be a variety of all of the home buyer demographics, which is why the demand will probably stay strong," he says.
Rice sees the demand for townhomes and singles continuing, although with less urgency than in 2020, as we seek more space to accommodate work-from-home situations. She also sees the builder pattern of smaller lot releases that developed in 2020 repeating in 2021 to manage the construction process and closing dates.
Moving out
And outlying communities are seeing the benefit of our quest for more space that is also affordable, she notes. In research done over the summer looking at Arnprior, for instance, she found trends in multiple offers for resale homes, shorter days on market, increasing prices and greater interest in rural estate properties.
"Many buyers are coming from Ottawa, looking for more house for less money, larger spaces — including rural estates — and because they're able to work from home, community distance is less of a concern.
"There is no question that the pandemic has changed our lives, and that everlasting changes in where and how people live and work are possible, if not probable," she says. "Remote working will mean people can choose to live in different places, our communities will be reshaped, downtown will be less important, bedroom communities will be more important, and there may even be a rethink of how homes are designed.
"Although there is currently no conclusive data on how COVID-19 will ultimately impact the Ottawa new-home market, there are early indicators that some buyers are considering new options."
Renovations
In a year when many businesses were repeatedly forced to shut down, renovations saw a 28-per-cent increase in 2020, notes MPAC, the Municipal Property Assessment Corporation, which assesses properties in Ontario.
Patricia Liptak-Satov of Ottawa renovation firm OakWood expects that to continue in 2021.
"The increase in property values combined with record low interest rates (has) made it more possible and appealing to borrow additional money to invest in an existing home."
The trends she's seeing include kitchen renovations and — not surprising considering how many of us are working from home — incorporating new office spaces. OakWood is also seeing a lot of requests for additions and reconfiguring existing space to make it more functional.
"We are seeing people moving to Ottawa from different cities and renovating before they move in," she adds. "There has also been a large uptake in custom home requests to move further into the country with estate lots.
"We expect the market will continue to be strong with these requests in 2021 as people are spending more time in their homes and want to have the best space possible for their new normal."
Design & decor
"Design is moving towards a richer, deeper, moodier palette," says Sascha Lafleur of West of Main, who was named Ottawa's designer of the year last fall at the Housing Design Awards put on by the Greater Ottawa Home Builders' Association.
She sees the following themes appearing in 2021:
Story: Do the pieces or the design tell a story? People are looking for connection and meaning in a current climate that can bring a lot of disconnection.
Comfort: "2020 has been a year of nesting and I believe this will continue into 2021," she says. "Our homes are being used more than ever before and we're learning to carve out spaces for multi-functional purposes. People are willing to invest more into the pieces they love since their disposable income is not being spent on travel or entertainment."
Multi-functional: We're seeing more integrated home office designs that convert back into living spaces throughout the evening, she says.
Outdoor living: Our outdoor lifestyle expectations are matching our indoor comforts and we're seeing a larger investment in more comfortable furniture and decor to extend our living spaces.
In new homes, Strachan is seeing the effects of the pandemic and as a result is making adjustments in the nine model homes Minto will open in 2021, including two new floor plans that are a direct response to shifting desires — the Quinton and the Waverley.
"At a high level, it's about elegant working homes that are versatile, that won't break the bank. So, what people are looking for in homes I think is significantly changed as a result of COVID."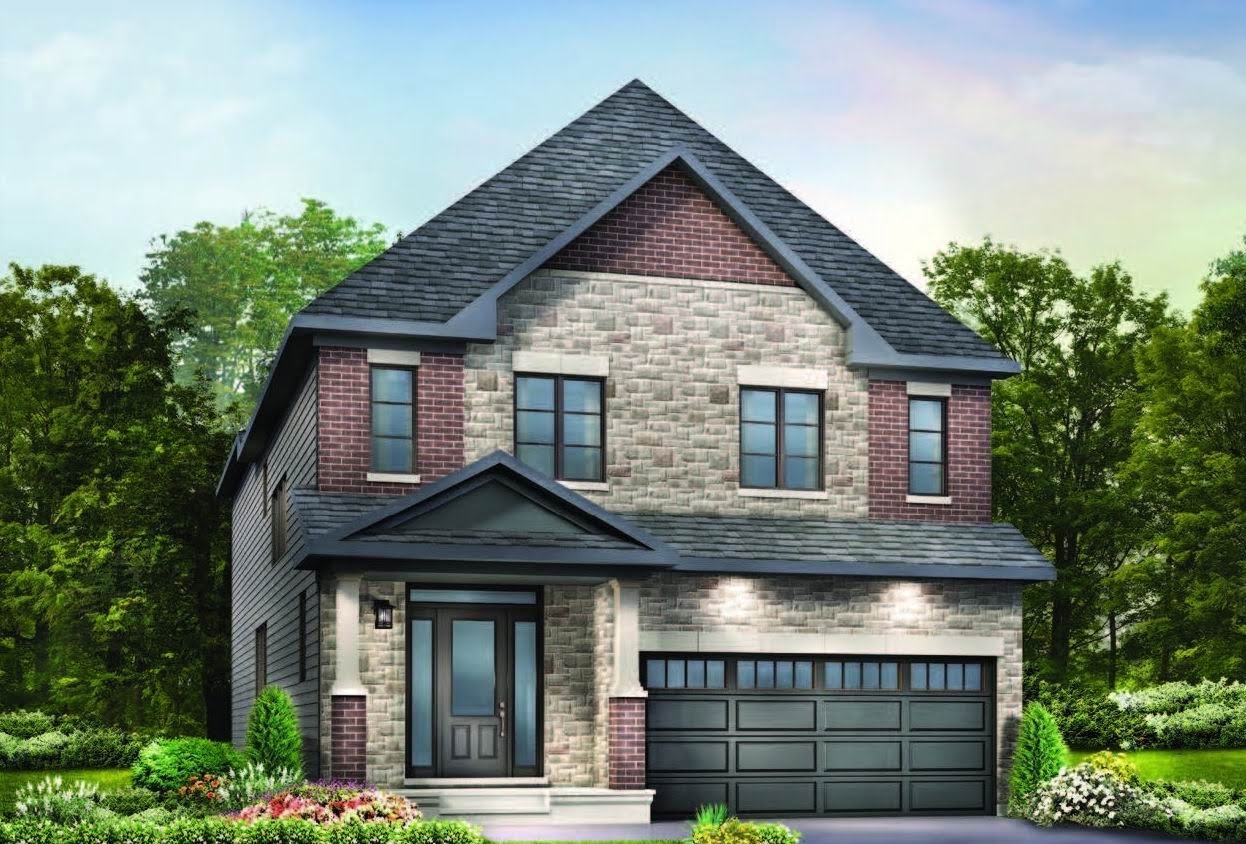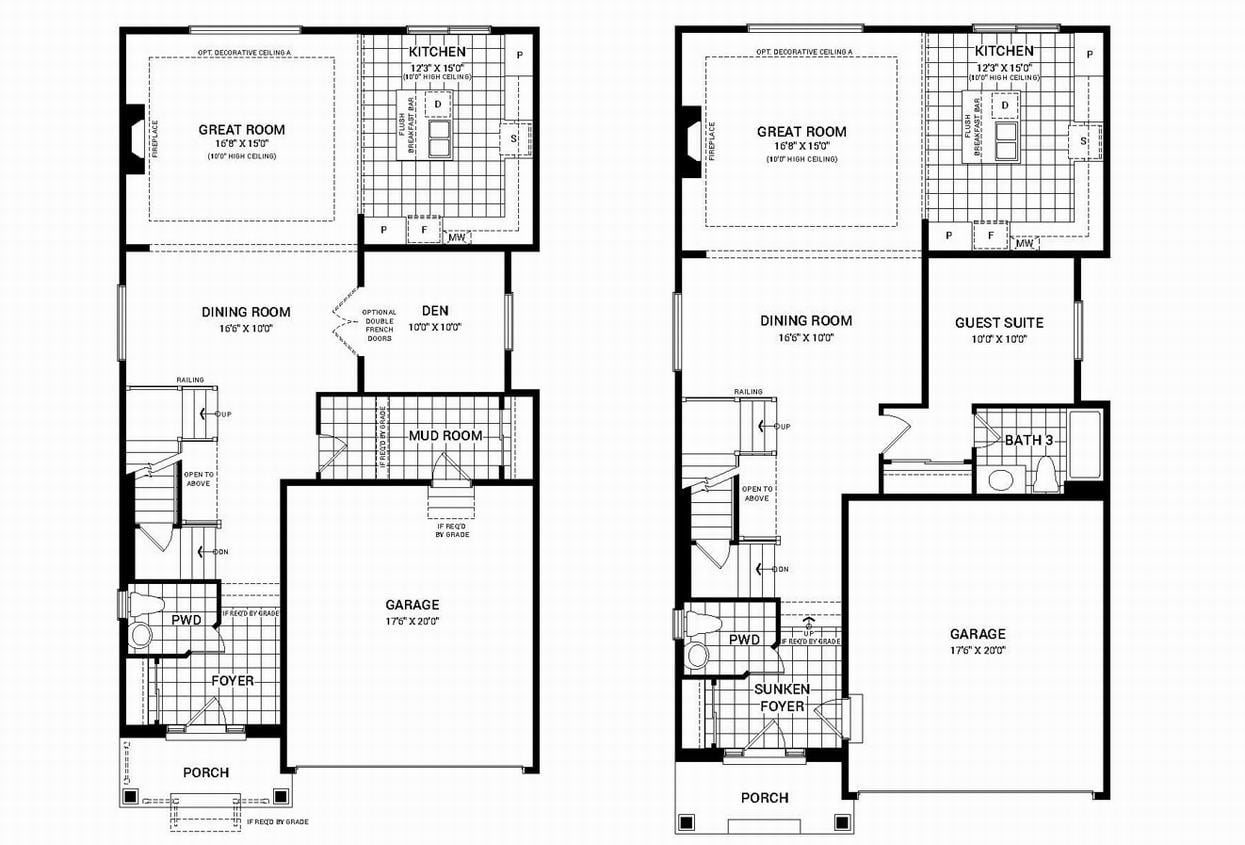 Design shifts include dedicated offices that can be private (or that can be a main-floor in-law suite), homework areas, home gyms, hardscaped backyards and finished basements to take advantage of the extra square footage.
"The way everybody's thinking these days is how can we take advantage of every square foot of our house without having to make the house too big."
Colour
Colour is making a comeback. Leading the charge is the influential Pantone Color Institute, which has chosen a sunny yellow called Illuminating as one of its two colours of the year for 2021.
"As people look for ways to fortify themselves with energy, clarity and hope to overcome the continuing uncertainty, spirited and emboldening shades satisfy our quest for vitality," Pantone says in a release.
The colour leader has paired Illuminating with a grounded grey neutral — Ultimate Gray — saying it's "emblematic of solid and dependable elements, which are everlasting and provide a firm foundation." After the uncertainty of 2020, it's not surprising Pantone is looking to project sunny hopefulness on a solid base.
In the past 20 years, it's only the second time Pantone has issued two colours of the year at a time. The other was in 2016, just after the election of Donald Trump as U.S. president, when a soft pink (Rose Quartz) and a baby blue (Serenity) were paired for their "soothing sense of order and peace."
Top paint makers, meanwhile, are emphasizing serenity and stability.
Benjamin Moore has opted for the soft Aegean Teal, as a soothing tone that creates natural harmony, the company says on its website.
Similarly, Sico's colour of the year is Blue-winged Warbler.
"While much of the world continues to shelter in place, consumers have turned to nature to receive the comfort and relaxation that they have been longing for after months of feeling unsettled," says Sico's senior marketing manager, Martin Tustin-Fuchs, in a release. "This fresh aqua colour instills a feeling of positivity, transforming a space into a serene retreat from the world outside."
And Canadian paint maker Beauti-Tone also followed the blue theme, choosing Dancing in the Rain as its colour of the year, saying on its website that the hue "brings tranquility and calm to any room and unites us all with a peaceful yet joyful state of mind."
But not everyone is choosing blue. Sherwin Williams, for instance, has named a grey-brown neutral called Urbane Bronze as its calming colour of the year.
"Now more than ever, our homes have become the backdrop to our lives," the company says on its site. "As we're looking to create the ultimate retreat for reflection and renewal, we're turning to a hue whose natural simplicity and nature-inspired energy cultivate a sense of calm from the ground up."
Beyond paint, Strachan notes that Ottawa buyers are shifting to more colour in their kitchens. Islands, for instance, are popping up in darker tones and there's a trend toward earthy colours and more natural light, which will be reflected in Minto's 2021 model homes.
"It's not drastic," he says of the changes he's seeing in buyer preferences. "It's just driven by people spending a lot more time in their home."
Lafleur is also seeing a return to warmth in tones.
"We're going back to the basics with natural materials, but adding glamour to the palette in a less ostentatious way," she says. "Textured walls, warmer palettes filled with desaturated sunset tones that add richness and warmth to the environment, which only gets better with time."