A more balanced market, an infusion of colour and a continued demand for work-from-home spaces — when it comes to the 2023 trends in Ottawa housing, there's a lot in store. From Ottawa's housing market and renovations to design and decor, here's what several experts — from Ottawa and beyond — expect we'll see.
Housing market
"The 2022 Ottawa housing market is likely to go down in history as the year when new-home sales experienced the fastest and sharpest rise and fall our market has seen in decades," notes Cheryl Rice, who is Ottawa president of industry analyst PMA Brethour Realty Group.
PMA compiles monthly reports on new-home sales activity in the Ottawa area on behalf of the Greater Ottawa Home Builders' Association (GOHBA). From a high in February of 677 sales to a low of 56 by November (a 92-per-cent plunge and the lowest November showing since 1981), new-home sales virtually fell off a cliff. (Numbers for December were not yet available at the time of writing.)
The FOMO factor (fear of missing out) that fuelled a housing frenzy from the early days of the pandemic finally disappeared as rising interest rates, inflation, steep housing prices and other measures put buying a home out of reach or made the idea unpalatable for many. By June, Ottawa home sales stalled and stayed that way through the rest of the year.
The stagnant market has tempered escalating prices for both resale and new-build homes — and allowed builders to catch their breath and build all those homes they sold earlier — but the worry for the industry now is, how long will it take for sales to pick up again?
"It's been a challenging and highly competitive year for Ottawa's new-home builders," says Rice, who adds that the first half of 2023 is expected to bring further market stabilization. "To be ready for it, builders will need to continue to prudently manage their costs, product releases and construction schedules."
The Bank of Canada's (BoC) most recent interest rate hike in December, which increased the key rate to 4.25 per cent, was the seventh and last increase of 2022. "The language used by the BoC hinted that large rate increases are probably a thing of the past, and that future rate decisions will consider new economic data," Rice says. "This last rate increase is void of short-term relief for the consumer, but is, according to economists, a positive signal."
New-home prices are expected to remain stable as inventory continues to be tight, she says, and she expects that as market conditions start to improve in 2023, "buyers who have been sitting on the fence for the past nine months will have more affordable options as builders and developers adapt to buyers' needs and budgets."
GOHBA executive director Jason Burggraaf will be watching three things for their effects on Ottawa housing: COVID, interest rates and a return to work for federal employees.
The pandemic led to a lot of new-home sales that pushed out into the suburbs and beyond as many were no longer tethered to the office and as people shied away from multi-family living.
"It'll be interesting to see if that's still a big part of people's decision making," he says.
Similarly, many held off entering the housing market once interest rates started to increase, leading to another round of pent-up demand. "There seems to be a consensus that people can make (interest rates of) five-to-six per cent work, as long as they know rates have levelled out. Once there's confidence in that, I expect a lot more people to resume looking for a home."
And now the federal government has finally committed to a plan to bring employees back to the office — typically downtown — two to three times a week. "For those employees who've moved out of the core because they could work from home, I'm wondering if they'll now put up with the commute, try to move back closer to work, or change careers so that they can continue to work from home."
He's also interested to see if a return to work, even if partially, stops the burgeoning interest in converting office buildings into residential units.
As for the resale market, in its 2023 Canadian Housing Market Outlook Report, real estate company RE/MAX says we should expect Ottawa to remain a seller's market into the third quarter of 2023 before becoming balanced, with resale prices forecast to increase four per cent from the average residential sale price of $656,761 recorded from January through October 2022.
"We're seeing three main housing trends heading into 2023," Laura Keller of RE/MAX Affiliates Realty Ltd. says in the report. "More multigenerational living, less upward movement as housing prices change and many first-time buyers who will look to engage and enter the market."
The report also notes:
First-time buyers in Ottawa are particular about the finishes, style and location of their homes, with many not wanting to spend money on small renovations
As single-family dwellings have become unaffordable to rent, multi-residential properties and tiny or coach home conversions are expected to increase
Rising interest rates are anticipated to continue cooling the resale market
Supply remains an issue, with many new-build projects halted due to increased development fees and material and labour shortages.
While RE/MAX foresees a four-per-cent price increase for resale homes, competitor Royal LePage predicts a more modest two-per-cent rise for Ottawa.
"We are anticipating moderate home price growth in the Ottawa market by the end of 2023," John Rogan, broker of record for Royal LePage Performance Realty, says in the 2023 Royal LePage Market Survey Forecast. "Condominiums will likely see greater price appreciation than other property types, including in the single-family detached segment, as higher borrowing costs will continue to limit buyers' purchasing power and push them to the lower end of the market."
Rogan notes that if interest rates stop increasing, or even decline next year, "we could see a spike in home prices and a resurgence of buyer demand from those who have been waiting on the sidelines. However, sales would increase gradually, as depleted inventory levels are unlikely to be replenished quickly enough to keep up with renewed purchaser demand."
Over at the Ottawa Real Estate Board, incoming president for 2023 Ken Dekker notes that the variation in forecasts "is indicative of the level of uncertainty in how the market will react to a changing economic environment."
He says Ottawa's market is balanced already and expected to remain so "until the pressure of rates lifts, at which time activity will climb and supply will constrict. We can expect, for now, that inventory levels will slowly grow, and that the first half of 2023 will be a relatively quiet market, provided there are no surprises on the horizon."
When it comes to rentals, a report by Rentals.ca shows that prices in Ottawa jumped more than the national average in 2022, but there are also signs of relief in store.
In its National Rent Rankings, Ottawa placed 15th out of 35 Canadian cities, with the average rent of a one-bedroom apartment at $1,939, up 18 per cent this year (versus the national average of almost 17 per cent). Two-bedroom apartments averaged $2,308, up 13 per cent.
But perhaps an encouraging sign is that the report's findings showed a price decrease for both one- and two-bedroom units from November to December. Ottawa was one of just four cities to record a drop in both categories.
2023 trends: Housing
Todd Duckworth and Rheal Labelle, who are architects at Hobin Architecture, see two distinct forces at play for the next year and beyond — affordability and work from home, the latter predominantly shaped by federal civil servants.
While they expect most builders to be too preoccupied building past sales and catching up to respond to the issue of affordability in any substantive way other than focusing on lower-priced homes on smaller lots, they see progressive builders responding with:
Smaller houses with income-generating accessory units
Back-to-back townhouses and compact planned unit developments
Renewed focus on infill in established neighbourhoods with more diversity of building and unit configurations
More houses outside the city — in Kemptville, Rockland, Arnprior, Carleton Place, etc. — where development charges are less and land is cheaper
Mortgage assistance to lower the cost of purchasing
Increased focus on rental projects, both inside and outside the urban core
Houses without garages are common in urban areas and in Quebec; watch out for this trend in the suburbs
Multi-unit residential developments with more compact suites for affordability and expanded indoor and outdoor common amenities to support live-work-play.
Whether for cost or lifestyle preference, architect Anthony Bruni of Colizza Bruni Architecture also sees a trend toward more compact and efficient spaces. "People are starting to understand that a great house doesn't have to be big; it just has to suit your needs."
When it comes to working from home, Duckworth and Labelle expect the following trends:
Upgrading basement spaces to be fully designed to be distinct, private and equal to the office workspace
Distinct office spaces designed into new floor plans
The addition of attic or third-floor spaces within small floorplate houses, or possibly options for garage conversions
Backyard office cabanas that might become accessory units in the future
Increased development pressures around remote properties surrounded by nature — some people are beginning to seek alternatives to the urban work-from-home lifestyle.
In addition to emerging practical needs, with people spending more time at home there is an increased consciousness among homeowners of the experiential qualities of their spaces, they say. Look for more engagement on design themes such as sense of place, protection, access to natural light and views, and connection to landscape, as well as the home as a retreat or sanctuary.
2023 trends: Renovations
Renovations are continuing strong "as homeowners love where they live and want their house to be their forever home," says designer Catherine Pulcine, owner of CPI Interiors.
Jacob Kirst, president of Lagois Design-Build-Renovate, agrees. "I don't believe we will see a slowdown in spending. There may be more discussions earlier on about where the money is coming from with the rising interest rate, but those who are serious will have their finances in order before starting."
Like the Hobin team, Pulcine sees a continuing demand for private office spaces to accommodate hybrid work models and to separate work from daily family life. And as entertaining at home comes back into vogue, "having fabulous islands to sit at or stand close to the action in the kitchen, while keeping the work area to the cook, are big requests." Wine fridges, coffee stations and beverage serving areas are also popular.
The kitchen in general "is still king," Kirst says, but other popular renovation projects include:
Energy retrofits, such as exterior design, improving comfort and taking advantage of government grants
Indoor/outdoor integration
Aging in place
Flex spaces for families to have options to grow throughout their lives with their families.
"I'm seeing a yearning for simpler times, natural materials and decluttering spaces," he says.
2023 trends: Design & decor
Move over white kitchens; colour and wood are making a comeback.
This is a trend that's been building, as evidenced by dark neutrals like blue, black and charcoal in many award entries of the last couple years, and it's one that multiple designers have noted.
Julian Hanoun of Vaughn-based cabinet company Oak & Tenon, who was a judge in Ottawa's Housing Design Awards last fall, picked up on many transitions between wood and white or wood and green and blue. "People are starting to bring more colour into the home overall."
Ottawa designer Nathan Kyle of Nathan Kyle Studio finds natural warm woods are making a comeback in cabinetry, particularly medium brown warm tones. "More importantly, (we're seeing) integrated handles in wood to match. It's like a resurgence of the '70s but more delicate and detailed."
He also points to curved cabinetry (from hood fans to cabinet doors), floating shower benches over heftier cousins that went to the floor, and cabinets with hidden counters behind pocket doors as the new appliance garage. "Why have a small, cramped garage filled with small appliances when one could literally have an entire workstation concealed behind closed doors?"
Hanoun is also seeing finer details, like thinner Shaker cabinet doors, and a continuation of the trend to fewer upper cabinets and floating shelves to create a more streamlined look.
2023 trends: Colour
As a design element, colour is trending, says Pulcine. "We are finally going to see more vibrant tones; note colours of the year announced recently — magenta, raspberry and burgundy all making a splash."
Expect warmer hues, "moving away from the greys of too many years," and florals for upholstery and draperies "reintroduced to bring some joy back."
When it comes to announcing colours of the year, some years the industry's various paint makers are on the same page. Last year, for instance, many chose shades of green. Other years — like 2023 — it's a mixed bag.
Industry heavyweight Pantone Color Institute, which is not a paint maker but influences fashion, textiles, home decor and interior design, has opted for the bold and vibrant Viva Magenta as its colour of the year for 2023.
"It is a new animated red that revels in pure joy, encouraging experimentation and self-expression without restraint, an electrifying, and a boundary-less shade that is manifesting as a standout statement," the company says on its website.
But several turned to the calming effects of nature for inspiration, showcasing shades of blue/green as their colour of the year or else opting for neutral: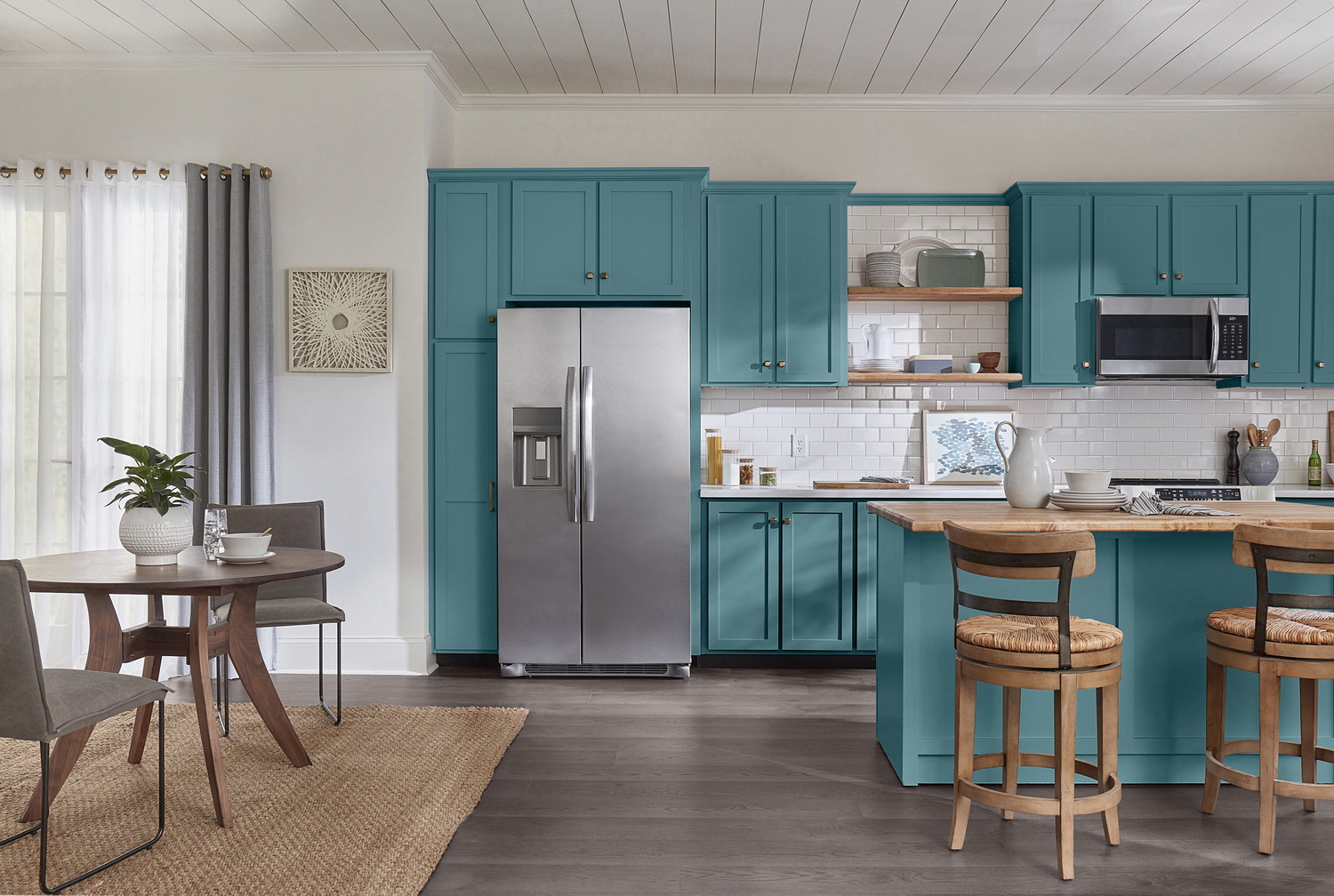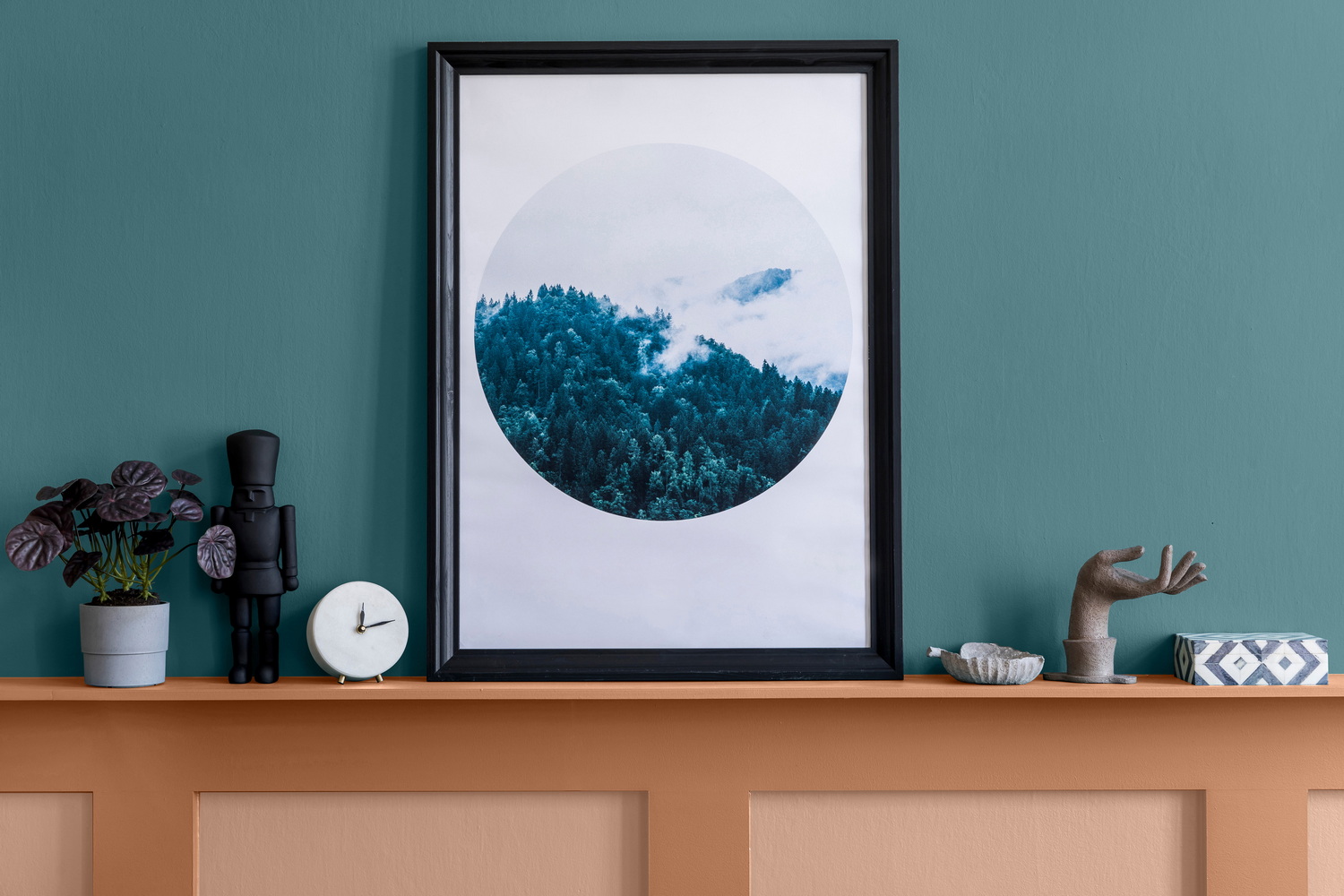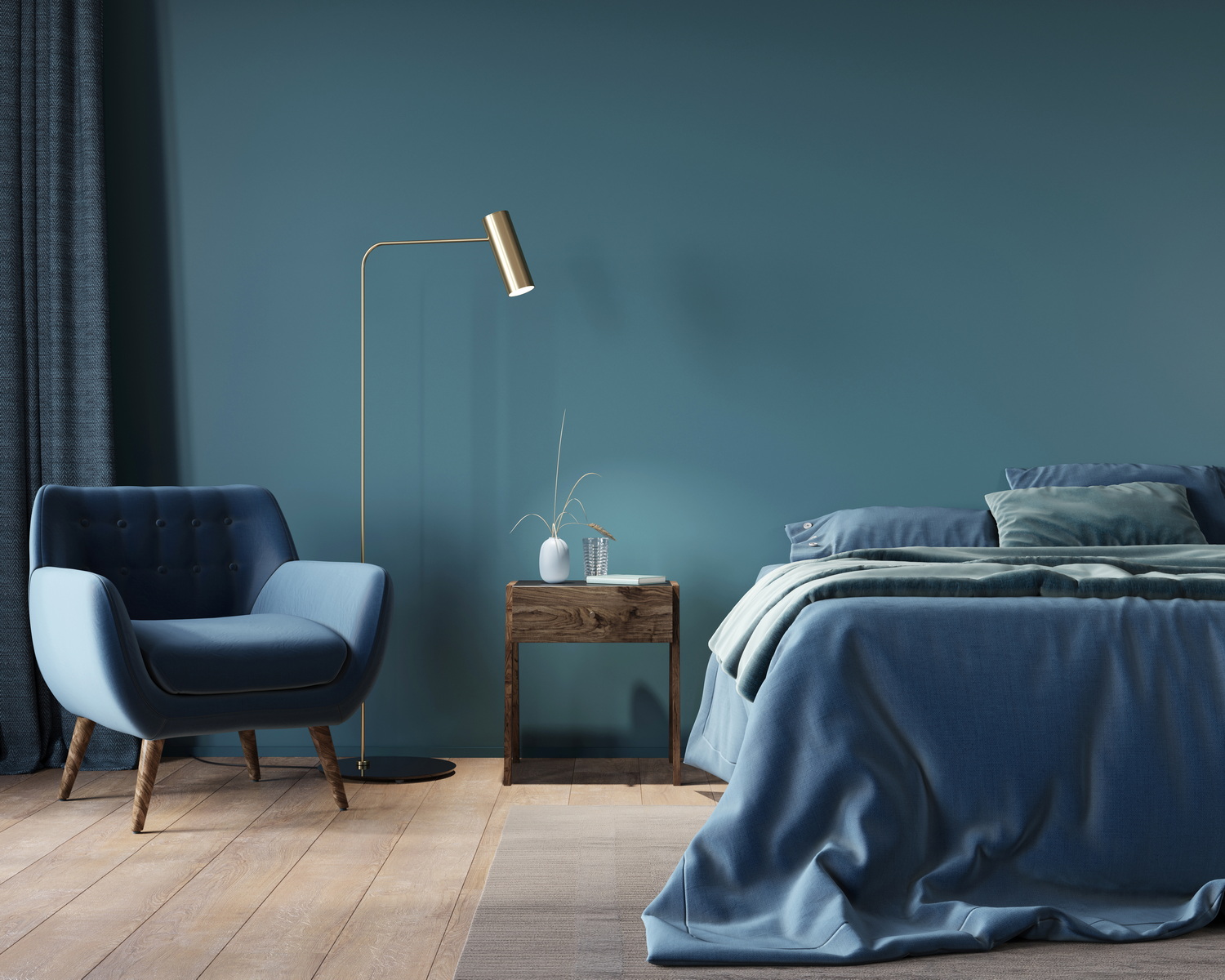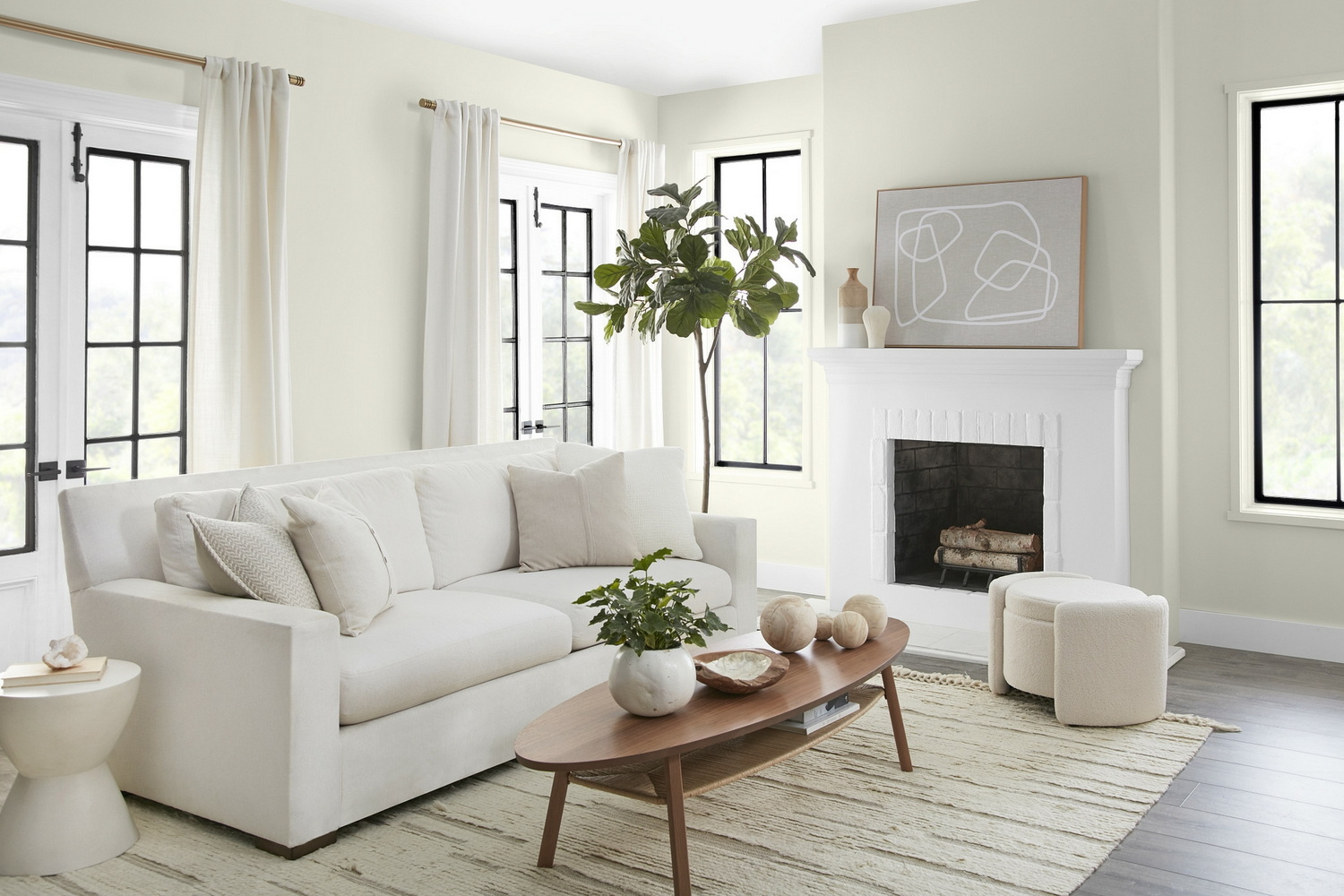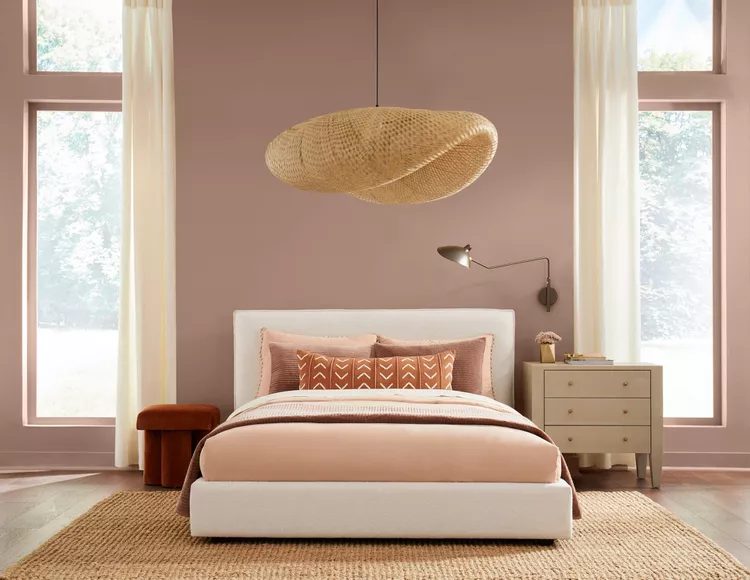 Dulux — Vining Ivy, a teal "symbolic of deep water" to infuse home decor "with a much-needed breath of fresh air after a few challenging years"
Sico — Melt Water, also a teal, which "combines the healing powers of water and nature with balance and tranquility"
Beauti-Tone — Moments, a "calming, shaded blue with an influence of green that brings a fresh perspective to modern interiors and acts as a canvas for the moments ahead"
Behr — Blank Canvas, "a hopeful and welcoming warm white … meant to inspire feelings of tranquility and renewal"
Sherwin-Williams — Redend Point, a grounding blend of blush and beige to warm up walls.