For the past five weeks, Ottawans have been voting on the entries in the Housing Design Awards, choosing finalists for the 2020 People's Choice Award. Now it's time to pick the winner.
Sixteen projects have topped the balloting in preliminary rounds covering kitchens, bathrooms, renovations, custom and production homes, condos, design details and green innovations. Almost 6,800 votes have been cast so far.
In this final round, voting will determine the public's favourite overall project, earning its creator the coveted Ottawa Citizen People's Choice Award.
"This is the most unique award we have because it's the only one voted on by the public," says Linda Oliveri Blanchard, who chairs the Housing Design Awards Committee. "We love to see if the general public agrees with the decisions made by our professional judges.
"Since you can see our members' level of excellence across a range of different projects … it's like a sampling of the very best our industry has to offer."
The winner will be announced as part of the annual Housing Design Awards presented by the Greater Ottawa Home Builders' Association in a virtual showcase Nov. 20.
For the awards showcase there are 160 entries vying for trophies in 46 categories. While most winners are determined via blind judging by industry professionals from across the country, the People's Choice Award is the only one chosen by the public.
How to vote
Voting is done online at gohbavote.ca and will be open from 9 a.m. Tuesday, Nov. 3, to 11:59 p.m. Sunday, Nov. 8.
Here's a look at the finalists:
Renovations
Entry #1025 — An Entertainer's Dream — Amsted Design-Build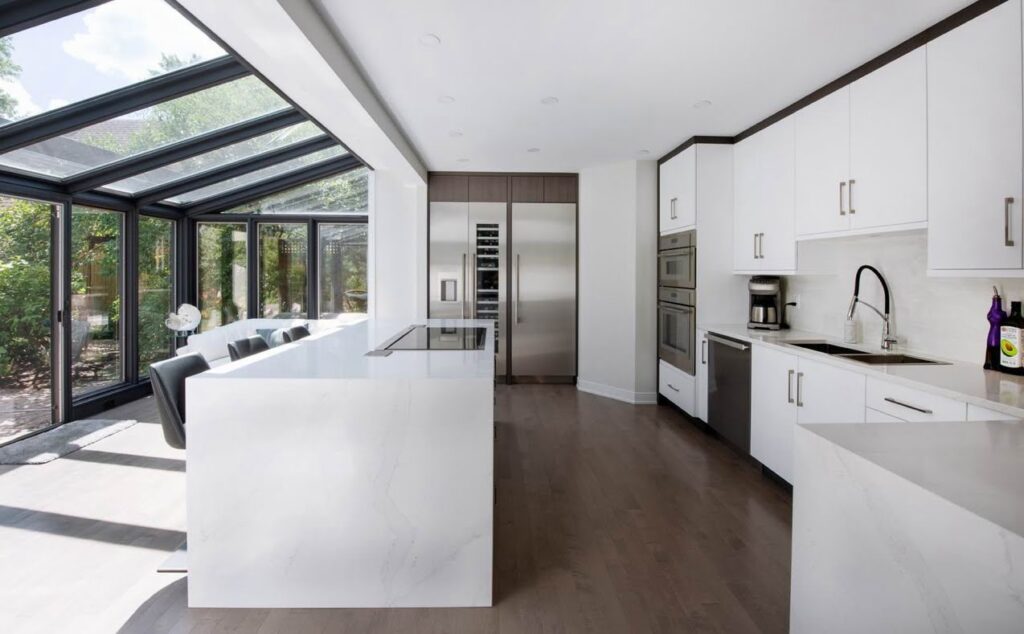 This whole-home renovation includes a new open-concept kitchen and sunroom, updated living room, added powder room, redesigned staircase and a fully finished basement.
The kitchen has been re-imagined as an entertainer's dream, Amsted says in its submission, creating sightlines to the award-winning backyard.
The overall design takes a contemporary approach, with a glass-and-metal staircase and three-sided fireplace in the living room.
The home is also part of this year's virtual Reno Tour. Take a 3D tour of the home here.
Entry #954 — Raising the Roof — Sierra Gate Homes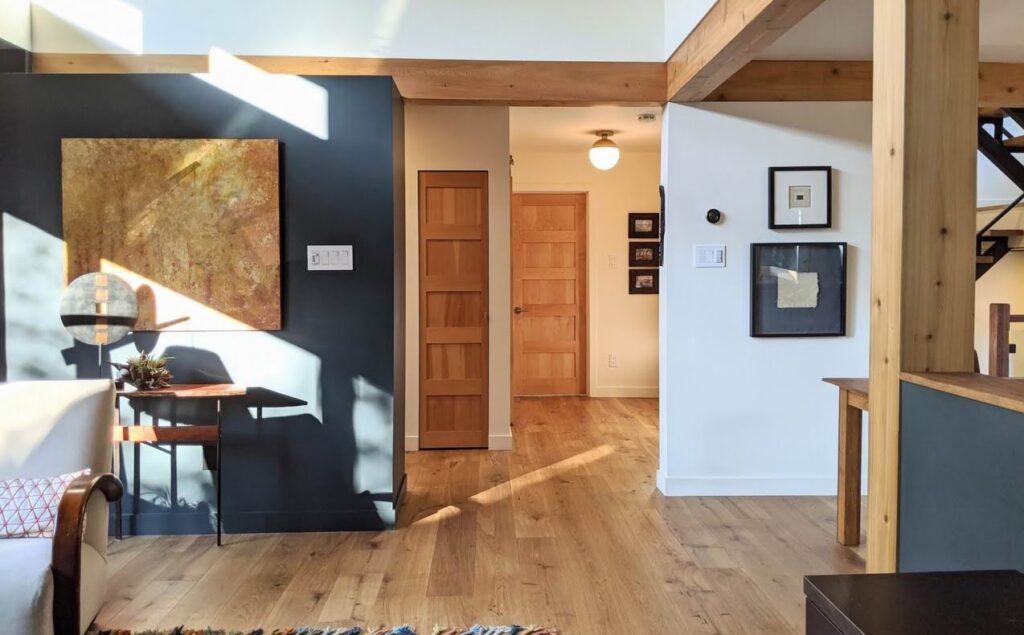 A dated bungalow gets a modern facelift and a second-storey addition in this whole-home renovation. The main floor was re-organized to create public spaces for entertaining, while the private spaces were moved upstairs.
The theme throughout the project is wood, Sierra Gate says in its submission. Exposed wood posts and beams, barnboard cladding on the kitchen island and a vaulted ceiling over the loft and main floor living area, which is finished with the home's original 2×6 roof boards, are just some of the wood features.
Bathrooms
Entry #1123 — Elle WC — Greenmark Builders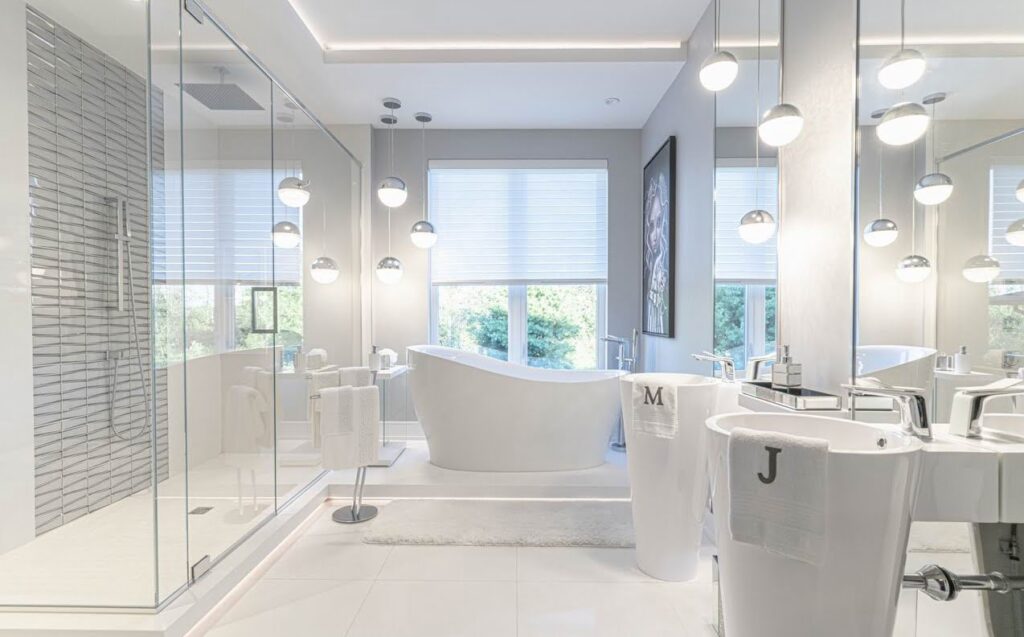 This contemporary custom ensuite is light, airy and elegant to pamper its owners. The white palette keeps everything crisp and clean while the layers of light add depth and warmth.
The shower and tub floor are floating, underlit with LED lighting that is repeated in the ceiling detail. Further attention to detail is found in the his-and-hers monolith sinks.
Entry #1020 — Cedar Tranquility Spa — Morgan Quality Homes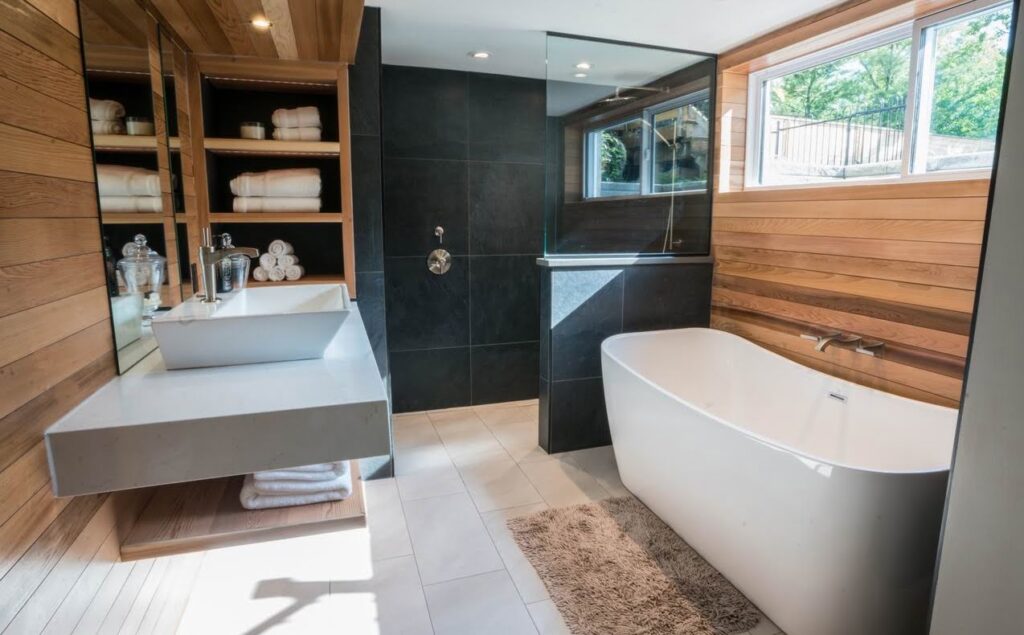 Another contemporary custom bathroom, this project opts instead for an après-ski escape. "A balanced contrast of light and dark elements, warm wood tones and natural materials are used to give this basement retreat the feel of being tucked away in the mountains," Morgan Quality Homes says in its submission.
The bathroom boasts a curb-less shower wrapped in slate wall tile, a custom floating vanity with asymmetrical mirrors, and walls of raw cedar for a "soothing natural aroma."
Kitchens
Entry #1000 — Cheerful and Charming in Blue — StyleHaus Interiors & The Conscious Builder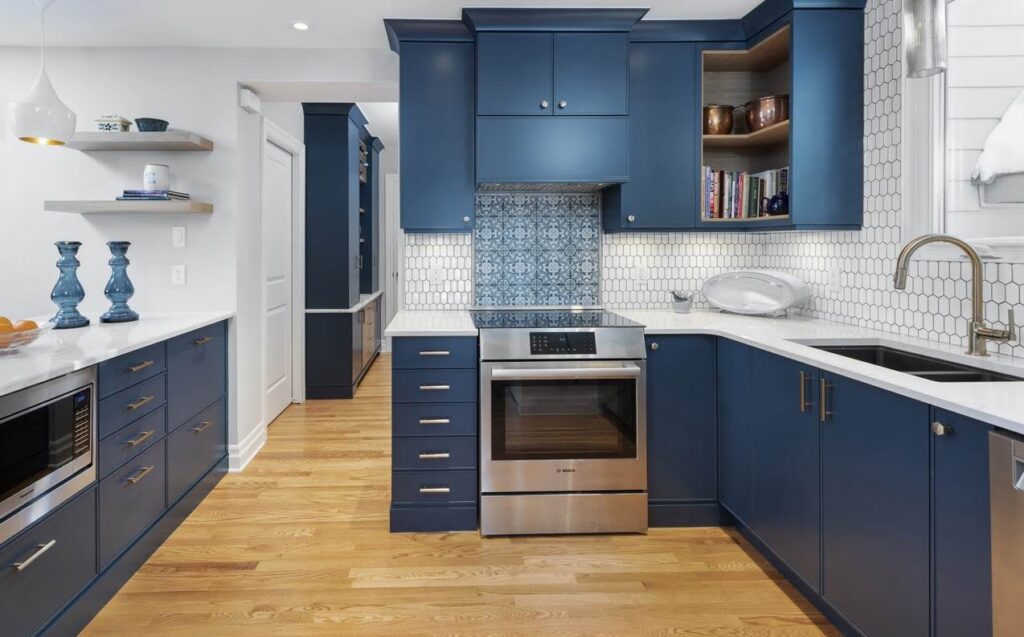 The existing kitchen in this post-war home was dated and cramped and did not function well for the busy homeowners, StyleHaus & The Conscious Builder say in their submission.
The space was expanded into an adjacent hallway by adding a bar and wine storage cabinet, while hardwood that integrates with the home's original wood floors and dark teal cabinetry accented with natural oak elements create a coherent look.
On-trend Portuguese-inspired patterned tile and a honeycomb white ceramic backsplash add texture and pattern to this modern kitchen that references the vintage feel of the home.
Entry #966 — Elegant Hampton Style — Laurysen Kitchens & Shellstar Homes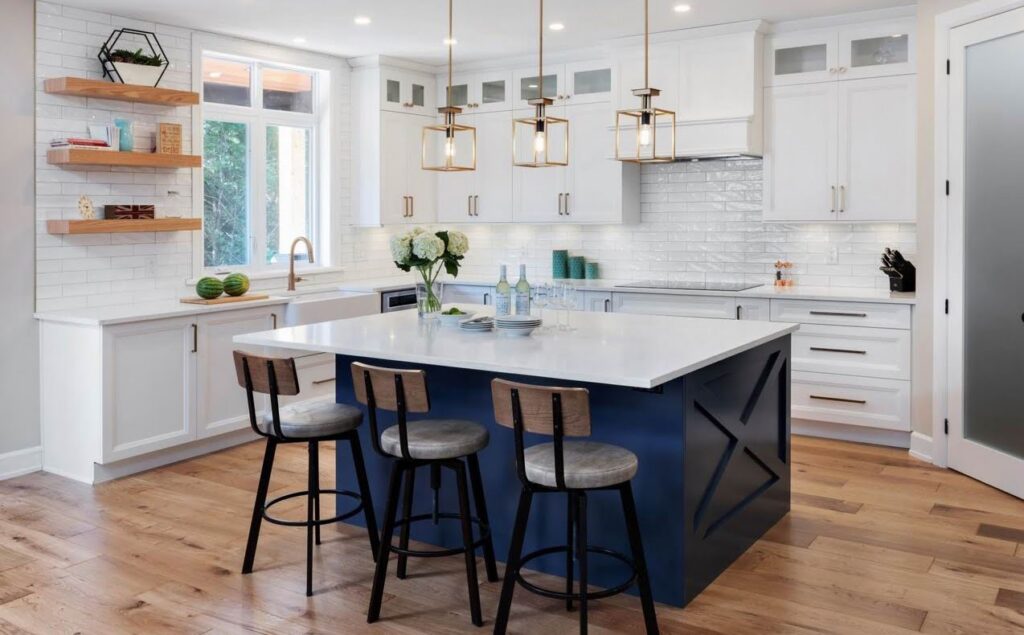 This custom kitchen by Laurysen and Shellstar pairs the airiness of crisp white cabinets with a navy island to ground the space and give the room a hint of a Hampton style.
Features include professional stainless-steel appliances, a custom range hood, and extended uppers with glass accents to break up the solid look of the doors and bring the height of the kitchen to the ceiling to avoid any dust collectors, the companies say in their submission.
Custom homes
Entry #908 — The Homecoming — Gordon Weima Design Builder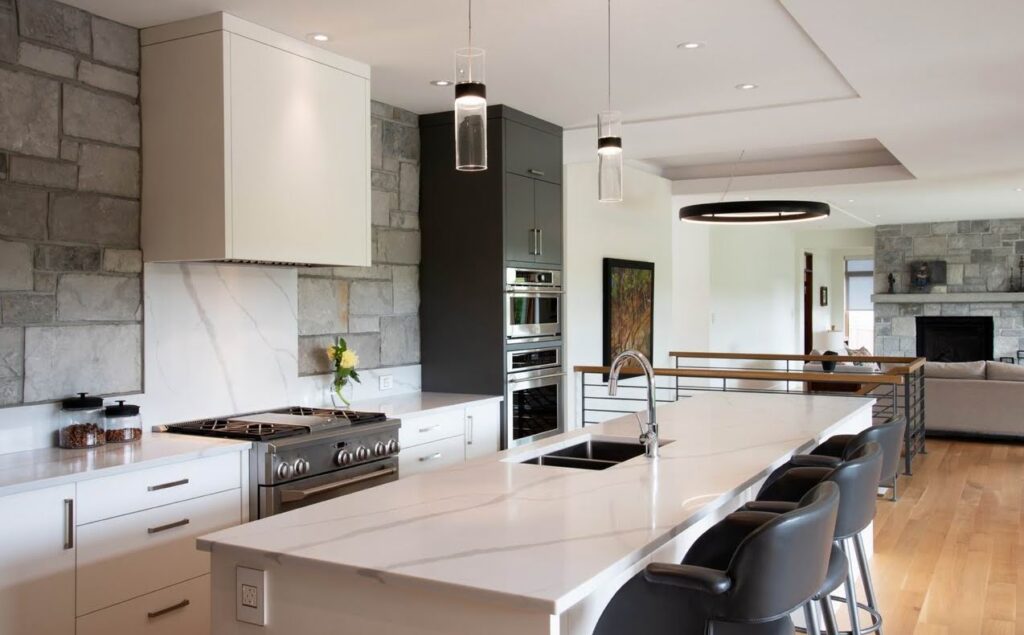 This custom home finalist is appropriately called The Homecoming. The homeowners originally lived in a small bungalow on the lot, moved and rented it when they outgrew it, and finally returned to build their retirement home — big enough to accommodate their extended family — 22 years later.
The open-concept contemporary home had to fit onto a challenging lot with a steep incline while maximizing the south-facing river views in the living spaces, the designer/builder says in its submission.
Entry #975 — The Crestview — Canterra Design + Build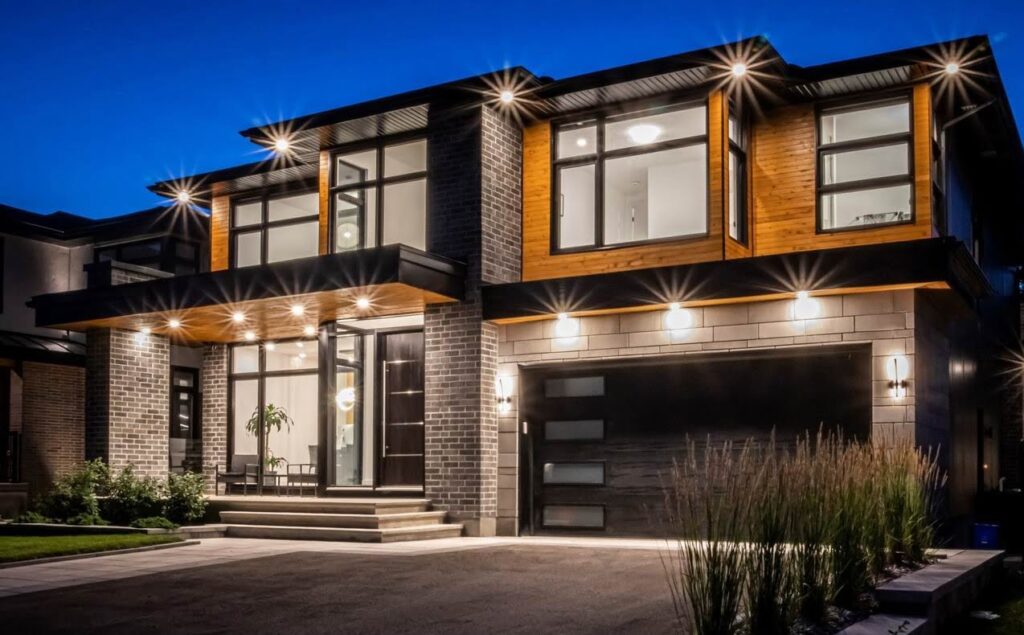 The other custom home finalist is a contemporary infill two-storey.
The open-concept home emphasizes natural light by using as much window glazing as possible and a mezzanine surrounded by glass guard rails.
Entertaining is a focus of the main floor with the great room, formal dining, kitchen and eating area flowing seamlessly. The kitchen opens to the rear yard wood deck (with hot tub access) and lower patio, surrounded by a fenced-in yard for privacy.
Design details
Entry #924 — Lake Muskoka — West of Main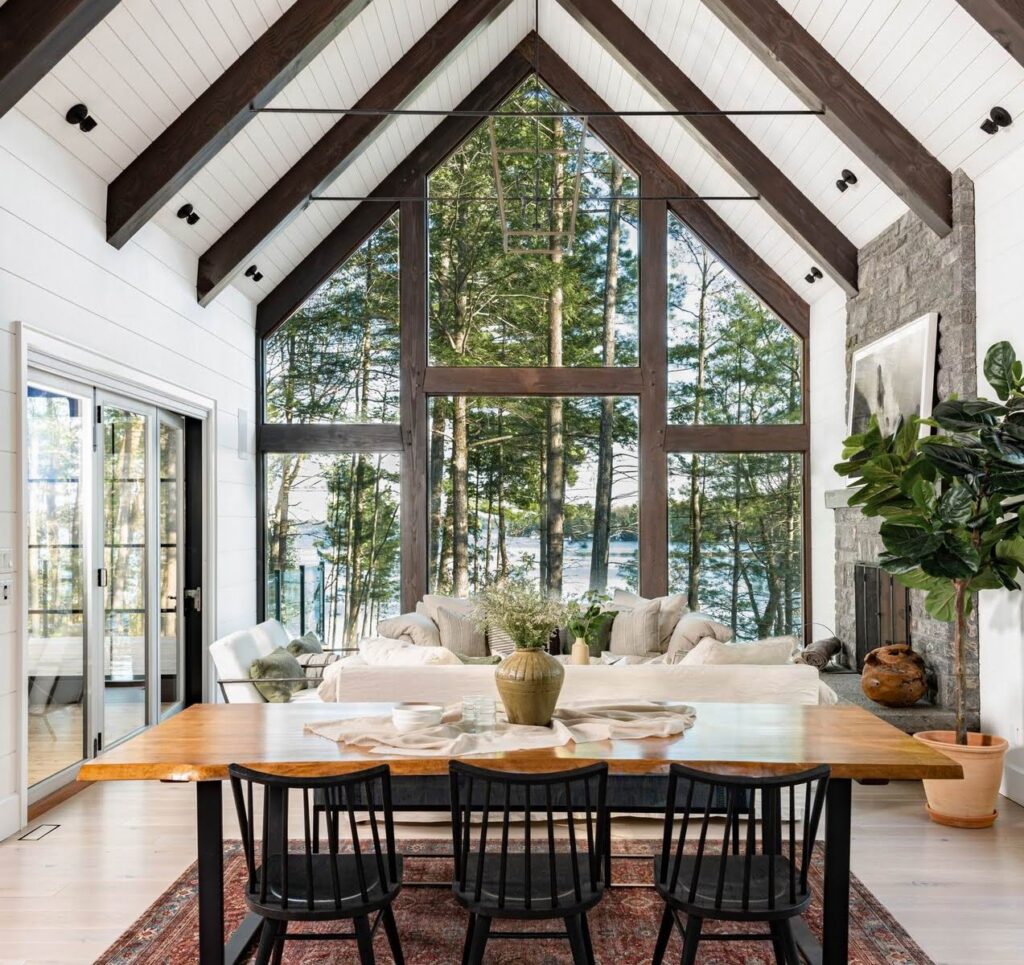 This welcoming lakeside retreat might be all about the view outside, but the one inside is just as spectacular.
The open-concept dining room and living room are framed by dark ceiling beams against white shiplap in the vaulted ceiling and a window wall looking out on the property. More glass walls separate the sunroom, while allowing the view to be seen from every angle on the main floor.
"The furniture and decor were carefully selected to complement the architecture and the home's surroundings," West of Main says in its submission.
Entry #982 — Ironstone Fireplace — Sonya Kinkade Design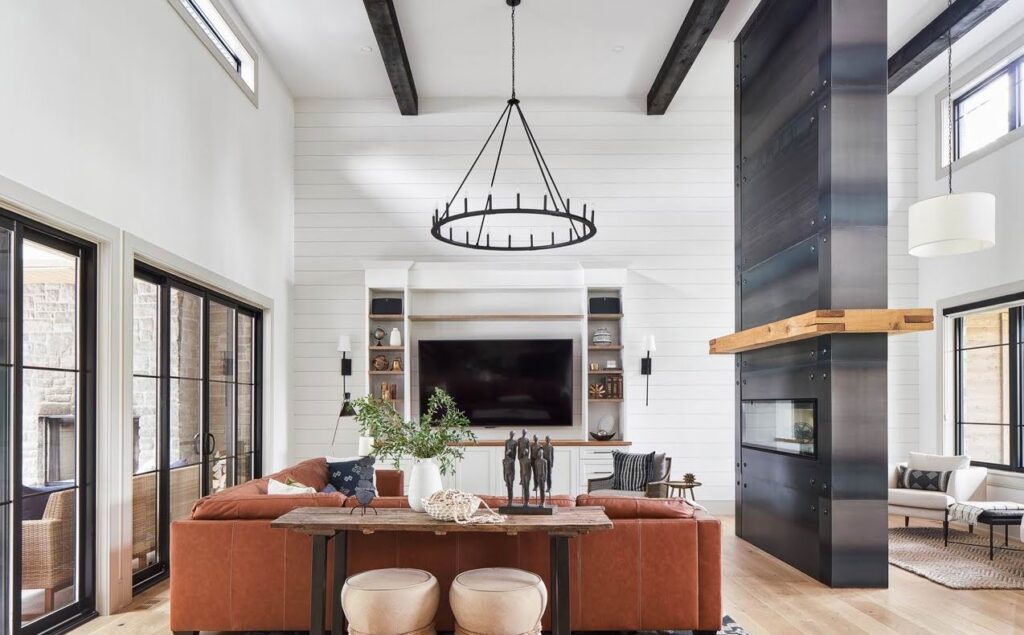 Focusing on design details, the two-storey fireplace in the great room of this custom home was meant to be a focal point.
"Our clients wanted this room to be not only comfortable but memorable," says designer Sonya Kinkade in her submission.
The double-sided fireplace is clad in hot-rolled steel with massive rivet details and topped with a heavy, rough-cut, custom-milled, white oak mantel to complement the home's contemporary farmhouse style.
Production homes
Entry 1047 — The Middleton — Park View Homes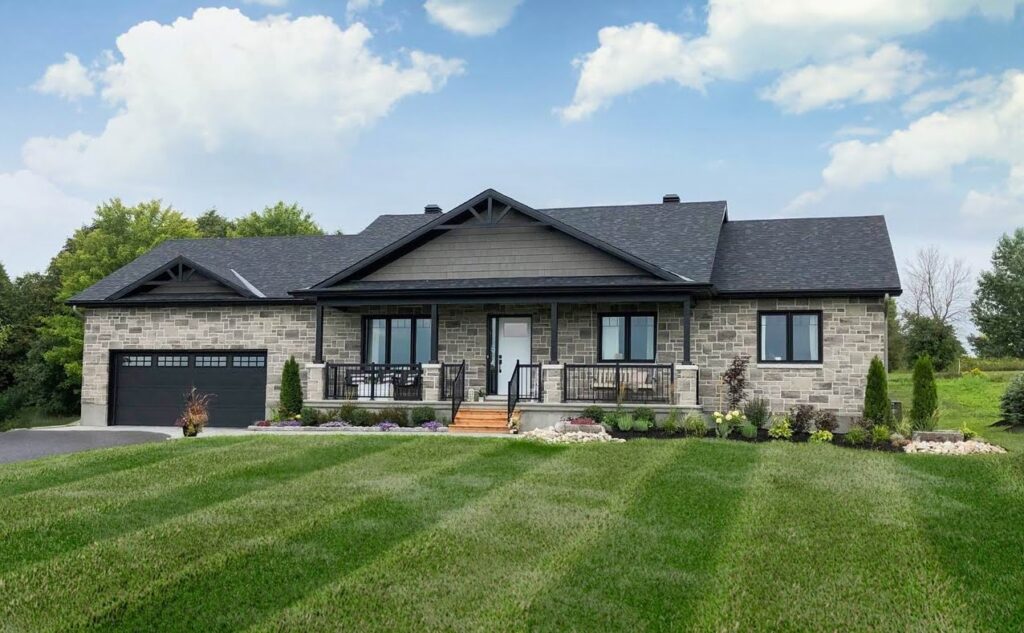 This 1,600-square-foot bungalow sits on a generous country lot with an extended porch to take in the setting.
Inside, a roomy open-concept main living area offers plenty of space for entertaining or family get-togethers. The fireplace, clad in shiplap and stretching to the vaulted ceiling, becomes a focal point.
The three bedrooms are located to one side, while a combined mudroom and laundry room are handy at the back of the garage.
Entry 843 — Central Park Loft — Corvinelli Homes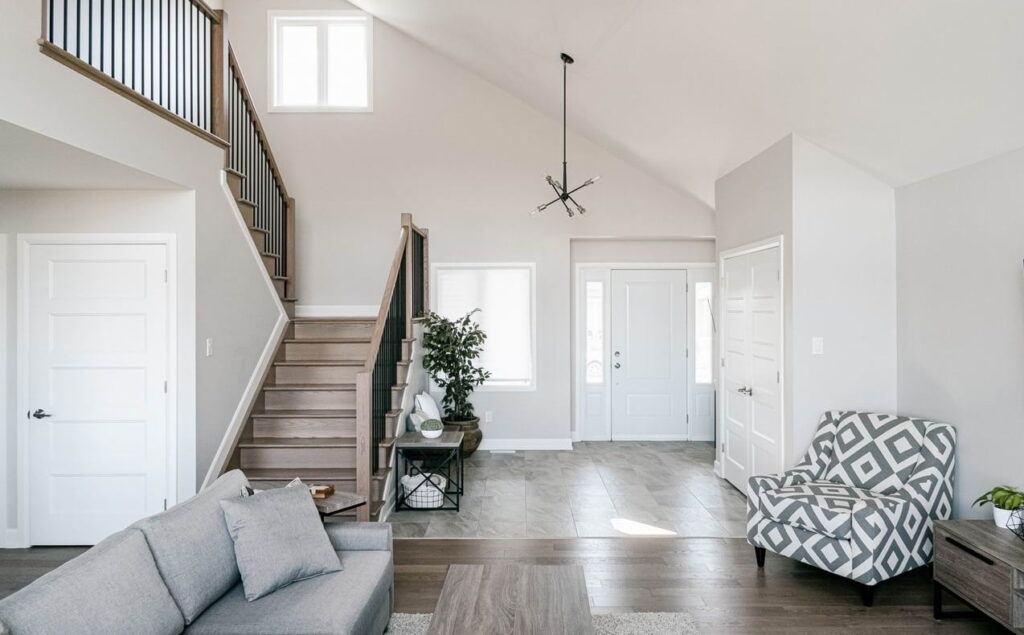 Another rural home, this two-storey is part of Corvinelli's Russell Trails development.
It boasts a vaulted ceiling in the foyer and living room, an open-concept layout, utility space off the garage and a generous walk-in pantry on the main floor. Upstairs, the master suite claims the rear of the home while the hallway separates it from the secondary bedrooms.
There's also a three-car garage for plenty of storage and the home is Energy Star certified. "This home was created with bright, open and socially centered living areas," Corvinelli says in its submission.
Condo or rental apartment suite
Entry 949 — The Alder — eQ Homes, West of Main & Hobin Architecture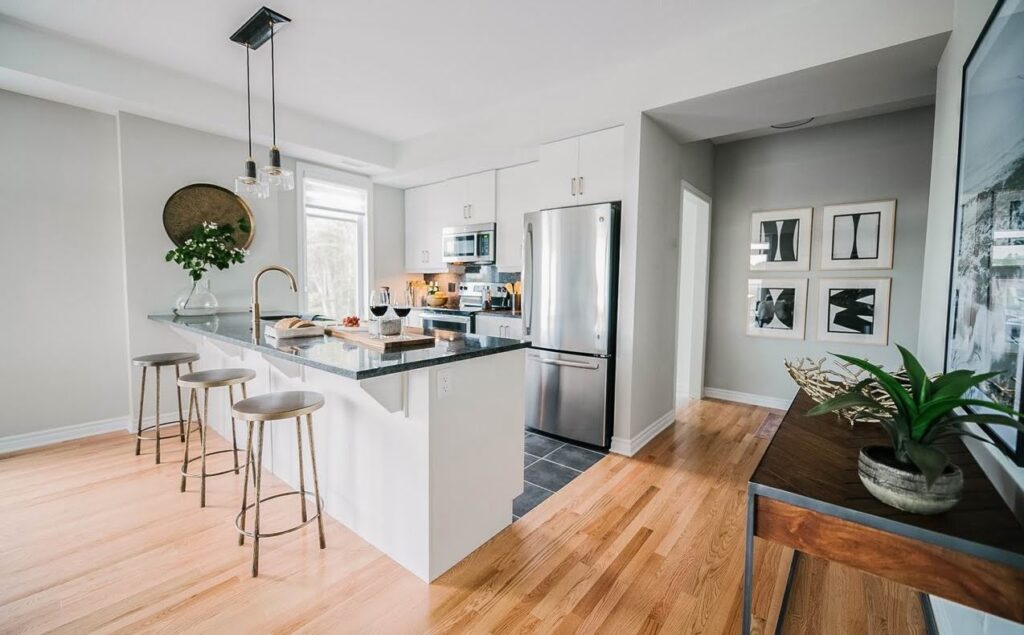 The Alder is part of eQ Homes' low-rise condo series, where every unit is a corner unit in buildings that are three storeys.
Aimed at downsizers, this unit was designed with a retired homeowner in mind and styled by West of Main in a mid-century and nature-inspired style with a contemporary feel, the companies say in their submission.
"This two-bedroom feels bright and spacious with ample room to entertain… The Alder makes great use of space to create an open, welcoming home that doesn't feel like a typical condo."
Entry 876 — The Stella — Phoenix Homes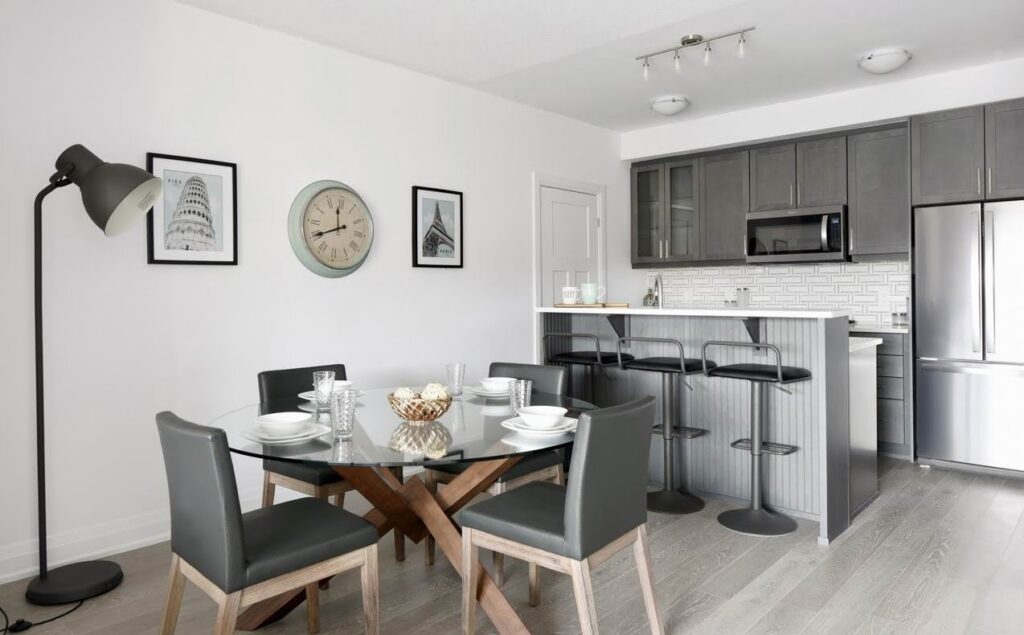 The Stella is a condo flat in Phoenix's Terra Flats lineup. This particular model was found at Fernbank Crossing in Stittsville.
The floor plan packs a lot into its 974 square feet, including an open-concept living, dining and kitchen area (with island breakfast bar), a desk niche and separation between the two bedrooms.
There's even room for a walk-in closet and three-piece ensuite in the master bedroom.
Green innovation
Entry 931 — 1290 Coldrey Avenue — Ottawa Community Housing & CSV Architects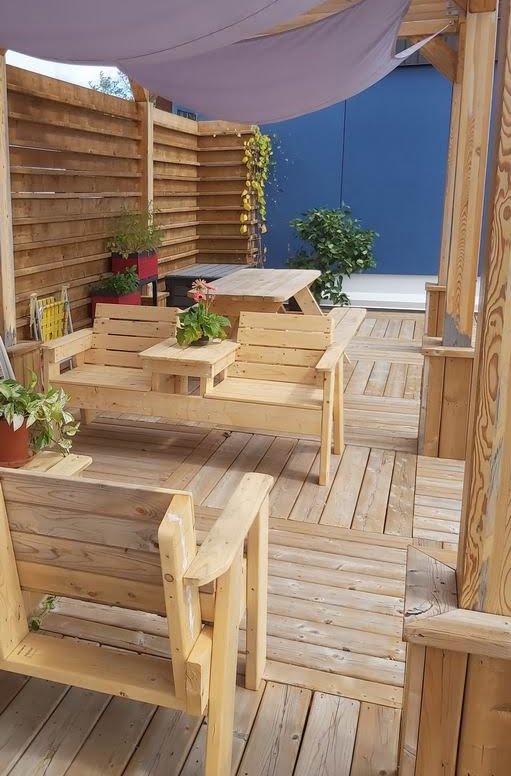 This project is a rental building that has been built to Passive House standards to minimize energy use and costs while minimizing its carbon footprint.
It provides 42 affordable rental homes for seniors along with medical care and support services through the Carlington Community Health Centre under one roof, the companies say in their submission.
The building was also designed and built to the Well Building Standard, which promotes health and wellness through built form. Components such as a second-floor terrace that promotes food growth, a naturally lit staircase to encourage residents to be active and having more than three-quarters of the interior within seven metres of an exterior window for a connection to the outside all contribute to a positive environment.
Entry 942 — Spruce Grove — RND Construction & Christopher Simmonds Architect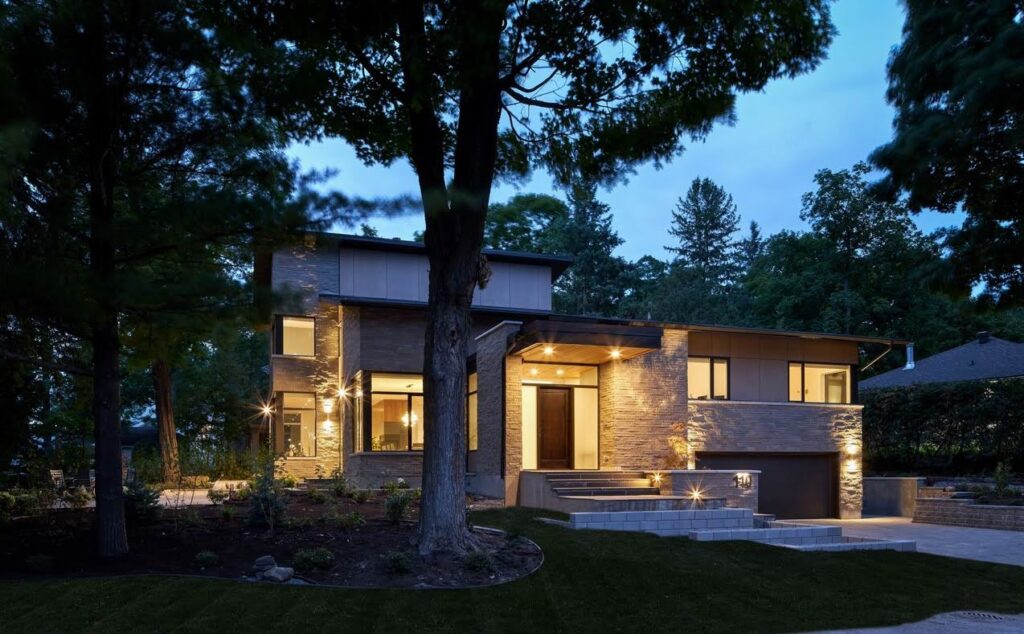 This mid-century-inspired, modern home by RND Construction and Christopher Simmonds Architect is located on a large corner lot and surrounded by a grove of spruce trees that shade the home in summer while allowing sunlight indoors during the winter.
Thoughtful design features include a double-height atrium that acts as a buffer between the living and private spaces. The home is also designed for aging in place, with a roughed-in elevator shaft providing access to all levels of the house and showers that are curb-less and fully accessible.
The home is Net-Zero Ready (it consumes 66 per cent less energy than a similar home built to code) and it incorporates several strategies to improve indoor air quality.
To vote for one of these 16 finalists, visit gohbavote.ca between 9 a.m. Tuesday, Nov. 3, and 11:59 p.m. Sunday, Nov. 8.