Ottawa's housing market, battered and bruised during 2022, is on track for a continued hard slog in the first half of this year, but should find the going easier as we head toward 2024.
That was the message from Cheryl Rice, Ottawa president of industry analyst PMA Brethour Realty, during her presentation on the local housing market at Hello 2023 / Goodbye 2022, organized annually by the Greater Ottawa Home Builders' Association (GOHBA).
Looking back, "2022 is likely to go down in history as the year when new-home sales experienced the fastest and sharpest rise and fall our market has seen in decades," said Rice, pointing to the precipitous plunge that began last spring after two years of meteoric performance. She said 2022 marked the fifth major market correction and related recession PMA has witnessed over the past six decades.
The correction, as her audience of more than 100 — most of them new-home builders — was painfully aware, saw sales numbers plunge as rising interest rates, inflation, "fear of overpaying" and simple buyer fatigue sunk their teeth into the homebuying market.
Characterizing the breakneck pace of sales in 2020 and 2021 — an aberration accompanied by double-digit price increases — as "irrational," Rice said the plummet that began last spring left the resale market in a state of "suspended animation" and that last year's multiple interest rate increases by the Bank of Canada crippled the new-home market in particular.
By the numbers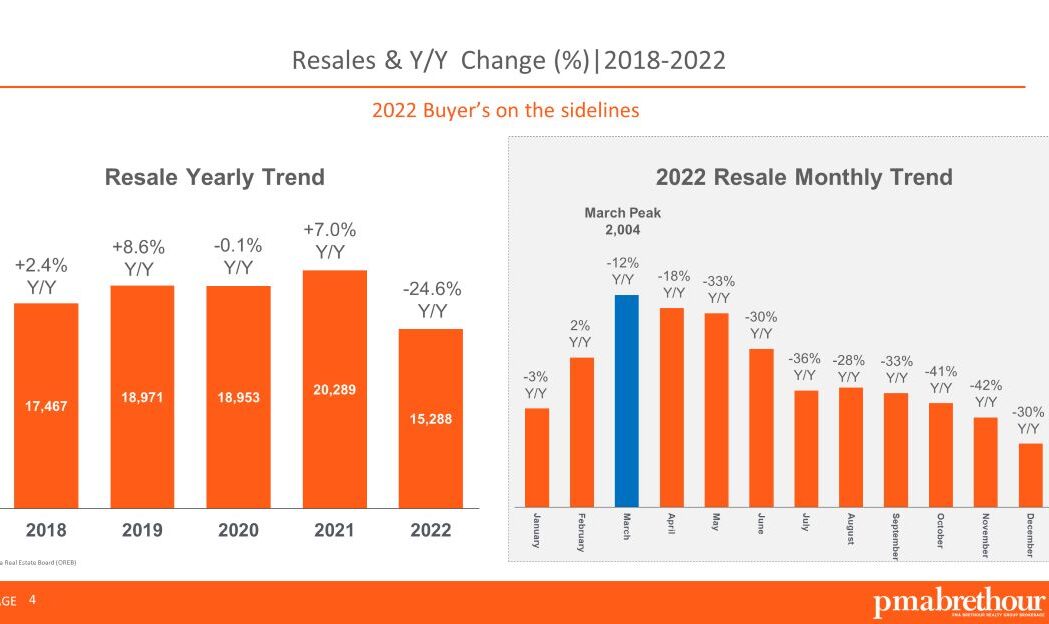 Last year saw local resale transactions drop almost 25 per cent compared to 2021 and prices for detached homes tumble from a record-breaking average of $917,387 in 2021 to $692,300 by December, a slide of more than $225,000. That left sellers deciding to wait until prices rebounded, while buyers opted to await more inventory, further price reductions and interest rate stabilization.
While the market upheaval may have been horrifying for sellers, who had seen the value of their homes soar in the two previous years, it was a good-news story for buyers as the average price increase for the year nudged down to seven per cent, closer to Ottawa's traditional four or five per cent growth. It also meant a return to a balanced market after a prolonged sellers' market, along with a replenishment of inventory as homes sat unsold and new ones were added.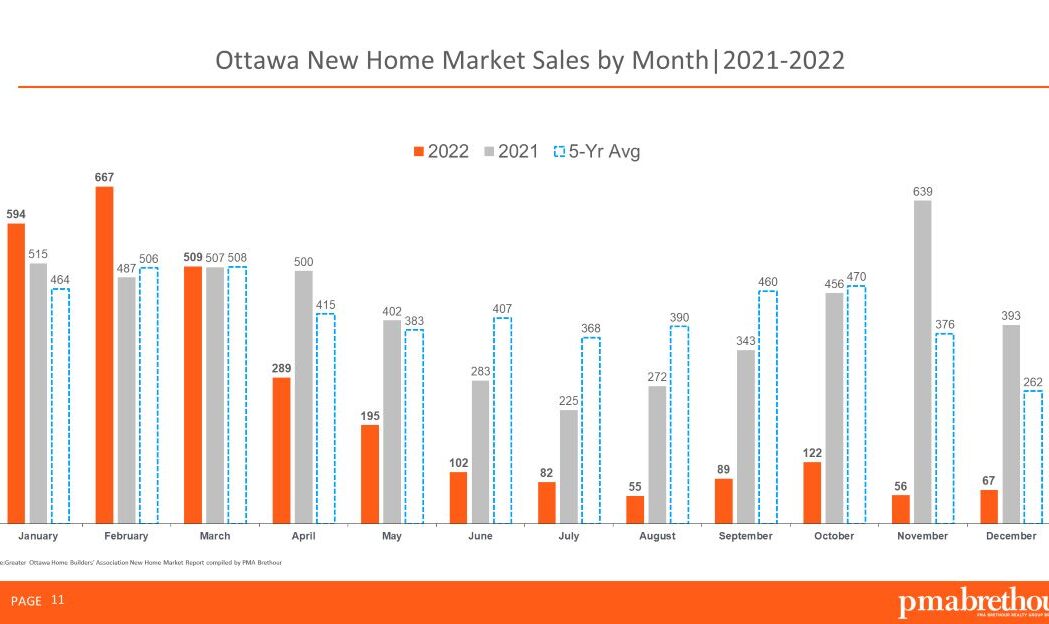 On the new-home side, 2022 saw a gangbuster first quarter. But what goes up must come down, and collapse followed as "new-home sales virtually fell off the cliff." In November, for example, just 56 new homes were sold, a plunge of 92 per cent from 677 in February, the lowest number for that month since 1981.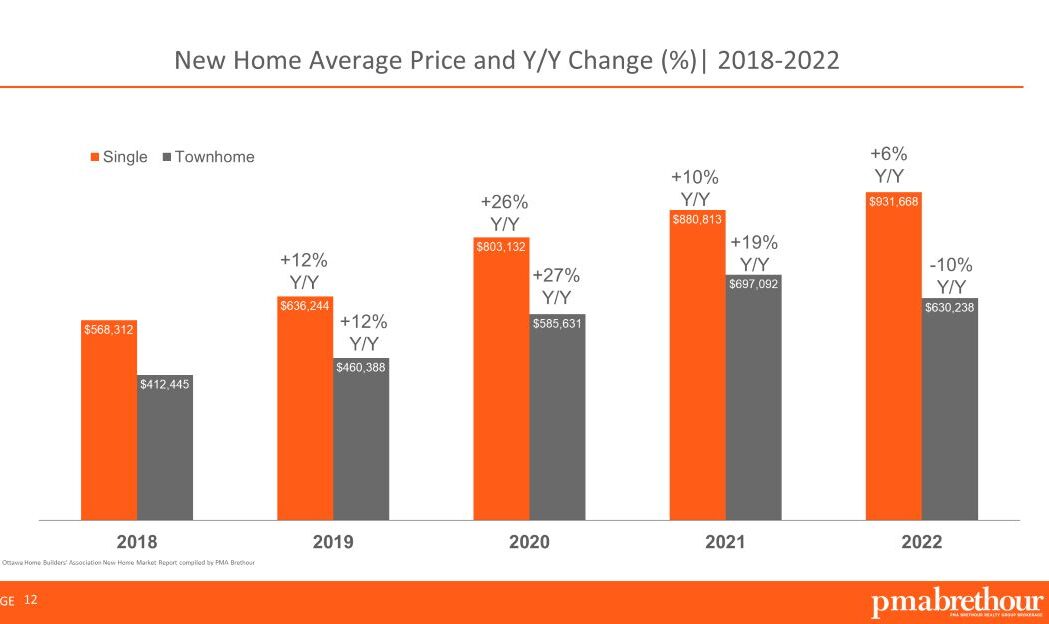 Total new-home sales for 2022 were 2,827, not even close to the 10-year average of 4,692. Prices in 2022 averaged $931,668 for singles and $630,238 for townhomes, up six per cent and down 10 per cent respectively from the previous year.
Not surprisingly, with prices that had soared during the previous couple of years — thanks in part to spiking materials prices and costly labour shortages, inflation chewing a hole in everyone's bank account and mortgage rates steadily increasing — less-expensive townhomes dominated Ottawa's new-home sales front in 2022.
Condos were in short supply, with investors and first-time buyers often snapping up what was available.
The south end of the city, with its many large developments like Riverside South, Pathways at Findlay Creek and Quinn's Pointe, continued to have the largest inventory and generate the greatest number of sales in the city, Rice said.
Builders, already struggling to complete all the homes they'd sold in the two previous years and facing the new market reality, held off on many planned launches in 2022 and, in the final quarter especially, began introducing buyer enticements, including major price reductions of as much as $100,000.
Those enticements don't appear to have yet taken hold. According to the latest PMA report, area builders sold just 166 homes in January compared to the five-year average of more than 400. Townhomes accounted for more than two-thirds of January's sales, and Mattamy led the sales numbers by a long shot (61 per cent) followed by Caivan and Minto Communities (12 and eight per cent, respectively).

Light on the horizon
The housing market, like all markets, is cyclical, and Rice's look-ahead to 2023 included rays of sunshine, even if they'll take a while to break through the gloom.
"Although we think the bulk of the correction is behind us, we need to be prepared for a bumpy ride in the first half of the year. So, let's call it more of the same. But the second half of the year looks more promising … Buyers are out there; they're just waiting … The pent-up demand is enormous."
On the resale front, Rice predicted "the floodgates will open, and we'll see a resale surge maybe as early as the last half of this year."
New-home sales generally lag resale trends, so builders should "expect 2023 will be another year of underperformance for the new-home market. We're predicting total sales very similar to 2022, around 3,000 homes."
She predicted townhomes and condos, which attract first-time buyers — the market most hard hit by high interest rates and prices — will be a tougher sell in the first part of the year, but singles — bought by move-up buyers and others with a bit more money — should do better.
On the plus side, new-home inventory, which spiralled downward as builders struggled to build all the homes they'd sold during the boom, is still low but should rise as new launches are finally announced.
She also pointed to Canada's high immigration levels, saying this is an opportunity for builders wanting to expand their portfolios with purpose-built apartments, which attract immigrants while they are establishing themselves in their new country.
In a pointed bit of advice to builders, Rice concluded by saying that, especially in the first quarter, "There are sales to be made. Give some wriggle room to your sales staff to negotiate with buyers at point of sale, offer incentives … Be creative … We're gonna be alright; we're gonna get through 2023."
More insights
David Coletto of Abacus Data and Jennifer Stewart of Syntax Strategic also offered insights into dealing with the 2023 housing market.
Coletto referenced a recent Abacus survey that found 46 per cent of Canadian respondents feel the national economy will shrink this year. The vast majority also expect food, energy, and housing prices and operating costs to increase along with interest rates.
Despite these concerns, the survey revealed a generally buoyant mindset in early 2023 compared to the anger, sadness and other negative feelings among respondents in early 2022.
Turning to the housing front, he said just over three-quarters of people under the age of 45 want to buy a home. "That dream of home ownership is not subsiding." At the same time, 45 per cent of those aspiring homeowners are pessimistic about achieving their dreams, while almost one-third remain optimistic.
Both builders and renovators should take to heart another finding: female respondents said they'd like to spend 65 per cent of their time on the job working from home, while men came in at 52 per cent. In both cases, that suggests the continuing importance of home offices.
Coletto also said "split brains" typify today's consumer. Confronted by inflation, they are eager to cut expenses at the same time they are looking for ways to achieve their dreams. In the housing market, he said that means builder representatives need to "make a connection" with prospective buyers so they can help them realize those dreams.
Jennifer Stewart made a powerful case for understanding communications as an integral part of a corporation's strategy rather than being relegated to, for example, the occasional press release or a billboard ad that is of no relevance to the vast majority of people driving by it every morning.
Instead, said Stewart, companies should focus on building trust-based relationships with potential buyers and maximize their targeted digital footprint so they are "talking to people who want to be talked to."