Editor's note: Briggs Trees is closed in 2022 as they continue to clean up after this spring's derecho but will reopen in 2023.
Bringing home and trimming a real Christmas tree costs little but pays off big time during the festive season.
Sure, artificial trees have their fans and may be cheaper in the long run because they typically last 10 years or more. But they can be environmentally harmful and won't give you the uplifting dopamine rush that the lovely scent of a real tree does, according to a CBC Radio program. And they don't hold a candle to the rich greenery or the feel of a living tree that's spent seven or eight years thriving in good Canadian soil.
"It's one of the venerable traditions of going out and getting the Christmas tree," says Robin Briggs, co-owner of Briggs Trees, a cut-your-own Christmas tree farm near Navan. "If you're raised with the smell of a real Christmas tree, that's what you want."
Whether you decide to make a family outing to a tree farm or just head off to the local lot, you'll have choices galore.
The tree farm experience
The Christmas Tree Farmers of Ontario list 10 cut-your-own operations in the immediate Ottawa area.
They include spreads like Briggs's 100-acre farm, where you hike in and hunt down the perfect tree. Others, like Thomas Tree Farm near North Gower, include wagon and sleigh rides as part of the experience.
The hot chocolate and other goodies traditionally offered at some Christmas tree farms may be non-existent this year because of the pandemic, but the farms will likely still sell decorations like handmade wreaths and have pre-cut trees on site.
Speaking of COVID, make sure you check farms' websites or call ahead to see what kinds of restrictions may be in place this year.
Prices vary at Christmas tree farms, sometimes depending on the kind of tree, but you can expect to spend roughly $60 and up for a six-footer if you cut it yourself. Pre-lit artificial trees sold in stores start at under $100 and can run to several hundred dollars.
Thomas says that while he sells more aroma-rich Balsam fir than anything else, spruce is definitely the second most popular tree. "It has very stiff branches, so it holds heavy ornaments well."
If you plan to visit a tree farm this season, here's what you should know.
Buying a real Christmas tree at a lot
You can find real Christmas trees at Home Depot and other spots but Ikea is not selling live trees this year because of the shortage.
They are not as fresh as a cut-your-own but trees from a lot are generally in good shape, according to Thomas. "If the trees on lots didn't hold their needles, you'd hear an outcry, and you don't."
Still, you should check for freshness. To do this, lightly grip a branch with your thumb and forefinger about six inches from the tip. Pull your hand toward you, allowing the branch to slip through your grip. Needles should not fall into your hand.
The tree should also have a rich, green colour and a fresh fragrance.
Here are more tips on choosing a tree from a lot.
Caring for your real Christmas tree
If you're not putting the tree up right away, store it in a cool place sheltered from the drying effects of wind and sun.
Ideally, put the trunk in a bucket of water. Unless the tree has been cut in the last hour or so, the base will have sealed over, so you'll need to cut an inch off the bottom to allow absorption of water.
Cut an inch off the base before bringing it into the house, even if you've had it stored in water.
Trees are thirsty, especially in the first few hours after being brought indoors, so make sure your stand holds at least four litres of water and check the level daily.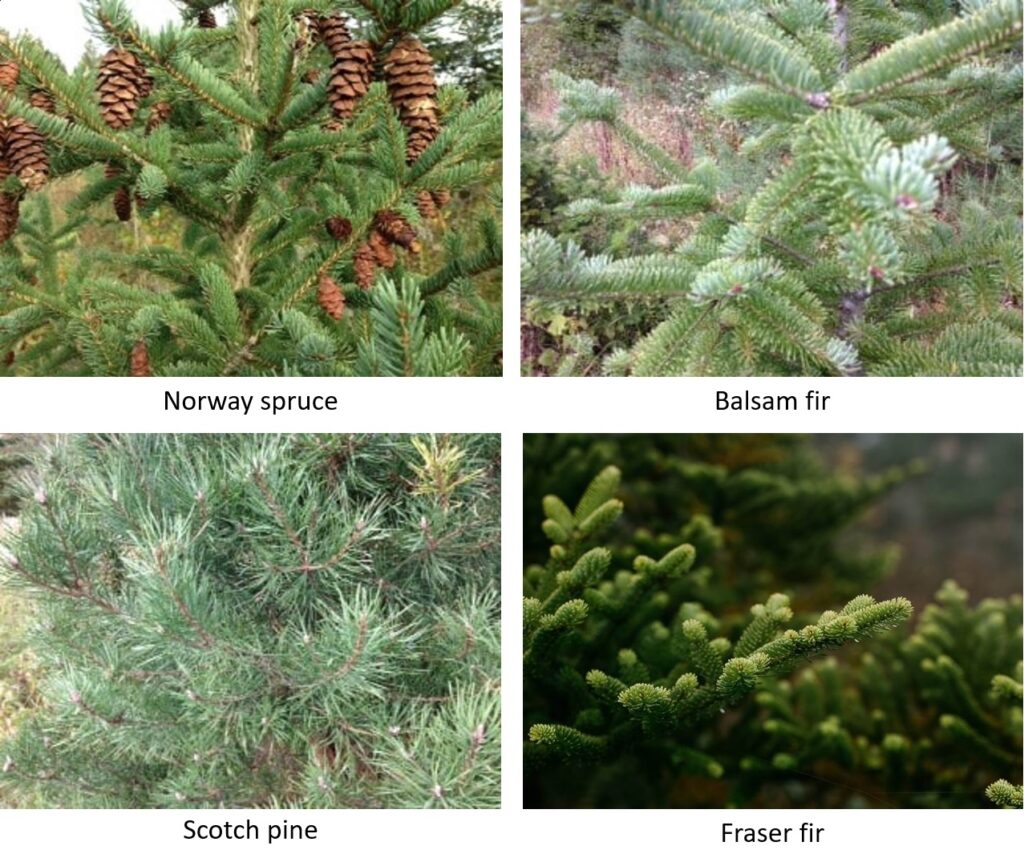 "Balsam and spruce lose their needles first, a Fraser fir holds them the longest, and a Scotch pine is somewhere in between," says Briggs.
To reduce drying and the very real hazard of fire, place the tree away from radiators, sunny windows, televisions and other sources of heat. And don't forget to unplug the lights if you leave the room for an extended period.
Take care of your tree, and it should last 10 days to 2 weeks.
More tips on tree care.
When the holidays are over
The easiest way of getting the tree out of your home is to trim off the long, lower branches while it's still in the stand. Then it's just a matter of wrapping the tree in an old sheet or piece of plastic so you don't leave needles scattered all through your home as you take the tree out.
The City of Ottawa picks up Christmas trees as part of its weekly garbage collection. Make sure you check restrictions.
Even better, you can set the tree in your backyard as a shelter and feeding station for birds. Here's how to do it plus more tips on recycling.
Originally published Dec. 7, 2017