Relaxation seems more elusive than ever these days, but unwinding is exactly what the 2020 People's Choice winner is all about. The prestigious award is part of the annual Housing Design Awards organized by the Greater Ottawa Home Builders' Association, and this year it went to a white, totally chill ensuite by Greenmark Builders.
A highlight of a Greenmark custom home in south-end Ottawa, the ensuite is not only an exquisitely designed and executed space, it also represents the third Ottawa Citizen People's Choice Award in six years for Greenmark.
"I was blown away," says company owner Mark Kranenburg. "It's a combination of the work and how we interact with our clients and with people in general."
Like others, he watched this year's awards ceremony online because of the pandemic.
The People's Choice winner is determined by the general public, who vote for both finalists — 16 this year — and the winner. Normally, votes are cast over several weeks online and at the Ottawa Fall Home Show. This year, the pandemic meant voting happened exclusively online, with over 9,300 ballots cast.
"The People's Choice Award is popular because it gives the public the chance to reflect on what's important to them in terms of the space they are living in," says Jason Burggraaf, executive director of the home builders' association. "We all have a number of things we'd like to improve in our homes, but we can't do all of them at once. So this award reflects the reality of having to narrow down to that one project."
Letting off some steam
This year's award winner was created for an empty-nest couple with a high-paced lifestyle, says Kranenburg. The ensuite is the "let-some-steam-off room."
The whole home is dark-toned and with striking features like dual-coloured brickwork. The ensuite is the only white space, he says. His clients "wanted that room to be simple compared to the rest of the house. They showed us a bunch of pictures from Pinterest and I said, 'Why don't we make something that people will copy us on?' As soon as I said that, they got excited."
The excitement paid off. About 120 square feet, the ensuite features a generous shower with a commanding rain showerhead and triple body massaging jets for decompressing at day's end. The sculpted white soaker tub looks like it stepped out of a Victorian painting, and both it and the shower are on a raised platform with LED lights around the platform's base. Above, the ceiling has a dropped section that's a mirror image of the platform, also with LED lighting.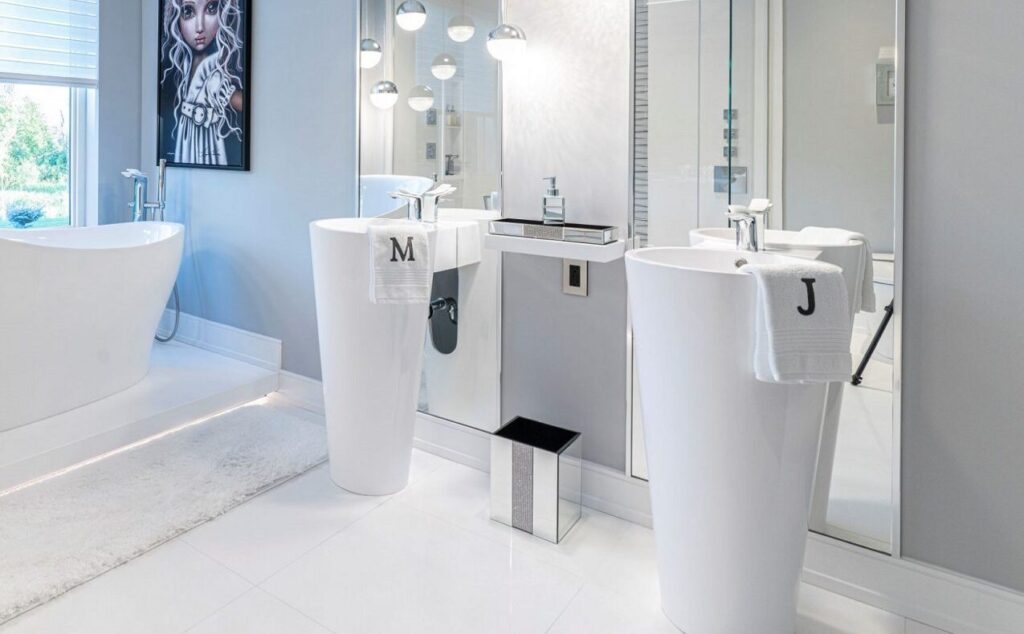 There are two sweeping white pedestal sinks with floor-to-ceiling mirrors behind them, and the room enjoys an abundance of natural light thanks to two tall, side-by-side windows behind the free-standing tub. Pendant lights, at once elegant and playful, add to the room's brightness.
Appearing even larger than it is thanks to the white finishes, glass and mirrors, the ensuite also blends linearity with soft, round shapes in delightfully harmonious fashion.
White and bright
The ensuite, which was also a finalist in the intensely competitive custom bathroom category at this year's Housing Design Awards, is "an important room in the house," says homeowner Janice Poole. "I wanted a white room… (it's) bright, fresh, clean, different because the rest of my house is really dark colours, so when you walk into that room it's, 'There's a white room!' For that reason, I like the impact of it."
For her and her husband, Mike Poole, the entire, distinctive home "became everything we never had, and we dared to do it." The home's oasis-like backyard – with a covered eating and conversation area, a wet bar, a waterfall and a pool – was a finalist in the awards' exterior living space category: not surprising, perhaps, since Greenmark's 2019 People's Choice Award was for a sumptuous backyard it created with Rinox Signature in Greely.
However, when it came to the ensuite, Poole wasn't happy with the original design, which Greenmark did not create. That plan called for a traditional design with cabinetry beneath the sinks. "I went, 'No, no! It's just not it!' So we went to the single-pedestal sinks. It's clean and not cluttered and we can be in there together and not be bumping into each other."
Poole enthuses about the entire ensuite, from the large windows with a view of trees beyond to the grandeur of the shower. Her favourite feature, however, is the lighting and design. With the pendant lights dimmed and the platform and ceiling LEDs glowing, "it all adds to the relaxation of your bath."