Are you a fan of shiplap? By the many examples of its use in the Ottawa design scene, it's a popular choice here.
From builder model homes to custom projects to lottery dream homes, our love affair with shiplap shows no signs of fading, at least not yet.
What is shiplap?
As its name suggests, shiplap's origins can be found in shipbuilding.
"Shiplap panelling takes its name from the horizontal planks once used to construct boats," says celebrity handyman Bob Vila in a blog post. "Thanks to the grooves cut into the top and bottom of the boards, builders could fit shiplap panels tightly together to keep out the water."
That application eventually migrated to home exteriors to block out the wind. And prior to 1930, before drywall became the norm, it was used to cover walls to create a flat surface before plaster or wallpaper was applied, says Ottawa designer Tanya Collins, who has used it recently in more than one Minto dream home in the CHEO Dream of a Lifetime lottery.
The Joanna effect
View this post on Instagram
Although it's been around as a design feature for some time, shiplap's more recent resurgence in popularity can be attributed in large part to self-taught designer and HGTV celebrity Joanna Gaines, whose Fixer Upper renovation show with her husband, Chip, often used the material she loved.
According to House Beautiful, a Google Trends history of "shiplap" as a search term was low before the show began airing in 2013. "But once the show found its footing (and fan base) in 2014, it began climbing."
Although the show ended in 2018, our own history search of the term shows it's still growing in Ontario, even spiking early last year.
Add in the general trend toward a modern farmhouse style that's been popular in Ottawa in recent years, and shiplap becomes a natural fit. It's a versatile material that creates warmth, texture and a relaxed and cosy space. Plus, there are inexpensive options that give the look of shiplap while keeping the budget in check.
Dreaming of shiplap
For Collins, shiplap was a natural choice in three of the four dream homes she has styled. "They were all used in different ways and to achieve different results," she says. "In these applications, all of them have timeless appeal and were used intentionally as part of an overall design concept."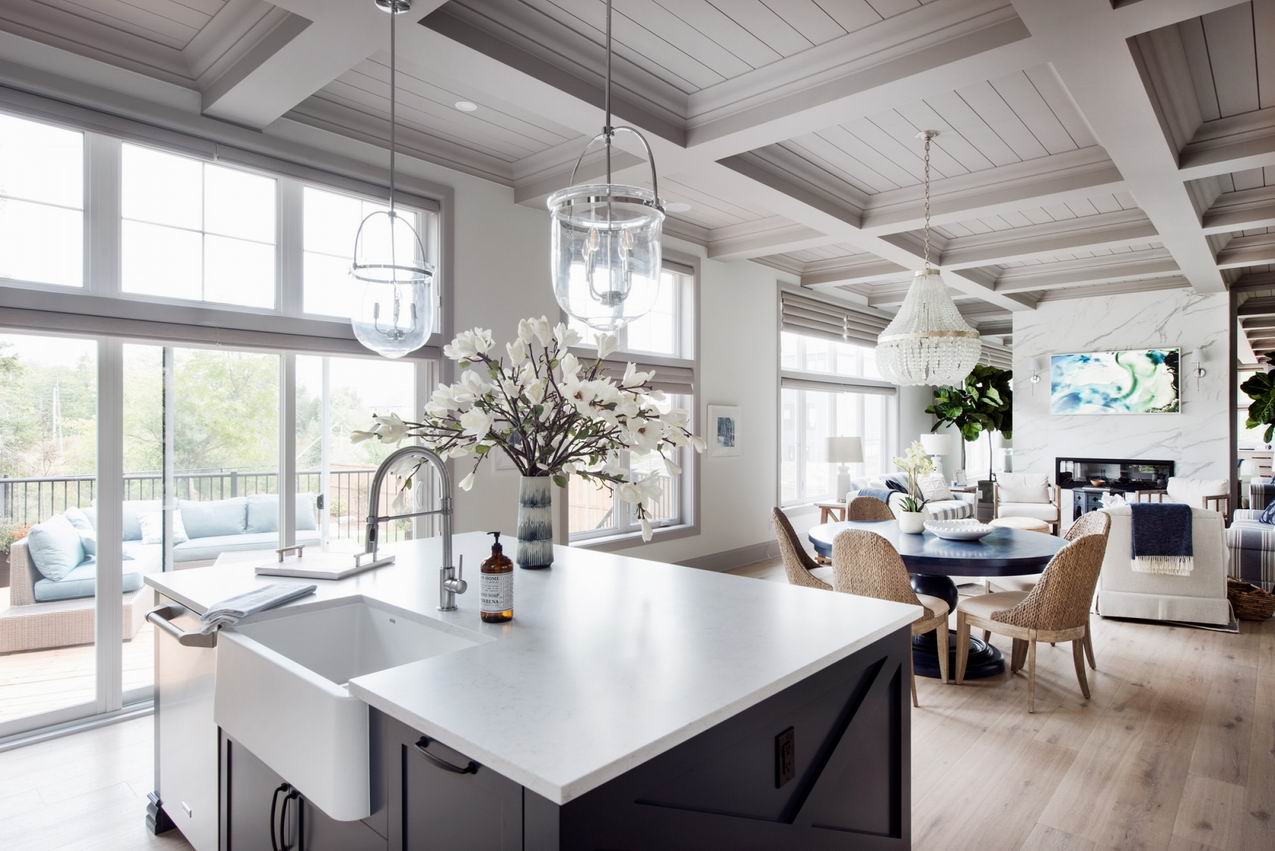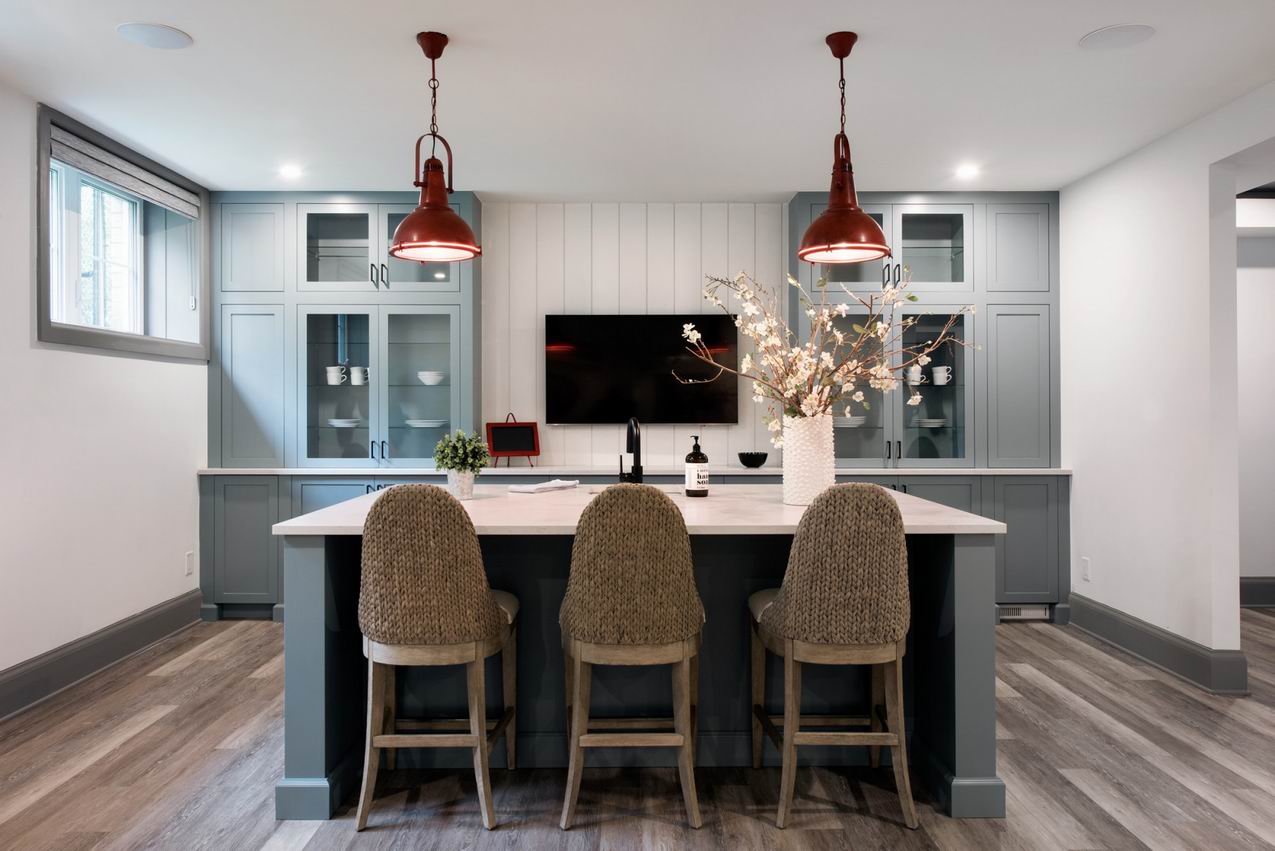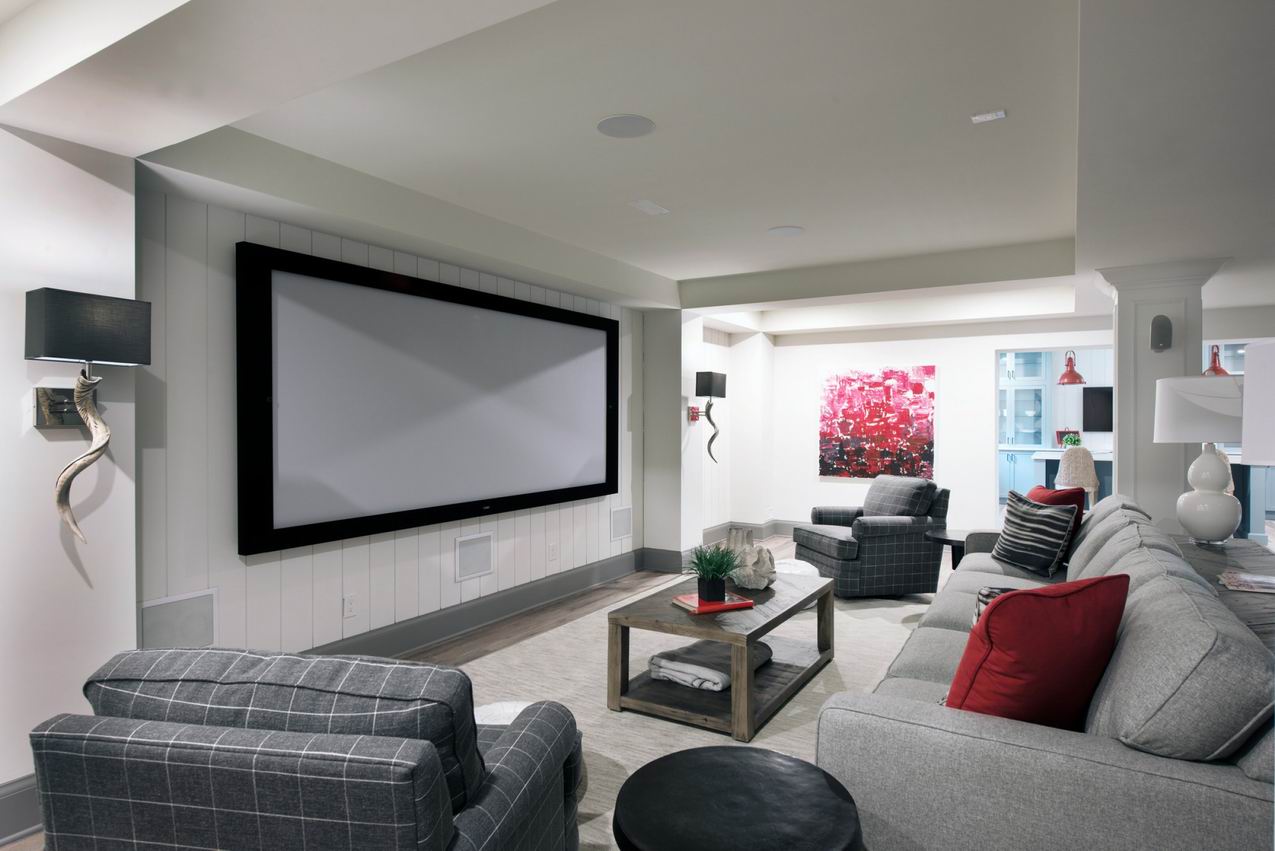 In the Minto 2019 dream home, the Hampton, she used shiplap "as it is classically found in east-coast, beach-style summer homes when painted a crisp white." It's installed vertically to add interior architecture to the walls and to make the ceilings appear taller, she says.
In this case, she used MDF (medium-density fibreboard) painted shiplap "to create the effect of authentic tongue-and-groove painted wood while keeping the budget in check."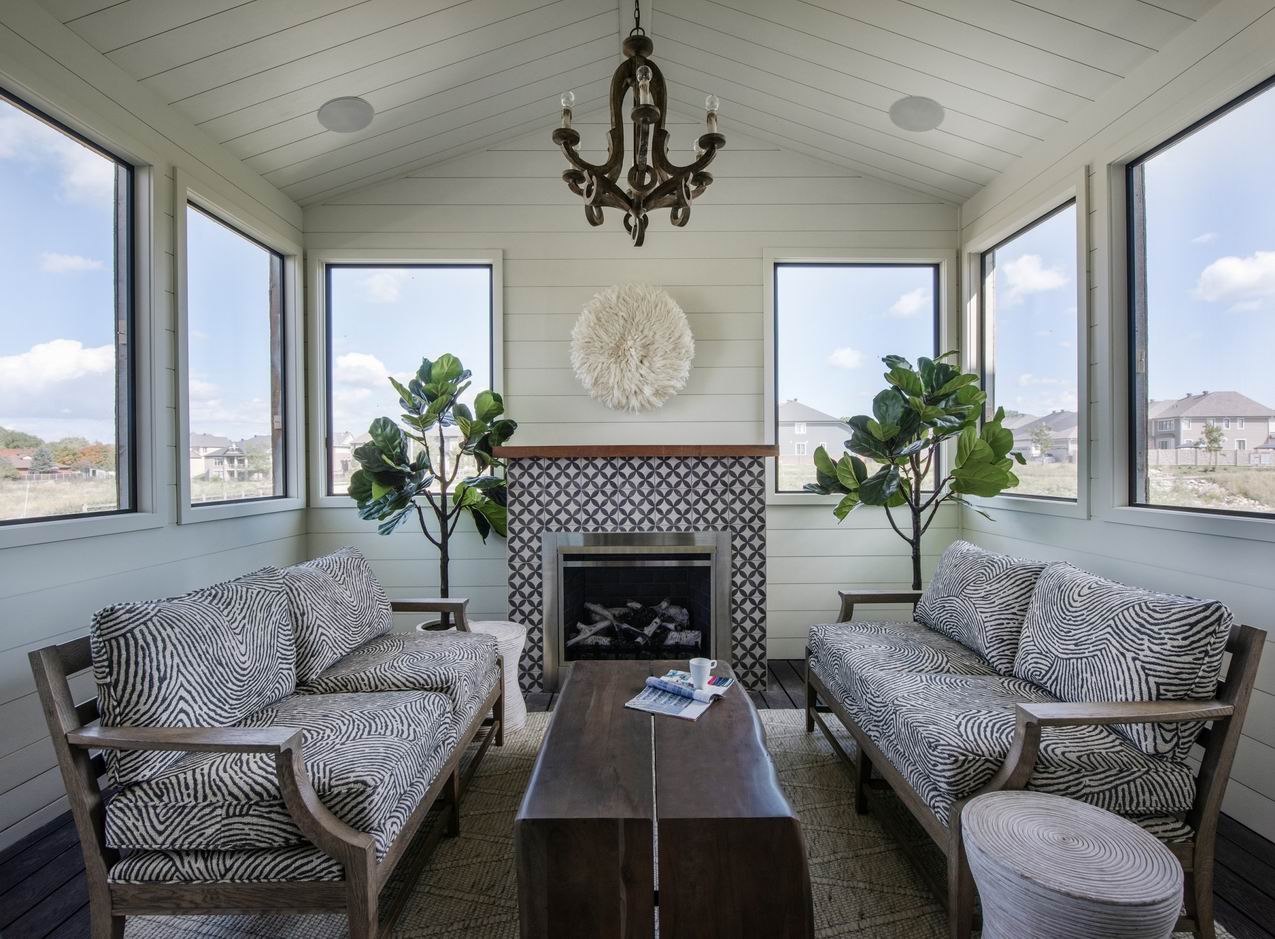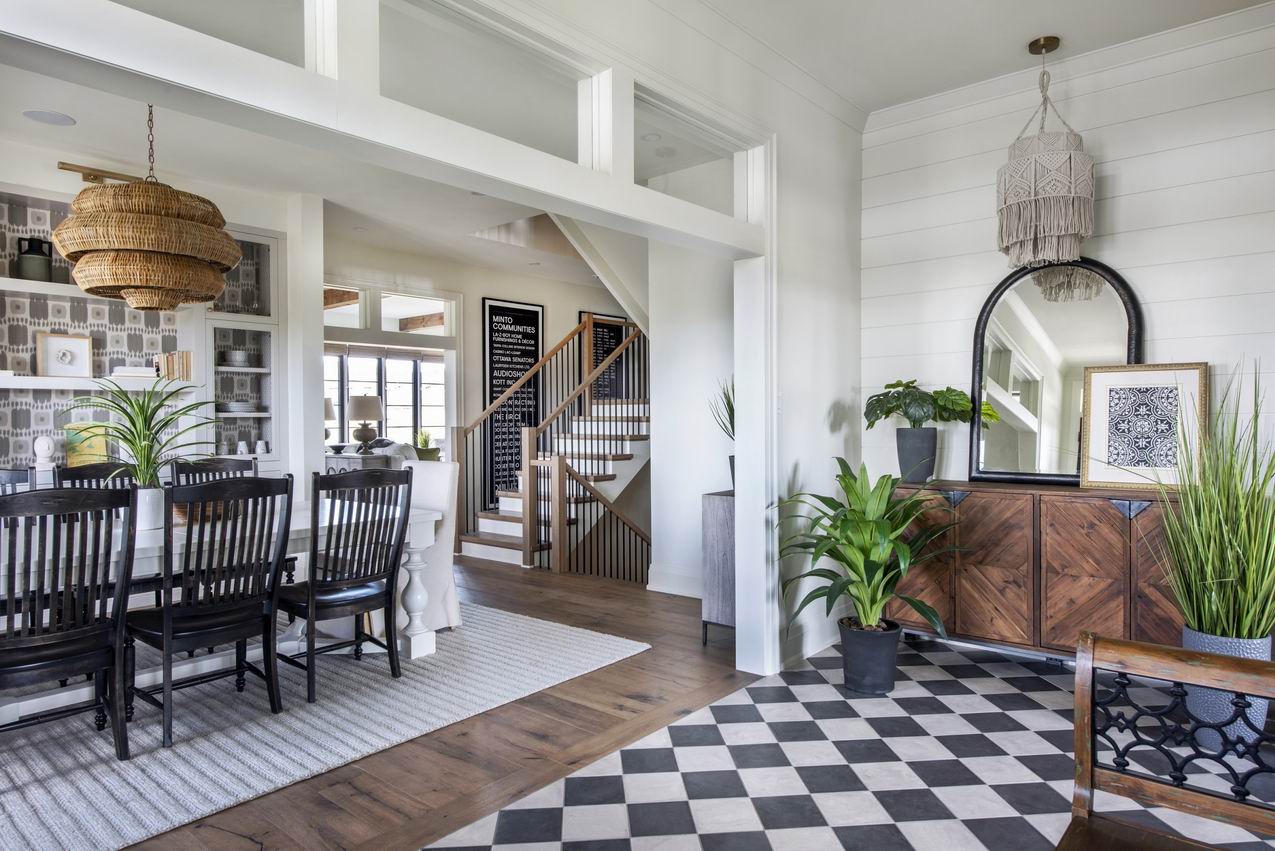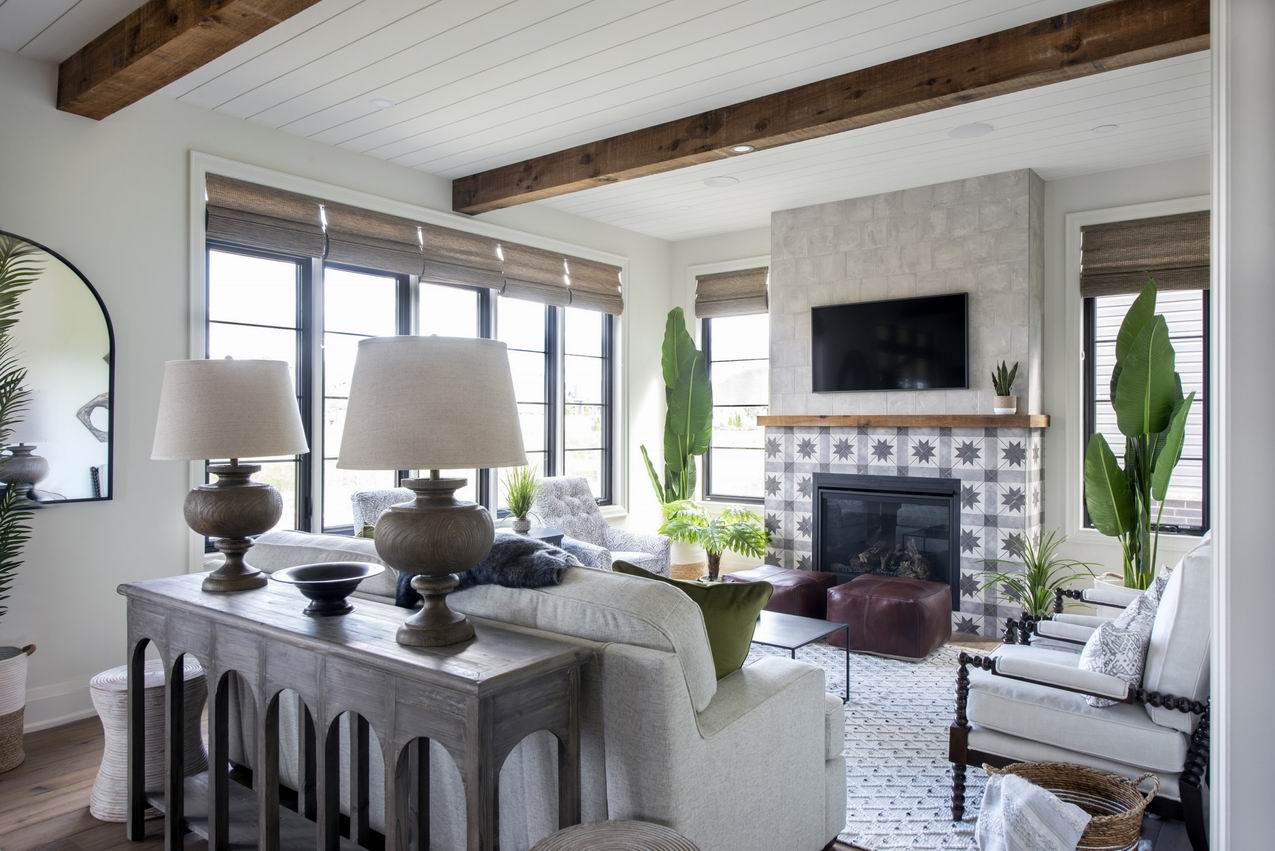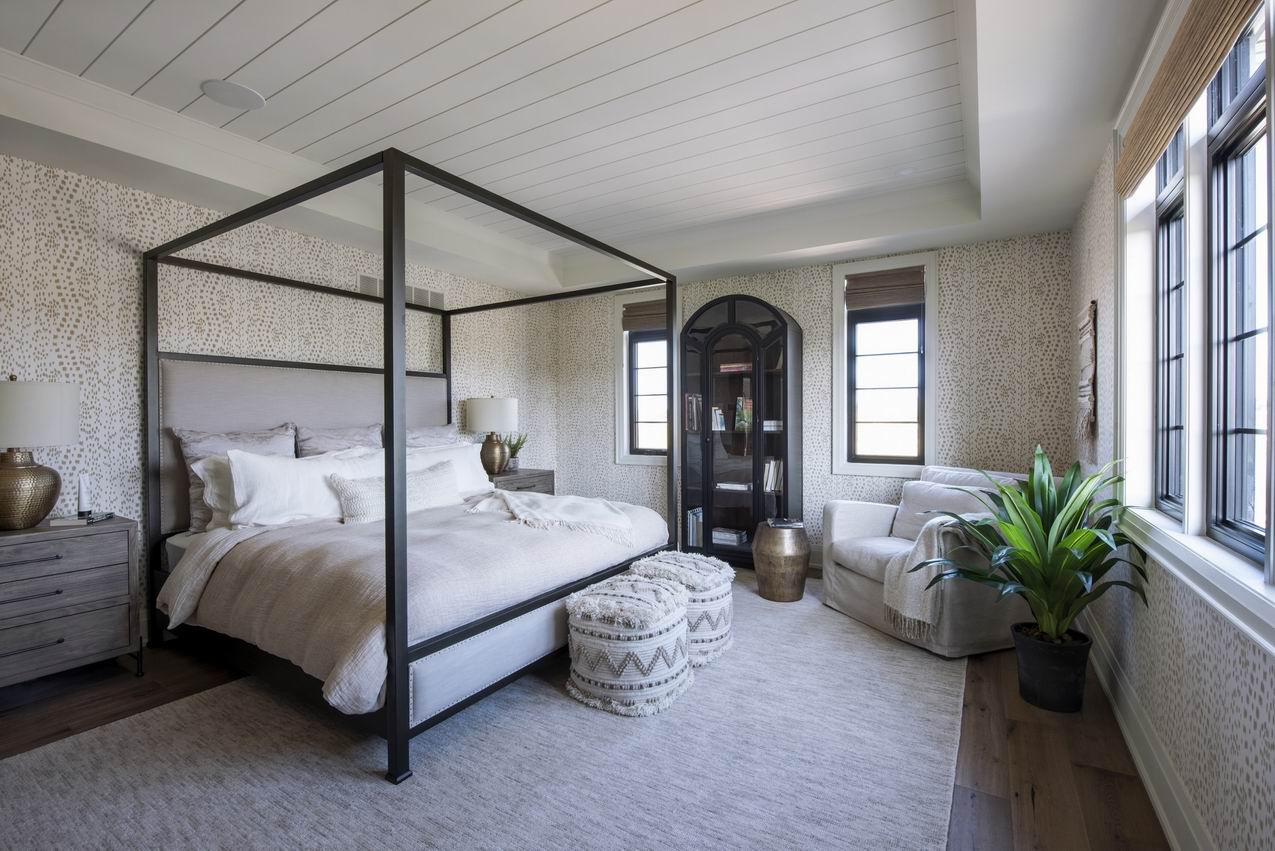 In the 2020 dream home, the Bohemian, she opted for a different application. "In this case, my global decor inspirations were layered onto what I created to be a more rustic, old-world interior architectural shell," she says.
"Not only was the shiplap applied on the horizontal to walls and ceilings as was typical (100 years ago), I used it to correct the proportions of the narrow spaces by making them appear wider than they actually were." Again, she used MDF shiplap for an authentic tongue-and-groove look without the cost, painting it a creamy vanilla.
And in the 2021 dream home, where she sought a mid-century modern, Scandinavian-inspired interior, she only used shiplap on the ceiling in the kitchen. However, this time she used wood instead of painted MDF.
"Wooden shiplap added the essential organic warm finish element, which is a hallmark of mid-century modern design."
If you're thinking of using shiplap, she cautions that you need "to take into account the formality of your home, the style you are wishing to create, and the interior architecture of your home/space."
Getting inspired
Here are 10 other examples of shiplap (or at least the look of shiplap) used in Ottawa homes recently.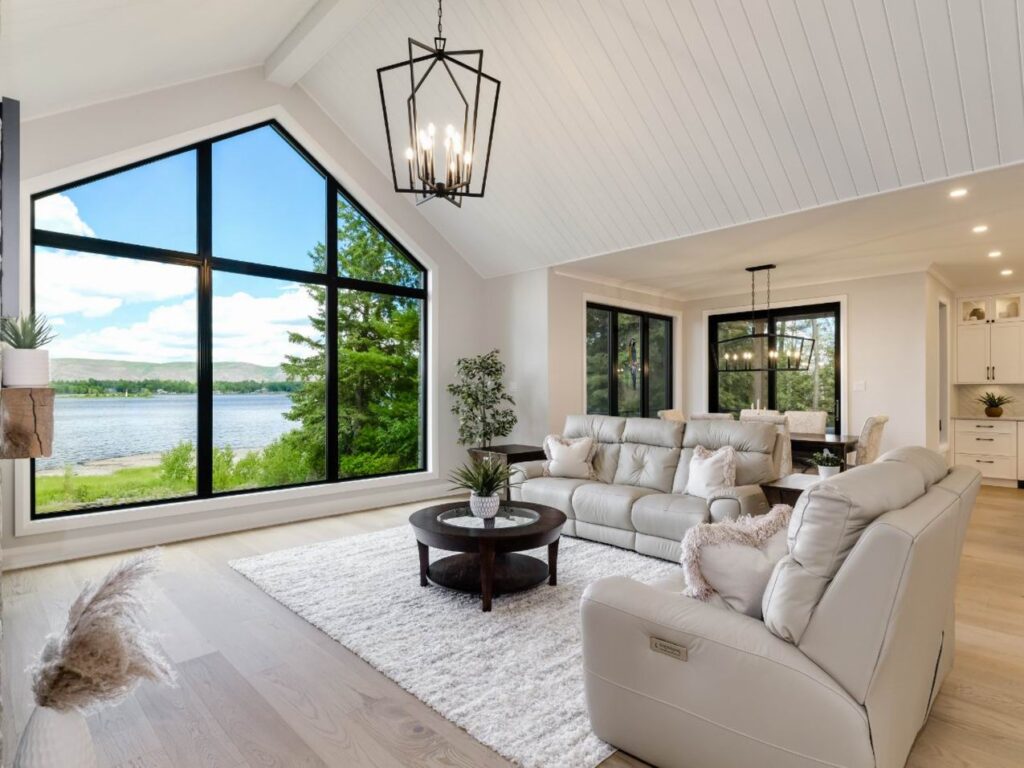 Vaulted ceilings are a popular choice for shiplap, particularly when it's painted white, like this custom home by OakWood. This kind of application adds depth, character and warmth in a subtle way without detracting from the room's main focus, which is the angled picture window showing off the waterfront view.
The project was a finalist in the 2021 Housing Design Awards.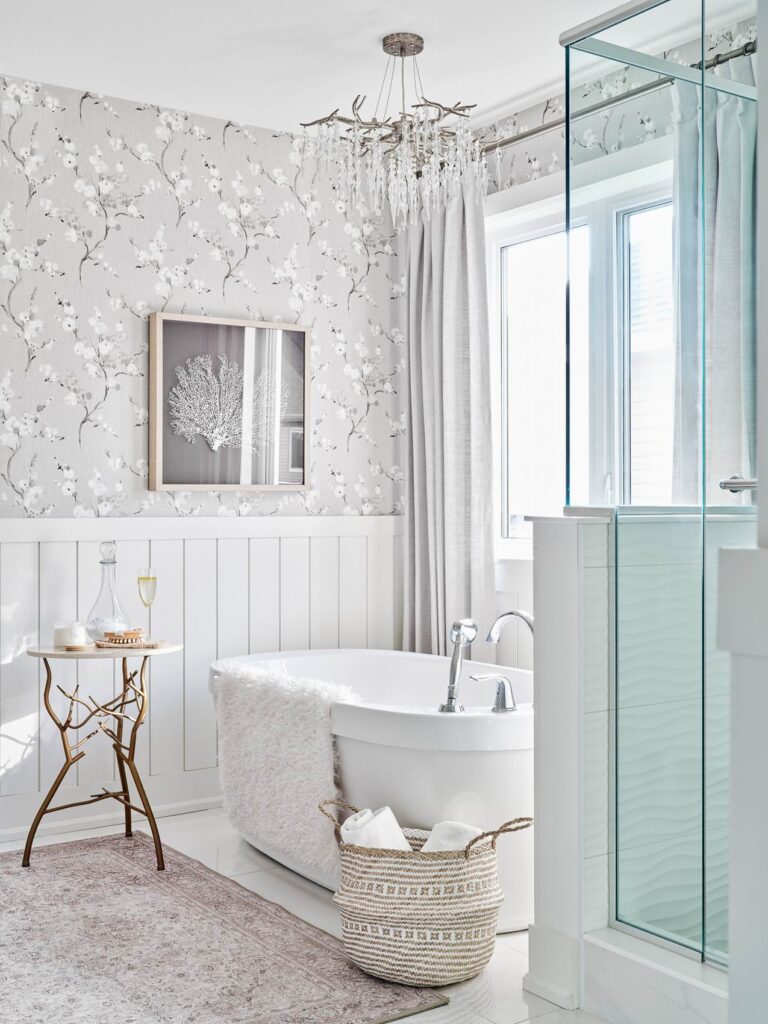 Warm, feminine and dreamy, this ensuite by Sonya Kinkade Design for Tamarack Homes was also a finalist in the awards. Here, the shiplap look is used as vertical wainscoting to evoke a sense of the past and add to the traditionally classic room.
"I wanted to create a lush retreat for a busy mom — a place to pamper herself," Kinkade says in her entry submission.
This stunning award-winner is a Muskoka home designed by Muskoka Lumber and built by North Point Custom Homes, with interiors by Ottawa's West of Main.
"It has such an interesting architectural design to it," says West of Main owner Sascha Lafleur. "It's still very natural in its esthetic but the vaulted ceilings and the way that the windows and everything are framed out to the exterior, and the fact that with the ceiling heights and the combination of the white shiplap and the wood beams it still feels really warm and cosy."
The project won a 2020 International Design and Architecture Award.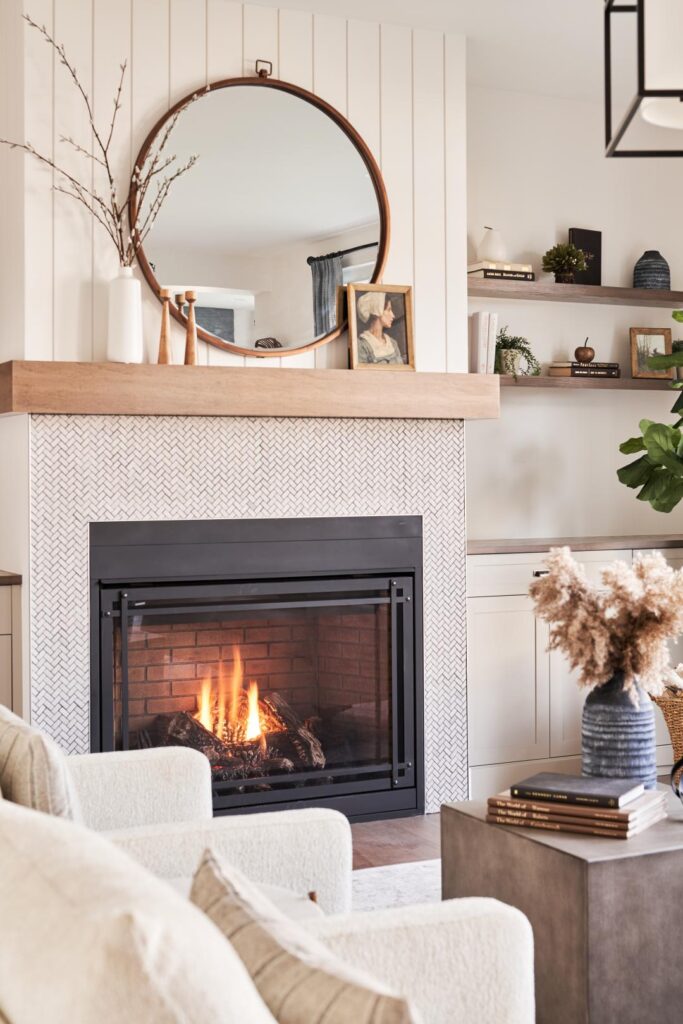 Another Tamarack model home by Kinkade, the St. James, is designed in what she refers to as "modern farmhouse kind of meets European style."
It features soft tones, accents of shiplap (but not too much) and wall panelling, and a quiet sophistication. The small touch of shiplap above the fireplace adds interest, something that's also repeated in the home's dining room.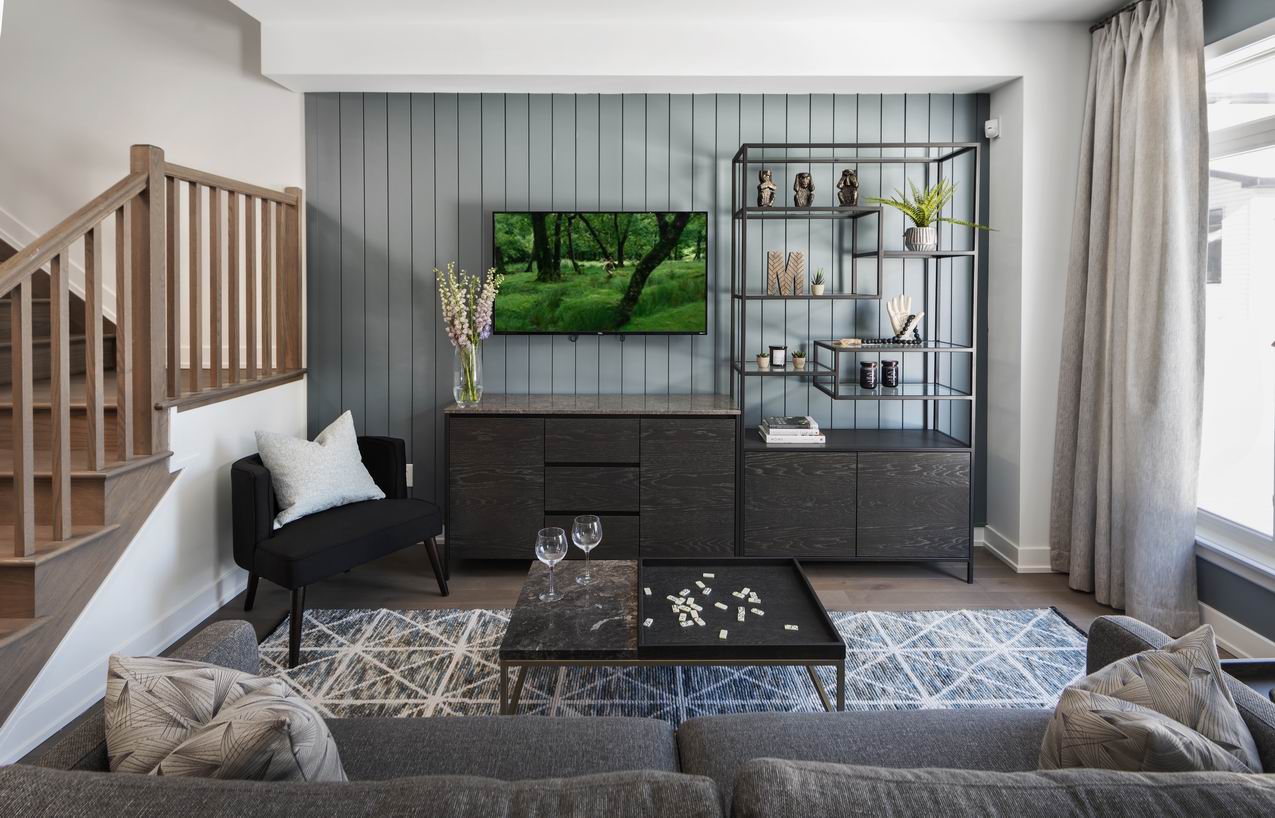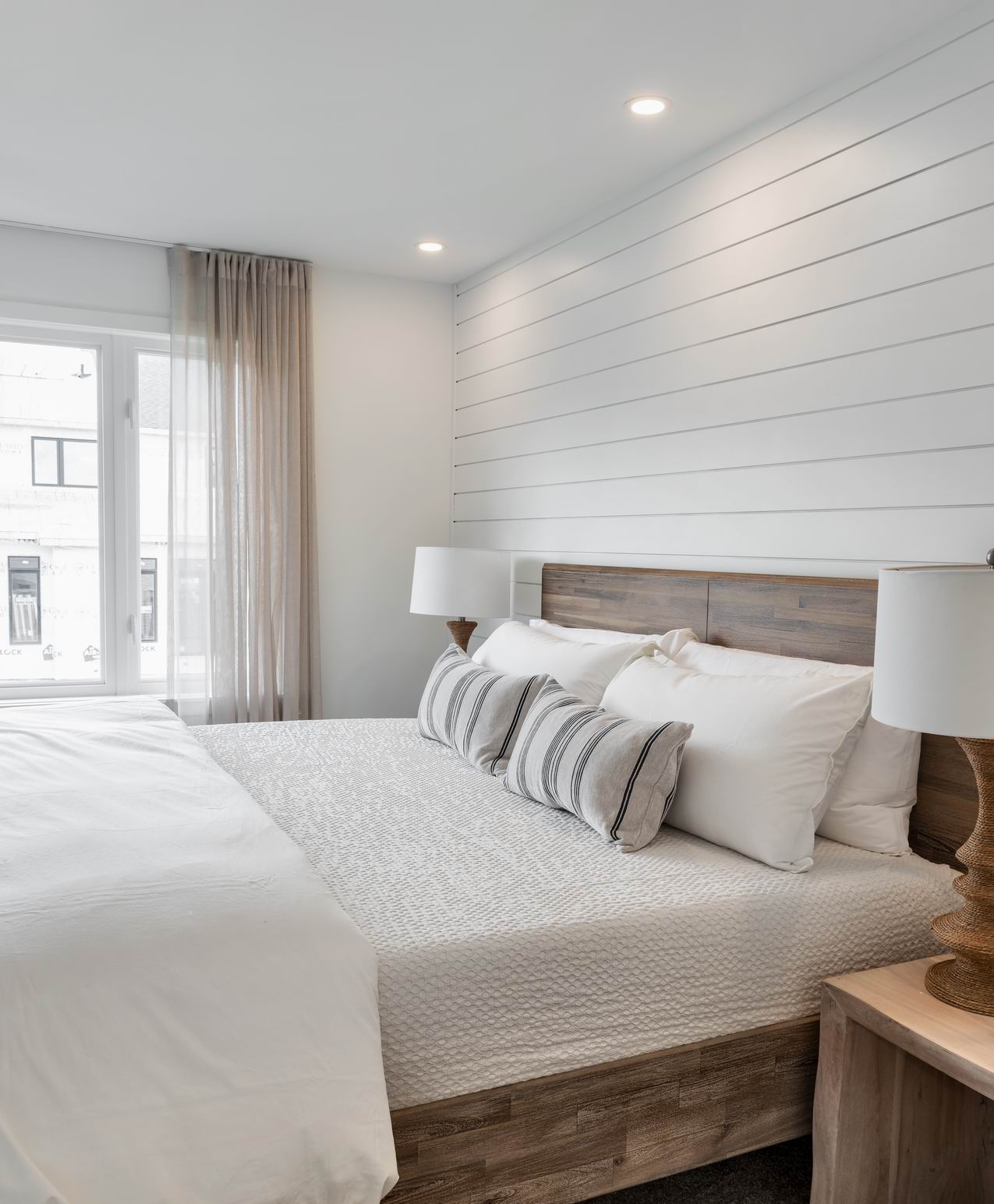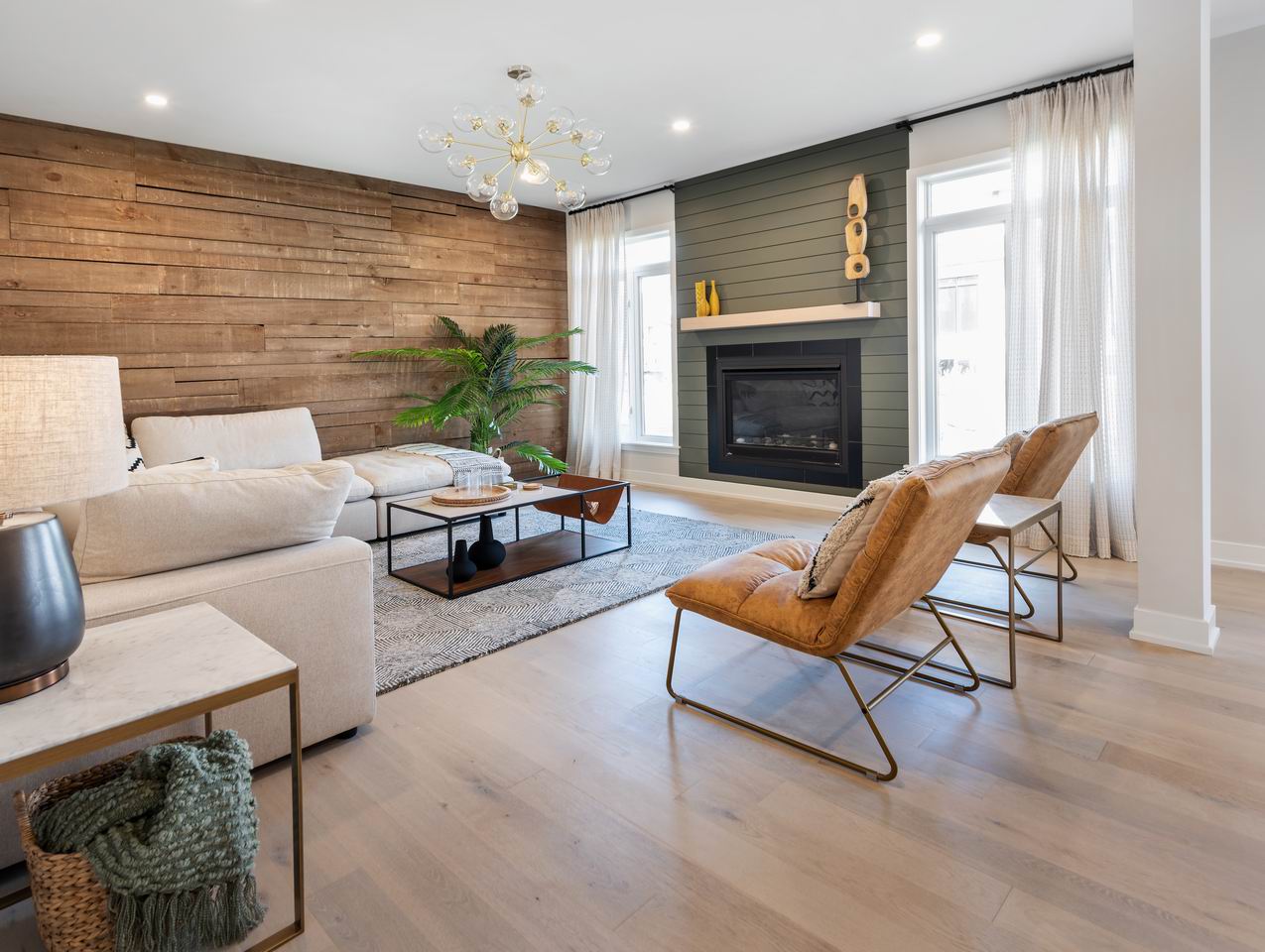 Claridge Homes has used the shiplap look in a few of its model homes at Lilythorne. In the award-winning Oliver, it's painted in a contrasting colour to create a rich accent wall. In the Aubrey, it's a subtly textured complement to the earthy headboard. And in the Kawartha, it anchors the fireplace, providing an alternate to the rough wood slats on the wall beside it.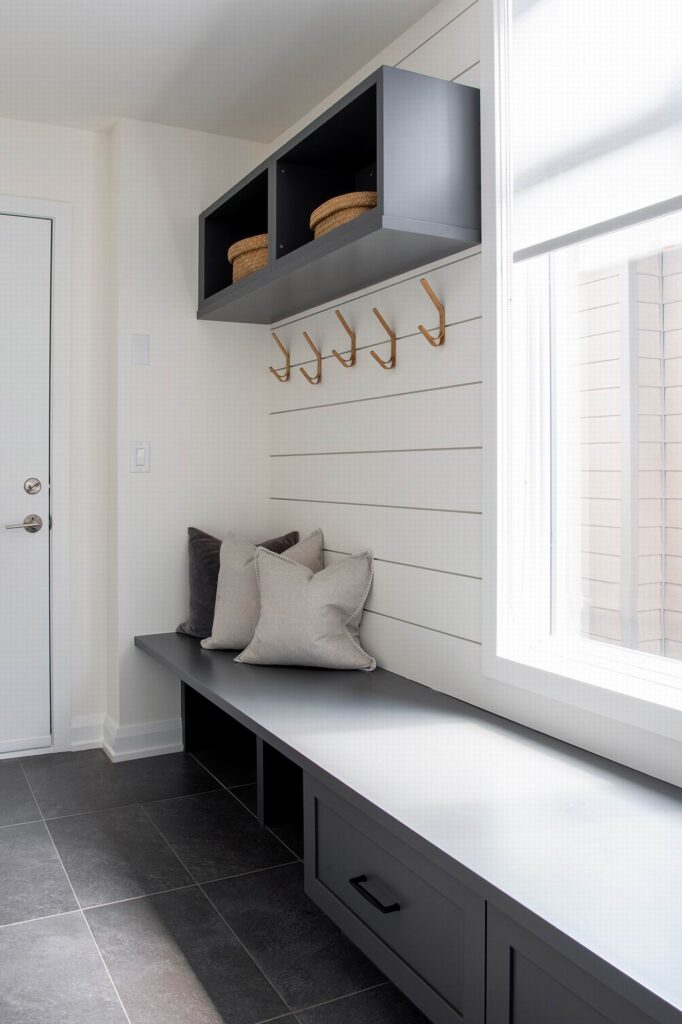 At Uniform Urban Development's Hillcrest model at Richardson Ridge, shiplap adds visual interest in the mudroom, showing that even a utilitarian space can enjoy a bit of attention.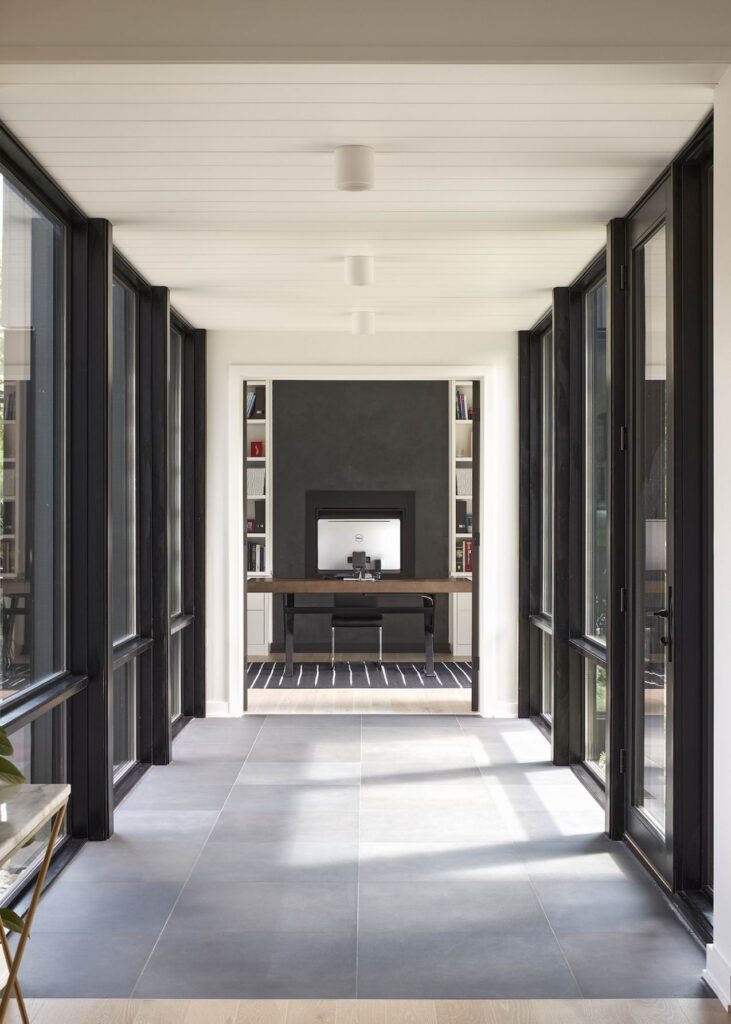 A custom home project by Roca Homes dubbed "the exploded farm house" shows another ceiling application in the glass-framed corridor that connects the main building to the home office, which was conceived as a separate "pod" from the rest of the home.
The aim was to use subtle finishes and contrast in textures, including oversized black slate tiles in the corridor with a shiplap-clad ceiling for a restrained palette.
The project was a winner at the 2021 Housing Design Awards.
The award-winning Oliver model by eQ Homes is a farmhouse design by Rosaline J. Hill Architect and West of Main that uses a couple examples of shiplap, including on the vaulted master bedroom ceiling.
In this space it's combined with wallpaper, a beaded chandelier and layers of linen to all add texture. The home was both a local and national winner.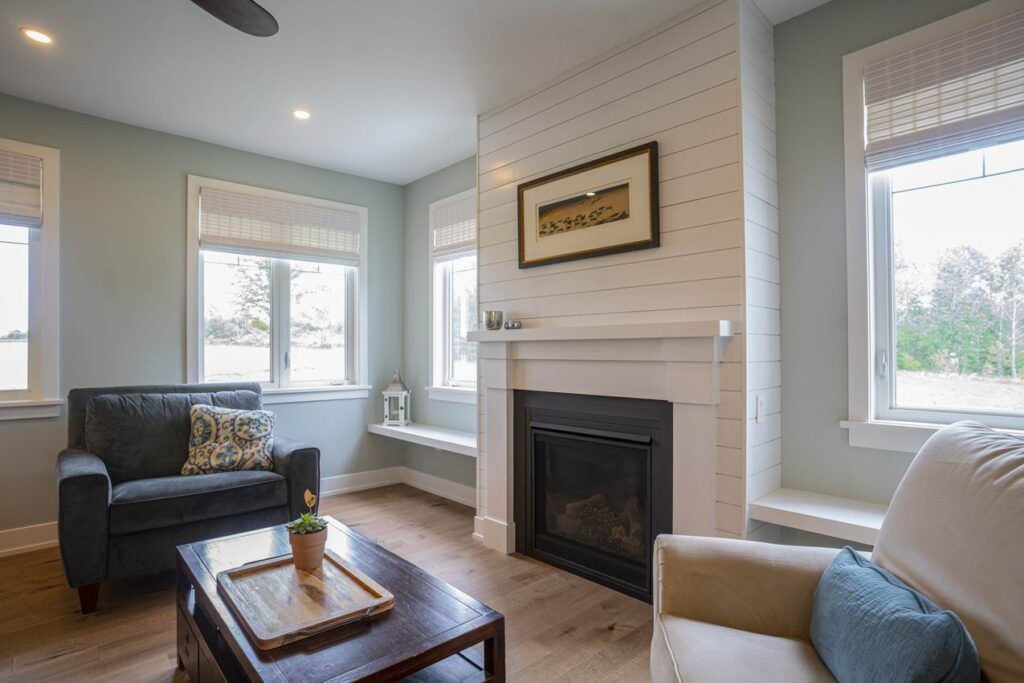 A custom home project by Greenmark Builders uses shiplap for the fireplace façade in another example of how well it pairs with a combined coastal/farmhouse look. The feature is complemented throughout and replicated in custom barn doors for the bedroom.
Interestingly, this space is part of a home-within-a-home floor plan and designed as the secondary unit.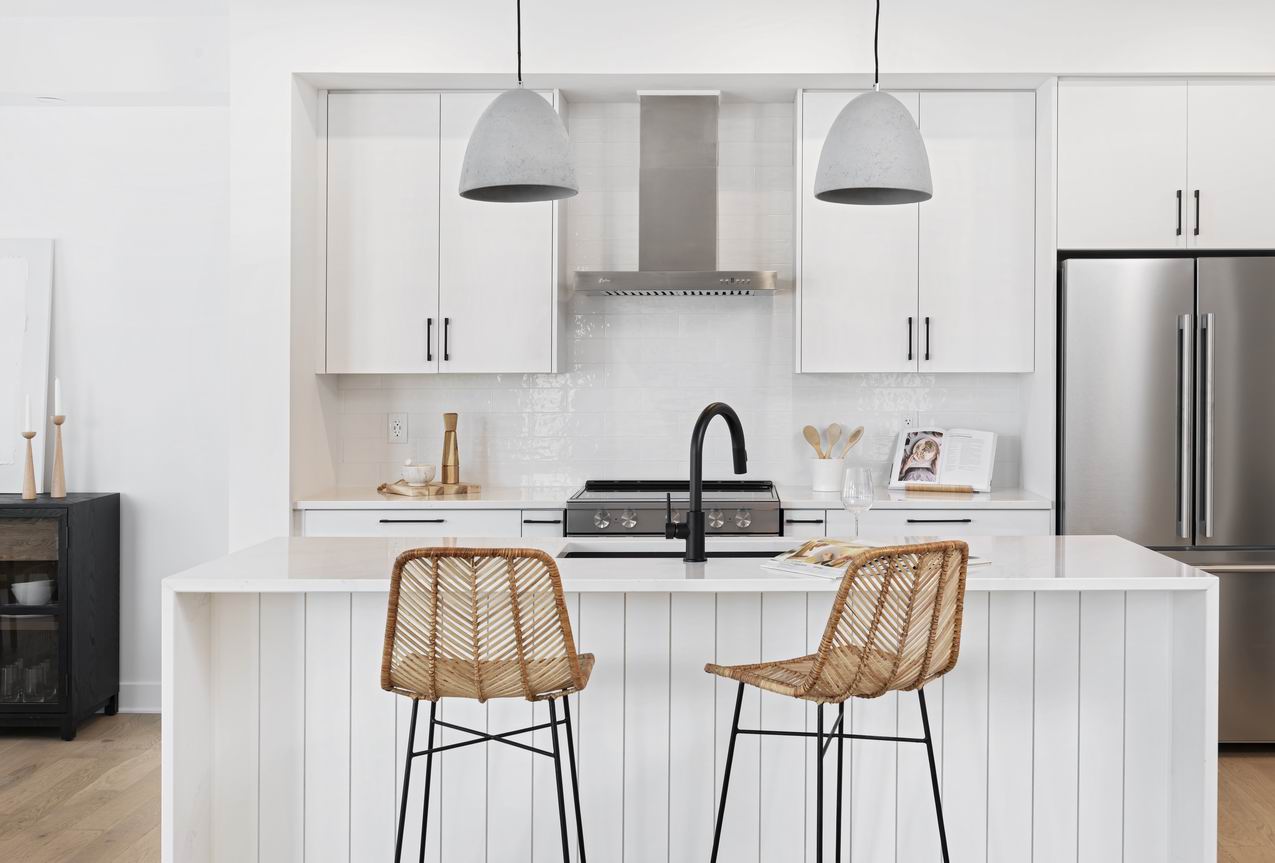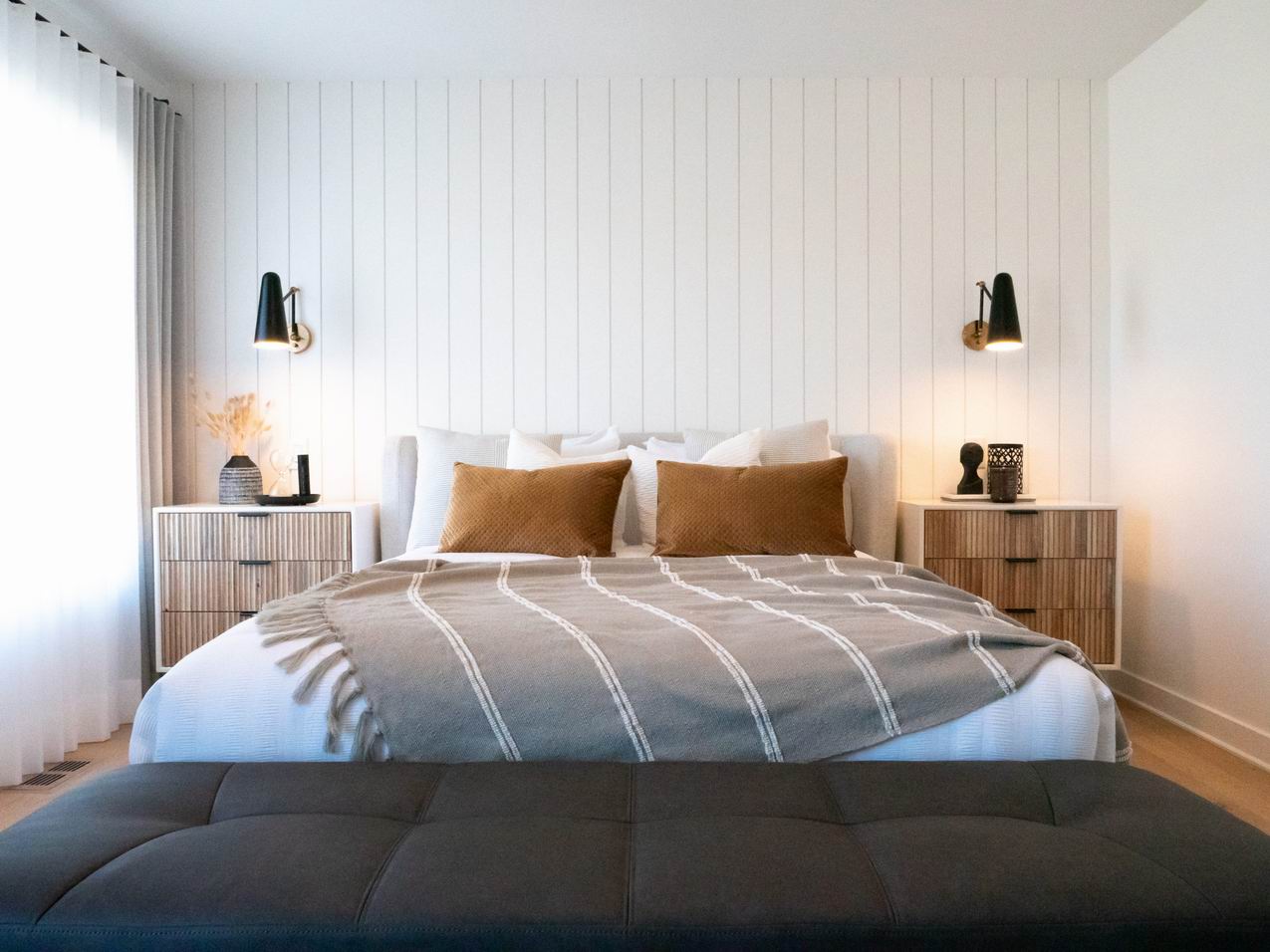 And builder Urbandale Construction opted for two uses in its Aberdeen model at The Creek — the more typical bedroom focal wall, and the less-often-used accent on the kitchen island to add an element of layering to the all-white kitchen.
These examples are just a sample of the Ottawa projects using shiplap. Are you a fan?