Ottawa's housing industry has made its presence felt at the 2021 Canadian Home Builders' Association Awards for Housing Excellence, capturing five trophies across multiple categories. The trophies come on top of 21 finalist entries from Ottawa-area builders, renovators and designers.
This is the second year the awards were held virtually because of the pandemic. It was co-hosted by Kevin Lee, CEO of the association, and incoming president Larry Clay, both of them decked out in gala-worthy tuxedos in front of a gold lamé background as glittery as the trophies themselves.
"The past year has been nothing short of challenging for many in all kinds of way," said Lee. "But today we are celebrating, so let's focus on that."
Added Clay: "It's been a wild ride in the construction business this past year, but it's heartwarming to see so many incredible projects. It's evidence of the resiliency of this wonderful industry."
The Ottawa winners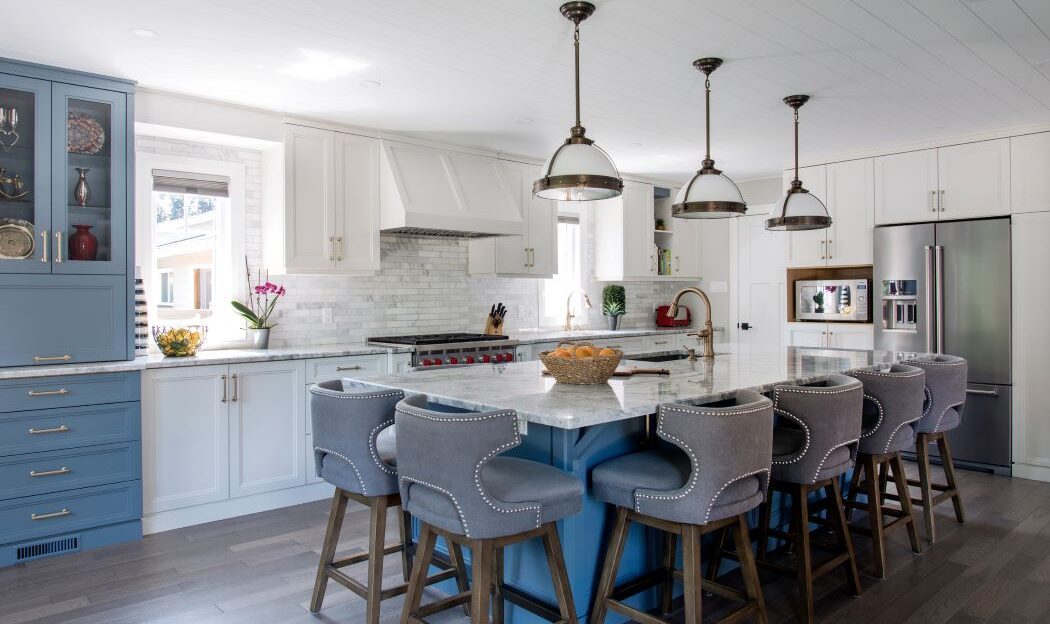 Amsted Design-Build with StyleHaus Interiors
"Muskoka Makeover" by Amsted with StyleHaus Interiors took the award for whole home renovation, $600,001 to $800,000.
The project transformed a west-end home into a multi-generational showpiece with a second-storey addition, an expanded kitchen with a large island, a larger, informal living room, a new main-floor office, and even a custom dog shower.
"Our clients wanted a family home with five bedrooms, a private in-law suite and open main-floor spaces with an overall Craftsman style and a signature red door," says Amsted president Steve Barkhouse. "The major common spaces, including the great room, dining room and kitchen, all have stunning rear yard and pool views."
Amsted is a multi-award winner at the national, provincial and local levels, including renovator of the year a record-breaking four times at the Ontario Home Builders' Association Awards of Distinction, most recently in 2020.
Barkhouse says winning the latest award, or even being a finalist, is a huge honour and public confirmation that his team is doing its best to meet and ultimately exceed client expectations. "Ottawa is now becoming known for its superior design talent, and we are proud to be a leader of that movement."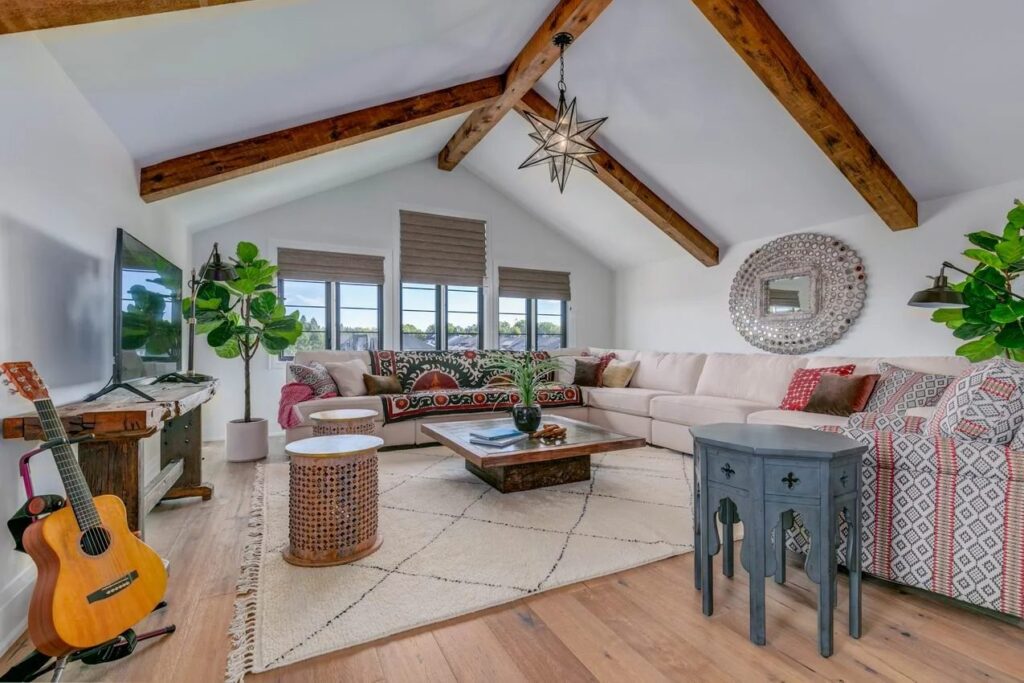 Minto Communities with Tanya Collins Design
"The Bohemian" by Minto with Tanya Collins Design won the trophy for detached production home over 2,800 square feet.
Notable for its Boho chic decor theme, the Bohemian was Minto's 2020 Dream of a Lifetime lottery home to benefit CHEO. The updated traditional look of the exterior pays homage to the architecture of Manotick, where the home is located, and especially local landmark Watson's Mill. Collins' interior design includes woods, terra cotta, and black and white, with accents of dark green. The home includes a spectacular third-floor loft with wood beams traversing the vaulted ceiling.
Minto's 2019 Dream Home won the Net Zero prize at last year's national housing awards.
"Our team is proud to be recognized for the second year in a row at the national level," says Brent Strachan, Minto's division president for Ottawa. "Our team, in collaboration with Tanya Collins Design, worked relentlessly through all of the fine details and challenges in the midst of a pandemic to deliver an amazing home that captured a consumer shift in mindset focusing on comfort and functional space for every member of the family — it's all there in this beautiful home."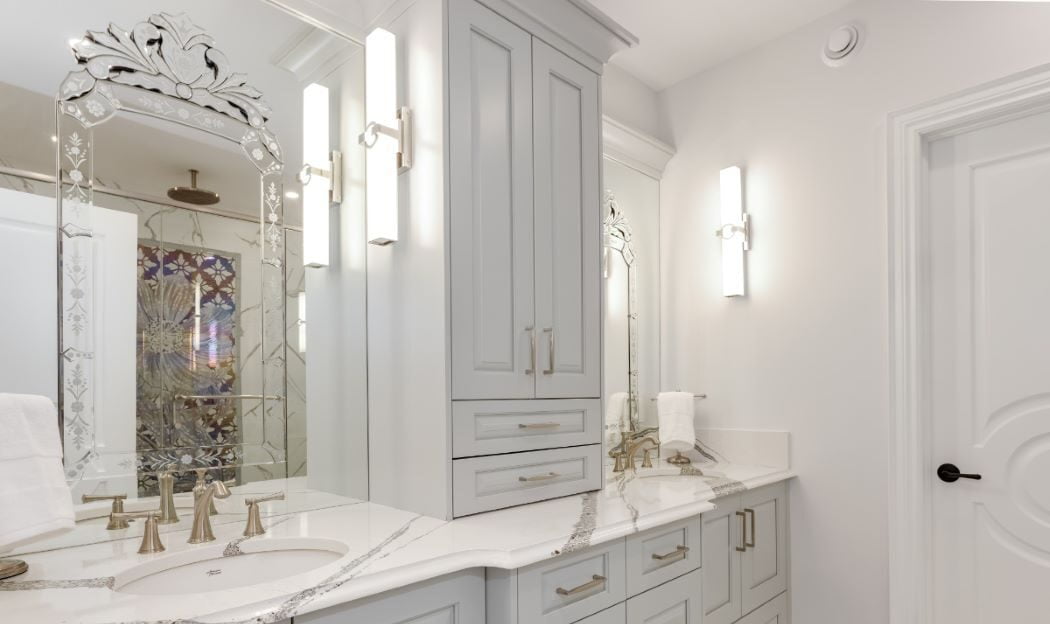 OakWood
"Aniq (Elegant) Beauty" by OakWood captured the trophy for bathroom under 130 square feet.
This elegant, white bathroom with a classic feel features custom tile from Lebanon, Shaker-influenced cabinet doors with furniture-style handles, and an abundance of light thanks to fixtures, marble tile walls, a polished quartz counter with deep veining, and a large, ornate mirror. Polished quartz was also used for the shower bench and sills.
"It is always an honor to win at the national level, especially with such stunning projects this year," says OakWood's chief operations officer, Patricia Liptak-Satov. "This ensuite bathroom, in a custom home OakWood built, is particularly unique, showcasing a feature wall of handmade imported tiles from overseas as a taste of home back in Lebanon."
OakWood has twice won renovator of the year at the provincial awards as well as being a finalist and winner in other categories.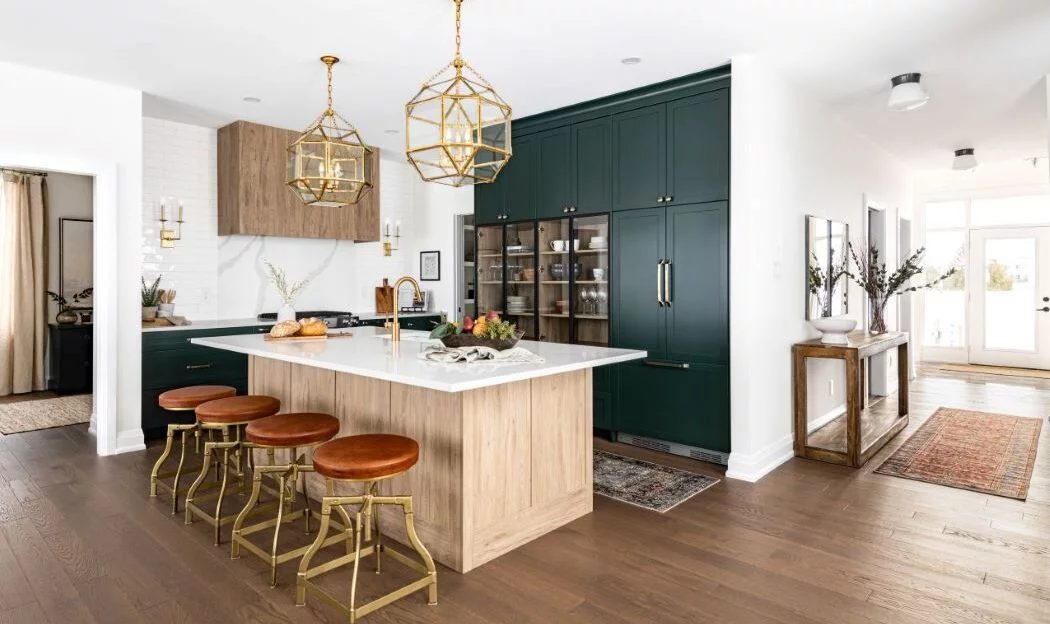 eQ Homes with West of Main and The Cabinet Connection
"The Oliver Kitchen" by eQ with West of Main and The Cabinet Connection took the honours for production kitchen under 175 square feet.
Already an award winner at the local level, eQ's Oliver model home in the Orléans development of Provence showcases this trophy-winning kitchen. The large, open-concept space features sleek, dark cabinetry with glass-fronted shelving, a contrasting island, and a modern farmhouse style in keeping with the home's overall design. The kitchen also includes a walk-in pantry, a panelled refrigerator and lantern-style pendant lights.
"There are so many things that make this kitchen stand out," says eQ's marketing and product manager, Tobin Kardish. "It's spacious, the layout is functional and flows well, and it's got character. It's also very bright. We added recessed windows, which are unusual for a kitchen, but they bring in lots of natural light."
eQ was the leading Ottawa contender this year, with five finalist entries, three of them for the Oliver.
Giving full credit to West of Main and The Cabinet Connection for their roles in creating the prize-winning kitchen, Kardish says, "It's a tremendous honour to be recognized among your peers at the national level."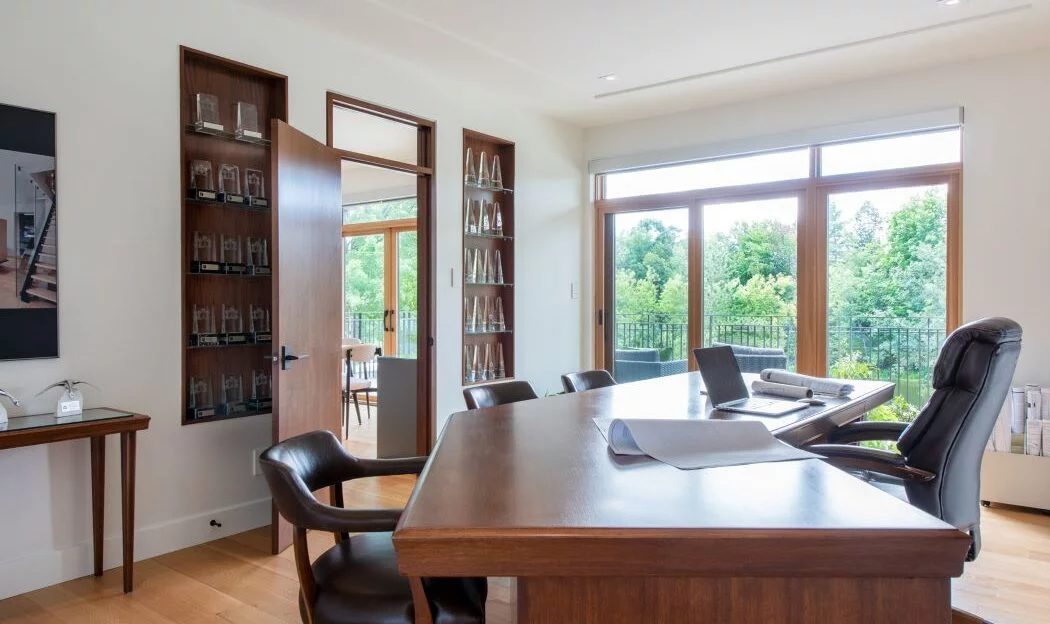 Gordon Weima Design Builder
"Design Build Office" by Gordon Weima Design Builder won the home office trophy at the 2021 Canadian Home Builders' Association Awards.
Part of his own custom home, this office offers privacy for business meetings as well as a strong visual connection with daily family life. The desk, which is rich mahogany like the trim and trophy shelving, is large enough for working on design plans and, in non-pandemic times, walking clients through designs. There's a balcony off the office with a view of the Jock River.
"This award is extra special because this is for my personal office in my personal home," says Weima. "Getting an award for my God-given tenant is a recognition to Him. I love creating and designing in my space, overlooking the river, hearing the birds… This, with this direct interaction to the home and family, makes my space extra special."
Weima is a previous winner at the national and local levels, including two-time custom builder of the year at Ottawa's Housing Design Awards.
A total of 53 trophies were awarded this year and there were 730 entries.
Full winners list for 2021 Canadian Home Builders' Association Awards here.