If upheaval, adaptation and hope define the pandemic, the same can be said of Ottawa's housing market in 2020 and 2021.
That was the message of Hello 2021/Goodbye 2020, the annual state of the union sponsored by the Greater Ottawa Home Builders' Association, when it was presented online Jan. 26.
Sagging and then soaring home sales, inventory crunches, rocketing prices and shifting buyer preferences were all part of the COVID-conscious webinar, which looked back at 2020 and forward to likely market trends in 2021.
The economist's perspective
Describing Ottawa's housing market as a "roller coaster ride" over the past year, presenter Robert Hogue, senior economist with RBC Economics, said the federal government's multi-billion-dollar pandemic support programs and the arrival of vaccines mean that a slight contraction in the Canadian economy during the first quarter of this year will be followed by recovery in the latter part of the year.
He said factors such as continuing low interest rates and the return to full employment of higher-earning professionals in recent months are positive signs for the housing market.
Hogue foresees some softening of the housing market by mid-year and he expressed concern about the erosion of housing affordability as the supply-demand imbalance pushes prices ever higher.
Hogue also noted the sudden "churn" in the housing market as people working from home realize they need more space, want better access to the outdoors and don't have to work downtown. That's pushing some buyers to look more at the suburbs and beyond.
"This has been a huge dynamic in the market that probably would not have happened had it not been for COVID," he said, one that "This is a pool of potential movers in front of us for 2021."
Market bounce and the meaning of "home"
Presenter Cheryl Rice, Ottawa president of industry analyst PMA Brethour Realty Group, said the local housing market was poised for another strong year when 2020 opened, with immigration and employment levels both robust.
Then came the pandemic and the lockdown. "For all of us, the pandemic led to fear. That led to uncertainty and then ultimately inaction," with both new-build and resale numbers tumbling like 10 pins. New-homes sales plunged from 658 in February to just 198 in April. Only 913 resale homes changed hands in April, down from 2,025 in the same month the previous year, according to the Ottawa Real Estate Board.
Almost as quickly, those numbers resurged, with new-build home sales in 2020 finishing more than 25 per cent higher than the 10-year average and the resale market setting a new record for units sold.
Rice also noted how the government message to "please stay home" got us thinking about whether our current homes, with possible space limitations and lack of sufficient outdoor access, are where we want to be when a pandemic isolates us.
The resale picture
Resale prices leapfrogged 19 to 20 per cent in 2020, hitting an unprecedented $582,267 for non-condo properties and $361,337 for condominiums, said Rice.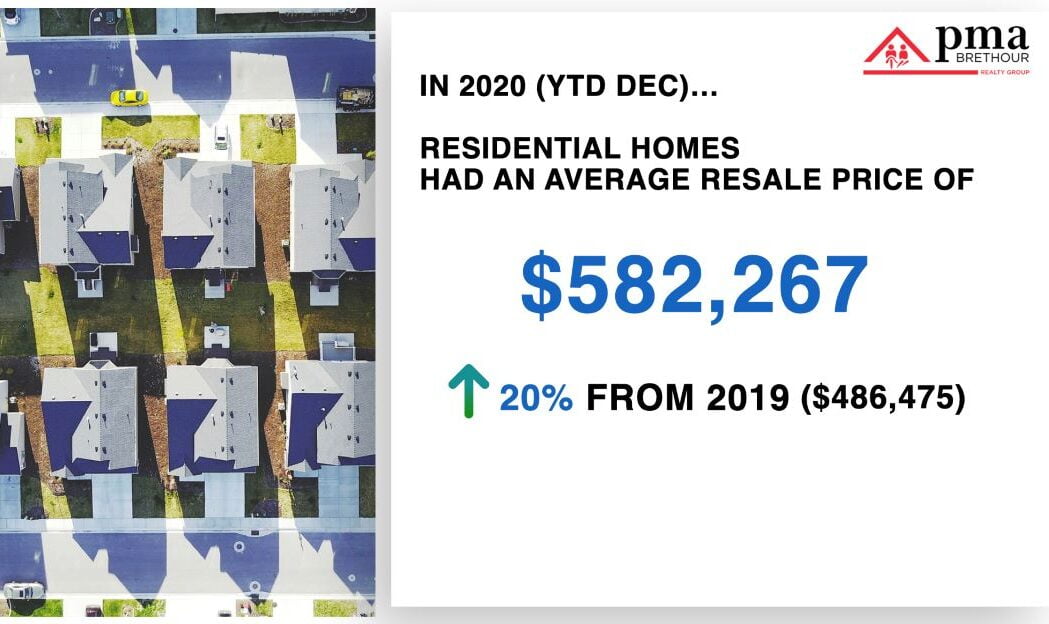 She added that Ottawa has been in a sellers' market since 2016 while the number of active listings has slid precipitously over the past four-plus years, leading to the bidding wars and multiple offers that have helped boost prices, especially last year.
She added that resale markets in outlying areas like Kemptville, Greely and Carp are seeing heavy resale activity and price increases.
Rice said that while average resale prices escalated by as much as 20 per cent last year, the average monthly mortgage payments for Ottawa homeowners increased only eight per cent, putting home ownership within reach of many.
Looking ahead, Rice expects another busy and pricey year in the resale market, which has . "We think resale can expect a two-digit price gain. We may not hit 20 per cent again, but we expect the increase will be something significant."
New homes
Looking back at last year's new-build market, Rice said, "What was most surprising for me about 2020 was how quickly builders and consumers adapted to strict public health measures imposed on us. It was a matter of weeks post-lockdown that builders started to deploy a myriad of technological solutions that allowed our industry to get back to business. What was an in-person, paper-based transaction was transformed into an end-to-end online sales process. That facilitated our market recovery."
Going from a 68-per-cent plunge in new-home sales during the lockdown to a year-end total that exceeded the five-year average by over 25 per cent was "truly an stounding achievement by our new-home builder community," she continued.
Rice also highlighted the shrinking availability of new-build homes in 2020 (especially in the east end of the city) and the long virtual lineups of buyers as builders struggled to keep up with the demand; the shift to small lot releases as a way of managing sales (a strategy she said should continue in 2021); and frequent price increases (every micro-release seemed to bring a price jump).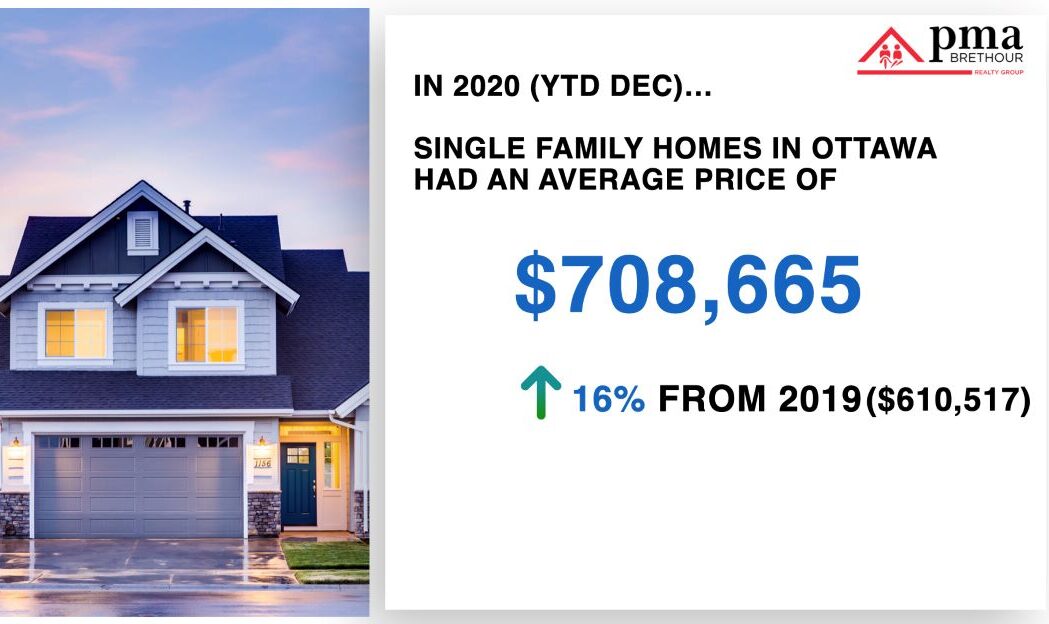 New-build homes hit an average price of over $708,000 for singles and more than $517,000 for towns last year. That's a jump over last year of 16 and 19 per cent respectively. When it comes to housing types, singles were king, said Rice, with townhomes a close second. Geographically, the south end continued its long hold on the highest number of new-home sales.
Glancing back, Rice said, "Panic buying sums up consumer behaviour last year. Homebuyers did not want to be left out. They wanted a new home and they wanted to sign a deal then and there. It was a question of, 'Whattya got?'"
Looking ahead, she sees new-home sales being at least as strong — and perhaps outperforming — last year thanks to continuing demand, inventory shortages, and ongoing immigration and migration once COVID vaccines become widespread.
That growth in 2021 will include continuing price increases. Housing costs in Ottawa have been growing at three to four times the rate of income growth, she said, and while there is a ceiling, "we don't know what it is."
Like Hogue, Rice also sees a pandemic-instigated shift in buyer preferences going forward. That means a hankering for suburban, exurban and even more far-flung homes with lower prices and more room, especially as the work-from-home phenomenon continues and families find they don't have enough space to live comfortably.
Bottom line for Rice? "As scary and devastating as 2020 was for a countless number of people, our local housing industry survived and in fact thrived in a time of uncertainty. We've been really fortunate to have been able to continue to serve the consumer."