For the past six weeks almost 6,000 people have been voting in preliminary rounds, judging everything from kitchens and bathrooms to renovations and new homes, to get to this point: the final round to choose the coveted Ottawa Citizen 2019 People's Choice Award in the annual Ottawa Housing Design Awards.
Through six rounds of voting, the 174 entrants in the awards, which are organized by the Greater Ottawa Home Builders' Association, have been narrowed down to the top 16, with two finalists in each of the categories of:
Housing details
Green / innovation
Renovations
Bathrooms
Kitchens
Custom homes
Production homes
Condos
Now it's time for you to pick your favourite among the finalists. Between Wednesday, Sept. 26, and Sunday, Sept. 29, you can vote online at gohbavote.ca or in person at the GOHBA booth at the Ottawa Fall Home Show, where all the entrants in the awards will also be displayed.
The winner will be announced, along with all the other winners in this year's Housing Design Awards, at a gala dinner Oct. 19 at the Shaw Centre.
Here's a look at the People's Choice finalists:
Production homes
Entry #460 — House on the Meadows – Park View Homes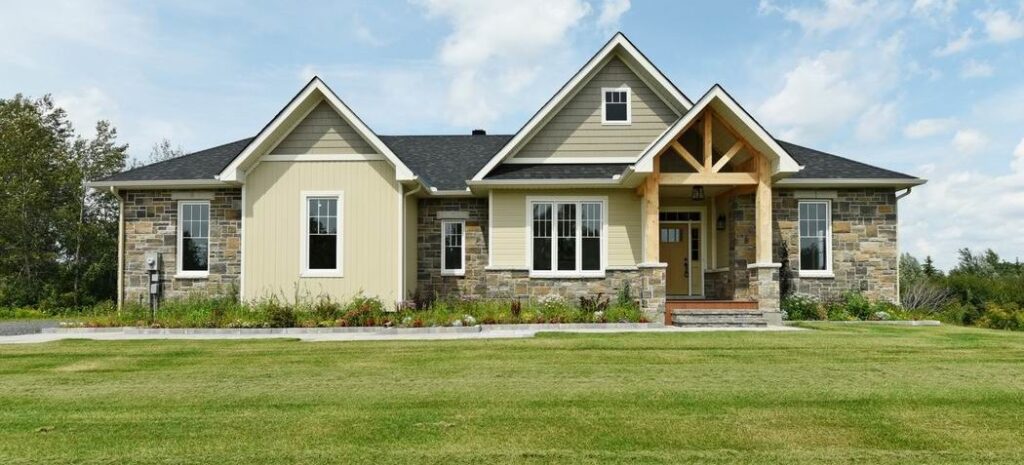 This spacious bungalow in Greely offers 1,800 square feet on the main floor with three bedrooms, a private master suite (including a luxurious ensuite) and a generous finished basement with three-piece bath.
Storage is a priority, with an oversized laundry, separate pantry and plenty of room in the garage.
Entry #475 — The Mayfair – HN Homes with Christopher Simmonds Architect & Vogt Design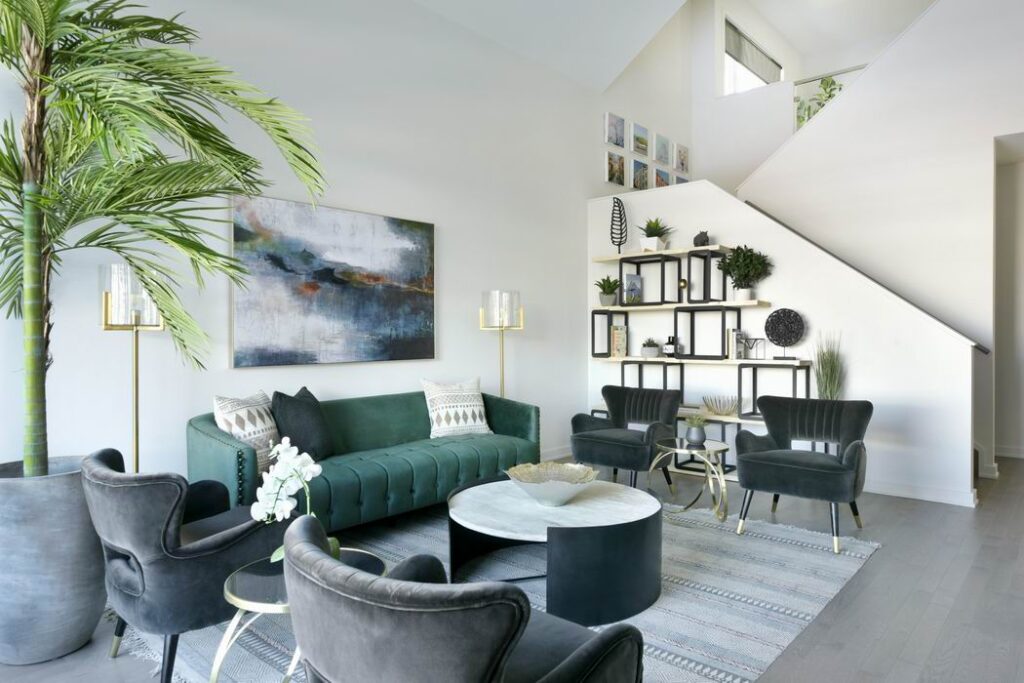 The Mayfair model by HN Homes at Riverside South shows just how stylish a home can be with standard finishes, meaning there are no upgraded materials. The contemporary design is open, while still providing separation between the kitchen/dining room and the living room.
The 2,732-square-foot two-storey has three bedrooms and a loft upstairs plus a finished rec room in the basement.
Condos
Entry #673 — River Terraces II – eQ Homes with Hobin Architecture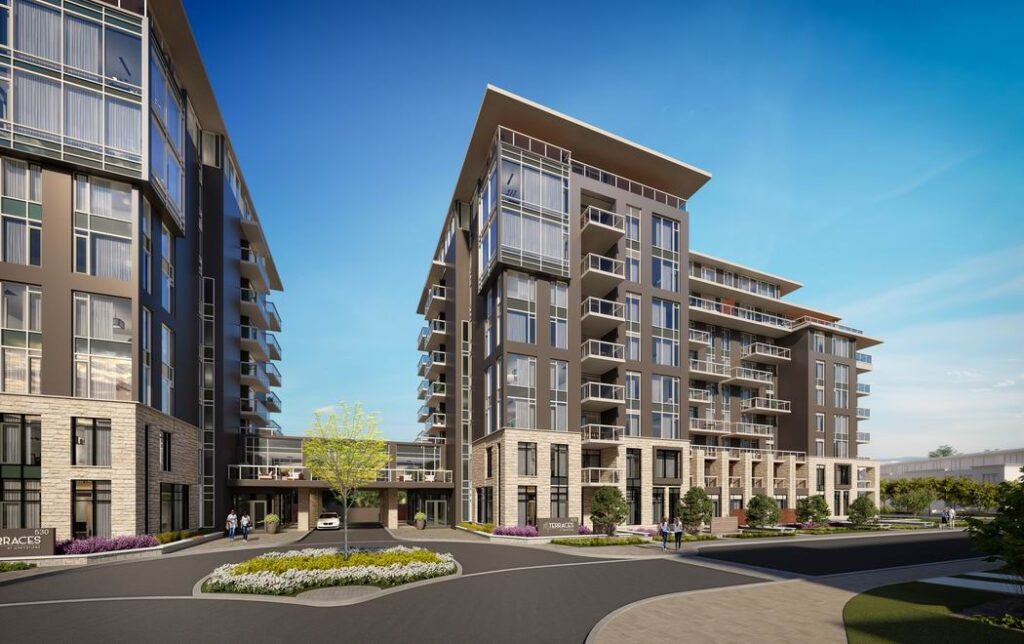 This mid-rise condo building is part of the Greystone Village development in Old Ottawa East. It "reflects the unified architectural theme of the community inspired by the area's rich history," eQ Homes and Hobin Architecture say in their submission entry.
It also promotes the builder's goal of a sustainable community at Greystone, offering things like bicycle storage and an on-site car sharing program, as well being built sustainably. Greystone is aiming for LEED-ND certification. LEED stands for Leadership in Energy and Environmental Design, an industry-recognized rating system for green homes and other buildings. ND means neighbourhood development and refers to less dependence on cars and other factors.
Entry #585 — The Crossroads of Hintonburg: The Leading Corner – Rosaline J. Hill Architect with Sherbrooke Urban Developments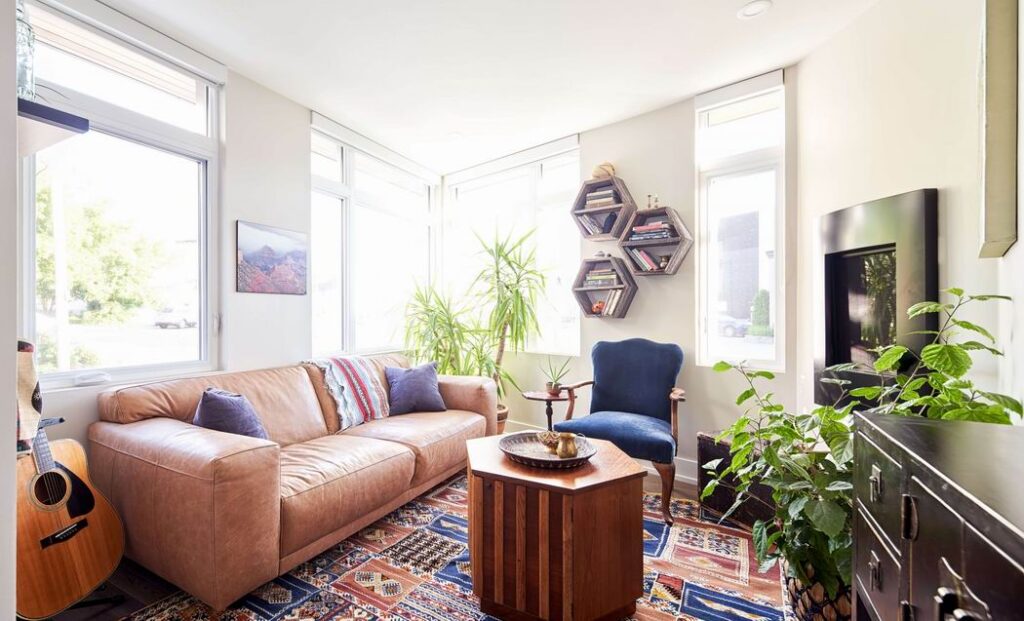 This apartment building actually functions like a series of townhomes, with ground-floor entrances and wrapping around a sharp corner in Hintonburg. The unit shown here overlooks the intersection from windows facing west and south.
"Its angled walls dramatically emphasize this prominent corner location and striking architectural form," Hill and Sherbrooke say in their submission entry.
Custom homes
Entry #603 — Laid Back Luxury – Gordon Weima Design Builder
Gordon Weima describes this Westboro infill as "a little bit city, a little bit country." Bright and airy, the open-concept design is comfortable and inviting, with a touch of elegance.
Reclaimed wood elements, oiled oak floors and natural stone materials provide layers of texture throughout, he says in his submission entry, juxtaposed against fresh white walls and the clean lines of the black-framed windows for a modern-rustic mix.
Entry #596 — Barrhaven Contemporary Rustic – Canterra Design + Build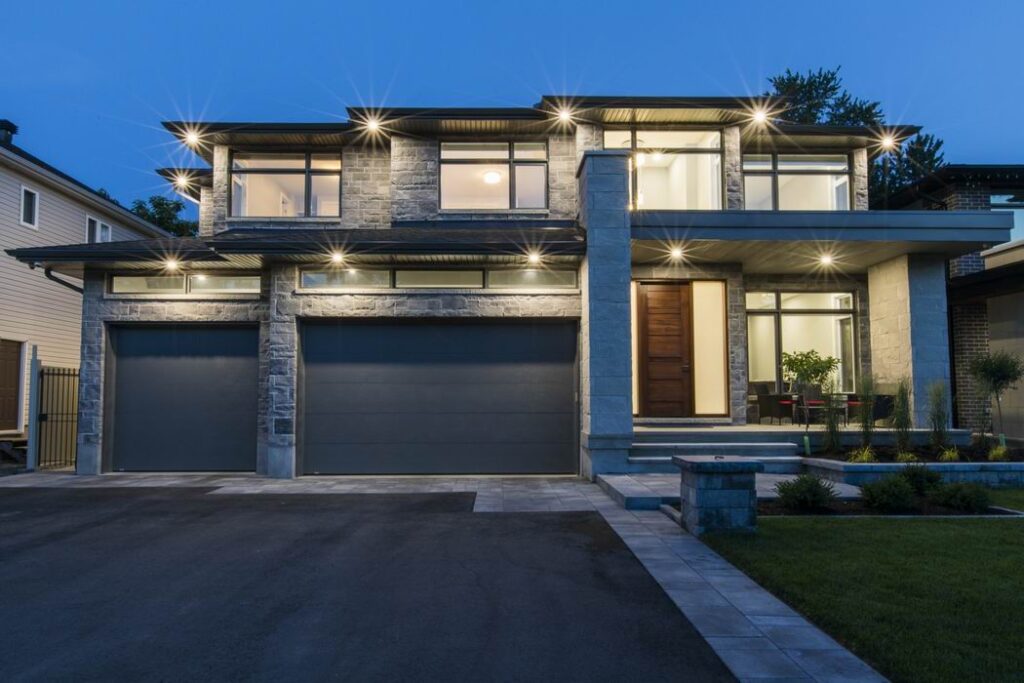 This custom home certainly has presence. At more than 4,000 square feet, the five-bedroom home was designed to provide maximum space and functionality for a busy family.
Featuring contemporary styling with modern finishes throughout, Canterra mixed in rustic elements such as stone accents and reclaimed wood. Plus, there's a staircase slide perfect for little ones or bags of hockey gear.
Renovations
Entry #514 – Mason – Sandy Hill Construction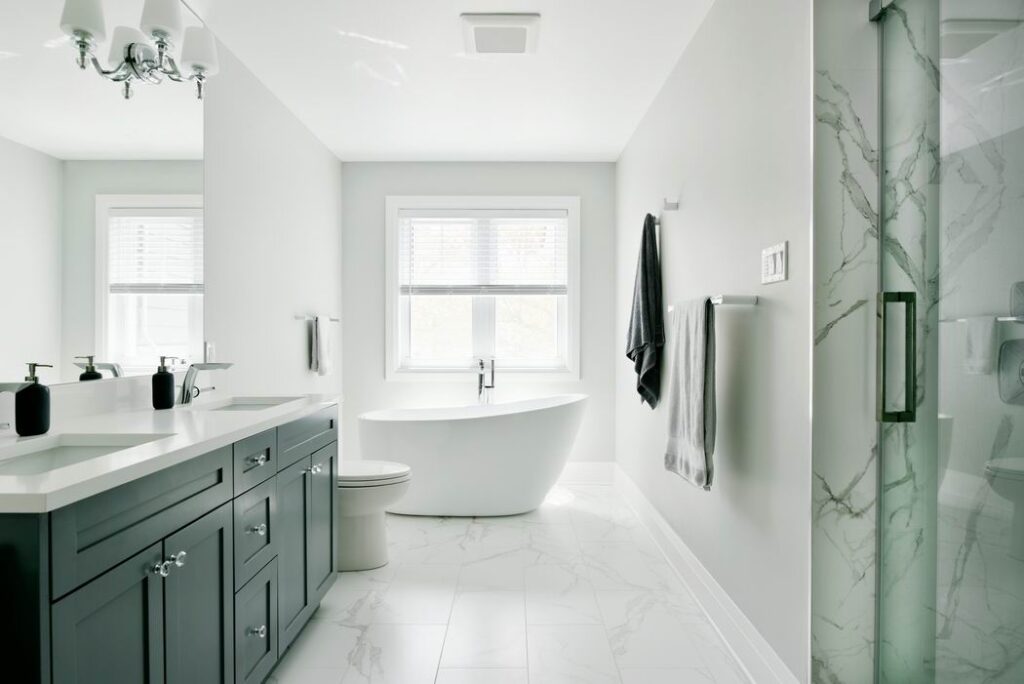 This project was a substantial renovation and addition to update a 1940s home. Alterations included adding on and rearranging existing space so that it was more functional.
The kitchen was redesigned and, in the ensuite, a soft colour palette adds to the calmness of this bright room, which has been given a modern yet timeless look.
Entry #706 — Level II – Ground Floor – Michael Martin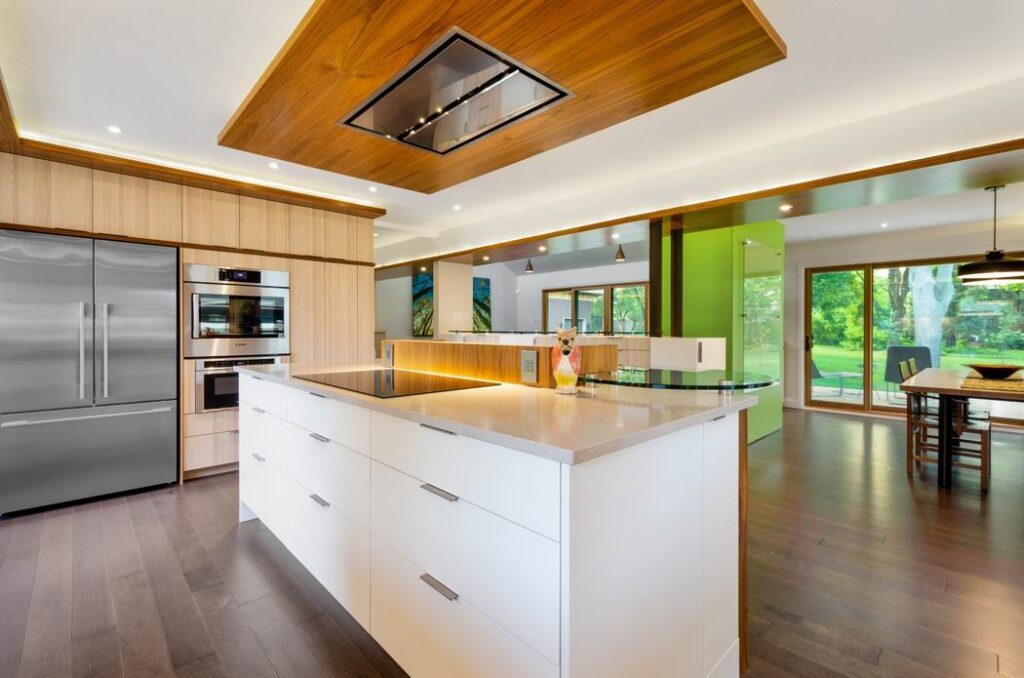 The renovation of this 1960s home aimed to stay true to the original design honouring mid-century modernism while opening up the ground floor.
Large sliding doors were added to better connect with the outdoors and the kitchen was designed specifically to meet the owners' storage requirements. Illuminated panels in the ceiling add intriguing detail and "hide" the ceiling-mounted ventilation system, while a green wall housing the fireplace has fun with playful frog art on one side and a glass panel on the other where the family can write notes.
Housing details
Entry #397 — B.AM House: Cape Cut – 25:8 Architecture + Urban Design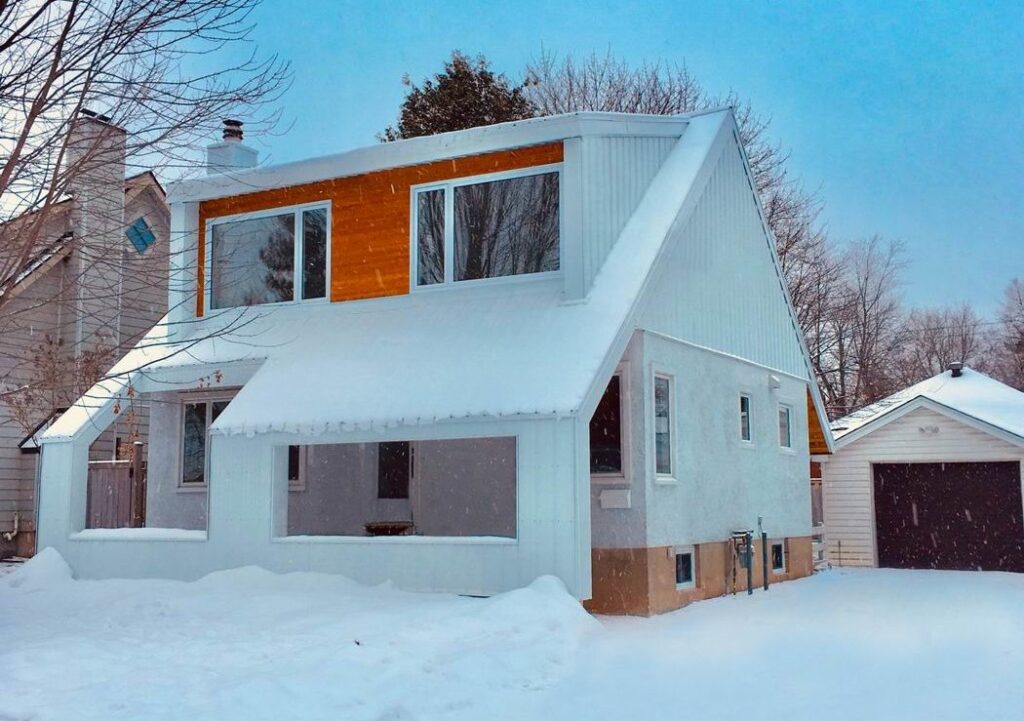 The design of this exterior takes its cues from its past, design firm 25:8 says in its submission entry. The "cape" is an architectural feature that extends the existing roof line to create new porches at the front and rear of the house.
The house is clad in an economical white corrugated metal. In winter, it blends into the landscape. In summer, it helps reflect the sun, keeping the house cool and reducing energy costs.
Entry #721 — Poolside Serenity – Greenmark Builders with Rinox Signature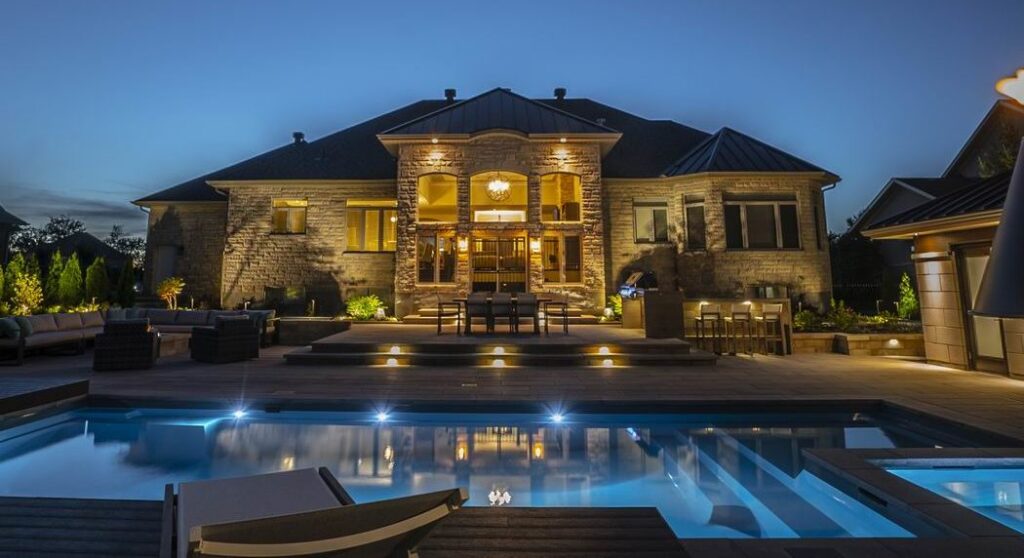 This resort-inspired backyard boasts a dining patio, pool, hot tub, pool deck, fire feature lounge, outdoor kitchen with bar, and screened-in pool house with fireplace.
The design is one that uses materials to echo the house while also moving in a modern direction, with attention paid to cues from the foliage, punctuating the landscaping with the rich walnut colour of the pool deck and adding strategic lighting for emphasis.
Bathrooms
Entry #638 — The Blakely Ensuite – Glenview Homes with West of Main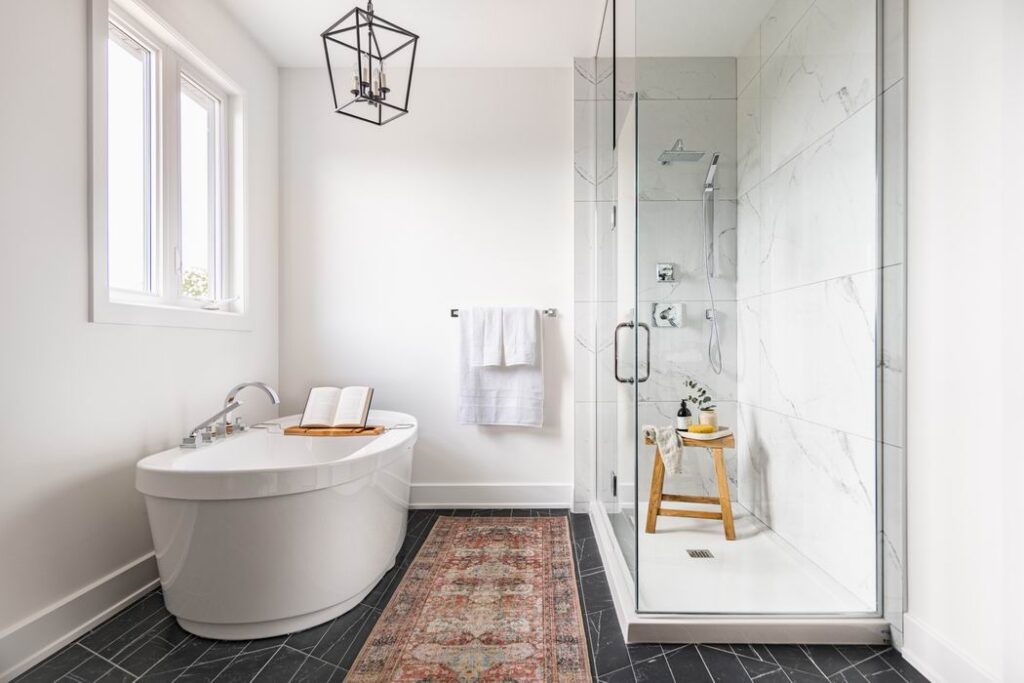 This model home ensuite sought to create a peaceful space that is also mindful of incorporating luxurious surface spaces with generous quick-access storage to help homeowners keep the space clean and uncluttered.
The freestanding bathtub and custom glass shower with oversized marble tile is a focus in the space but also attracting buyers, Glenview and West of Main say in their submission entry, is the full-height vanity mirror and hotel-style double sink vanity (not shown).
Entry #758 — The Pinefield – Richcraft Homes with Potvin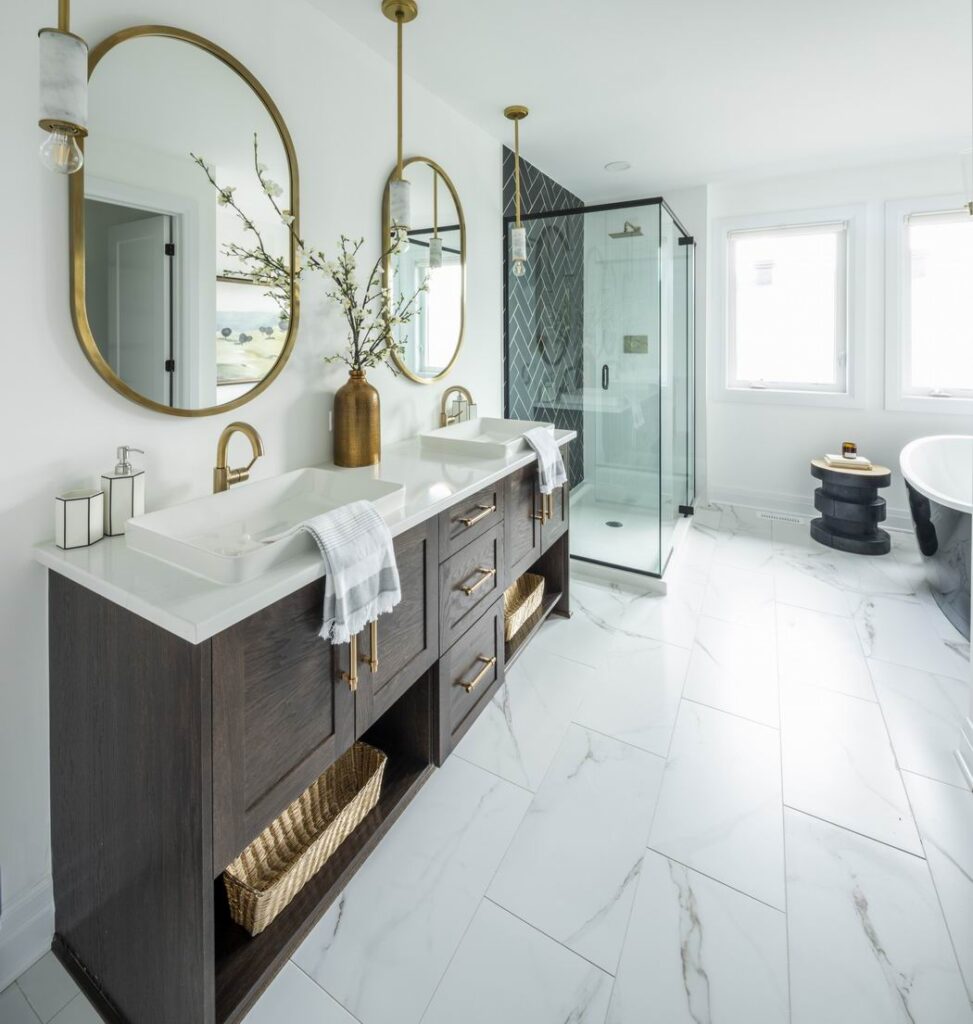 Modern meets traditional in this model home master ensuite. A classic white and black palette was paired with brass accents to bring in warmth and a modern twist, Richcraft and Potvin say in their submission entry.
In the glass shower, a classic subway tile in black is used, anchored by a freestanding black tub and giving the room a modern edge.
Interestingly, both the bathroom finalists are from builder model homes and not from the custom categories — an indication of how the level of design in a production builder home has matured.
Kitchens
Entry #435 — Family Tradition Design – Laurysen Kitchens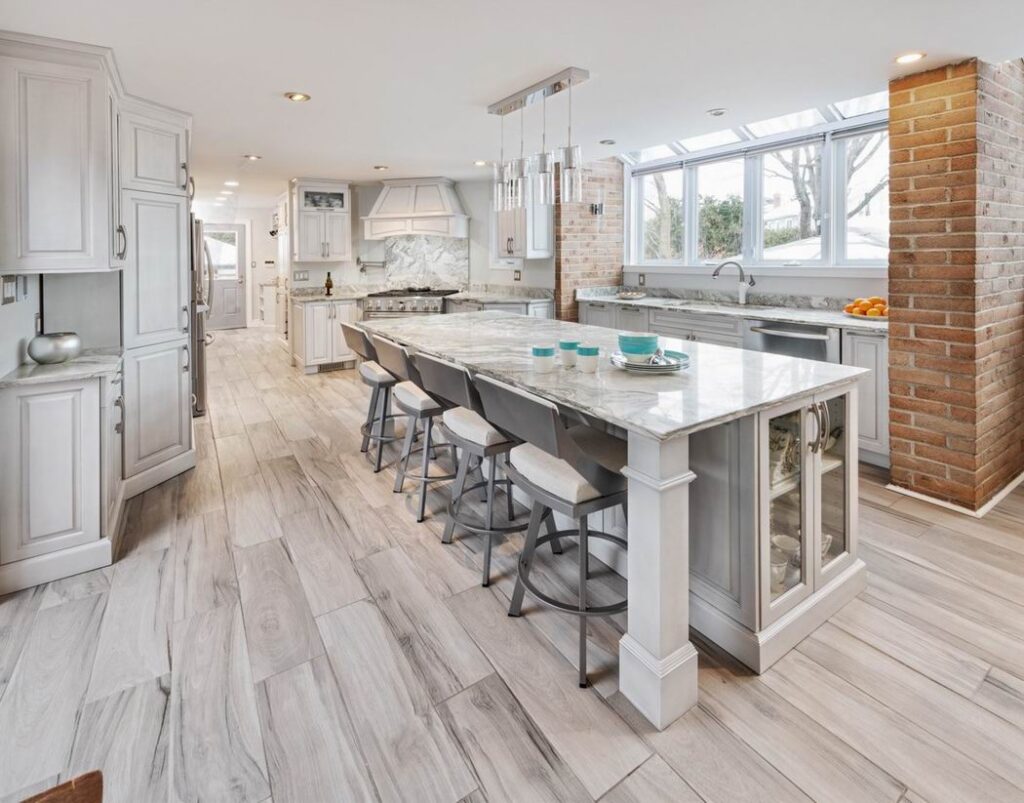 There were several goals in this custom kitchen — a wine rack, custom dog food pullout cabinets and a custom broom closet for improved efficiency; the design needed to work with the brick wall, which was retained as a reminder of family memories and tradition; a balance needed to be maintained between all of the room's elements; and the island needed to be a focal point with plenty of space for family gatherings.
And the overall goal was to create a harmonious, rich, welcoming feel.
Entry #725 — Minimally Grey – Johnny B Drywall with Art & Stone Group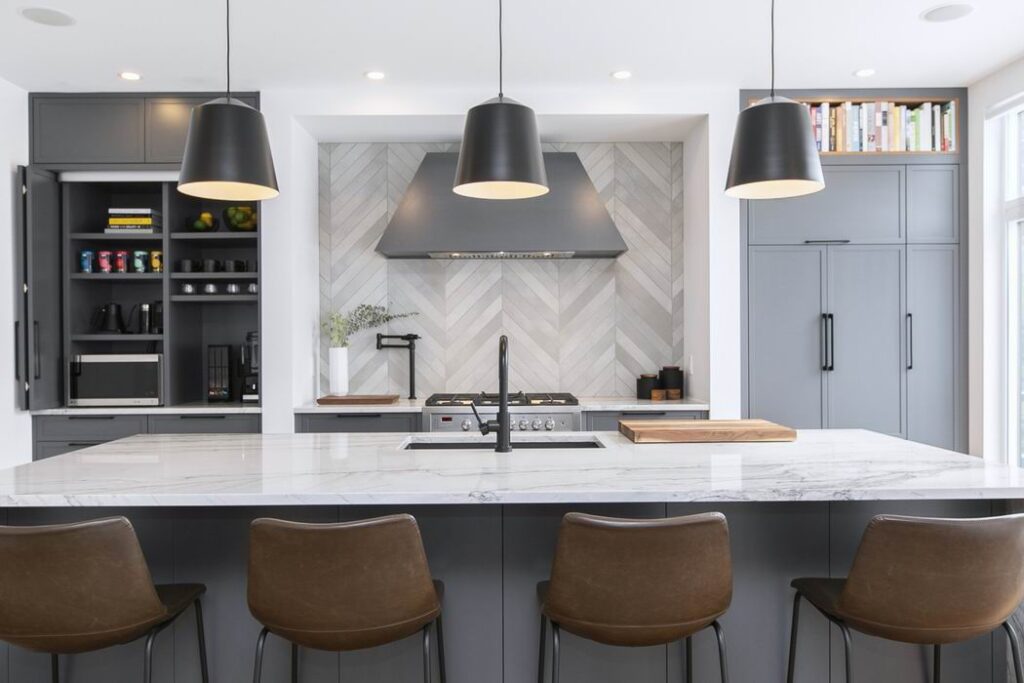 This kitchen was designed to meet the needs of a serious amateur chef, while keeping the esthetics soft, uncluttered and open.
Ideal for entertaining in an open-concept space, it has a clutter-free approach, with daily gadgets easily hidden away when guests come over, tons of storage in the back of the island and an integrated refrigerator to minimize the utilitarian nature of the space.
Green / innovation
Entry #419 — The Alta Vista – RND Construction with Christopher Simmonds Architect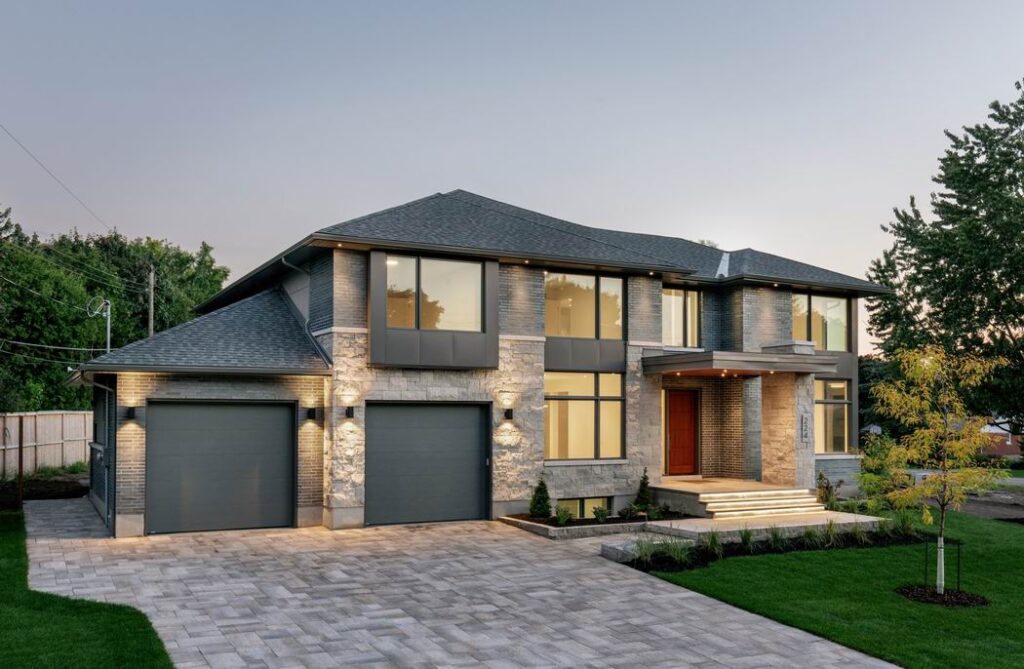 This Net Zero Ready home was designed for a multigenerational family and boasts high indoor air quality, thermal comfort and environmentally friendly finishes.
At 4,550 square feet, the home is large, yet is an energy miser, coming in 67 per cent more efficient than required by code. Advanced framing techniques were implemented to reduce lumber usage and increase insulation levels, RND and Simmonds say in their submission entry.
All indoor finishing materials were carefully selected to provide the best possible indoor air quality and recycled and sustainably sourced materials are used throughout the home.
Entry #612 — Galleria – RND Construction with Ha2 Architectural Design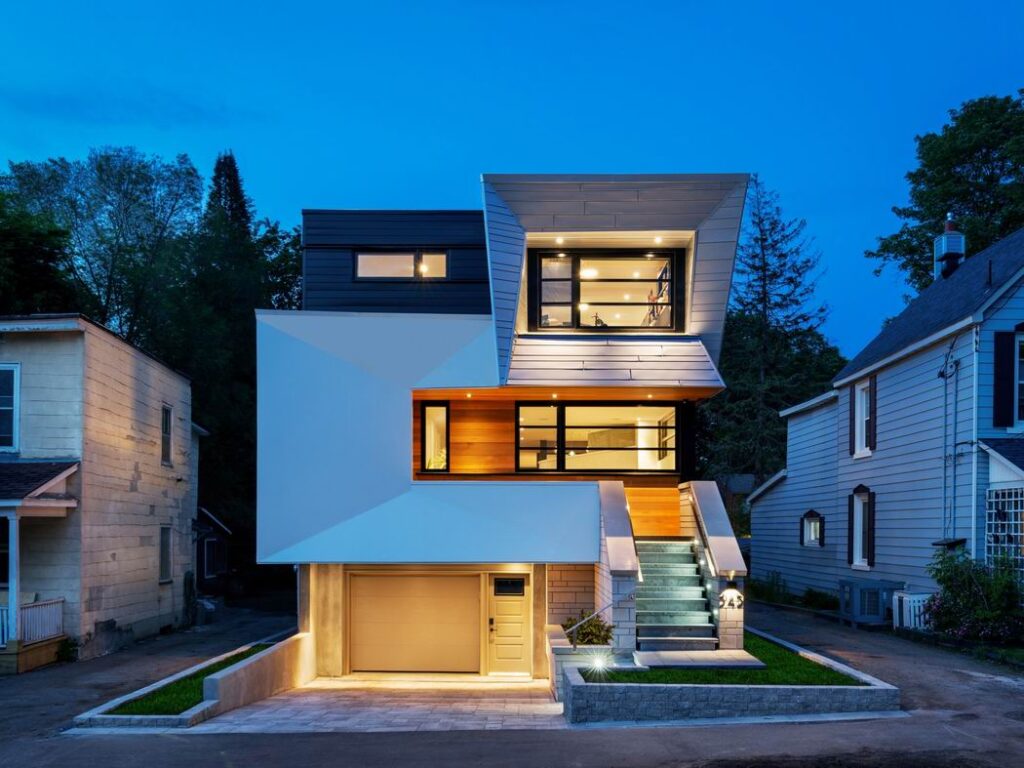 Another RND entry, this time with Ha2, this custom home infill sits on a narrow lot and meets R-2000 standards, operating 57 per cent more efficiently than a similar home built to code.
The open-concept home, with oversized windows and multiple skylights, is filled with natural light without compromising on energy efficiency.
The home, which is also up for a provincial housing award, boasts a distinctive façade that minimizes the garage and emphasizes the upper levels, without overpowering its neighbours.
To vote for your favourite
You can vote in two ways:
Online at gohbavote.ca between 9 a.m. Sept. 25 and midnight Sept. 29
In person at the GOHBA booth at the Ottawa Fall Home Show Between Sept. 26 and 29