This is it — the 2022 People's Choice final round!
For the past four weeks, the public has been voting on the entries in the Housing Design Awards, choosing finalists for the 2022 All Things Home People's Choice Award. Now it's time to pick the winner.
The People's Choice Award is a prestigious trophy given out at the annual awards gala — a much-anticipated celebration of the Ottawa housing industry's finest in design that's put on by the Greater Ottawa Home Builders' Association (GOHBA).
All Things Home was honoured to take on sponsorship of the award last year, particularly since it's the only trophy in the awards program that's chosen by the public.
Since Aug. 23, design enthusiasts have voted online for their favourite entries in several preliminary rounds to determine the 16 finalists among production and custom homes, condos, renovations, kitchens, bathrooms, green innovation and design details.
The winner will be announced at the awards gala Oct. 15 at the Shaw Centre.
How to vote
There are two ways you can vote.
In person: Cast your ballot at the GOHBA booth at the Ottawa Fall Home Show Sept. 22-25. All 187 entries in the Housing Design Awards will also be on display to offer inspiration for your next project and provide examples of renovators, designers, suppliers and builders you may be researching.
Online: You can also vote online at gohbavote.ca from 9 a.m. Tuesday, Sept. 20, to 11:45 p.m. Sunday, Sept. 25.
Here's a look at the entries in the 2022 People's Choice final round:
Production homes
Entry: Fairhaven — Richcraft Homes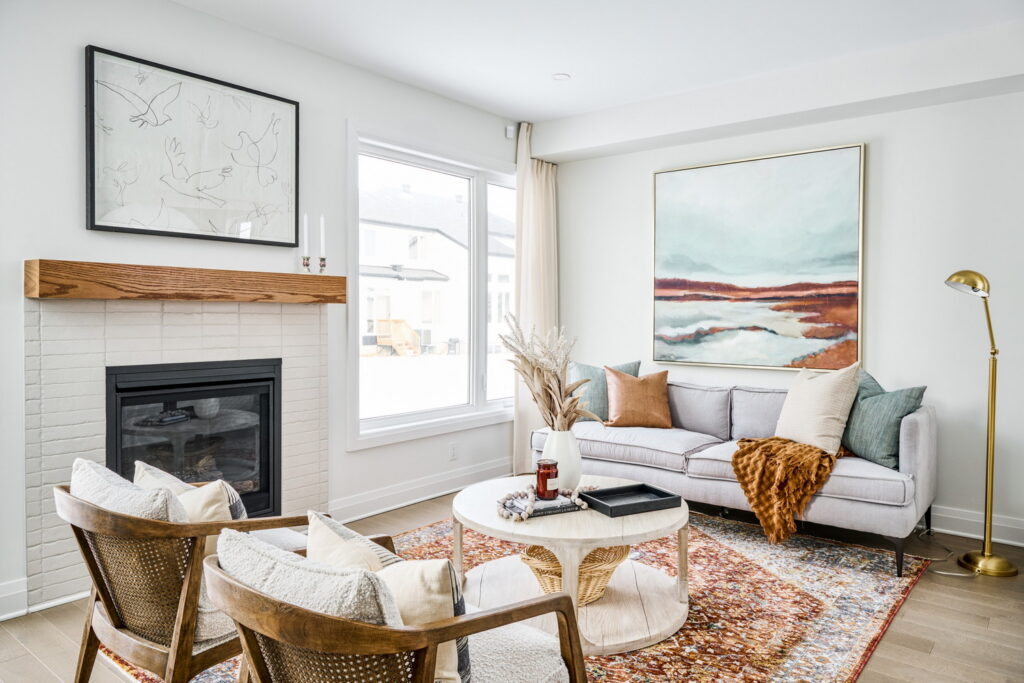 This two-storey townhome by Richcraft Homes is located at the builder's Riverside South development in Riverside South and is one of its most popular floor plans.
Featuring an open-concept layout, it's decorated in patterns, classic country elements and warm colours inspired by autumn.
In its entry submission, Richcraft says, "Playing with scale was a great way to keep this home interesting while incorporating a balance of clean lines and traditional elements. We played with patterns, tiles, rugs and even the artwork to ensure our theme was carried into each room while providing a cohesive design."
Entry: Farmside Green — RND Construction & Hobin Architecture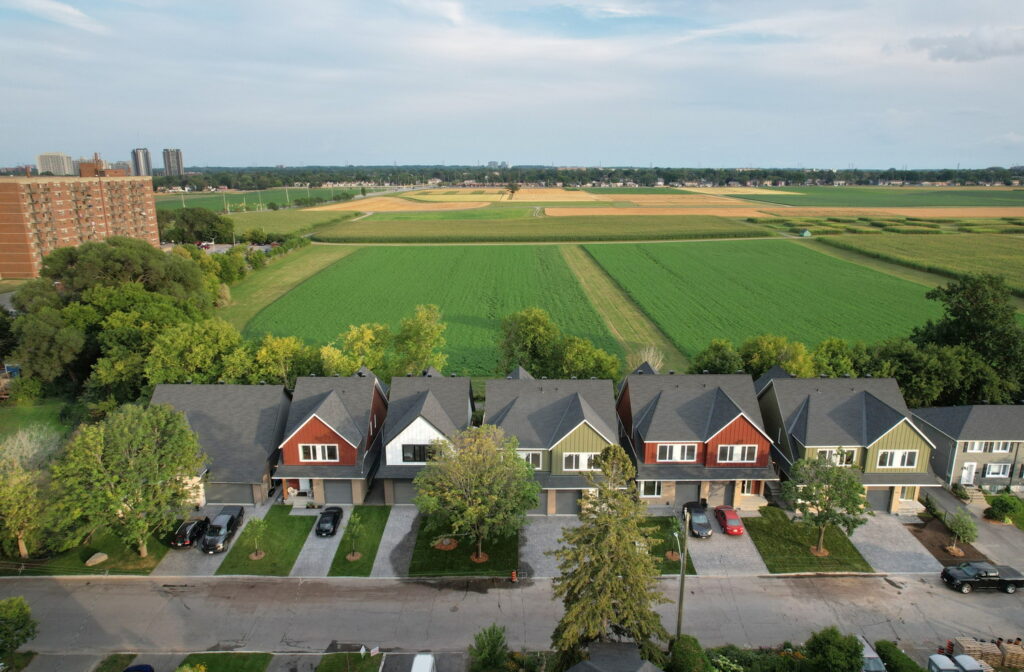 Farmside Green is a nine-home development that backs onto a National Capital Commission recreational trail and the Central Experimental Farm. The homes take advantage of the expansive view and were designed and built with sustainability in mind.
They are certified R2000 and are Net Zero Ready, becoming what builder RND Construction bills as Ottawa's first Net Zero home development project.
The mix of singles and semi-detached homes are "contemporary interpretations of traditional farmhouse forms and materiality," RND and Hobin say in their submission.
"Gestures that bring the farmhouse esthetic inside the home include small clerestory windows in the living areas, simple craftsman-inspired detailing in the doors and cabinetry and a prominent fireplace."
Custom homes
Entry: Luxurious Farm House — Park View Homes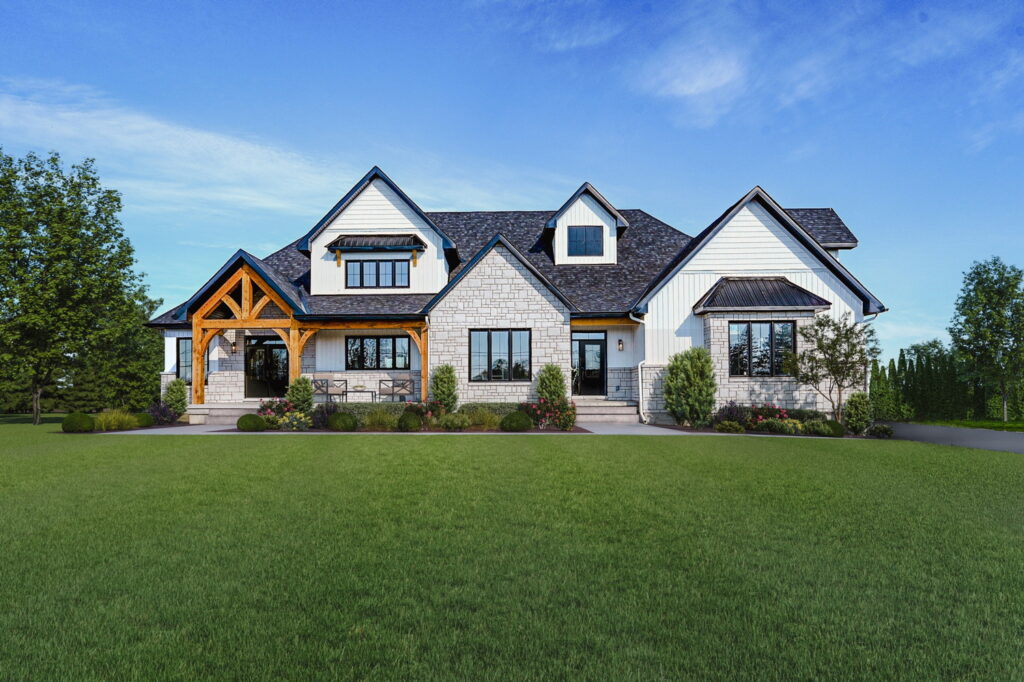 This rural home was built to accommodate a large family. With six bedrooms, more than 4,800 square feet, a walkout basement, a four-car garage, plus another 1,100-plus square feet in the in-law suite, there's plenty of room for the nine family members in this home.
It's designed in a modern farmhouse style, with a mix of stone, shakes, wood accents, timber frame front porch beams, black windows and metal roofing on the outside. Inside, there are vaulted and shiplap ceilings, decorative beams and a soothing palette. The home also boasts several energy-efficiency features, such as triple-paned windows and beefed-up insulation.
Entry: Civic Hospital Custom — Hobin Architecture, RELM Builders & Astro Design Centre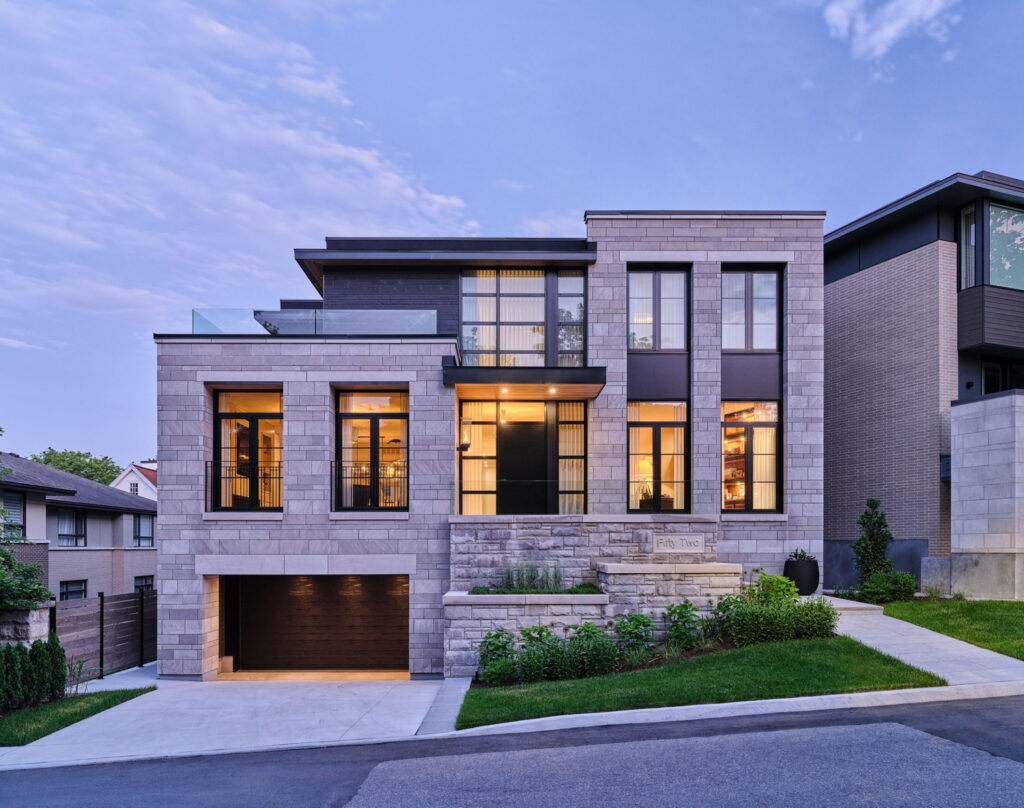 Attention to detail is paramount in this custom home. "With every detail carefully planned from conception to construction, the Civic Campus Custom is both a meticulously modern and highly-efficient build," its creators say in their entry submission.
The home makes good use of its sloped lot, allowing the garage to be de-emphasized and tucked away at the basement level, and "broken-up massing downplays the home's size in a contextual response to the urban scale of the neighbourhood." Coming in at over 3,600 square feet, it doesn't overpower its neighbours.
Details inside include herringbone wood floors, floating glass wall cabinets, contrasting marble slabs and a dramatic floating staircase in steel and oak.
Condos
Entry: The Meadows of Perth Apartments — BLD Homes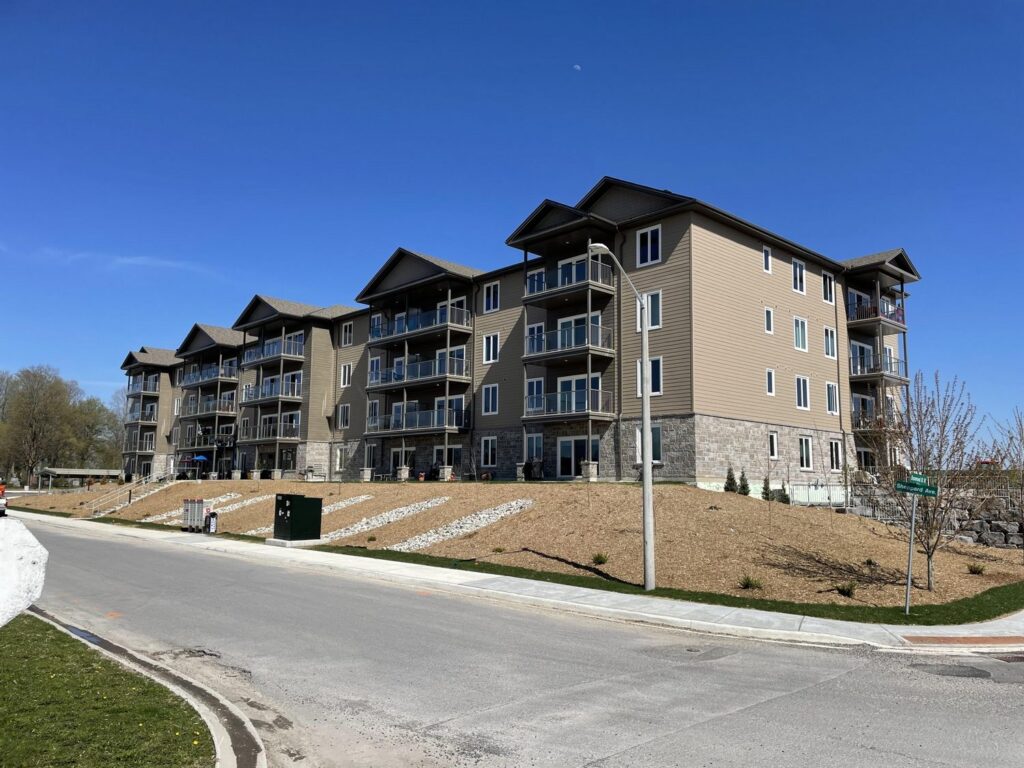 The Meadows of Perth is an adult-lifestyle community in the town of Perth that includes bungalows and townhomes for sale as well as this four-storey rental apartment building. The building features one- and two-bedroom units and several amenities, such as in-suite storage and laundry, a common room, fitness centre, underground bike storage, dog wash and car wash stations and a guest suite.
"This apartment provides a simpler way of living," BLD Homes says in its entry submission, adding that finishes are upscale — think luxury vinyl flooring and quartz counters — in keeping with the rest of the community.
Entry: St. Charles Market – Colour Block Two-Storey Residence — The Lake Partnership, Linebox Studio & ModBox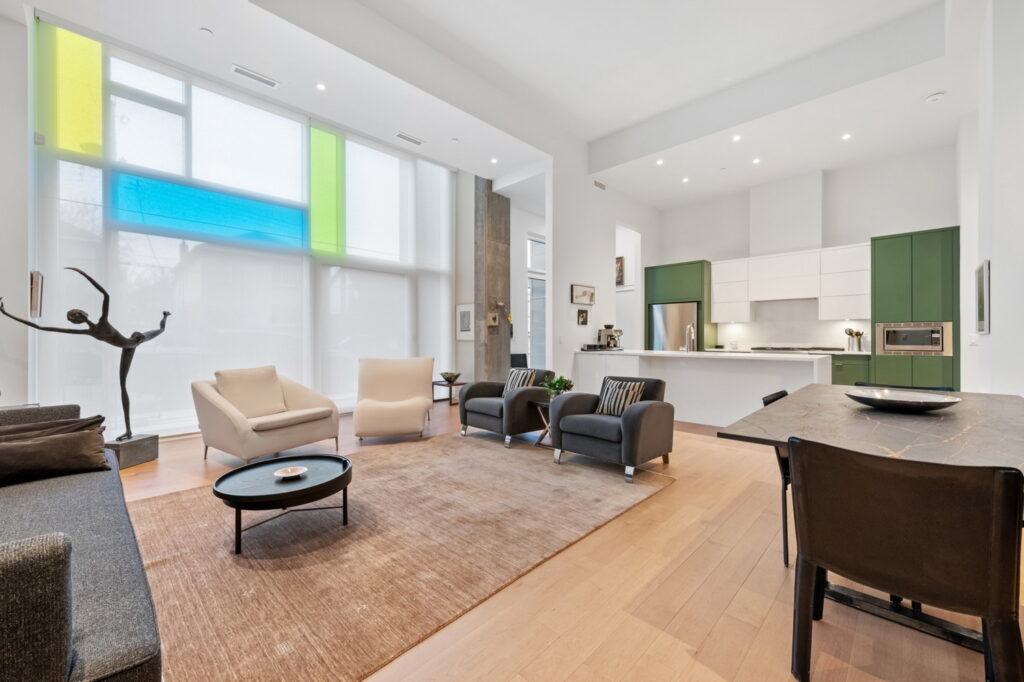 This two-storey condo is part of the mixed-use St. Charles Market development, "designed with reference to both the architectural features of the historic church at its heart and the vibrant neighbourhood surrounding it," the entrants say in their submission. The six-storey condo project wraps around the former St. Charles Church in Beechwood Village.
The unit is a two-storey townhome-style residence that includes both an interior condo entrance and a pet-friendly walk-up entrance and street-level terrace. "Both features promote neighbourly interactions and visually echo the front doors and porches of the homes across the street."
Key features include a colour-block glass curtain wall that pays homage to the church's stained-glass windows, 12.5-foot ceilings on the main level, exposed concrete columns and high-quality finishes of quartz, porcelain and locally sourced white oak.
Renovations
Entry: Clarendon Remodel — Murdock Construction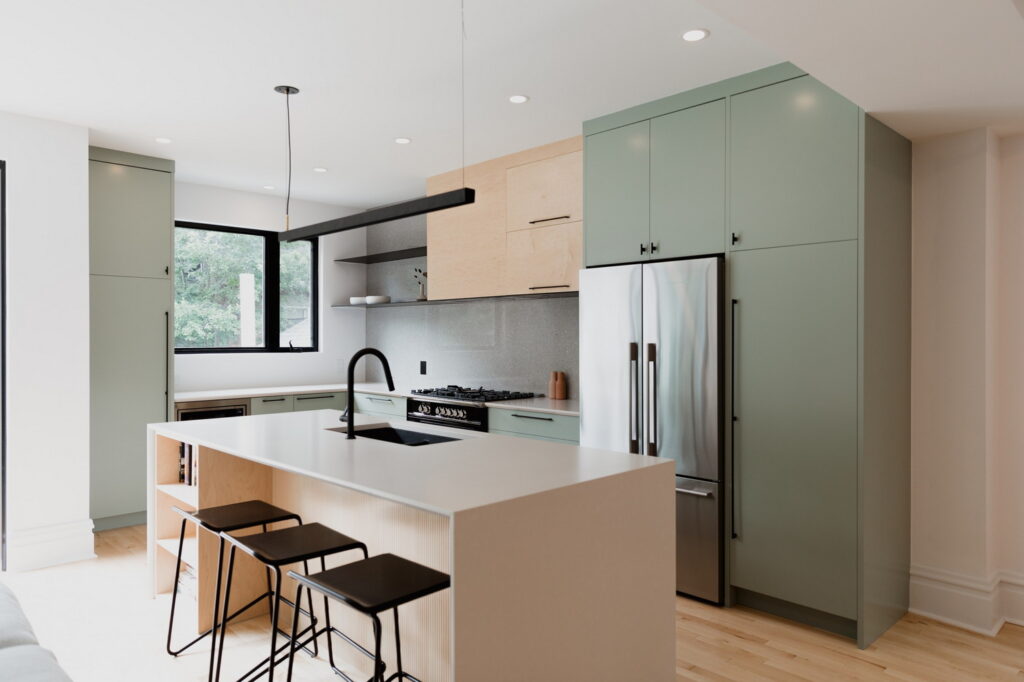 A century home gets a thoughtful update in this main-floor remodel.
"It was important to keep the old charm of this 1920s home," Murdock Construction says in its entry submission. "To do so, we injected colour via the cabinets and the powder room tile, and we saved the doors and refinished them to bring added warmth to the modern esthetic."
The kitchen was relocated to open the main floor and improve flow for the family, a large patio door was added to increase natural light, and design touches such as tambour panelled doors, herringbone flooring and custom metal shelves add interest and texture.
Entry: #Play_Pod — 25:8 Architecture + Urban Design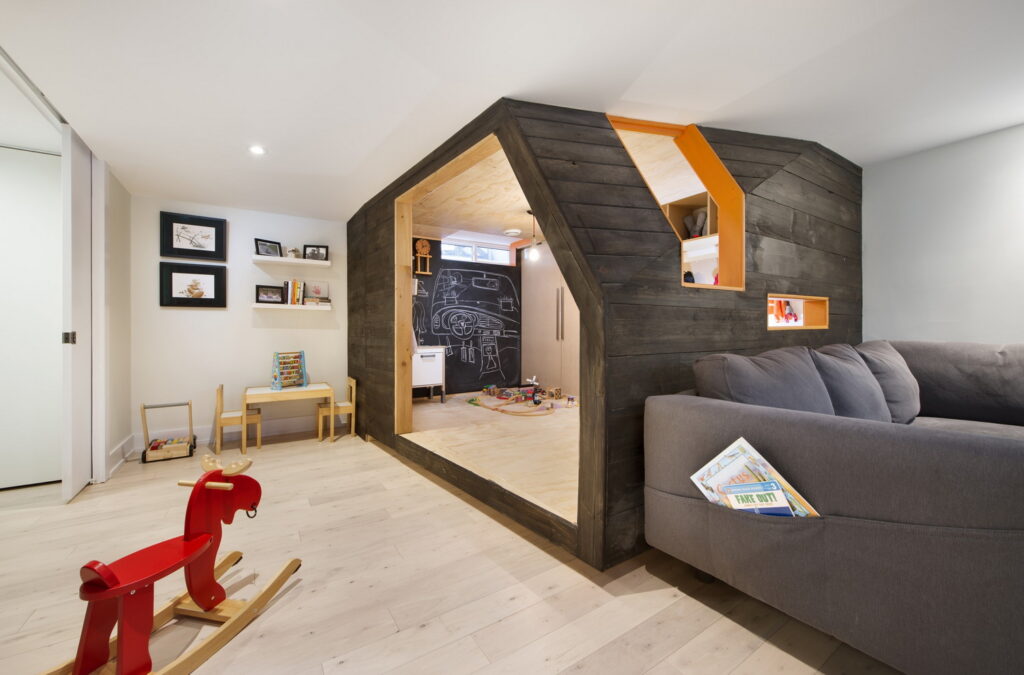 How's this for a playroom? Architecture firm 25:8 calls it a play pod that is both playful and practical.
"It functions as a hideaway for the family's young children, who use their imagination to transform the space into everything from an ice cream truck to a spaceship." It's also handy for toy and book storage, "bringing order to the chaos of everyday play."
The interior is sturdy plywood while the exterior is clad with black-stained reclaimed pine floorboards left over from the original house.
In the rest of the basement, the layout is organized to separate private and public areas. The office/guest room is tucked away from the media room for privacy and a four-piece bathroom serves the entire basement but can be annexed by a set of pocket doors to provide a private ensuite for guests. As well, the media room is open and bright and next to the play pod giving the adults a place to hang out while the children can enjoy their own space close by.
Kitchens
Entry: Blissful Living — A. Potvin Construction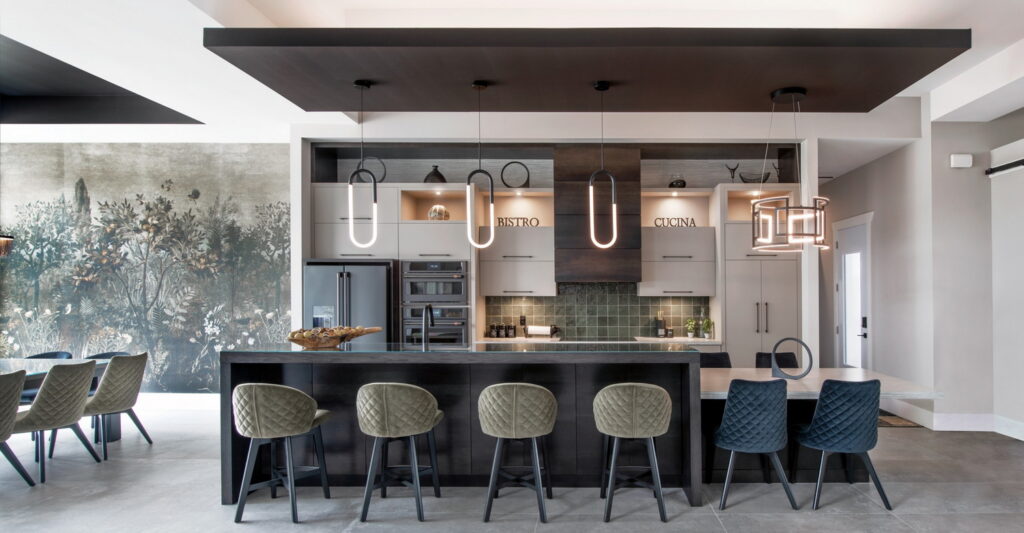 Combining contemporary dark brown cabinets, white counters and an emerald backsplash, Potvin calls this space an "eclectic and uniquely planned commercial-style one-wall kitchen with a dual-purpose island."
The island, in fact, has three purposes (and heights), depending on its use. There's the counter-height prep space and sink (not shown), the bar-height breakfast bar and the table-height attached dining table for meals, making it a functional and inviting multi-purpose space.
Entry: Morning Breeze — Laurysen Kitchens & Urbandale Construction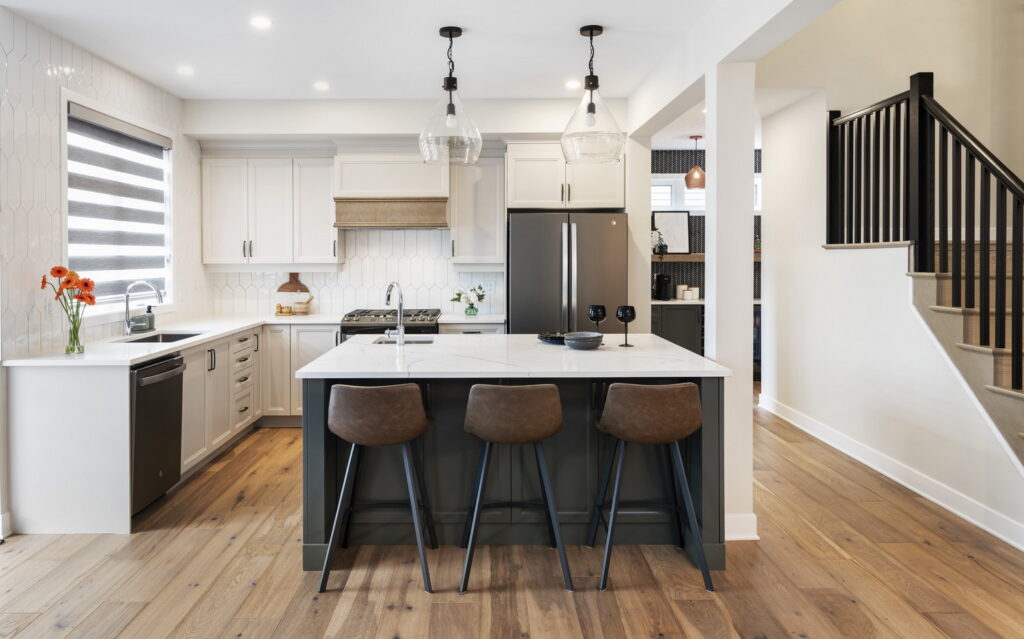 Combining classic and fresh touches in this production kitchen, Laurysen Kitchens and Urbandale Construction say the features and finishes in it "bring a gust of originality to the space."
Classic white Shaker perimeter cabinets, paired with a white quartz counter and glossy white backsplash, keep the room crisp, airy and bright, while the dark pewter island and oak hardwood help ground it.
A second space in this home was chosen a People's Choice finalist as well. See Black Marquina below.
Bathrooms
Entry: Sleek Country Escape — Carleton Kitchen & Bath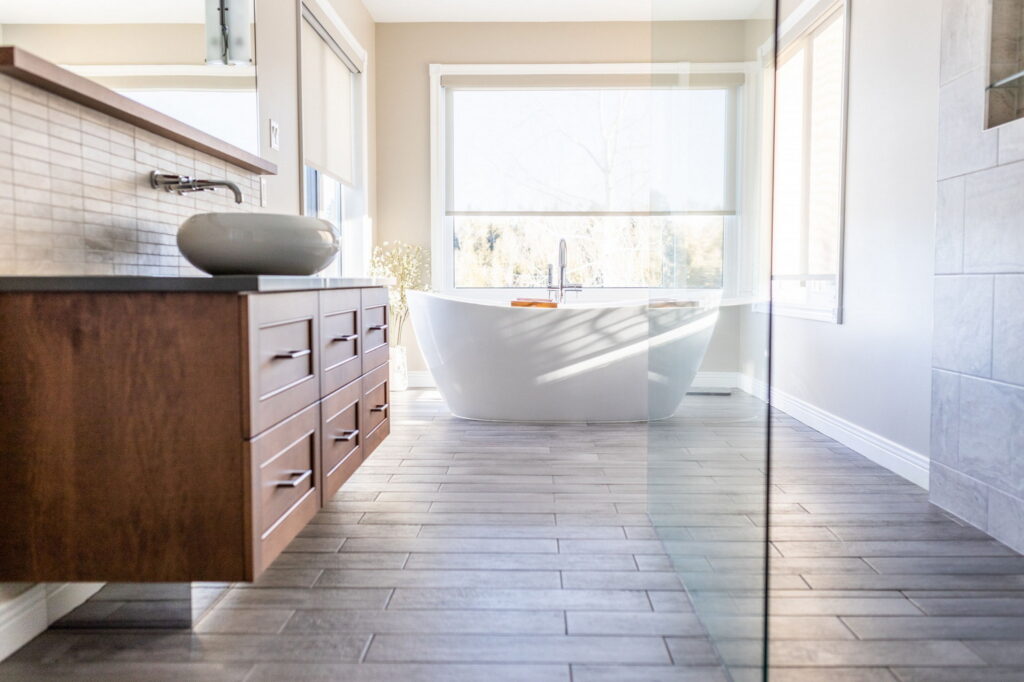 This ensuite renovation was designed "around the premise of being able to shower or bathe and enjoy the beautiful country vistas from all angles," Carleton says in its entry submission.
Providing a dramatic transformation of the existing space, the new ensuite is sophisticated, inviting and much more functional. It includes a glassed walk-through shower, a barnboard-look floor inspired by the surrounding barns on the property, and a vanity that appears to be floating topped with an oval vessel sink.
"The clean lines of the space draw your eye to the outside," Carleton says.
Entry: Spa Retreat — Bex Interiors & Urban Quarry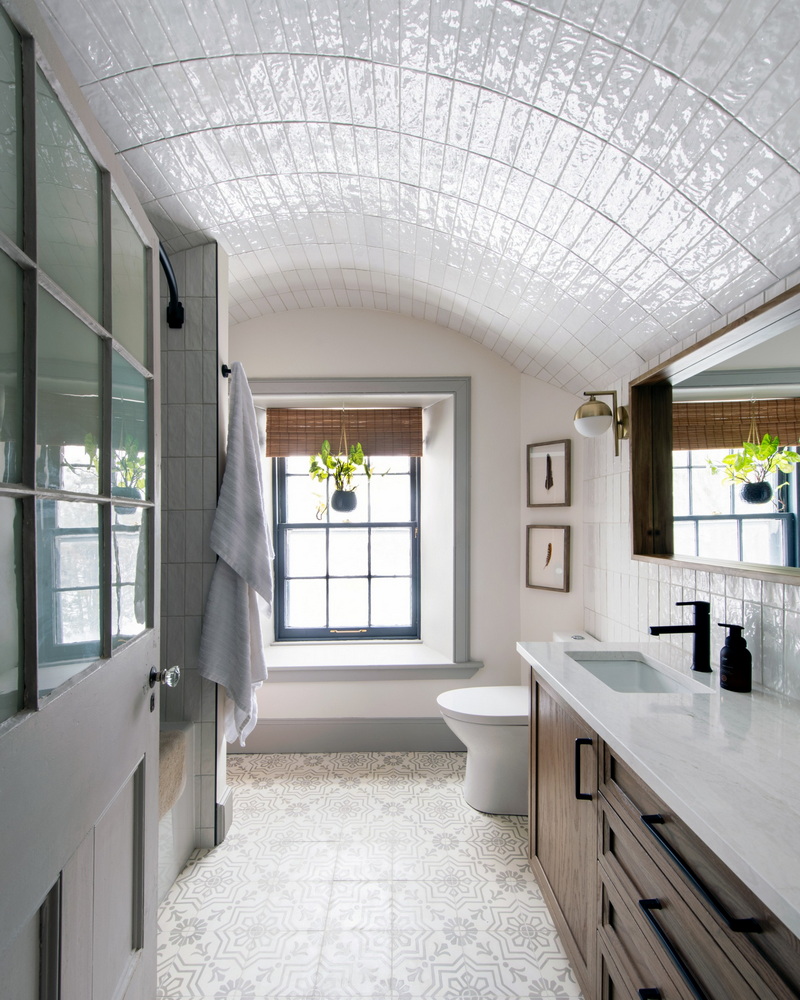 Interestingly, this finalist is from the same home that took the People's Choice trophy last year, for its kitchen (pictured at top).
This time around, it's the main bathroom that's been renovated in this 1850s home. The goal was to keep the original integrity of the home while adding modern fixtures and finishes, say entrants BEX Interiors and Urban Quarry in their submission.
"This was achieved by keeping the original door, trim, barrel ceiling and hardware and choosing finishes to complement the existing elements."
Design details
Entry: Peridot Vertical Views — Gemstone Corp.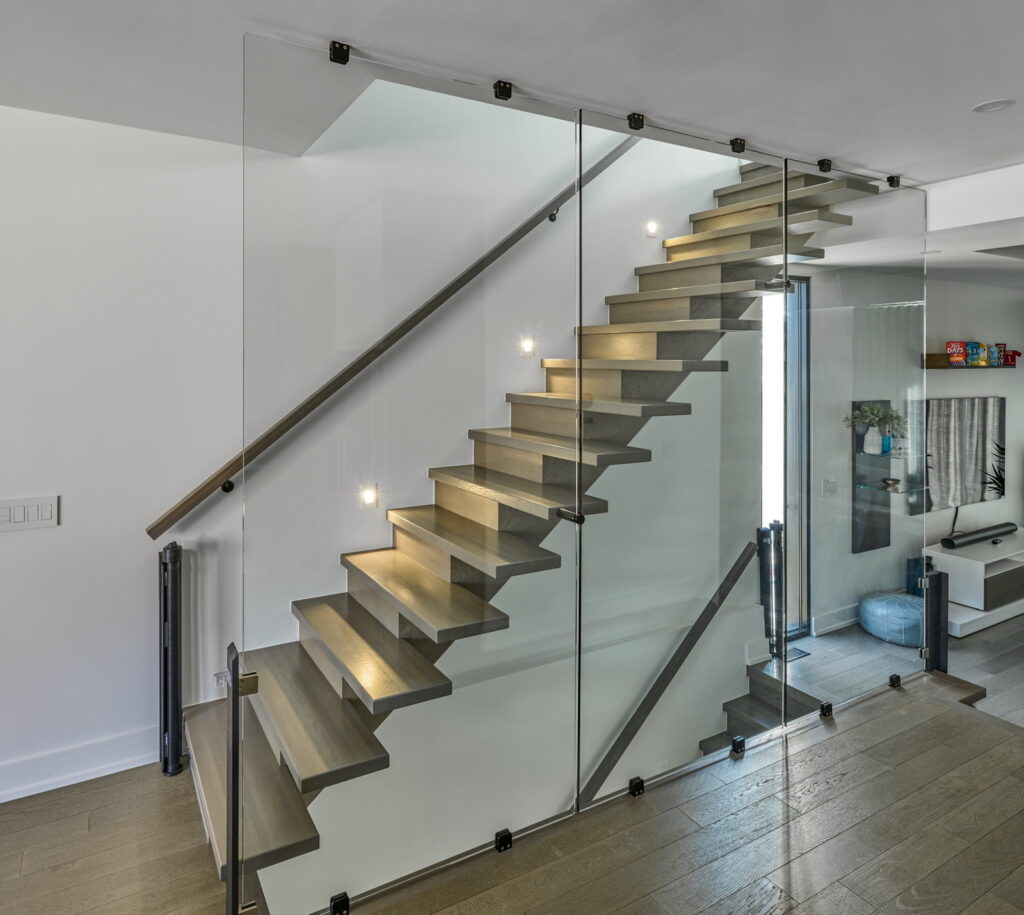 A finalist in the housing details category, a staircase is a natural detail to focus on and this one is no exception. Builder Gemstone calls it "a triumph of form and functionality," saying it "catches your eye the moment you walk through the front door with its clean, contemporary look."
The staircase, which features a glass curtain wall and half-open risers, ties the three levels of the home together while maintaining the design intent of bringing the outdoors in, Gemstone says.
Entry: Black Marquina — Laurysen Kitchens & Urbandale Construction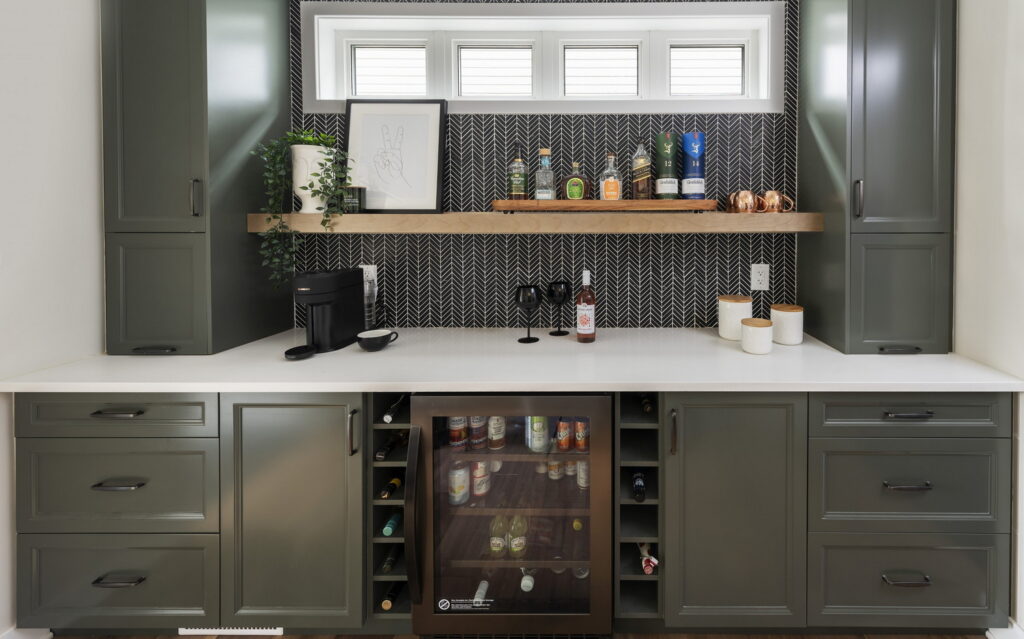 Laurysen and Urbandale say this flex area is designed to reflect the way the family wanted to live.
A beverage bar and storage area combine clever closed storage with opportunities for display, featuring dark pewter cabinets, white quartz counter, olive birch shelving and the added touch of a clerestory window. And then "the Black Marquina backsplash adds a dash of style and luxury," they say in their submission.
A second space in this home was chosen a People's Choice finalist as well. See Morning Breeze above.
Green innovation
Entry: The Maple — RND Construction & Hobin Architecture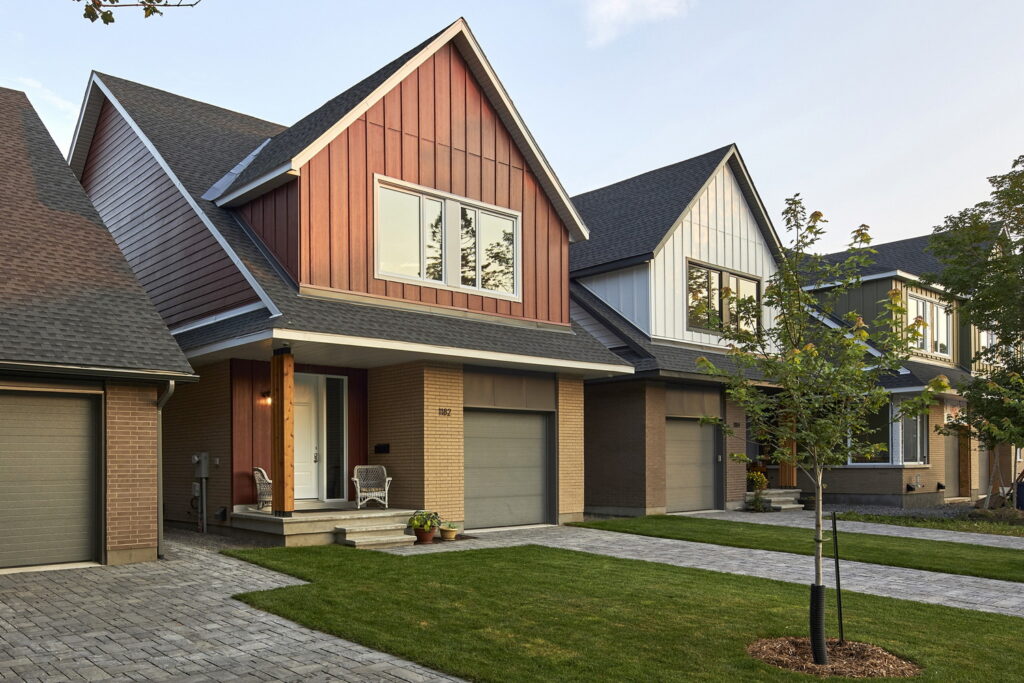 Farmside Green gets a double entry in the People's Choice final round, both in the production homes category above and for green innovation here.
In this case, the spotlight is on The Maple model, a 1.5-storey single-family home that "was designed to reflect and celebrate the unique agricultural neighbour that abuts its rear property line," RND and Hobin say in their submission. "In tribute to the (Experimental) farm, The Maple features a playful, contemporary interpretation of farmhouse forms and materiality."
The floor plan is designed to place main living spaces to the rear to maximize the farm views and "the great room, master bedroom and second-floor loft each offer a different vantage point overlooking the farm."
The Maple is also certified R2000 and is Net Zero Ready, "modeled at 50.4-per-cent more energy efficient than the building code."
Entry: The Terrace — RND Construction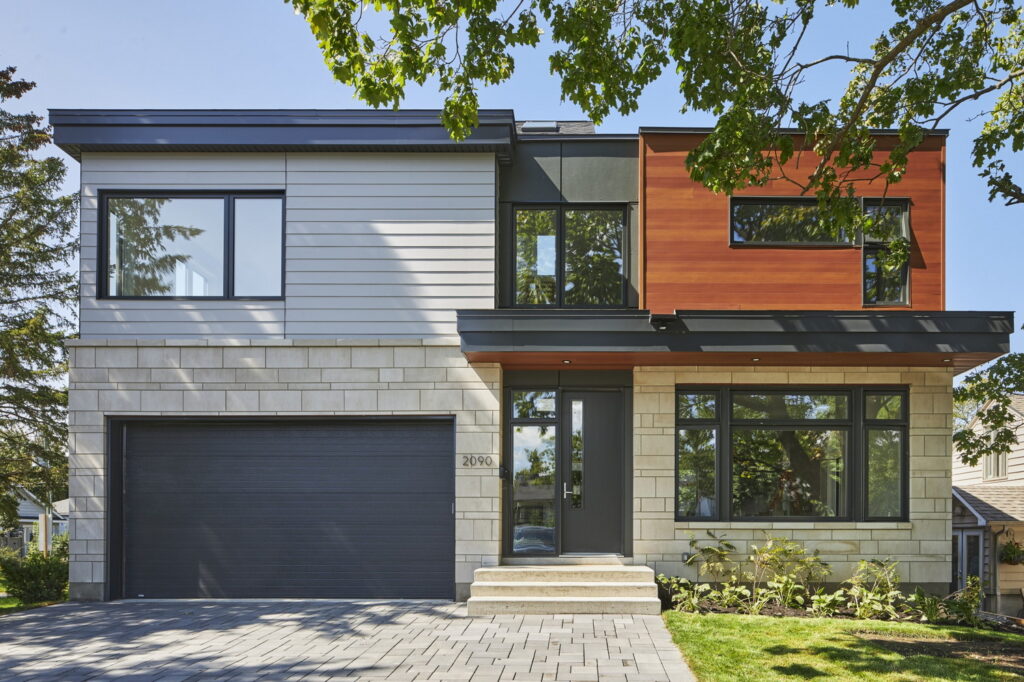 As a green innovation home entry, this custom home is naturally energy efficient, but there's also an emphasis on design, connecting indoor and outdoor and thinking to the future.
The three-bedroom home includes an elevator, rooftop terrace to enjoy the views and modern, high-end finishes.
"The Terrace includes all the luxuries expected from a high-end custom home, while deeply respecting its role in the natural environment," RND says in its entry submission. "This home is a prime example that Net Zero homes can be both luxurious and cost-effective."